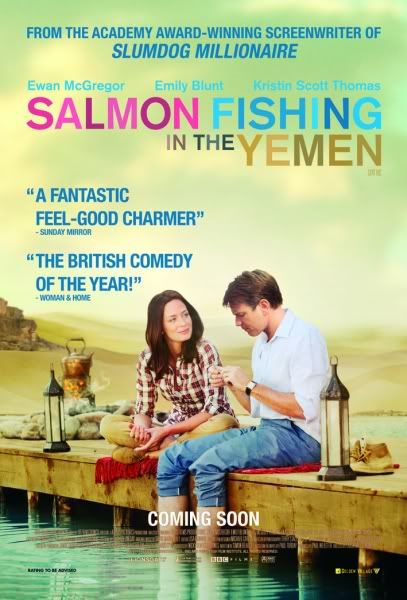 One of Sweden's most renowned directors, Lasse Hallström, translates Paul Torday's well-written novel into a masterpiece on screen, starring Ewan McGregor, Emily Blunt and Kristin Scott Thomas. Apart from the brilliant directing and competent acting, the breathtaking scenes will blow you away.

Dr Alfred Jones (Ewan McGregor), who depicts a conventional, satirical character with no sense of humour, holds a respectable job in the British fisheries.
Harriet Chetwode-Talbot (Emily Blunt) is an investment consultant, engaged by the wealthy Yemeni Sheikh (Amr Waked), whom envisions the sport of salmon fishing in the Yemen.
Alfred has then been contacted by Harriet to partake in the project that he initially deemed fundamentally unfeasible.
He was then put under preposterous pressure and threatening – if he chooses to decline the project, he will lose his job – but he banished the fledgling thought of tendering his resignation after considering and calculating the hefty mortgage loans and expenses he has to cope with, resigned himself to his fate and accepted the task.
Harriet has been romantically involved with a British soldier, Robert (Tom Mison), who was called to Afghanistan shortly after their three weeks of affair, and was later reported to be missing, leaving Harriet a worried nix. Her anguish culminates when she refuses to turn up for project meetings and decides to drop the entire task, which seemed like a humanly thing for her to do at that point of desperation.
After much commiseration and persuasion from Alfred, she decides to relinquish the mundane routine of waiting for news of Robert and calling for updates, and string along to the site visit at Yemen with a heavy heart.
At the same time, Alfred was facing a dreary and lacklustre marriage.
Arriving at the Yemen, all we see is a vast desert land with religious inhabitants leading an austere life in absence of luxury. The visionary Sheikh aspires to inject colours in the dry desert, on top of an abundance of agriculture for his people –to create a small miracle, to glorify God.
Sheikh incites enthusiasm in Alfred and Harriet with his tenacious faith.
"The virtues of fishermen are: patience, tolerance and humility."
Alfred is portrayed as the hero figure, an unlikely one, when he saves the life of the Sheik when a group of angry and unsupportive fellowmen attempt to ambush him and later sabotage the entire project. The near-death experience warrants indemnification.
Salmon Fishing in the Yemen is furnished with snippets of romance; it is a story of hope and faith that many can relate to, especially when encountered with moments of despondency.
Watch how the land of sands and ruins progresses with the building of dams, and anticipate the survival of salmon in the obstacles of climate issues and man-made destruction by terrorists.
Did Robert survive? Will Harriet end up with Alfred? Watch the movie to find out!
Favourite scene: When Alfred visited Harriot at her apartment after she received the ghastly news of her boyfriend's mishap, she vents her frustration on him and chided him for being inhumane, bringing work to her when she is too distressed to be thinking about work –and he takes out a sandwich from his briefcase, "You need to eat something."

Trailer:

Thanks Omy for the invitation to the preview screening!