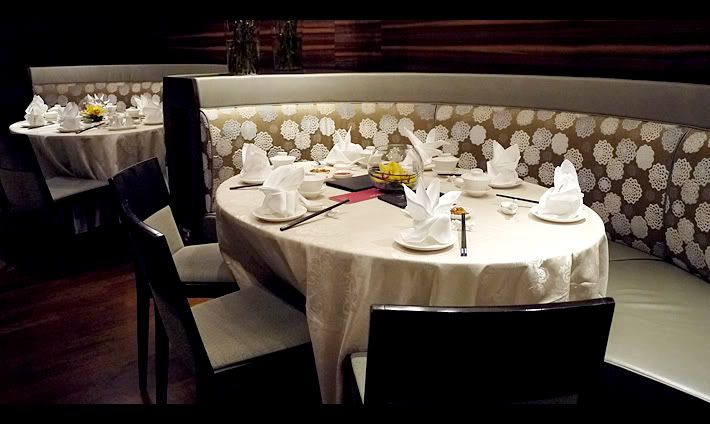 The Si Chuan Dou Hua outlet located on the 60th floor of UOB Plaza 1 at Raffles Place has been around since 2002, and has gone through a facelift in November 2011.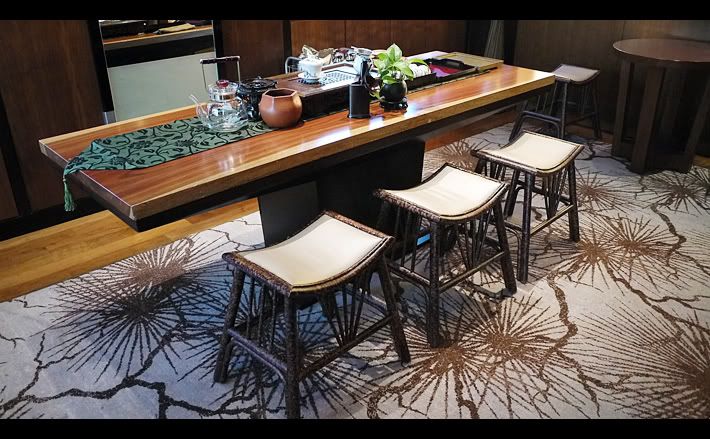 The ornamented tearoom complements its oriental concept and interior setting, where a tea master will present the traditional art of tea-pouring with his brilliant acrobatic skills to further enhance your dining experience.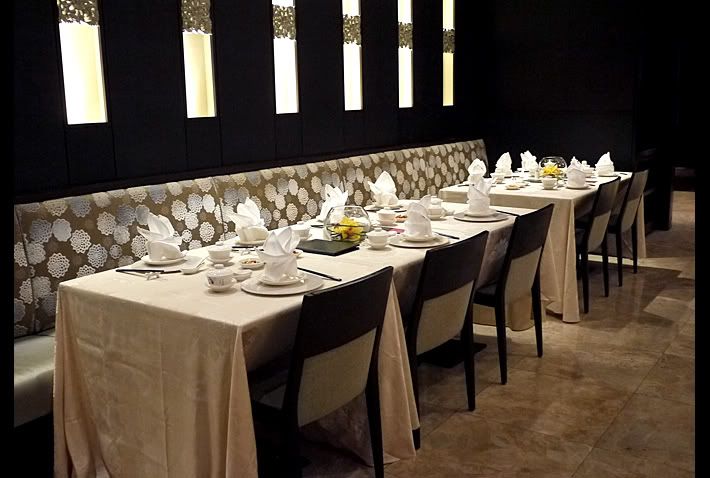 Reservations are highly advisable to secure a seat, especially during the weekends, to prevent any disappoints lest your entry gets politely declined.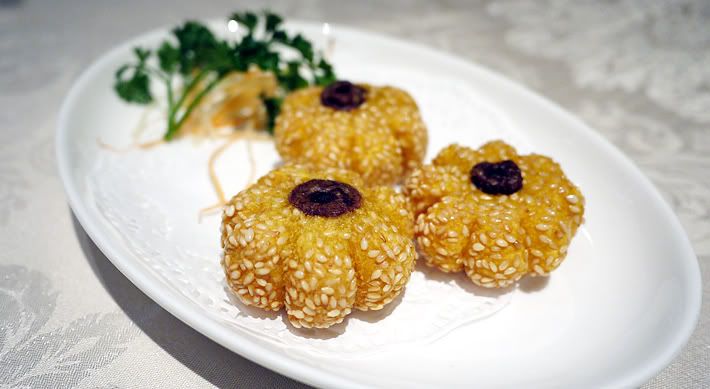 Sichuan Pumpkin Pancake ($5 for 3)
This dish was meant to be a dessert, but I ordered it to stave off my hunger pangs. The kitchen seemed to be extremely busy that evening, and my orders were taking too long to arrive.
The Sichuan Pumpkin Pancake is a Sichuan dim sum that is exquisitely shaped to resemble a pumpkin.
The interior is glutinous and sticky, which is not quite something that I was expecting –I was hoping for a molten pumpkin filling that would ooze out as I bite into it.
If I may, I would term this dessert an acquired taste and texture that not everyone will take fancy on.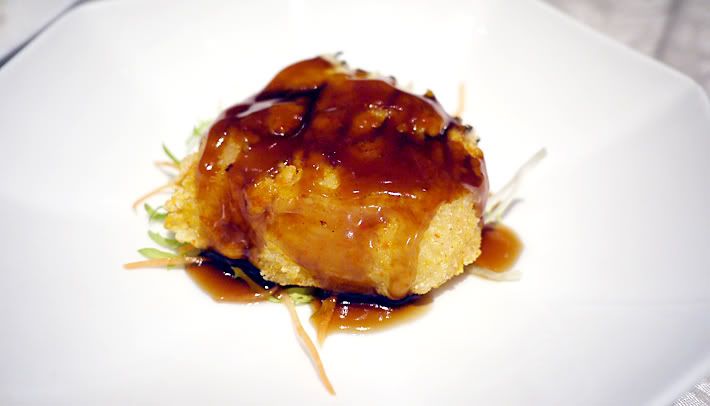 Deep-fried Cod in Sweet Wine Sauce ($12 per order, minimum 2 pieces)
I love fish, and I'm highly discerning when it comes to the doneness. I tend to order fish at every restaurant I go to, and if it turns out to be overdone, dry and tough, it's unlikely that I would give the restaurant a good rating, unless everything else is exemplary.
The Deep-fried Cod in Sweet Wine Sauce did not disappoint.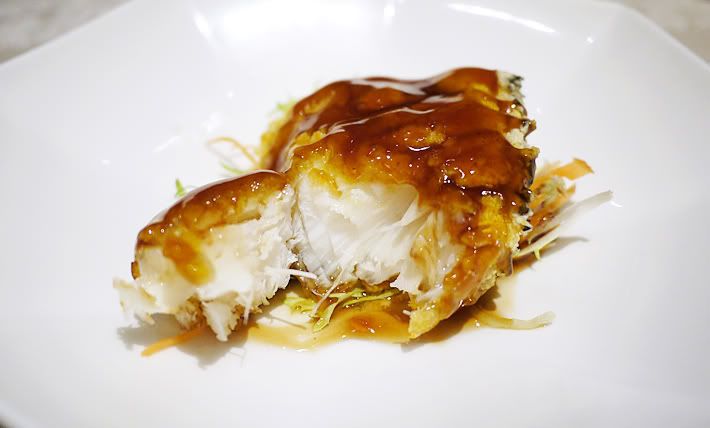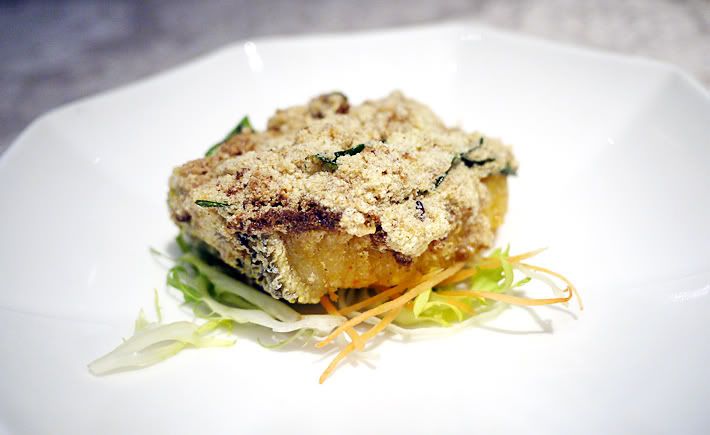 Baked Butter Cod ($12 per order, minimum 2 pieces)
Good things come in pairs.
The Baked Butter Cod boasts marvellously moist and flaky flesh, encrusted with fine breading flecked with laksa leafs for ultimate aroma. Let your attention be drawn towards the almost-biscuit-like crunchy crust that is simply addictive.
I personally enjoyed this rendition more than the former Deep-fried Cod in Sweet Wine Sauce, but I have to say that both are well executed. In both dishes, the fish turn out to be tender and palatable, with no traces of fishy stench.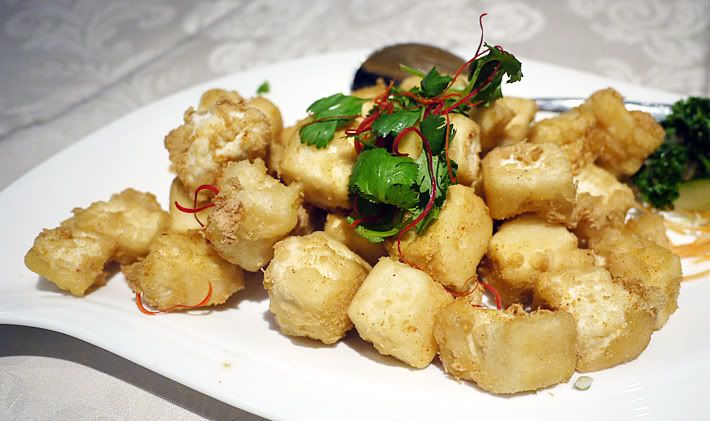 Deep-fried Bean Curd (Small $16, Medium $24, Large $32)
A simple, mouth-watering dish that I couldn't stop scarfing down is the Deep-fried Bean Curd. Despite being deep-fried, it is surprisingly light on the palate, boasting silky smooth bean curd beneath the crispy frame that will simply burst and melt into nothingness in your mouth. I will order this again when I return!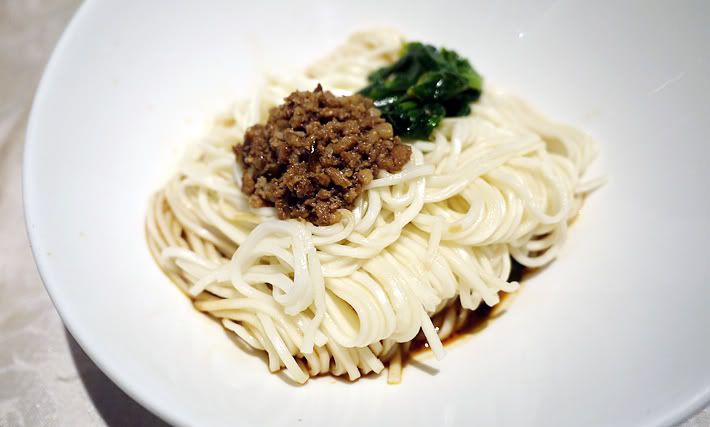 Sichuan Dan Dan Mian ($8)
The unassuming Sichuan Dan Dan Mian packs a punch in its underlying sauce, waiting to be tossed up with the noodles. Make sure each strand of noodle is well coated, and do not underestimate the spice level.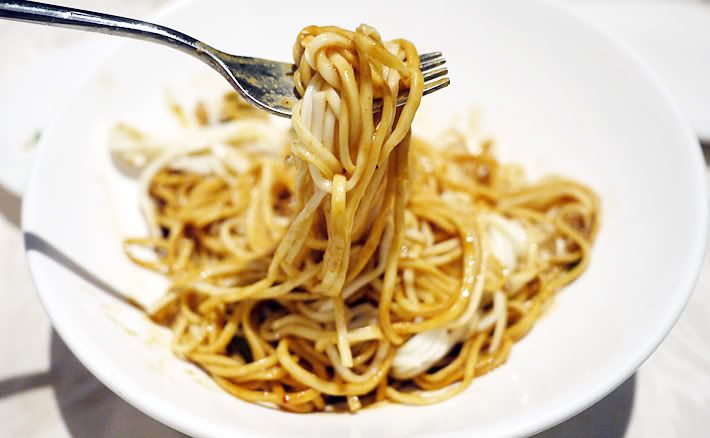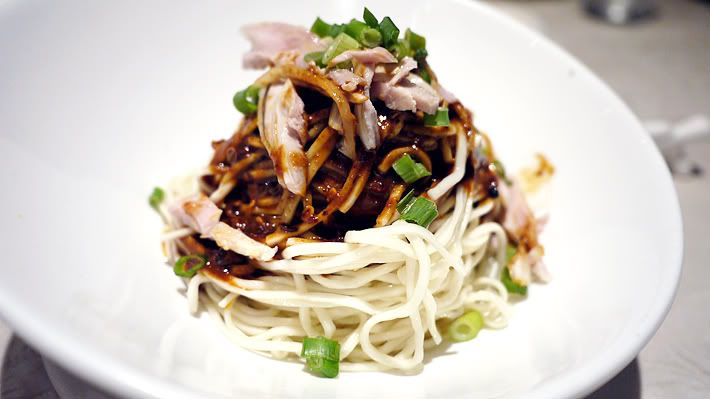 Sichuan Chilled Noodle ($8)
Another variation of the Noodles would be the Sichuan Chilled Noodle. This dish offers up a bit more heat than the Sichuan Dan Dan Mian, despite being served chilled.
Actually, I'm not even sure if my taste buds were so numb to the point where I couldn't really discern the difference in spice level.

Bean Curd in Spicy Minced Meat Sauce (Small $18, Medium $27, Large $36)
The Bean Curd in Spicy Minced Meat Sauce also holds a prominent place on the menu, as it is one of the most commonly known Sichuan dish. The tantalising and compelling spices will set your tongue ablaze if you're not a seasoned spice-eater.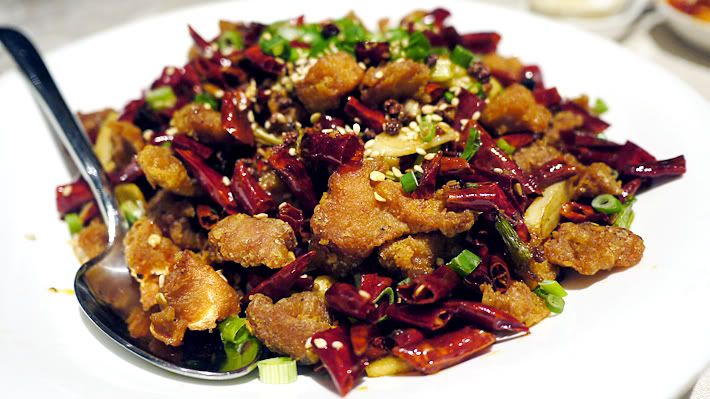 "Chong Qing" Diced Chicken with Dried Chilli (Small $20, Medium $30, Large $40)
"Spicy" and "tongue-numbing effect" is often associated with Sichuan food. The "Chong Qing" Diced Chicken with Dried Chilli is another fine example that will deliver a kick to the taste buds.
The chicken is immaculate; it is tender with a crispy exterior. However, I wished they didn't scatter that much amount of dried chilli that I had a hard time picking out. One bite into that lethal chilli, you'd be scrambling for ice.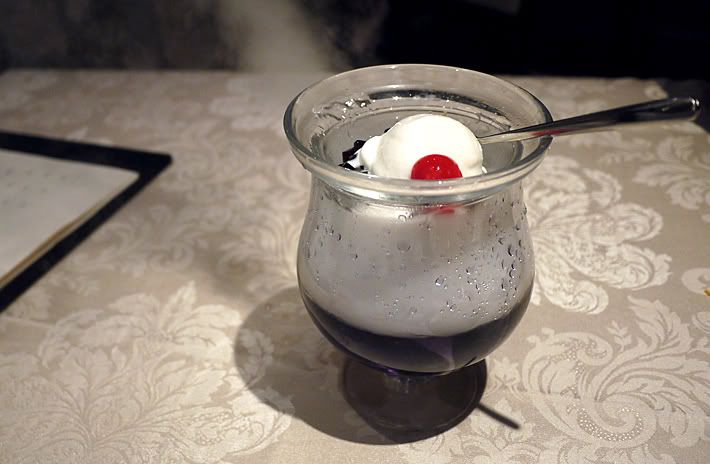 Chilled Jelly with Ice Cream
What you need most to offset the fiery sensations in your mouth, is the Chilled Jelly with Ice Cream, set atop dry ice that will divert all the other diners' attention to the "smoky effect".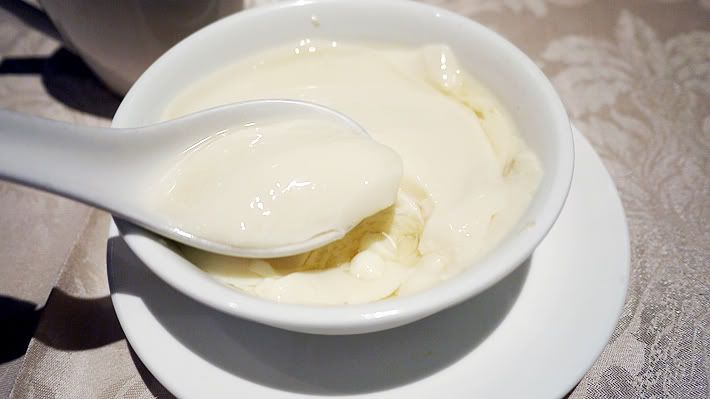 Homemade Fine Bean Curd ($3)
A predictable smooth silky bean curd makes a classic Chinese dessert that will please the lighter palates. Hmm.. I need more syrup to go with it.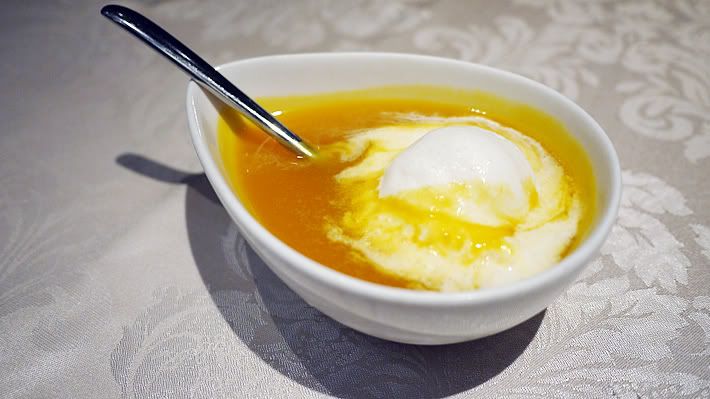 Chilled Cream of Pumpkin with Ice Cream
I enjoyed this simple dessert of Chilled Cream of Pumpkin with Ice Cream, although it is nothing spectacular.
The variety of desserts isn't huge, but I presume one wouldn't be needing anything else other than ice or ice cream after the bout of sweat from the exhilarating spices.
I'm looking forward to retuning to try the offerings from the buffet spread! Any foodies wanna join me? :)
Si Chuan Dou Hua
TOP of UOB Plaza
80 Raffles Place, #60-01, UOB Plaza 1,
Singapore 048624
Tel: (65) 6535 6006
www.sichuandouhua.com/