Singapore is undeniably a cultural melting pot of cuisine. The increase in popularity of exotic cuisine is evident in the number of Spanish and Mexican restaurants springing up in our tropical nation –slowly but surely.
Will German cuisine appeal as widely to our local and discerning taste buds?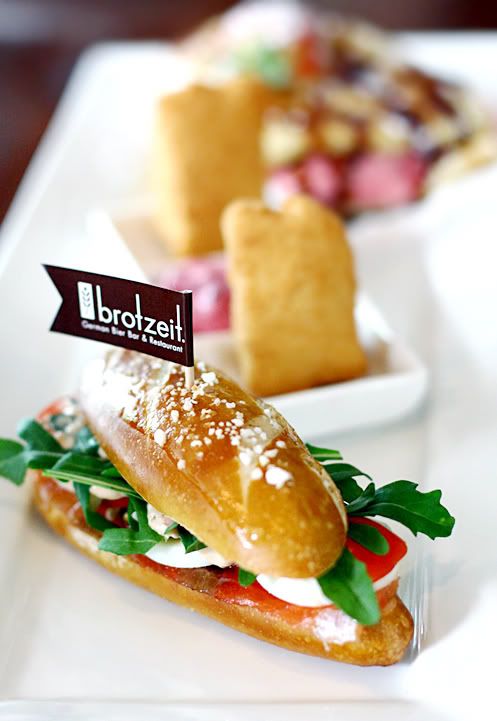 Brotzeit German Bier Bar & Restaurant features world famous quality German beers and authentic Bavarian cuisine in a chic and contemporary setting.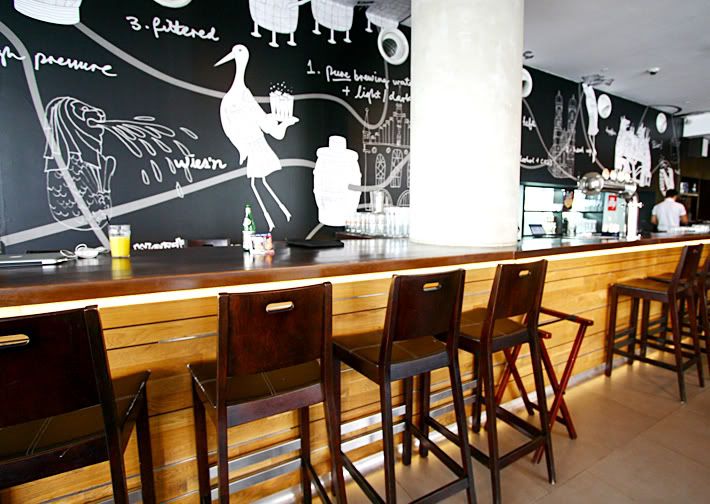 Sip on German beers at the stylish bar and scrutinise the contemporary graffiti art splashed on the background.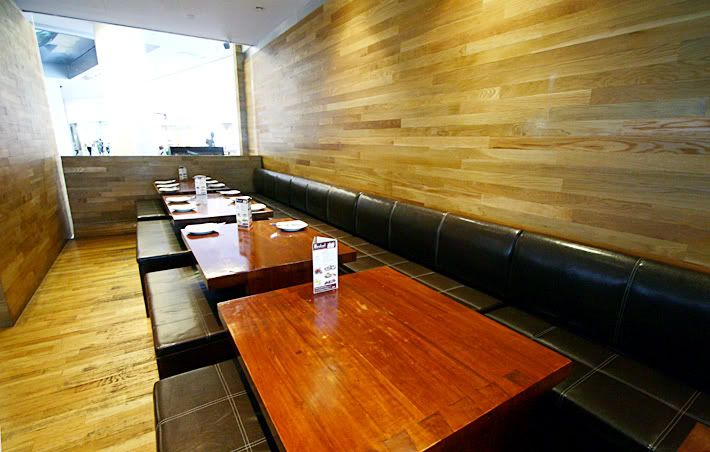 A new Set Lunch Menu, Tea-Time Specials and Daily Evening Specials will bring the best of Bavarian cuisine to the table with a wide variety of food and beer.
Set Lunch (Monday to Friday)
Starting from $15, the new Set Lunch Menu features two appetisers and three main courses to choose from.
A set of Appetiser + Main Course:



(Image from BROTZEIT®)


Crispy Fish in Beer Batter served with potato salad and tartare sauce ($17)
The Crispy Fish in Beer Batter seals the deal; it is light, tender, moist and crispy without being greasy. It is always a joy to sink your teeth into a crackling crust to find succulent flesh encased within.

Pork Tenderloin Ragout ($19)
Ragout from pork tenderloin with button mushrooms served with napkin dumplings, red bell pepper and bacon wrapped fine beans
I'm not an avid pork eater; my favourite component of this dish is the starchy napkin dumplings!
Tea-Time Specials
Choose any 3 Brotzeiten from their Kaffeeklatsch menu and pair it with Illy coffee or TWG tea for just $15 or pair it with a 0.3L lager for $18.

German Crepes
The German Crepes is filled with pillow-soft contents that is bursting with freshly diced strawberries, and finished off with a drizzle of chocolate sauce.

Breaded Camembert
Breaded golden crust conceals gooey creamy cheesy contents; simply delightful.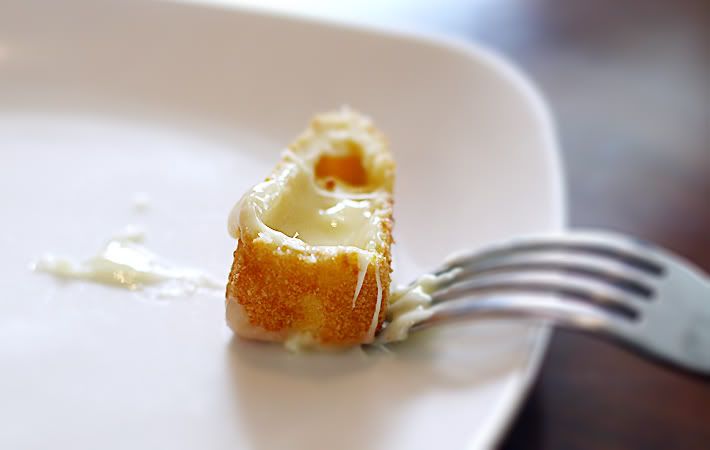 Smoked Salmon Brezn
I absolutely adore the sheen and colour of this pretzel, in a form of bread. I'm particularly in favour of the coarse salt crystals sprinkled atop, which lend a pleasant salty touch and the right kind of crunch. Fresh ingredients sandwiched between complements this.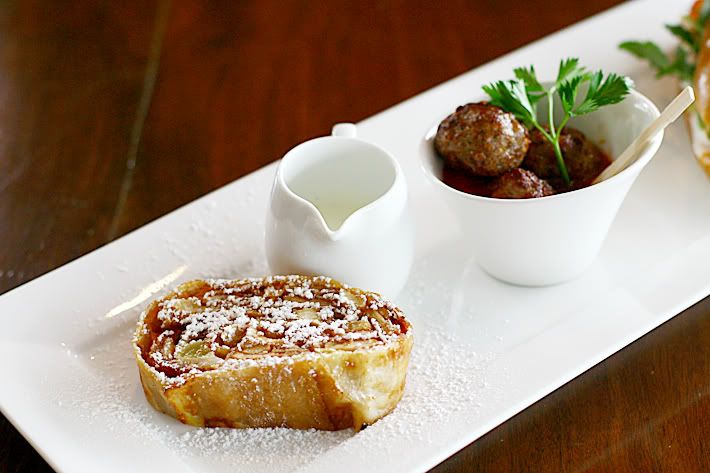 Apple Strudel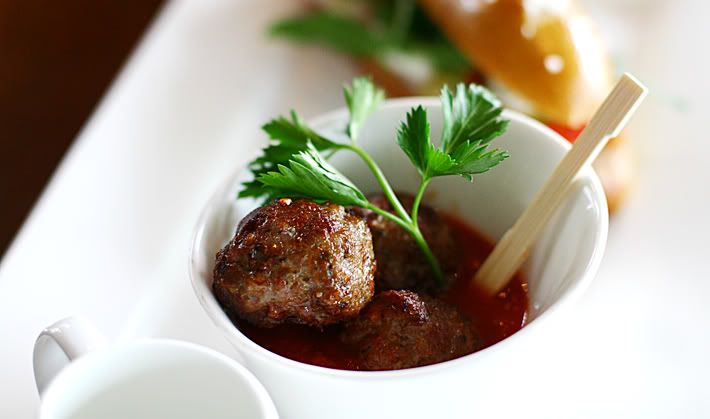 Bavarian Meatballs

Chicken Ham Brezn
Daily Evening Specials
The Daily Evening Specials gives you further reasons to return to Brotzeit with a different offer every day of the week.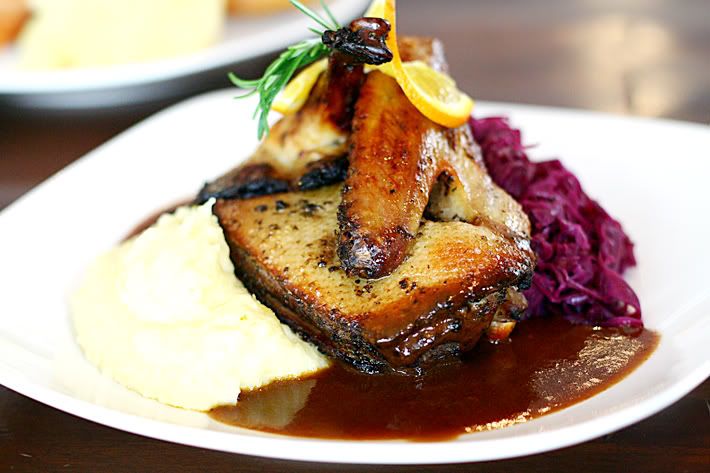 Tuesday – Roast Duck ($25)
You have a date on Tuesday, and it is a date with the Roast Duck at Brotzeit. It is unquestionably not to be missed.
Duck meat tends to turn out dry and tough, thus achieving the ideal tenderness is no easy feat –Brotzeit serves up with flair and finesse.
Apart from its sheer tenderness, the Bavarian style roast duck stands out for its well-penetrated flavours, crispy skin and subtle smoky notes. The glistening red wine jus further elevates this dish.
Wait. The meat is not the only component that shines. The luscious bed of mashed potatoes is divine; the red cabbage is as palatable, if not highly favoured. I would have licked the plate clean, if I didn't keep my composure.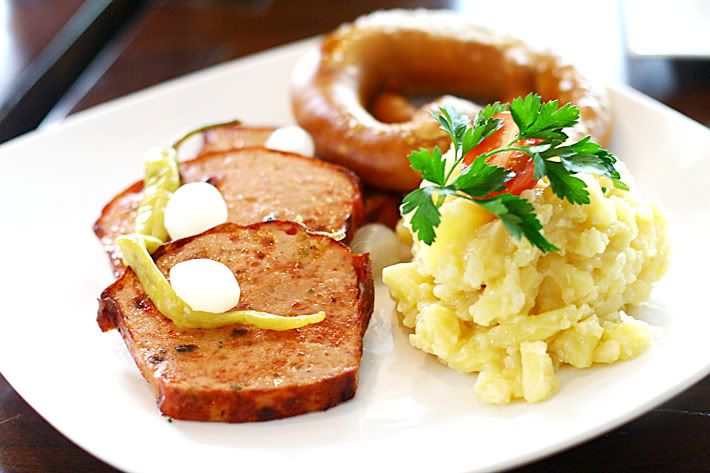 Wednesday – German Spicy Meat Loaf served with brezn and potato salad ($19.50)
On Wednesdays, you get a scrumptious German Spicy Meat Loaf that is flecked with mild green peppers, chilli and gouda cheese, oven baked.
If you love ham or luncheon meat, you will adore this gently spiced meat loaf.
Soups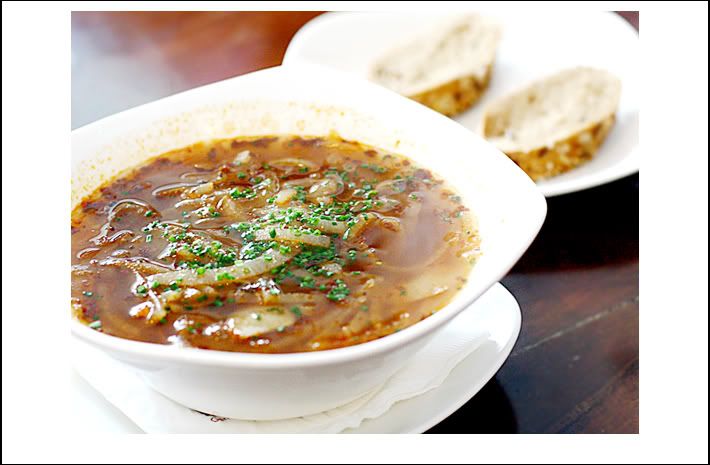 Onion Soup with Cheese Dumplings ($9.50)
From the regular menu, I tried the Onion Soup with Cheese Dumplings. The portion size is huge for an individual. The tasty clear broth is brimming with onions, and more onions.
The cheese dumpling has a texture resembling soggy bread that is so immensely soaked with soup that it sunk to the bottom of the bowl, but dense enough not to fall apart into powdery nothingness –it isn't a bad thing, it actually tastes pretty good. However, I didn't quite fancy the accompanying rye bread.

Emperor's Cake ($12.50)
Shredded pancake with rum and raisins, served with plum sauce
This dessert may not be light enough to end a heavy meal with, but it certainly makes a nice treat to munch on and laze the day away.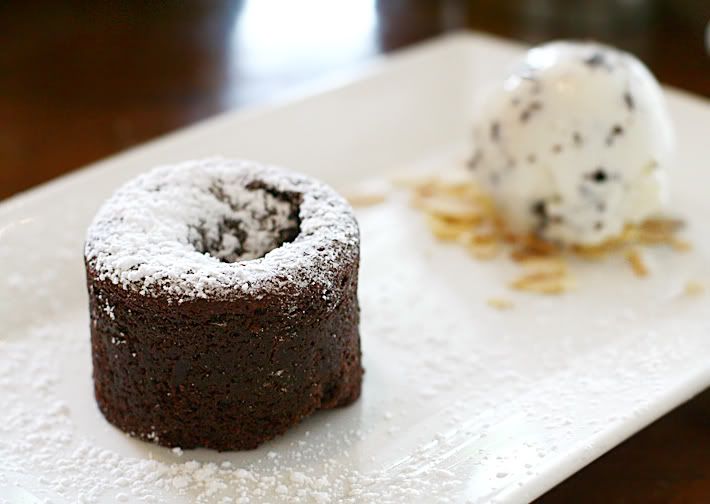 Chocolate cake ice cream ($12.50)
Warm chocolate cake served with Stracciatella ice cream
The most disappointing thing that could happen when cutting into a lava cake is when the molten part doesn't exist. Brotzeit didn't disappoint!
My mum has been to Germany, and all she raved about was German sausages. Thanks for not packing me into your luggage bag, mum.
Brotzeit exposes us to a wide variety of authentic German cuisine; I can now add a few more names to my German food dictionary.
BROTZEIT® VIVOCITY
VivoCity, 1 HarbourFront Walk,
#01-149/151
Singapore 098585
Tel: (65) 6272 8815
Website: www.brotzeit.co
Email: info@brotzeit.co.
Operating Hours
Mon, Tue, Wed, Thur: 12pm – 12am
Fri, Sat: 12pm – 1am
Sun: 11am – 11pm
PH Eve, PH: 12pm – 01am