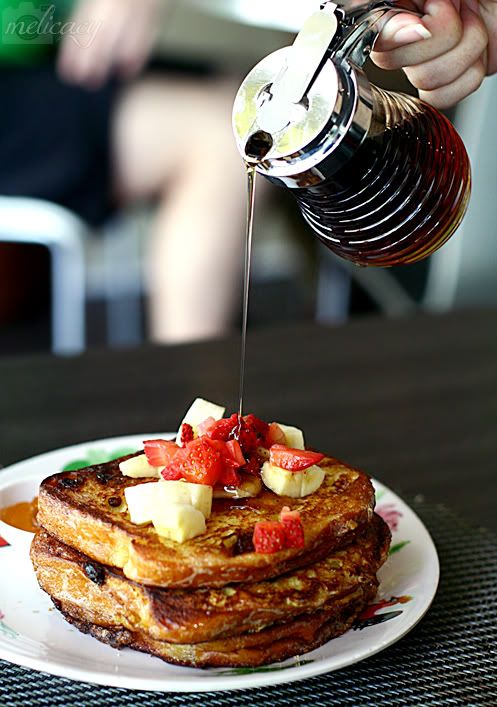 What do you crave for on a lazy, sunny late morning? It is past breakfast hours but you've barely gotten your lazybones out of bed, snoozing at every chance you get. It is time to freshen up and head out for brunch –you won't regret this.
"I love eggs" is an understatement. I can't stress enough how much I love eggs. All my favourite foods involve egg –whether as a main ingredient, or just as an appendage to add flavour. The world would be disastrous without eggs. For that matter, I will never become a vegan by choice.
Brunch affairs best exemplify the glory of eggs.
In this post, I will introduce to you one of my favourite brunch spots: Epicurious, which is situated at The Rail Mall.
I would usually skip breakfast and even lunch (not wise), due to my odd sleeping habits, but getting out of bed for brunch at Epicurious is nowhere near dreadful. I was, in fact, looking forward to it all week long.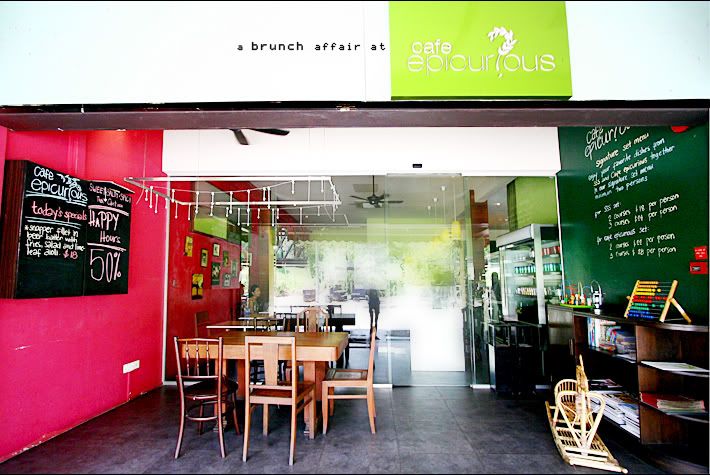 The Rail Mall is home to a several eateries, cafés and restaurants. Previously, I have tried lip-smacking Thai food from Sweet Salty Spicy (Click to read my review), adjacent to Epicurious. You are free to sit at either restaurant (whichever ambience suits your mood) and order anything you fancy – you have the option to mix and match items from both menus.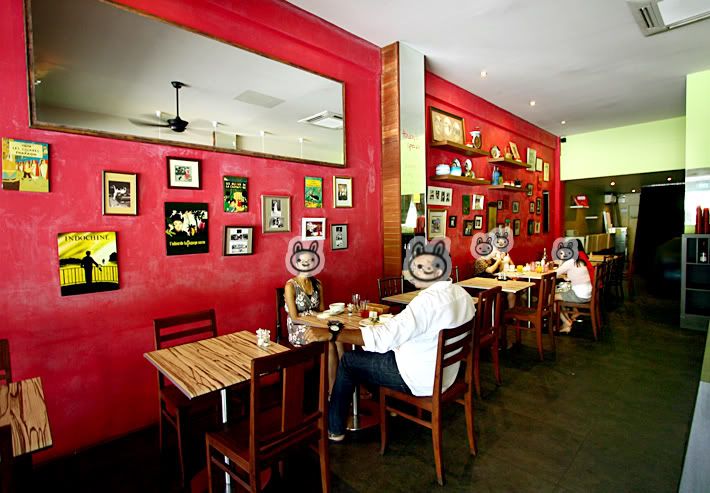 The restaurant isn't huge, thus you get a view of the entire restaurant at a one glance.
Walls are tinted a striking red – counterbalanced by mirrors and an accent wall of lime green – and adorned with quirky irregular-sized photo frames.
Its décor is a clear-cut contrast to its neighbouring Sweet Salty Spicy's monochrome palette and contemporary theme. There are no walls separating the two restaurants –a bar counter acts as a partition.
The interior is simple and not pretentiously ornate. Coming across as homely and cosy – set in a laid-back atmosphere – this gem of a place is perfect for a lazy afternoon brunch.
If you're having a morning stroll with your best paw pal(s), take a pit stop at Epicurious –the restaurants are pet-friendly outdoors.
Just across the road, a lush garden setting – bedecked in umbrella nooks and garden furniture and benches – offers a calming oasis of tranquillity.
Brunch Menu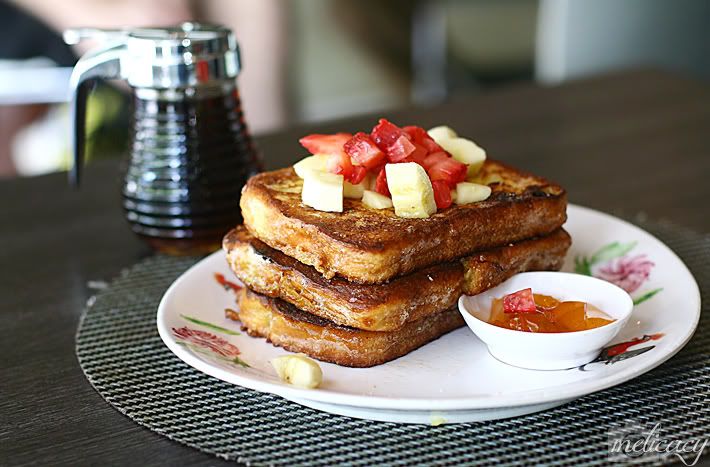 French Toast ($8.50)
Raisin bread is coated in egg and seared to a golden char; it is gloriously simple, but exemplary. Accompanied by marmalade and a jar of maple syrup on the side, the level of sweetness can be adjusted according to your preference.

Pancakes ($8)
Would you like pancakes or waffles? This endless debate often drives me into a dilemma. I love both. Epicurious doesn't serve waffles, so there'll be no mental catfight at the table this time round.
Uncomplicated and straightforward, the pancakes are thick, light and fluffy – and not obsessively charred – just the way I like it.
Pancakes are scattered over with pieces of fresh strawberry and banana that are chopped coarsely, adding refreshing textures –no butter or margarine is needed at all. All you need is a drizzle of maple syrup and you're in pancakes heaven.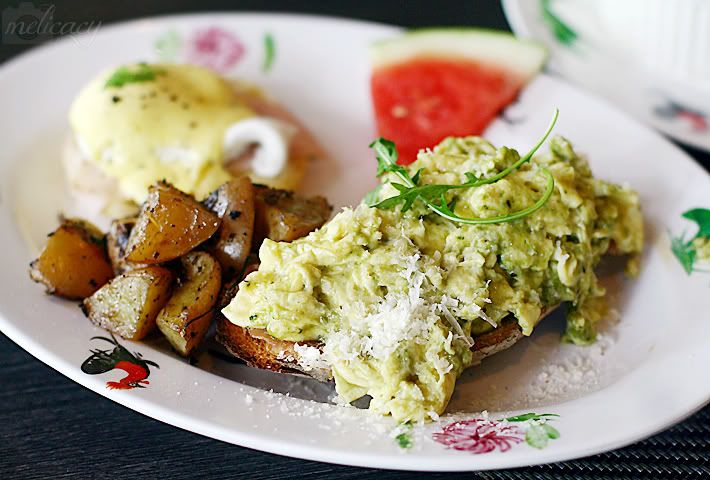 'Half of this & half of that' ($16), Green Eggs and Ham ($14 for full portion)
The multifarious egg feast begins.
We've gotten the 'Half of this & half of that' – of Green Eggs and Ham and Egg Benedict – so as to try more items without over-exceeding our daily cholesterol intake. You get to enjoy the best of both worlds at just $2 more.
The Green Eggs and Ham is one of my favourites. Not to worry, eggs are not dyed green; they are scrambled with pesto, aromatically resonant of basil. Pillowing on a pesto-smeared toast, a proscuitto is sandwiched between. The dish is completed with a final grating of Parmigiano-Reggiano (Parmesan cheese).
This is a combination that doesn't just work flawlessly, but becomes addictive.
Eggs are scrambled to a soft, creamy texture that screams comfort food.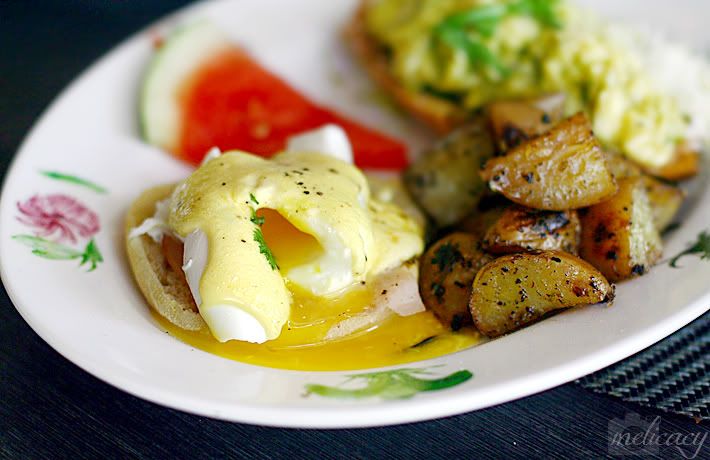 'Half of this & half of that' ($16), Eggs Benedict ($14 for a full portion)
The other half of our 'Half of this & half of that' is the Egg Benedict. Perfectly poached egg sits on a grilled smoked ham and an English muffin, topped with Hollandaise sauce.
I was slightly disappointed with the Hollandaise sauce. It has a harsh tang – evocative of sour cream – that is a touch sour for my liking. It is not appalling, just not fantastic. Thank goodness the egg isn't overcooked. The runny yolk isn't gone to waste; we wiped the plate clean of yolk with the muffin.
This hearty dish is not complete without the herb-flecked roasted potatoes –crisp with a heady aroma.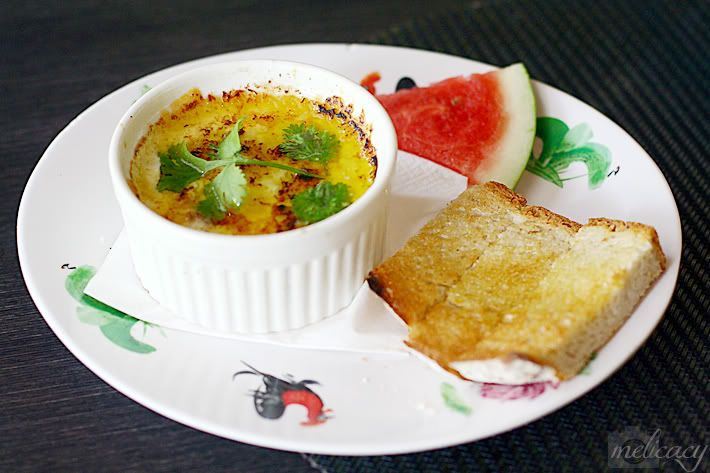 Baked Eggs with Toast Soldiers ($14)
Depending on your compulsiveness or generosity, this dish isn't ideal for sharing –cheese lovers will be craving for more.
The 'Baked Eggs' comprises two eggs cracked in a ramekin, sprinkled with bacon bits, mushroom and tomato, concealed under a layer of cheese, and baked to perfection. The creamy, cheesy body binds everything together perfectly –fused with pleasing textures.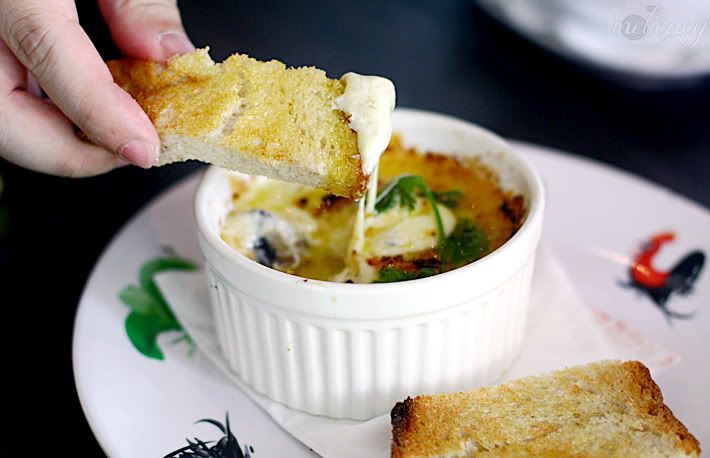 Dip the 'Toast Soldiers' in the cheesy concoction, and savour: repeat action until you start wiping the ramekin clean. Oh-so-satisfying.
On a side note, the eggs were cooked through –the yolk was solid. I'm not sure if that was their intention, or was it a result from all that photo taking. After all, we didn't consume it immediately when it was served.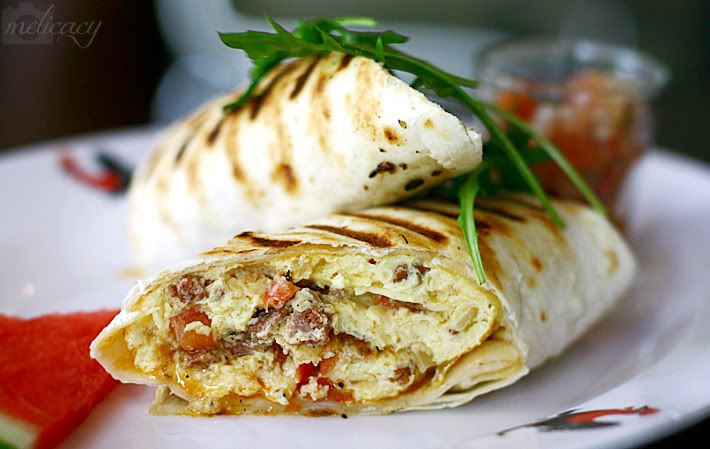 Breakfast Burrito ($14)
The Breakfast Burrito is another personal favourite. Eggs are scrambled with chorizo, tomato, cheese and tomato-chilli relish, and wrapped in a tortilla, baked to a crisp char without the eggs turning rubbery. Well executed I must say.
The astringency of the accompanying salsa will perk up your appetite.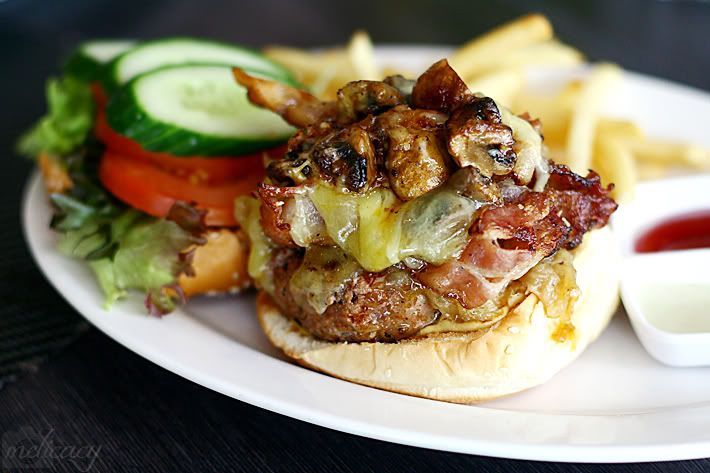 Epicurious Burger with sesame seed bun, caramelised onions and fries ($18)
Add cheese, bacon, egg or mushroom ($2 for 1 choice/$3 for 2 choices/$4 for 3 choices and $5 for all)
The Epicurious Buger – headlining a tender and juicy beef patty, crisp smoky bacon, addictive caramelised onions, melty cheese and fragrant mushrooms – is worthy of attention.
The juicy tender patty disintegrates and melts in the mouth. Love it medium rare –still pink within, and oozes with robust juices with every bite.
There is no need for a condiment – as the burger itself is marvellously flavourful and packs a punch – but I have to give credit to the exceedingly pleasing lime leaf aioli.
Burgers are ubiquitous, but memorable ones are hard to find. Thumbs up.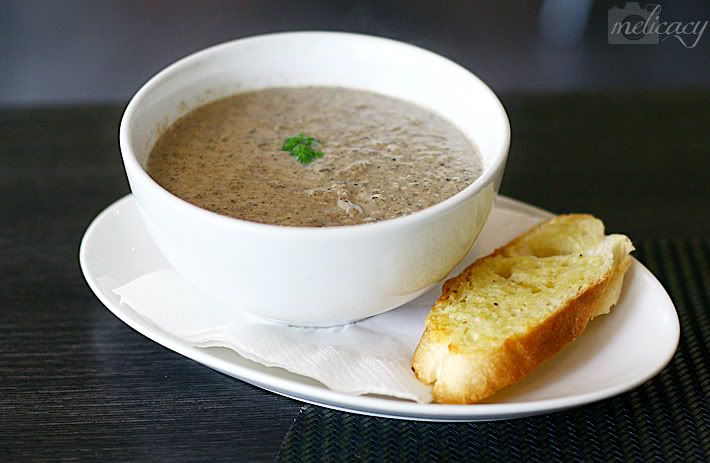 Cream of Wild Mushroom Soup with Cheesy Garlic Bread ($8)
I know, I know, 'cream of mushroom' soups are barely hot culinary news, but I don't think it's possible to be reminded enough how comforting it can be.
Epicurious's version is ridiculously thick of mushroom puree – with gritty mushroom particles – and every mouthful brings raptures of full-on mushroom flavour.
I LOVEEEEEEEEE it.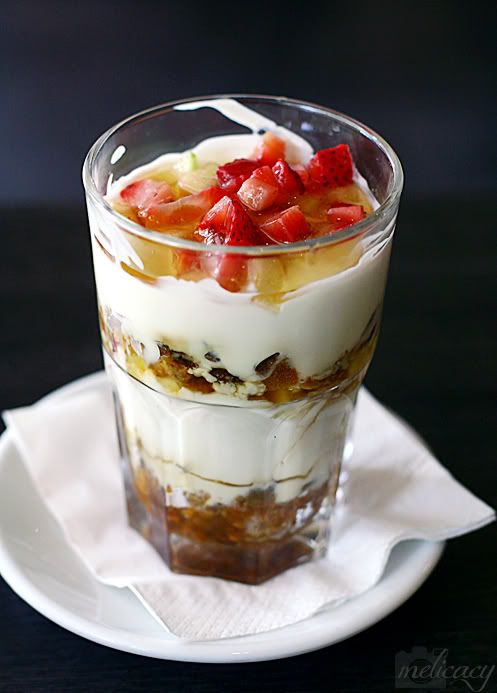 Breakfast Parfait ($7)
If you want to end your brunch on a sweet note, try the healthy Breakfast Parfait. Like a trifle, homemade granola is layered with luscious honeyed yogurt, and topped with fruits.
Its saccharine sweetness will satisfy those with a sweet tooth.
Epicurious provides a cosy atmosphere to catch up with friends and laze the day away. Service is not exceptional, and seems to be on the slow side; given the laid-back environs, it is no wonder they have sunk into the mood as well.
I'm craving for the delectable brunch fare as I'm typing this… *wipes away saliva*
Highly recommended!
Café Epicurious
392/394 Upper Bukit Timah Road
The Rail Mall
Singapore 678046
Email: enquiries@sweetsaltyspicy.com.sg
For bookings, call: 68772544 or 68945926