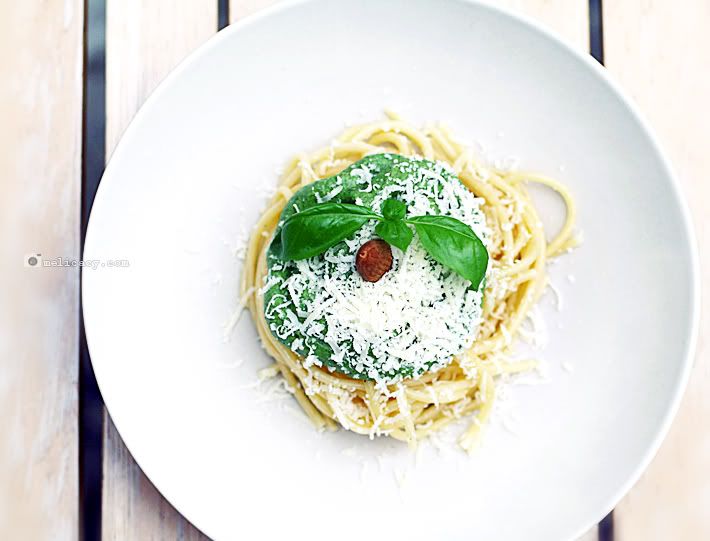 #CookForFamily is an initiative conjured up by food blogger and Radio 100.3FM deejay Daniel Ang, with a simple objective of getting more bloggers, and hopefully their fans and followers, to start cooking.
When I received the email from Daniel, I agreed readily without even having any idea what I was going to cook. I'm always supportive of my fellow foodie friends, and I found no reason to show disdain.
How #CookForFamily Works
– Pick any day in July to cook a meal for a single member of your family, entire family or loved ones.
– The meal does not have to be anything fanciful, as long as it is cooked from the heart.
– Remember to take photos of your cooking.
– Blog about your cooking, the experience, your thoughts, what your family thinks of your cooking, and encourage others to #CookForFamily too.
(You may skip the long-winded story and scroll down for the Recipe!)
I had the whole of July to think about what to cook, but procrastination took over and I eventually thought of bailing out.
I have zilch experience in the kitchen. I cooked my first packet of instant noodles when I was 18 years old. Before that, I didn't even know how to turn on the gas stove to start a fire. Since then, I'd gotten more familiar with the kitchen but I tend to cook simple dishes that are sufficient to fill my stomach; nothing fancy, and nothing that takes more than 30 minutes to prepare.
I was never confident enough to cook anything for my family –afraid that it will not be healthy enough or tasty enough to meet their expectations. This project compels me to push my limits and step out of my comfort zone.
I also have a scald accident to blame for my (mild) phobia of cooking. It happened almost 2 years ago, and left me with a huge scar on my thigh from skin grafting surgery. The second-degree burns had me hospitalised for two weeks, bed-ridden for 5 days, and I even had to continue using a walking-aid after I was discharged. It was a tormenting period I will never forget.
The accident taught me to be more careful and cautious when it comes to kitchen matters. I will not avoid the kitchen entirely, just because of the misfortune.
I replied to Daniel, "Sure! Hope my cooking isn't too disastrous. There're only mum and dad though, and they're hardly home. Will find one day to cook for them."
My family members are rarely home. My parents are busy working, while my sister is a 5-hour flight away, in Australia. We hardly spend time together –much less dine together.
That day finally came –really randomly and unplanned. I had nothing on that day; mum dropped me off at Nex to buy food before she rushed off to her next appointment. I was like a lost little sheep, somehow vexed that I have to get home myself. Since I had time to kill, I spent some alone time wandering around the mall, and then I ended up at NTUC Fairprice Xtra.
Grocery shopping is therapeutic.
Supermarket basket dangling from my arm, iPhone in my palm, I did a quick recipe search. My decision to make Pesto Spaghetti came without hesitation, since I've watched how it was done during a cooking demonstration with Jacob. It is a simple recipe that I've been longing to attempt myself.
I didn't stick to the same recipe used in Jacon's cooking demonstration. Instead, I substituted pine nuts for almonds, and I bought curry/laksa leaves in addition to sweet basil for the pesto. It was through a quick whatsapp conversation with Jacob that helped me decide which ingredients to get.
I also bought minced meat and tofu, which I had in mind my own version of a meat pie –which I will share in my next recipe post.
I've always been intimidated by fresh ingredients. Cooking from scratch seems like a painstaking and time-consuming process.
Cooking demonstrations (I've attended several sessions previously) and food channels (I watch the AsianFoodChannel religiously) definitely helps in inculcating among viewers the basic skills and culinary knowledge, to whip up a simple meal from scratch.
Recipe: Pesto Spaghetti
Ingredients for Pesto:
– Fresh Laksa/Curry Leaves (1 packet)
– Basil Leaves (a few stalks)
– Extra Virgin Olive Oil
– Toasted Almonds (1 handful)
– Garlic (1 clove)
– Parmesan freshly grated (1 handful)
– Salt and Pepper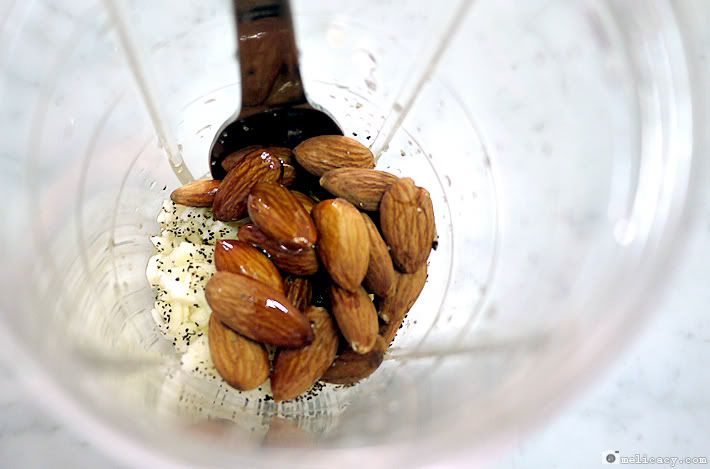 Method:
– Process Pine Nuts & Garlic until you get a paste
Halfway through the process, I curiously opened the cap –only to be greeted with immense fragrance. I sooo wanted to eat it straight from the container.
As you can see, there are still chunks of nuts. You'd want to blend them into a smooth paste.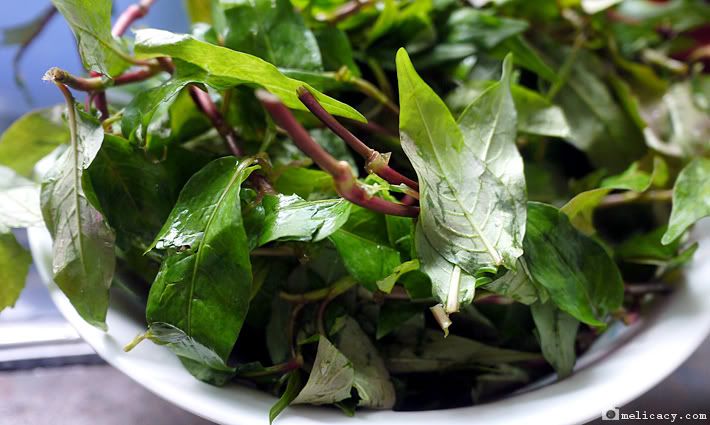 – Get the leaves off the stem. We just need the leaves.
I used predominantly curry/laksa leaves (the entire packet) with a few stalks of sweet basil.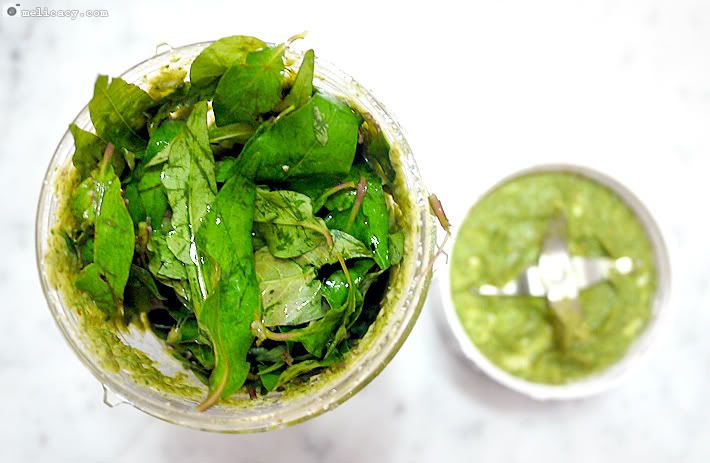 – Add a handful of leaves and a little olive oil and blend. Do not add all the leaves at one go. Do it by batches, a handful at a time.
– Repeat process until everything is well blended. If it is too dry, add a little more olive oil till you reach the ideal consistency.
Expect a strong aroma with a nutty flavour to waft around.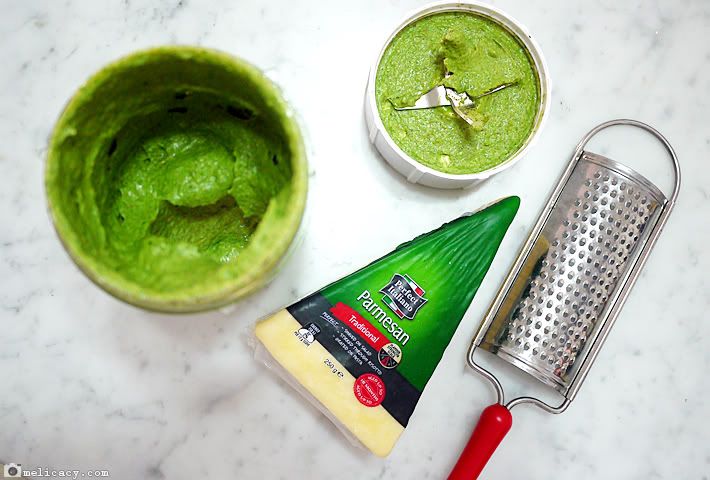 – Add some grated Parmesan and a little olive oil and continue to blend
A block of Parmesan Cheese costs about $10.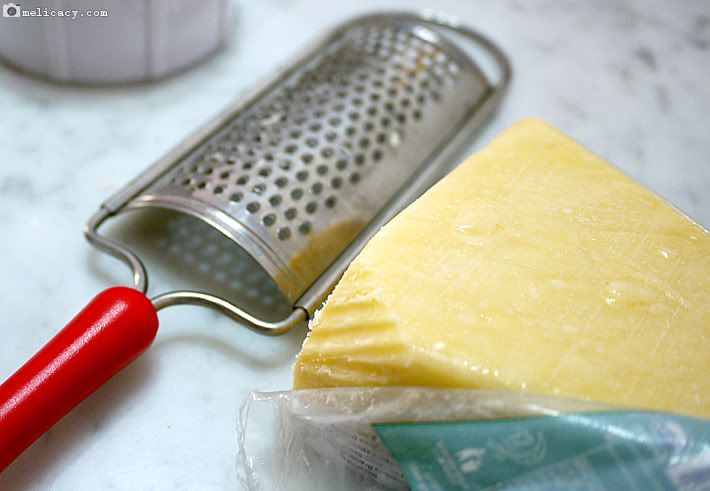 – Add more cheese and olive oil until you've reached your desired consistency
– Season with Salt and Pepper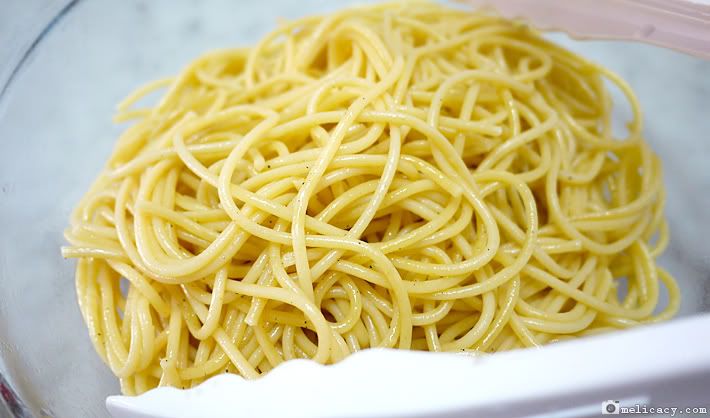 For the spaghetti, cook it according to the package. Do not overcook; the ideal texture is "al dente".
Season with some extra virgin olive oil, salt and pepper, and toss.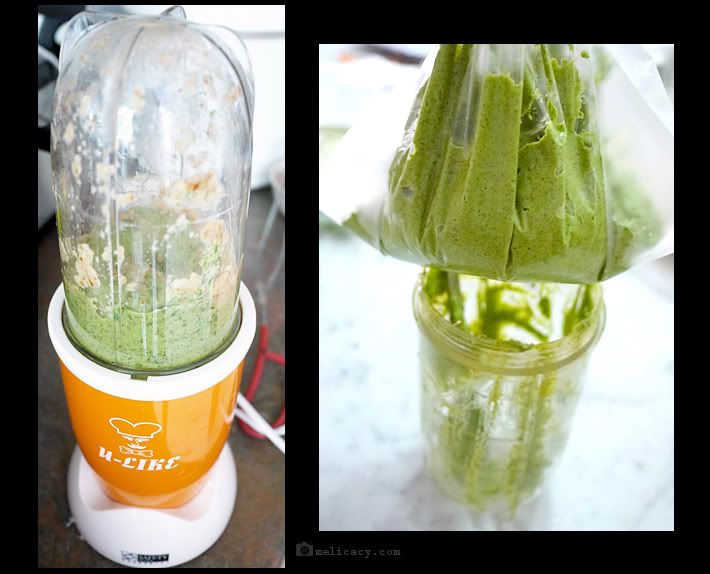 Assembly
Typically, pesto is mixed with the pasta till well coated before serving, but I thought of presenting it my own way.
A tip I learnt from cooking programmes on television: twirl the spaghetti around a large fork or tong to create a neat "nest" on the plate.
I scooped the pesto paste into a translucent plastic bag, snipped off the edge with a pair of scissors and used it as a "piping bag".
First plating (for Dad):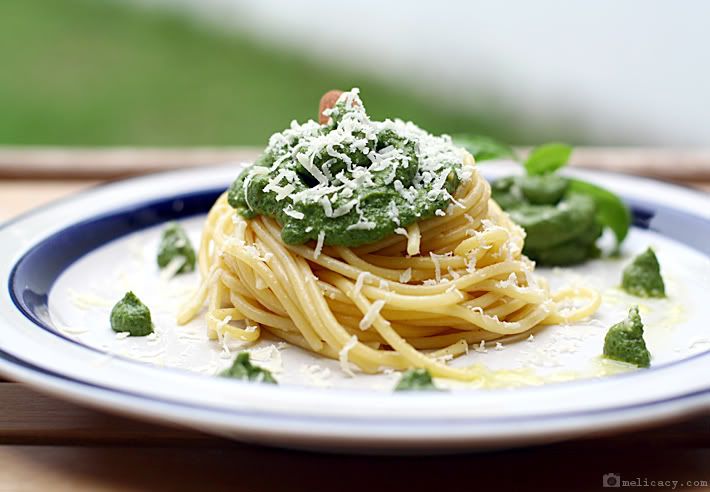 – Grate Parmesan cheese over the Pesto Spaghetti and garnish with almond and a small twig of fresh basil.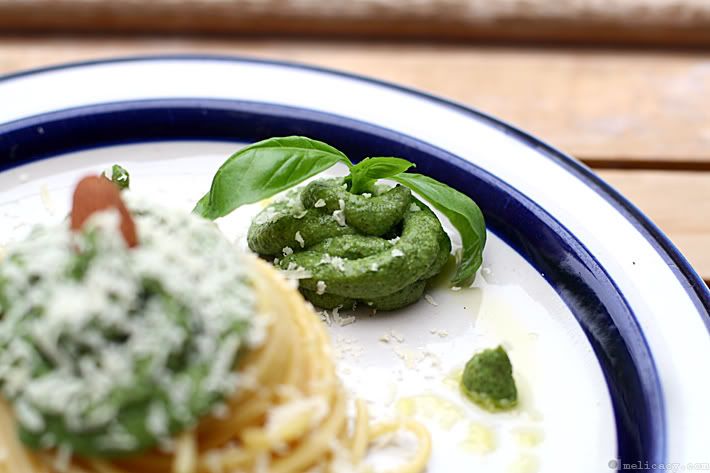 I wanted to pipe the pesto to form the shape of a rose but I didn't quite succeed.
Second plating (for mum):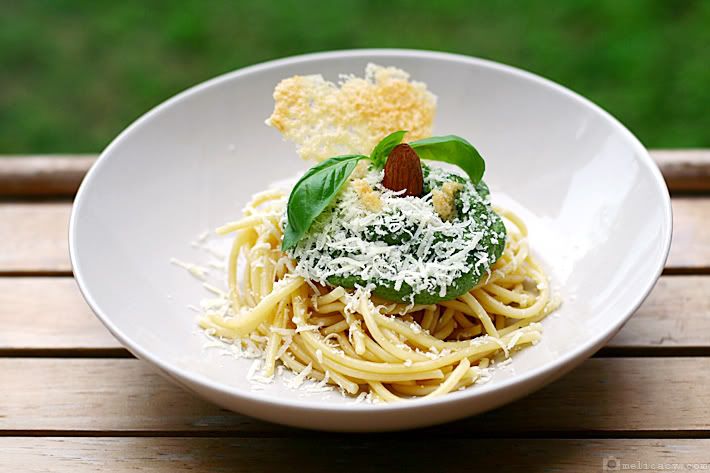 I wanted to make a heart-shaped cheese cracker but the shape didn't turn out as ideally as I would have liked it, but it was a good first try.
Method (Cheese Cracker):
– Grate Parmesan cheese onto a baking sheet and microwave for about 30-40 seconds till golden brown and crispy.
Third plating (for our domestic helper):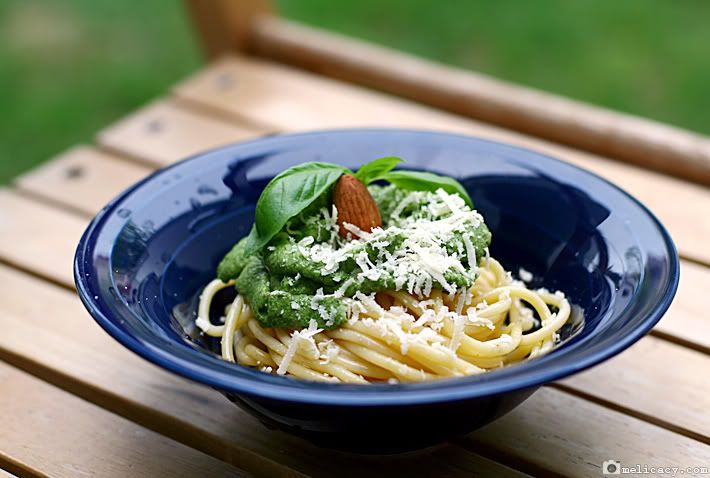 Since we are a small family, our maid is like our family. Hence I prepared a portion for her as well.
Both mum and dad enjoyed the dish a lot! They finished the dish to the last speck and gave their honest compliments, which show that they appreciate my efforts. That meant a lot to me.
Mum even posted on her facebook!
Usually mum doesn't come home till past 10pm or later (she settles her meals outside), but when I whatapp-ed her pictures of the food, she came home early for dinner.

This healthy dish, made from scratch, contains no MSG; it is also a vegetarian option that many can enjoy.
#CookForFamily should be made a yearly affair.
I hope my post will encourage more people out there to start cooking. If I can cook, so can you.
Though we're not professionally culinary trained, simple cooking is one way that we can show our appreciation for food and fresh ingredients, and that we do not eat ignorantly.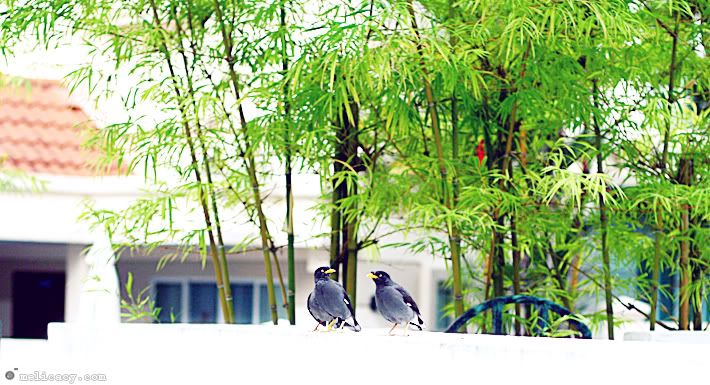 The birds were totally eyeing my food!!!!!