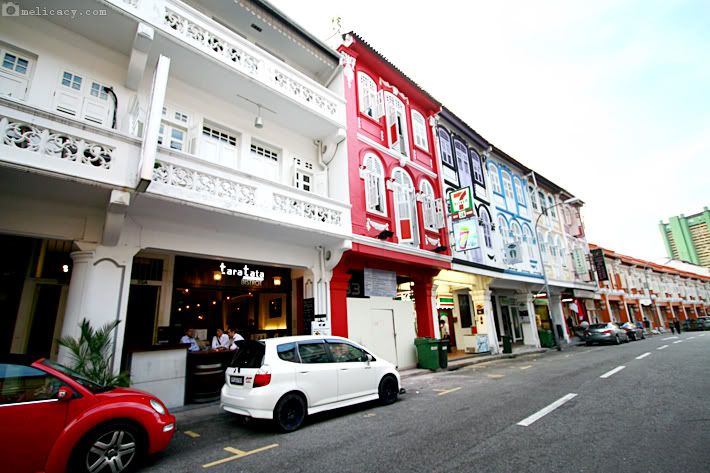 Skirting the fringe of Chinatown, Keong Saik Road is home to a row of well-preserved shopshouses evolved during the British-colonial era –one of which houses Taratata Bistrot.
Taratata Bistrot is a French restaurant that prides itself for its unpretentious, quality French fare with regional focus –presented in their idiosyncratic style.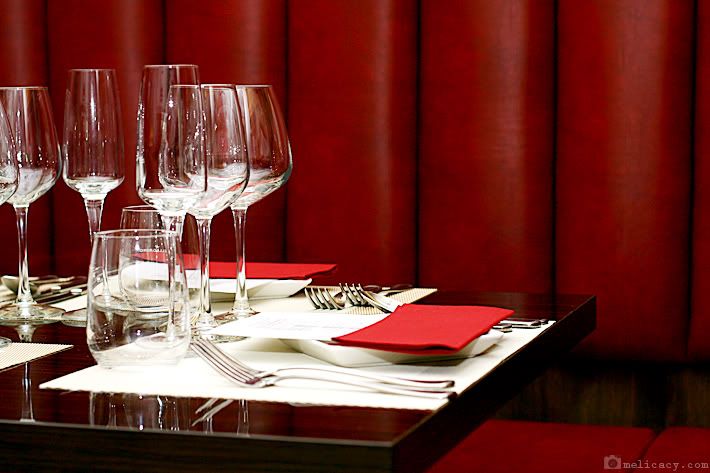 Working in pair are French bistrotiers, Bertrand Raguin and Philippe Nouzillat, chefs and co-owners of Taratata Bistrot.

Both chefs were born in wine regions in France. Their passion for wine is inevitably reflected in their strictly French wine list of more than 65 labels.
Half-bottles start from $48, and full bottles from $68.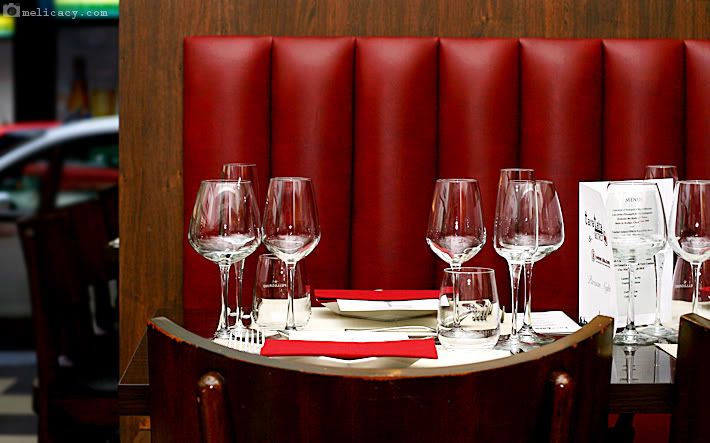 The restaurant is fancy enough for a romantic date, yet homely enough for casual dining.
"More than just offering a place for Singaporeans to have great French bistrot food, we'd also like Taratata to showcase French cuisine's great regional diversity," says Bertrand and Philippe.
A staple in almost every French restaurant, warm bread is served before the meal.
Wine lovers must not miss the 'A La Bonne Franquette Night', which happens on every Tuesday and Wednesday in the month of August. The $68++ Set Dinner comes with free flow of wine for 2 hours.
'Parisian Night Dinner'
Also happening in the month of August, the spotlight is on 'Parisian Night'. The set dinner features a great value 4-course menu with wine pairings for $120++ for two.

Domaine des Roches Neuves Bulle de Roches, Cremant 2009
The first entrée is paired with a dry sparkling wine made with 90% Chenin Blanc, 5% Chardonnay and 5% Cabernet Franc. It has light airy bubbles with citrus notes –a refreshing way to start the meal.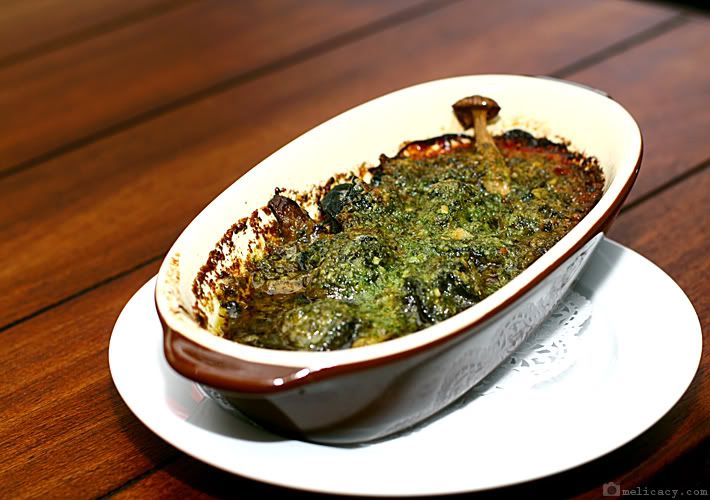 Cassolette of Escargots with Mushrooms
Escargot is a classic element of French cuisine, fondly associated with the Parisian dining culture.
Succulent escargots are bathed in a seductive pool of parsley-garlic butter, and served straight from the oven –deeply aromatic and highly appetising.
The serving size is ample; it is especially generous for French dining. I was totally expecting dishes to arrive in petite portions.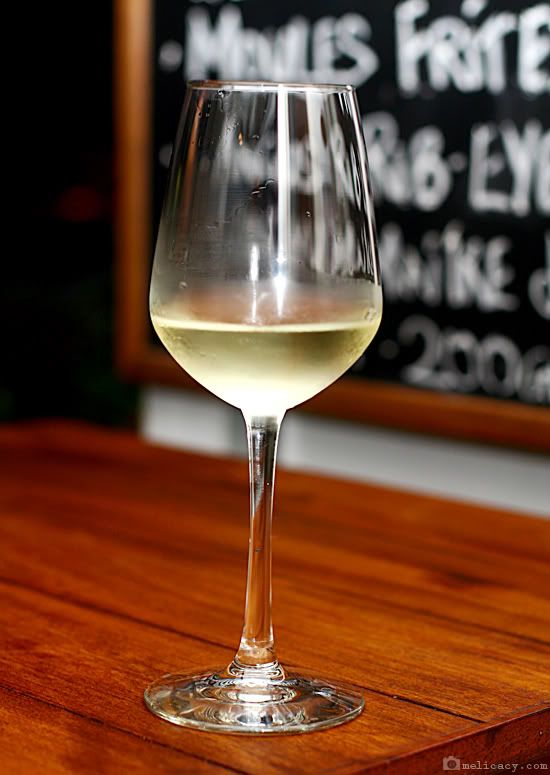 Alain Cailbourdin Les Cris 2011
The second entrée is paired with a classy and crisp white wine that finishes with an invigorating and refreshing hit. It makes for an ideal pairing with seafood.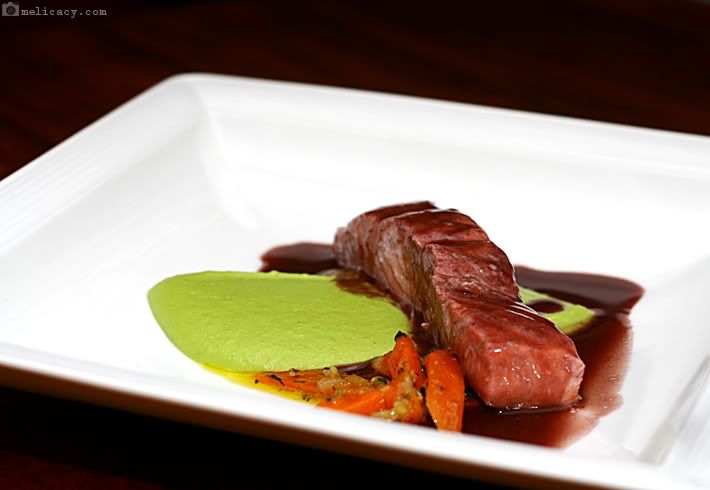 Poached Salmon Fillet in Red Wine Sauce with Green Peas Purée
To begin, let me simply say that the poached salmon fillet was one of the most celestial renditions of this particular fish I've ever had.
The fish disintegrates in your mouth without any chewing required, literally melting on the tongue; it explodes with perplexing but remarkable flavours with every mouthful.
The colours on the plate sure add visual appeal!
The green peas purée will trick non-veggie lovers into consuming their greens. It is slightly gritty with the right amount of creaminess –very addictive.
Without a doubt, this was my favourite course that evening.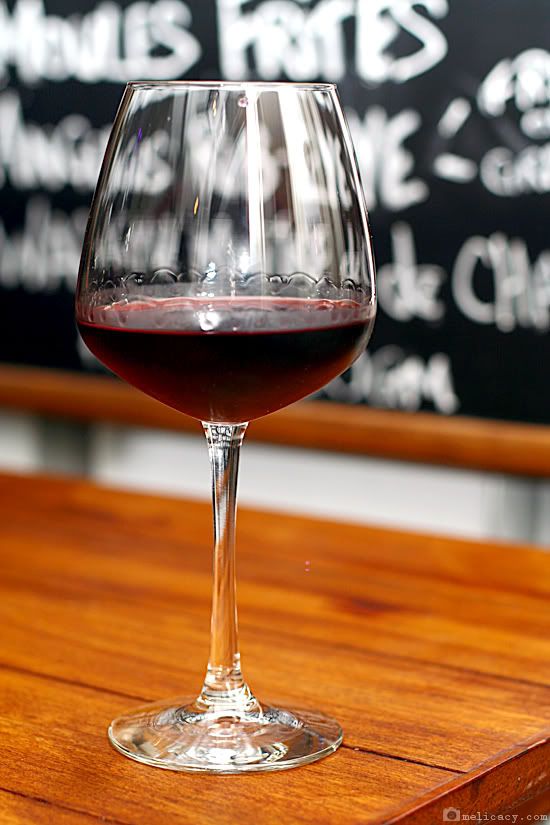 Clos Marie Olivette 2010
"Brightly, tartly dominated by fresh red and black berries capped with maraschino and buddleia, and suffused with saliva-inducing salted pan drippings. For all of its freshness and sense of fruit acid there is texturally a subtly creamy hint here, too."

Duck-Leg Confit with Landaise Potatoes
The star of this dish for me is the crispy skin on the duck; it is immaculately seasoned, and crisp without the oiliness.
The outermost part of the underlying meat turned out to be a tad dry, but cut in deeper and juicier meat is revealed. The level of difficulty in achieving the perfect Duck Confit is inordinate. With splendid flavours present, the ideal the texture of the meat can be attained with some fine-tuning.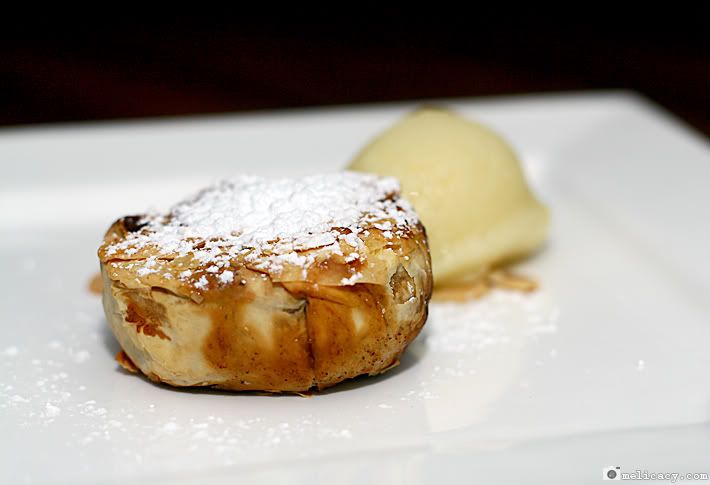 Landaise Apple Pie
I enjoyed this dessert. It comprises a thin crisp crust – almost like the texture of paper-thin pizza crust – with warm cooked apple within that isn't too sweet.
The accompanying pear sorbet is the 'cherry on top of the cake'. It left me wanting more!
The price of the set dinner ($120++ for two) comes with coffee or tea to end the meal.
At Taratata Bistrot, great and loving care is manifested in the preparation of food, accomplishing desired flavours and tastes –crowds clearly attest. Finding an empty table there especially at dinnertime is a matter of luck.
I wouldn't say the overall service is top-notch; but it is fairly decent. The restaurant manager makes a noteworthy effort to make diners feel at home.
Thank you, Alice, for the wonderful company.
Taratata Bistrot
35A Keong Saik Road Singapore 089142
Reservations: (65) 6221 4506
Email: taratata@taratata.sg
Website: http://www.taratata.sg
Opening hours:
Tuesday-Friday & Sunday: 11.30am – 2.30pm; 5.30pm – 11pm
Saturday: 5.30pm – 11pm
Closed on Mondays