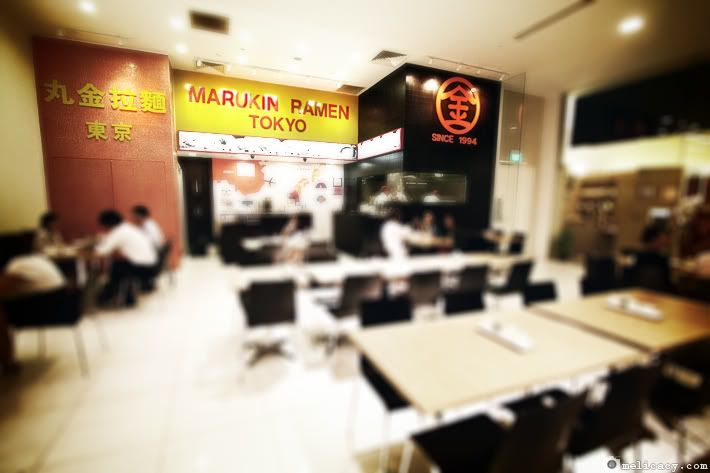 Marukin Ramen
Scotts Square (next to Hyatt Hotel)
No.6, Scotts Road, #B1-11/12, Singapore 228209
Tel : 6636 3468
Fax : 3363 3469
Business Operation Hours: 11am – 10pm (Last Order @ 9.45pm)
http://marukinramen.com/

Here's a little history about Marukin Ramen.
Marukin Ramen was first established in 1994, where founder Hiroshi Kusuda's love for ramen emerged when he was fulfilling his duties as a filial son, helping his mother to run her noodle business.
Today, this Tokyo's popular ramen chain-restaurant is now going international, and has finally set up its base in Singapore to pander to ramen aficionados –at the basement of Scotts Square.
At Marukin Ramen, authentic flavours of the Kitakyushu city in Japan prevails in each dish, echoing fond memories of Hiroshi's home.
Starters

Hiyayakko ($3.90)
Chilled Tofu with Chilli Soy Sauce
To start with something light on the palate, you can order the light-tasting chilled silken tofu that comes with a chilli soy sauce.

Marukin Potato Salad ($3.90)
If you find the chilled tofu to be too plain, the potato salad (though nothing spectacular) is comforting to dig into.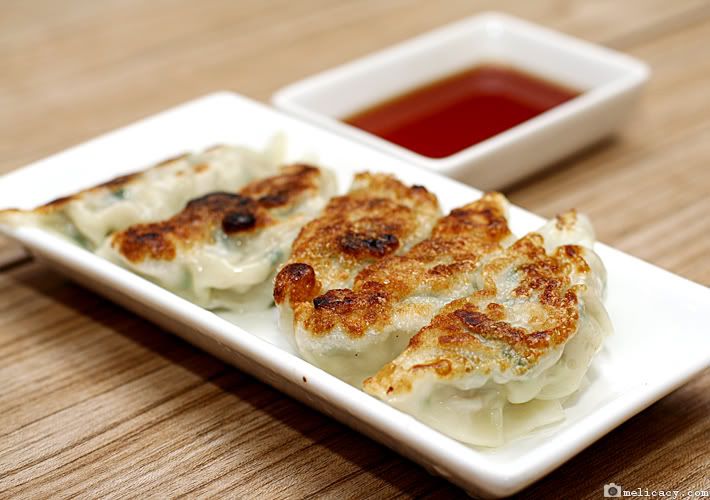 Marukin Gyoza (5 pieces for $5.90, 10 pieces for $10.90)
Homemade chicken dumpling
Signature chicken gyoza dumpling is handmade with freshly marinated minced chicken and shredded vegetables. The dumpling skin is neither too thick nor starchy –and I appreciate that the crisp crust doesn't carry an unpleasant burnt odour despite its char.
For an extra boost of taste, dunk the dumplings into the accompanying sauce made of Japanese Shoyu, rice vinegar and chilli oil.
This is one of my favourites.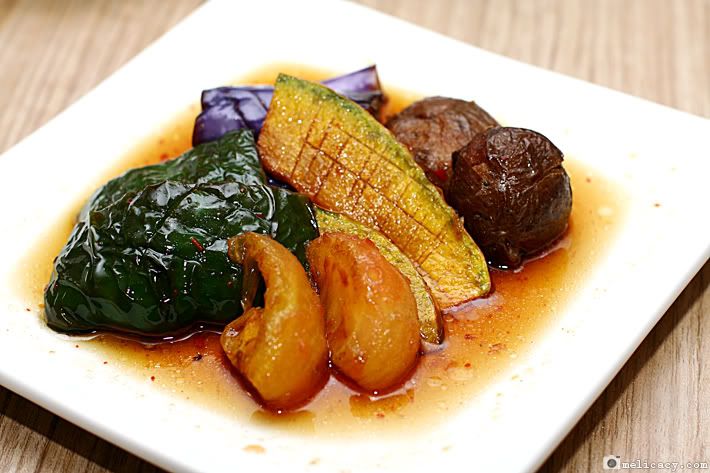 Deep Fried Vegetables in Dashi Broth ($5.90)
The Deep Fried Vegetables in Dashi Broth is another dish that I enjoyed. Loaded with flavours –especially the appetising broth.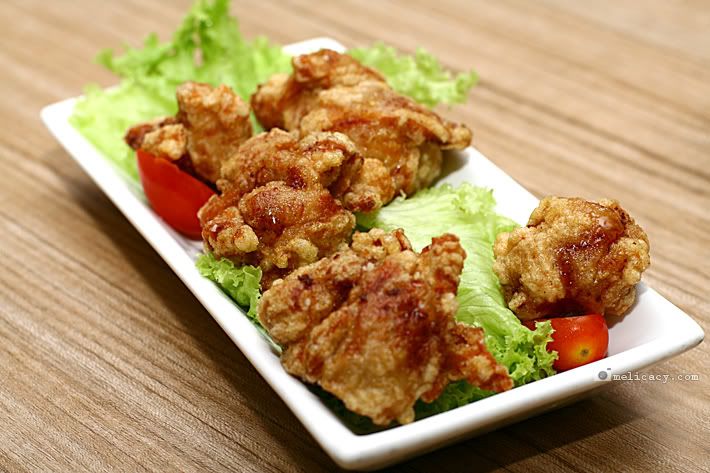 Karaage ($4.90)
Deep fried chicken
The Karaage is deep-fried to golden perfection, with juicy succulent meat within. I couldn't get enough of these!
Ramen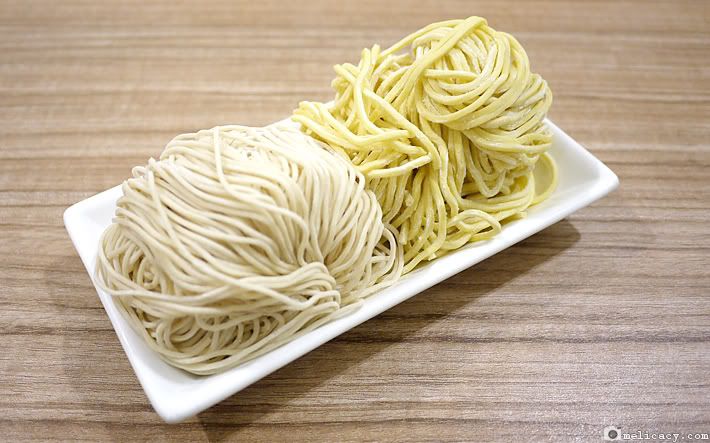 Marukin Ramen has its own factory in Japan producing its own brand of ramen noodles.
Unlike typical pork-based ramen soup broth, they use a chicken broth. Chicken is slow-cooked for 6 hours to attain maximum flavour. Chicken is a healthy alternative to pork; it is known to be nourishing and good for our skin's complexion.
There are four types of soup base – Shoyu Chicken Clear Soup, Shoyu Chicken White Soup, Shio Chicken White Soup and Miso Chicken White Soup – and a variety of toppings.
The Chicken Chasyu is one of their house specialties that can be found accompanying most ramen dishes served here.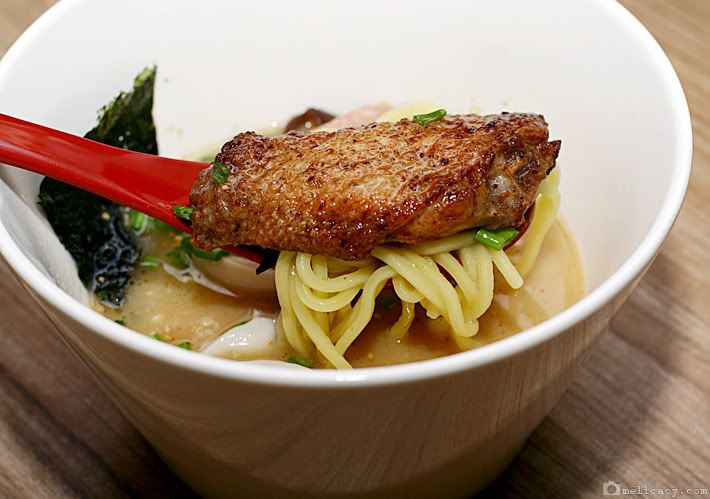 Shoyu ISSAI-GASSAI Ramen ($16.90)
A myriad of ingredients can be found in the Shoyu ISSAI-GASSAI Ramen, including Chicken Chasyu slices, Chicken meat balls, a piece of chicken wing (mid-joint), shrimp wanton, Nitamago, Kikurage mushrooms, green onions, a piece of freshly toasted Nori seaweed and a light dash of sesame seeds.

Shio Wakame & Corn Ramen ($11.90)
The Shio Wakame & Corn Ramen caters to those who love veggies. It comes with Wakame seaweed and corn kernels atop thin ramen noodles, along with Kikurage Mushrooms, Green Onions and a sprinkling of sesame seeds.

Spicy Negi Negi Miso Ramen ($13.90)
Personally, I find their chicken broth to be less flavourful than the usual pork-based broth. The soup base for Spicy Negi Negi Miso Ramen, however, packs more flavour than the preceding dishes.
Here, thick egg ramen noodles are accompanied by Japanese Leek, Kikurage Mushrooms, and covered with a generous amount of shredded green onions.
The spice level isn't overwhelming, and most people will be comfortable with the heat.

Tsukemen ($14.90)
Literally meaning 'Dipping Noodles', this cold thick ramen noodle dish is served with Chicken Chaysu, Nitamago, Kikurage Mushrooms, Green Onions and Sesame with a warm dipping sauce on the side.
According to the menu description, this dish will take 10 minutes to serve.
Hastened to complete the order in 10 minutes, they served me a bland broth instead of a dipping sauce by mistake. Oddly enough I drank the 'supposedly dipping sauce' like soup, and that garnered astounding stares from my dining partners, for their dipping sauces were intensely salty, the way it was meant to be.
Due to this blunder, I left without a splendid impression. The starters remain the highlight for me, for I enjoyed them much more than I did the ramen.
Here's a special promotion for you!
For the month of August, all you readers have to do is say "Marukin Ramen! OISHII!" when you order a main and they get a FREE side of the Deep Fried Vegetables in Dashi Broth.