Hard Rock Café is known for its American classics and high-energy rock 'n' roll atmosphere. As reviewed previously, my dining experience at Hard Rock Café Sentosa was nothing short of satisfying.
Check out my review here: http://melicacy.com/?p=3576
This time round, I visit Hard Rock Café Orchard to try their new seafood additions.

My first time at Hard Rock Café Orchard was for my mum's friend's daughter's wedding event. An unconventional but remarkable wedding venue –their 'buffet-style' food is equally amazingly good.
The new seafood menu Sea of Love, available for only a limited time, will satisfy diverse palates.

Crab Fried Rice ($20)
Wok-fried with succulent crabmeat, prawns and diced Portobello mushroom, wrapped in an egg omelette.
The Crab Fried Rice hits a homey spot with its wok-hei fragrance, while impressing with its polished presentation and splendid seafood components.
Each grain is coated evenly with flavour and fried thoroughly such that the grains don't stick to one another. Nicely executed.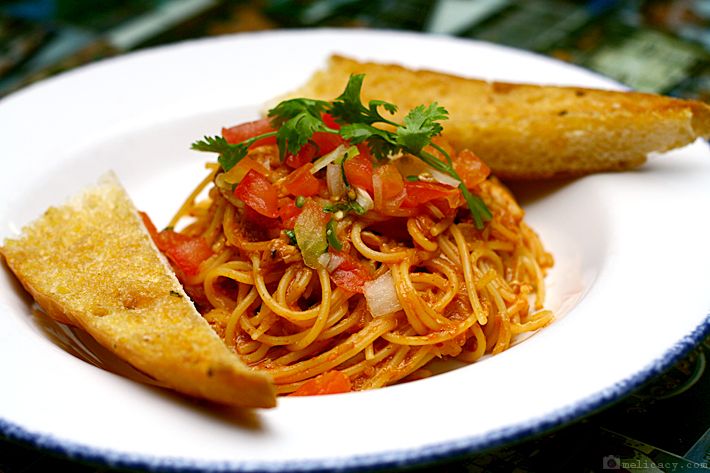 Chilli Crab Spaghetti ($26)
For something more robust, tackle the Chilli Crab Spaghetti.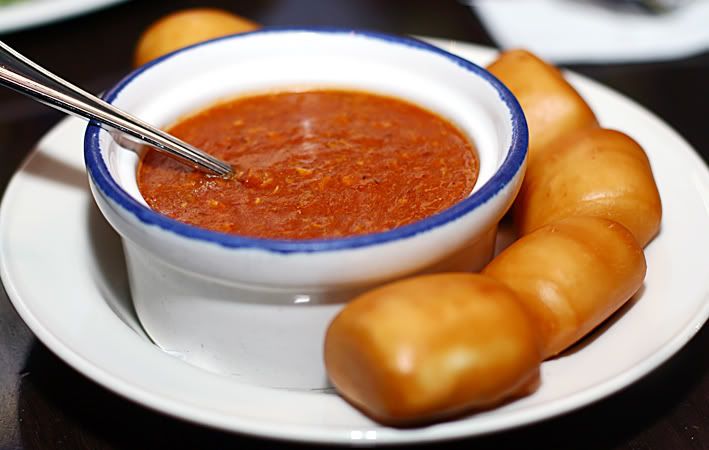 Chilli Crab Dip with deep-fried Chinese buns ($15) – a la carte menu
We all love the chilli crab dip from Hard Rock Café, but the Chilli Crab Spaghetti scales new heights.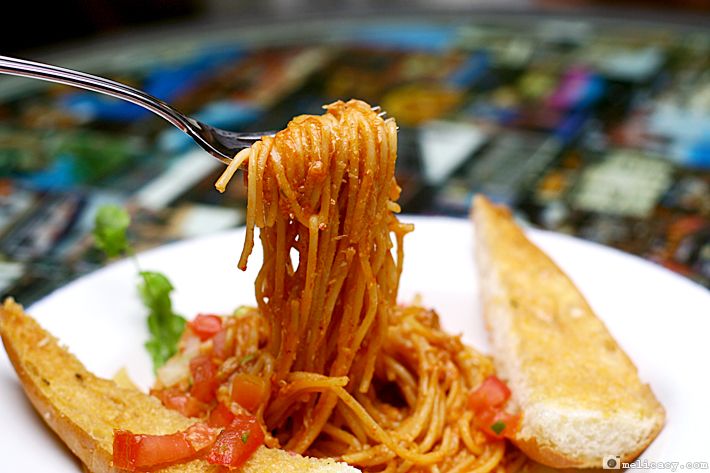 Every strand of pasta is well coated in that delicious chilli crab gravy where bits of crabmeat cling beautifully on.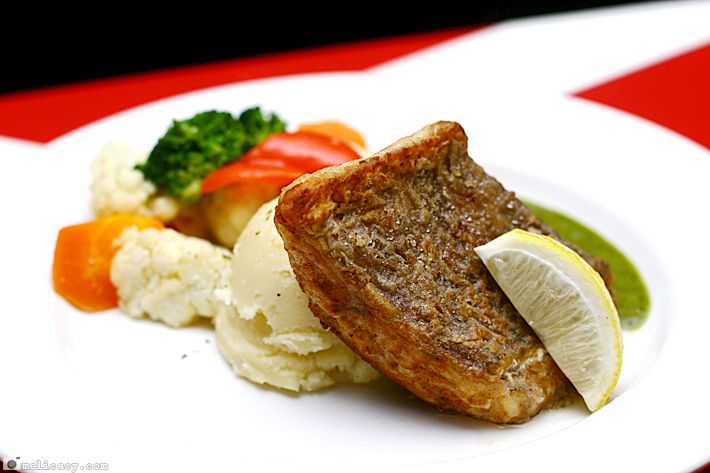 Crispy Sea Bass ($26)
For something milder in flavour, the pan-fried sea bass served with pesto sauce will provide herby redolences without an overwhelming complexity.
A scoop of smashed potatoes and briefly-cooked-and-lightly-seasoned vegetables are served alongside.
If you love their exceptionally comforting smashed potatoes like I do, …

Roasted Garlic Smashed Potatoes ($6) – a la carte menu
…Order an extra portion off the a la carte menu. One scoop is never enough.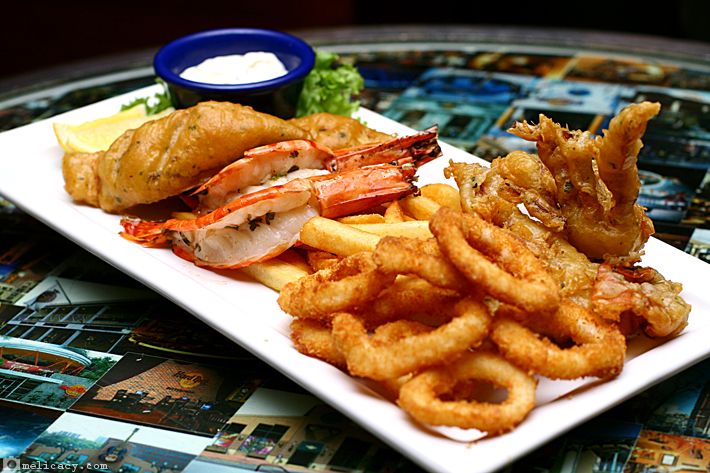 Seafood Platter ($28)
For a bit of everything yummy, order the sumptuous Seafood Platter that comprises an assortment of assortment of grilled prawns, calamari rings, battered sea bass fillet, soft shell crab, French fries with tartar sauce.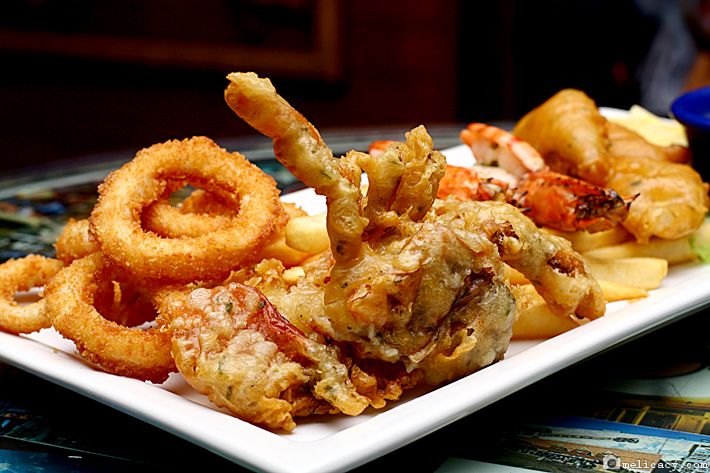 The crustaceans are delightfully succulent and crunchy, undoubtedly at the peak of good health.
The soft shell crab is one of my favourite components on the platter.
Eating the entire platter on your own is absolutely sinful considering the amount of deep-fried food you're going to be consuming, but share it, and it will be more comforting than it is sinful.

Fish & Chips ($26) – a la carte menu
The Battered Sea Bass Fillet is one of the components in the Seafood Platter that I am particularly fond of, because it is the exact same rendition as their Fish & Chips that I tried previously –except it's in a smaller portion to fit into the platter.
Sealing in the fresh taste of the sea in a crispy golden batter that is specked with herbs, the moist fish bursts with juiciness in every bite.
If you're in love with their battered sea bass as much as I am, order the Fish & Chips the next time round.

Twisted Mac, Chicken & Cheese ($26) – a la carte menu
The Mac & Cheese is always a crowd pleaser. Having enjoyed it so much at the previous session at Hard Rock Café Sentosa, it totally calls for a repeat order.
I love how each piece of macaroni is well coated in that cheesy goodness. This time round, we ordered it without the grilled chicken since our tummies were filled to the brim with all the yummy seafood.

Berrilicious ($10)
Don't forget to try their cocktails and mocktails (for those who don't take alcohol like me).
The non-alcoholic Berrilicious, served in a hurricane glass, is a delicious combination of Monin raspberry syrup, strawberries and orange juice.
Hard Rock Cafe Singapore
50 Cuscaden Road #05-01
HPL House Singapore 249724
Tel: +65-62355232
Website: http://www.hardrock.com/locations/cafes3/cafe.aspx?LocationID=81&MIBEnumID=3
Opening hours:
Tue – Thur & Sun: 11:00am – 1:00am
Fri, Sat & Mon: 11:00am – 3:00am
*1st Sunday of the Month: 11:00am – 3:00am
Last order: 10:30pm