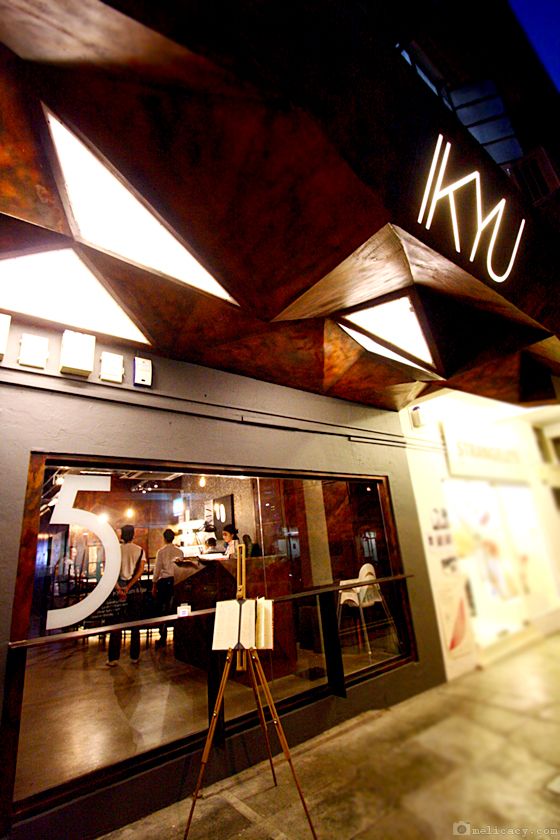 IKYU is a modern Japanese restaurant located in the Tiong Bahru enclave, pronounced as "E-Q", and literally translated as "Take A Break" in English.
A respite from the frantic city on an off-the-beaten-path street, its food is what draws the crowd. This 54-seater diner was full house on a weekday evening when I visited.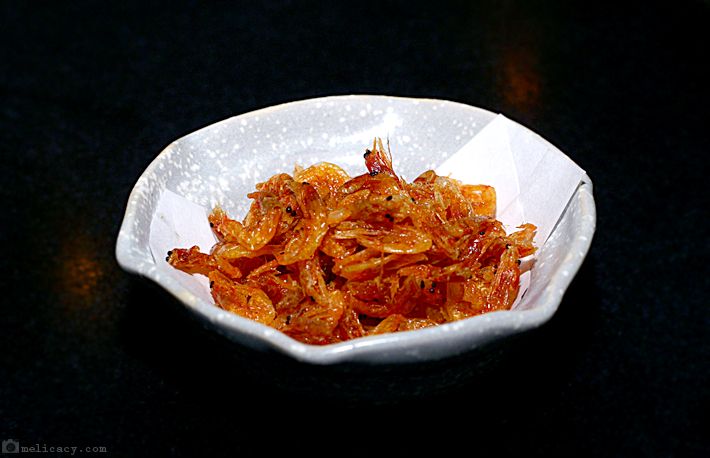 Deep Fried Sakura Baby Prawn ($8.50)
The Deep Fried Sakura Baby Prawn is puny in size but big on flavour. Fried to a delicious crisp, you'll have no qualms consuming the entire body with shell on.

Wafu Marinated Salmon Carpaccio ($16.50)
Divine slices of fatty salmon are augmented with a wafu marinate that brings out the bright brininess of the ocean.

French Foie Gras Flavoured in Miso ($18.50)
The French Foie Gras Flavoured in Miso is a must-try.
This is a Japanese take on the French foie gras. The miso glaze added a whole new dimension to the fatty liver. Seared till caramelised and crisp on the surface, with tender interior that disintegrates in your mouth, there is a perfect balance of sweetness and savouriness. Genius interpretation.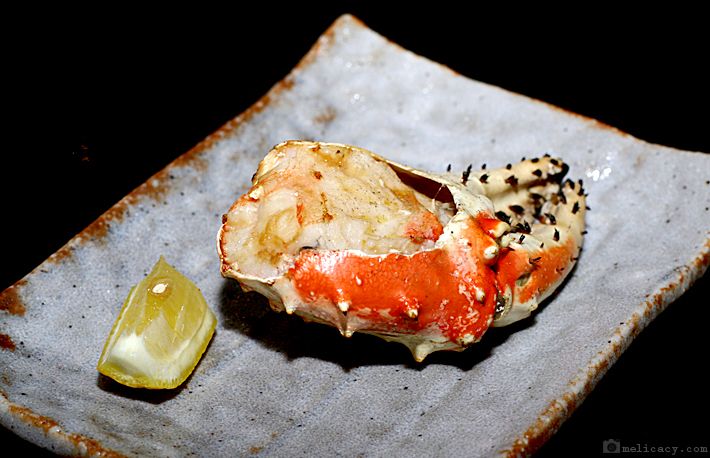 Taraba King Crab with Soy Butter ($48.50 for 2 pieces)
Priced at a whopping $50 for two claws, quality is what you're paying for. Pristinely fresh, meaty and juicy, kissed very lightly with soy butter, the seasoning is kept subdued to allow the natural sweetness of the crustacean to shine.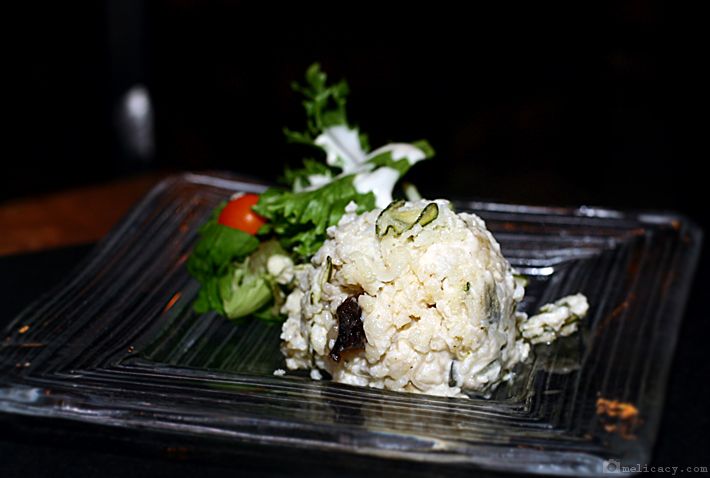 Century Egg Traditional Potato Salad ($8.50)
A twist to the plain old potato salad, the addition of century egg made this dish an instant hit.

Blow Fish Tatsuta-age with Sansyo ($16.50)
Tatsuta-age is a typical Japanese-style fried chicken, but here they've applied the same method of cooking on a different subject –blowfish now takes centre stage. I love all things deep-fried. The Blow Fish Tatsuta-age with Sansyo is no exception.

Assorted 5 kinds of Aburi Sushi ($38.50)
The Aburi Sushi consists of nigiri sushi with a fish topping that is blowtorched to a caramelised surface, but still partially raw underneath.
Pricey for a sushi platter, but if you look at it in terms of freshness and quality, what you pay for is what you get.

Crispy Hot Spicy Salmon Roll ($8.50)
I dislike seaweed; therefore sushi rolls with nori are not my favourite kind of sushi. This version with the tempura crust, however, makes the sushi roll more enjoyable. Love the fat chunk of salmon smacked in the middle.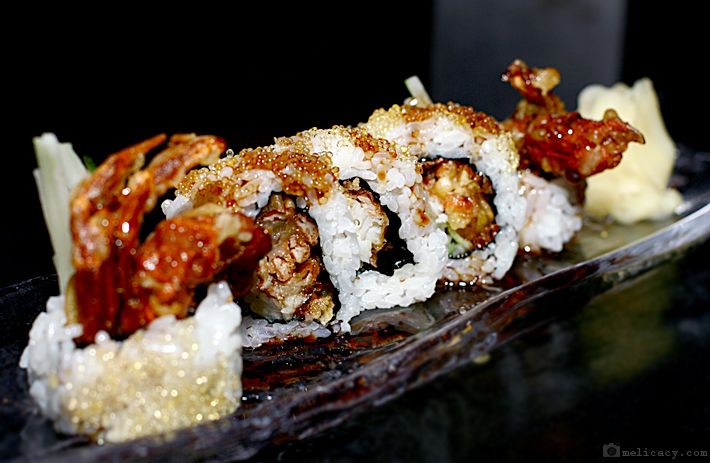 Shrimp Tempura California Roll ($15.50)
Another way to make me eat my nori is to stash it out of sight, like with the carlifornia roll, and add a crispy element, the crispy shrimp tempura in this case, so it distracts me from the seaweed.
This, my friend, passes with flying colours.

Silver Cod Marinated in Saikyo Miso ($25.50)
If you love fish, the Silver Cod Marinated in Saikyo Miso will bring boundless delight to your palate. Saikyo Miso is a sweet white miso originating from the Kyoto region of Japan. The delicate sweetness, along with the crispy caramelised skin and flaky tender flesh, is highly enticing.
It comes with a huge price tag though –for a small portion of fish that takes up only a paltry space of an average person's tummy.

Kagoshima Wagyu Beef Sirloin ($68.50 for 120g)

Shocyu Cheese Cake with Berry ($8.50)
Alcohol lovers will enjoy this dessert. The rich creamy cheesecake is spiked with an intense taste of sake –which is what brings this dessert to a climax.
While IKYU scores high points in terms of taste and quality, this place is more ideal for those who want to catch up over drinks and a light meal, and not for the hungry and ravenous.
The chefs and waitstaffs are not forbade to drink on the job, therefore clinking of glasses with diners are a common sight. You can easily tell who the regulars are by mere observation.
The food took a long time to emerge from the kitchen, leaving me hungry and glum –it made me wonder if the chef has been drinking too much. The food eventually made up for the unpleasant wait, putting a smile on my face with every bite.
IKYU
5 Yong Siak Street
Singapore 168643
Tel: (65) 6223 9003
Email: ikyu@ikyu.com.sg
Website: http://www.ikyu.com.sg