Domino's Pizza introduces a new series of Flatbread, accompanied by six Gourmet recipes specially created to suit different palates.
Their freshly made hand-stretched dough is topped with the freshest, premium quality meats and vegetables –this is where they triumph above rivalry pizza chains that use frozen pizza dough.

Chicken Alfredo
Chicken potpourri sausages, cherry tomatoes, mozzarella cheese and Parmesan cheese on a garlic butter sauce.
The six gourmet flavours are: Chicken Alfredo, Chicken Sambal, BBQ Beef, Margherita, Pesto Prawn and Spinach & Feta.
Compared to pizza, there is lesser cheese and toppings so as to enhance the flavour of the bread. The focus here is on the fresh dough.

Margherita
Fresh cherry tomatoes, olives, pesto and mozzarella cheese on a napolitana sauce.
Each of the specially concocted sauce gives each flatbread a character of its own. Fussy-eaters who have sworn off pizza delivery can now reconsider their adjudication.
Here are my top 2 picks: Spinach & Feta and Pesto Prawn

Pesto Prawn
Succulent prawns marinated in herbs & spices, accompanied by fresh cherry tomatoes, spinach and mozzarella cheese on a pesto sauce.
This flatbread is the perfect marriage of two great ingredients: aromatic pesto and succulent prawn. The cherry tomatoes bring fresh juiciness to the palate, while the cheese binds everything together flawlessly. There is a good balance of flavour.

Spinach and Feta
Garden fresh spinach mushrooms, mozzarella and feta cheese on a garlic butter sauce.
The unassuming Spinach & Feta Flatbread impresses with its wide dimension of flavour –from the aromatic garlic butter sauce base, to the earthiness of mushroom, to the mild milky flavour of feta. Veggie is made irresistible here.

Chicken Sambal
Shredded chicken, fresh pineapples, red peppers and mozzarella cheese on a spicy sambal sauce.
The Chicken Sambal is another that left an impression. The spice level is just right for me –it is not the overwhelmingly spicy sort that incites a flaming tongue, but just spicy enough to tantalise the palate.

BBQ Beef
Ground beef, fresh green peppers, onions, mushrooms and mozzarella cheese on a smoky BBQ sauce.
A popular favourite amongst the group was the BBQ Beef. The sweetness and smoky flavours of the BBQ sauce complements the beefy topping.
For the latest promotions, visit http://dominos.com.sg/
Thank you Omy.sg and Domino's Pizza for this yummy session!
I have to add that even though I'm very much an introvert, the friendly bloggers who attended this Omy event made me feel more relaxed and comfortable. If you are a budding blogger wanting to make more friends and gain more exposure, Omy would be a great place to start.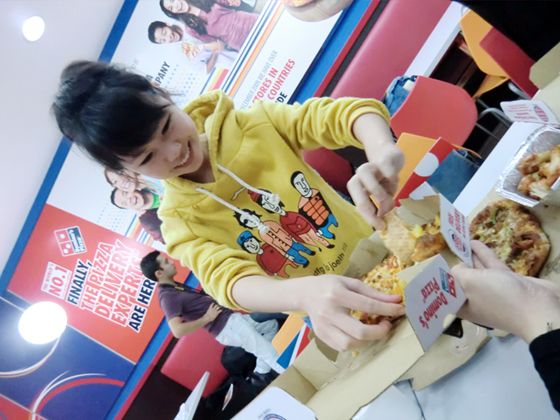 Who's this greedy girl! (Picture credit: Zerika)