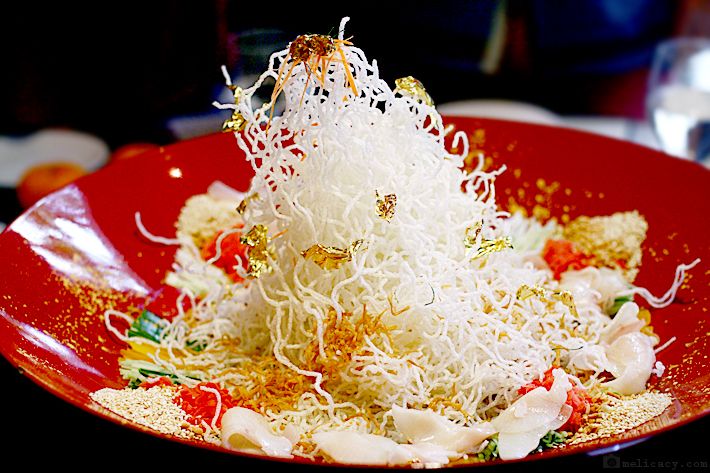 Park Palace, lauded for fine Cantonese gastronomy, promises a flourish of Lunar New Year feastings this season with an innovative twist.


Shunde Yu Sheng with Yellowtail ($88++)
To kick-start the meal and the New Year, don't miss out on Park Palace's Shunde Yu sheng –it is like no other. They have abolished most of the icky crunchy shredded vegetables, replacing the customary salad base with a nest of crispy fried vermicelli that's vibrantly accompanied by slices of ginger, spring onions, capsicums and finely ground peanuts. This has got to be one of my favourite Yushengs. Not surprising why.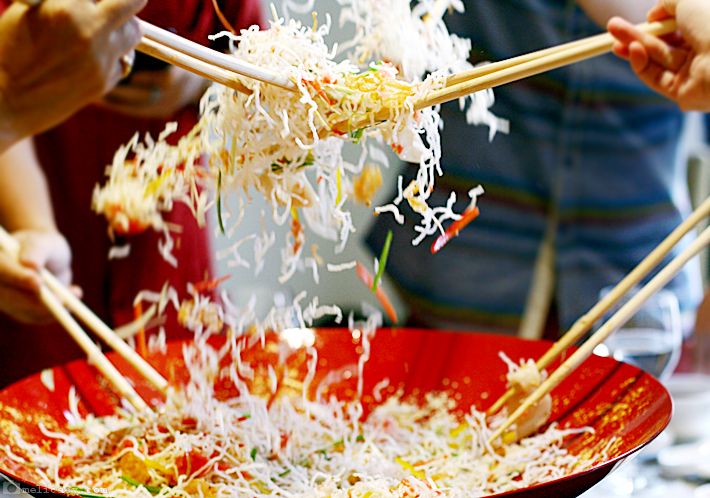 This propitious dish is also adorned with striking gold dust and gold flakes. "Lo ah!"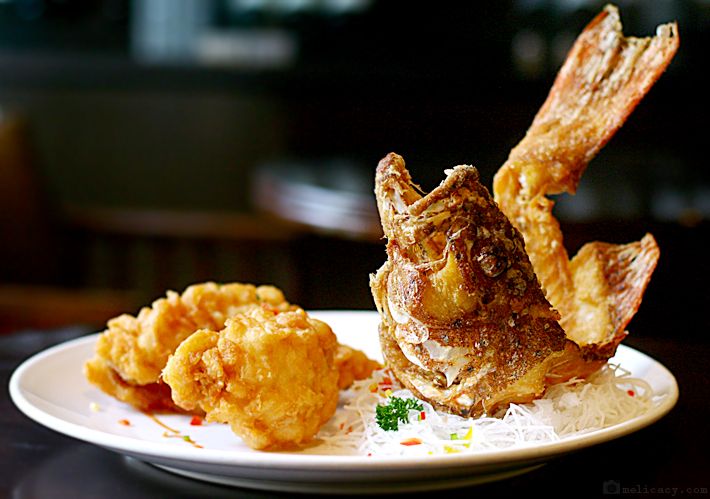 Golden Happiness Crispy Garoupa
The Golden Happiness Crispy Garoupa is one of the highlights from the Chinese New Year Set Menu. The fish is filleted and coated in a lightly seasoned batter, before being deep-fried to an auspiciously golden hue. The presentation is majestic and visually impactful. It tastes a little insipid on its own, but once drizzled over with their sweet sauce, everyone at the table will be vying for the last chunk. I like how we can enjoy thick chunks of fish without having to pick out those fearsome bones.
Pricing of Chinese New Year Set Menus:
· $78++ per person (a maximum of two persons)
· $288++ per table (for four persons)
· $438++ per table (for six persons)
· $588++ per table (for eight persons)
· $788++ to $2388++ per table (for ten persons)
*Orders to be made at least one day in advance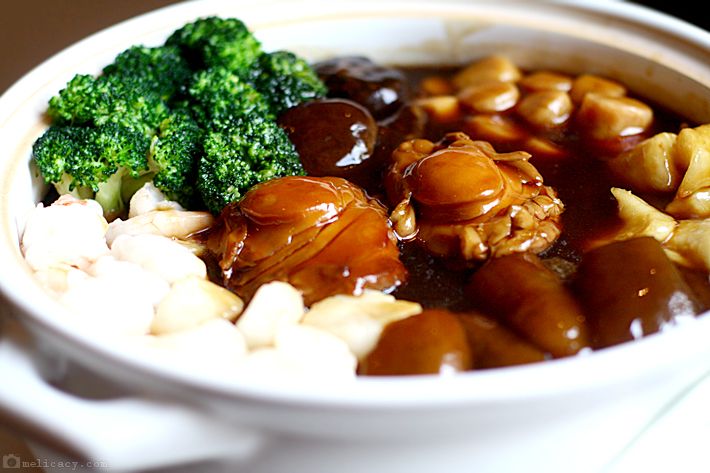 Prosperity Flambé Pen Cai ($268++ for 6 pax, $428++ for 10 pax)
The Prosperity Flambé Pen Cai is another highlight. There are a whopping 18 ingredients in this palatial casserole, including sliced abalone, sea cucumber, conpoy, prawn balls, roasted duck, roasted pork belly, duck web, soya chicken, fatt choy, mushroom, lotus root, broccoli, radish, beancurd skin, gingko nut and black fungus.
The flambé demonstration brings excitement and exhilaration to the dining experience. Cognac is set ablaze, and poured over the luxuriant ingredients, enriching the flavours and tastes as they converge.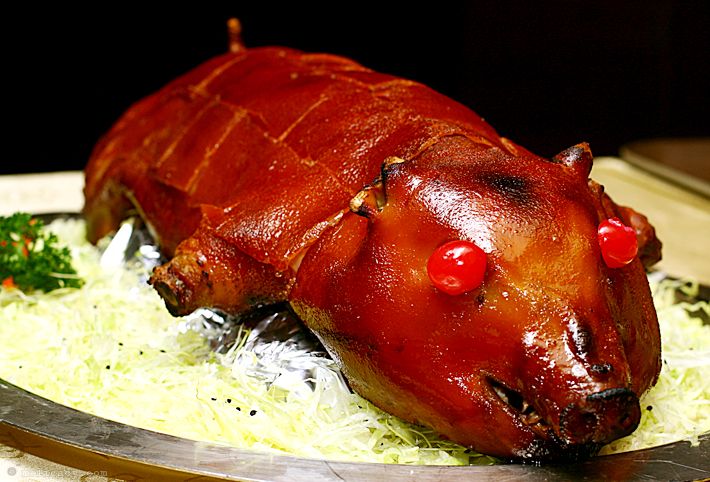 Imperial Suckling Pig ($238++)
Park Palace continues to impress, with the Imperial Suckling Pig that arrested everyone's attention at the dining table.
Piggy did not die in vain. The skin is crispy goodness, succeeding with a hint of sweetness amongst savouriness. Highly addictive!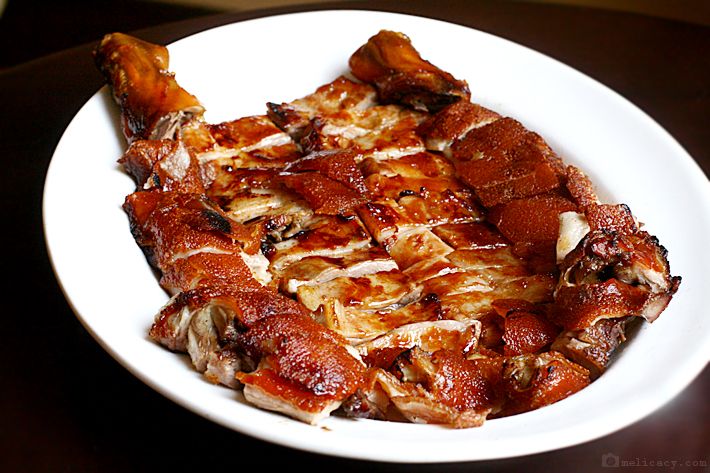 Imperial Suckling Pig Oven Baked with Lemongrass
Piggy was taken away right after the skin was portioned out. I'm possessive when it comes to the things I love, so naturally I was grieving in full objection. I haven't had enough of piggy.
Relief dawned when piggy came back, after another round of baking. This time round, piggy dons a perfume of lemongrass. It is however so subtle I could barely detect the plant's aroma. The robust sweet-savoury seasoning overpowers the existence of lemongrass. Maybe piggy has a stronger body odour, which requires more lemongrass to juxtapose. Hehe. But I like the way it tastes. Wonder how it would taste like with a more assertive lemongrass fragrance though.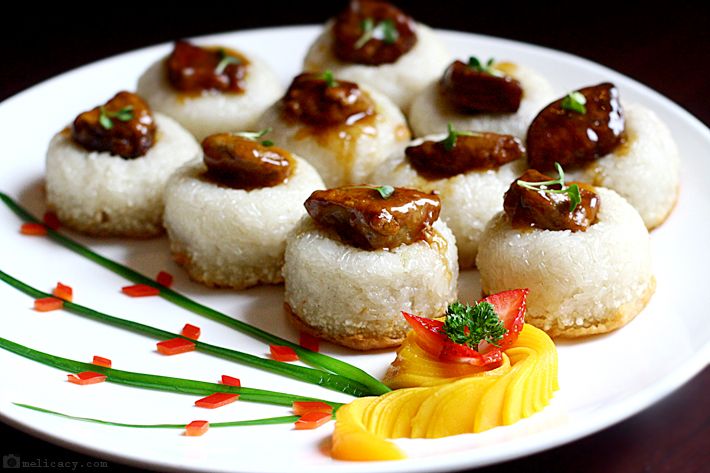 Glutinous Rice with Foie Gras and Preserved Meat
My love for foie gras is undying, but this dish unfortunately didn't satisfy. I felt the lack of compatibility between the foie gras and glutinous rice. I found the crust at the bottom of the rice to be a brilliant idea, but the pairing of foie gras and glutinous rice didn't appeal to me.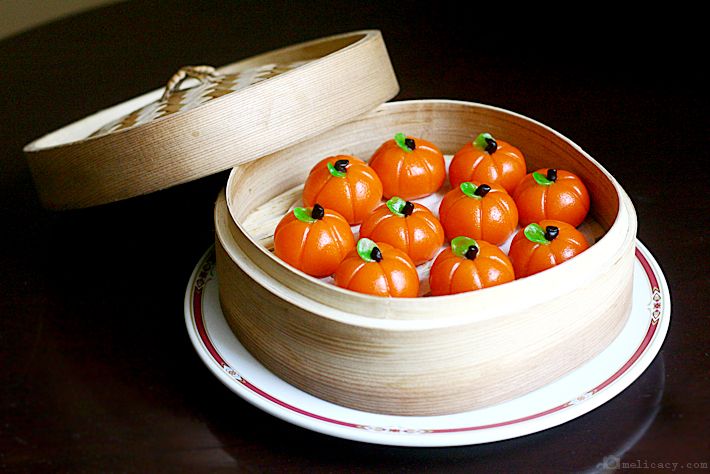 Steamed Mini Pumpkin Dumpling with Green Bean Paste
I had high hopes for dessert, but this was a major letdown. It looked almost too pretty to be eaten… and I wished I didn't put it into my mouth. It ruined the beautiful perception that I once had.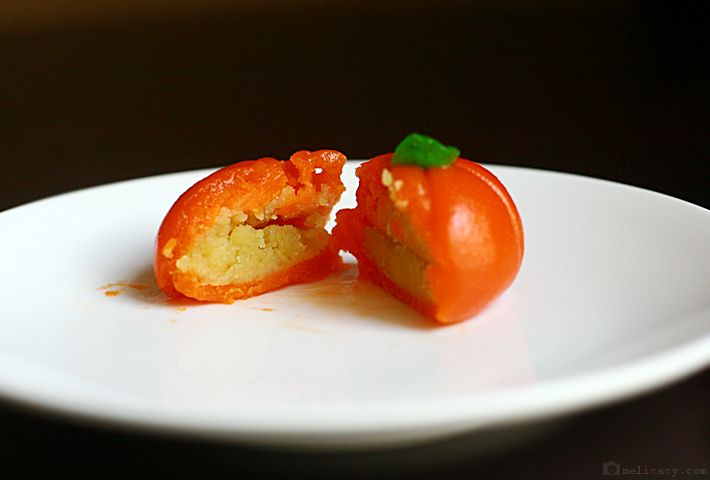 It tastes similar to Ang Ku Kueh (which I've never liked since I was a kid). The skin was chewy and reminds me of playdough. By and large, I dislike green bean paste; hence this dessert was never mine to begin with.
The meal didn't end on a spectacular note, but overall I'm impressed with the quality and most of the dishes. I highly recommend the Yu Sheng and Suckling Pig –both items are available for takeaway as well. The Lunar New Year items will be available from 21 January till 24 February 2013.
As part of the Early Bird Special, book and dine in between 21 January till 7 February 2013 and enjoy 20% off Lunar New Year Set Menus and a la carte.
Blog Promotion: Mention 'Melicacy' (during reservations via email/phone) and receive a complimentary bottle of house red wine per table of minimum 10 pax.
GRAND PARK CITY HALL
Park Palace, Level 2
10 Coleman Street Singapore 179809
Tel: (65) 6432 5888
Website: http://www.parkhotelgroup.com/cityhall/