NOOK is Singapore's first ever D.I.Y pancake house, offering patrons a fun, interactive and memorable experience.

The Rainbow Pancake ($12)
Design your own pancakes with the colourful array of pancake batters –Original Buttermilk, Asian Pandan, Dark Chocolate, Funky Banana and Strawberry Farm to name a few.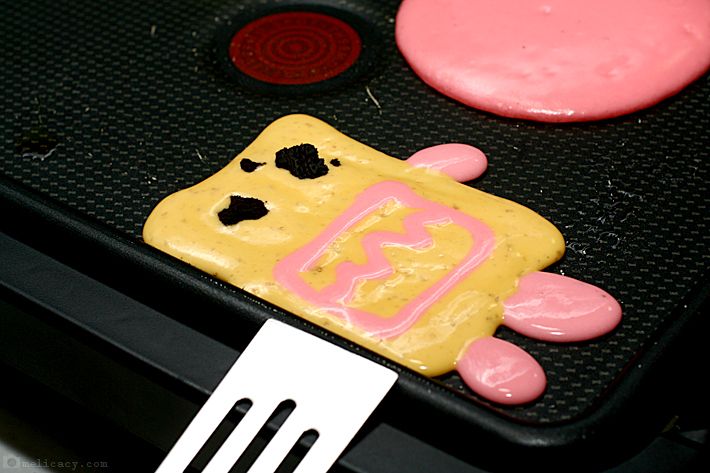 Nook is where you can unleash your artistic potentials, and eat your own masterpiece. A griddle is placed in the middle of each table, along with the necessary spatulas for your flipping pleasures.

2-Flavoured Pancakes with a choice of 3 toppings, and $2 per additional topping
There are over 20 sweet toppings to choose from; we chose Caramelised Apples, Strawberry Compote, Oreo Chunks and Cream Cheese.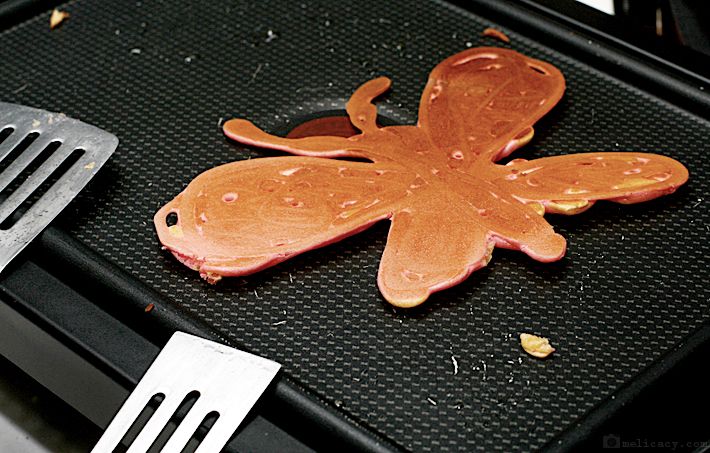 The temperature of the griddle can be easily adjusted by turning the knob. I like how the pancake doesn't stick to the surface of the griddle.

The Philly Steak ($14)
Apart from pancakes, Nook also offers a selection of light bites, salads, sandwiches and breakfast items that are available all day long.
The Philly Steak is average at best, essentially regular cheese slices and mediocre pieces of beef sandwiched between stale bread.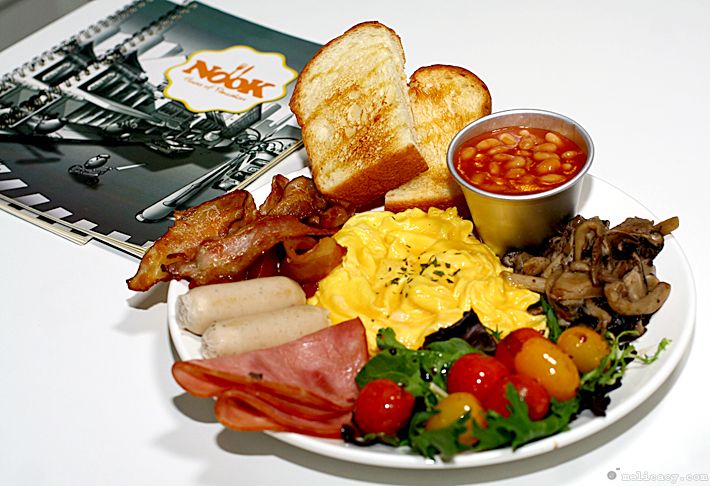 The Breakfast Bully ($18)
The Breakfast Bully comprises most items you'd crave for in a breakfast –scrambled eggs, bacon, sausage, sautéed mushrooms, baked beans, vine-ripened tomatoes and brioche.
There's nothing to shout about though –you can almost replicate this in your own kitchen, but why do that when you can make a better one.

Truffle Me Up ($14)
Truffle Me Up fares better than the aforementioned, but it is also something that you can effortlessly do at home. Thick buttered toast is baked with a savoury mix of eggs, ham and cheddar cheese, drizzled with truffle oil for the finishing touch.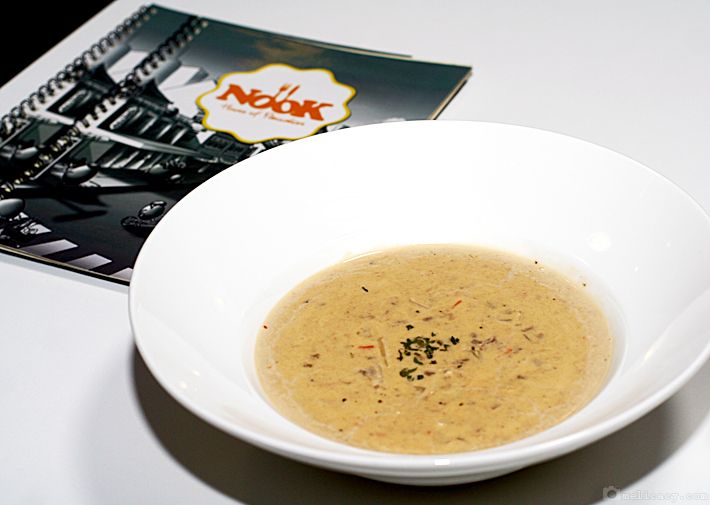 Nook's Awesome Cheese Burger Soup ($6)
Something worth trying would be Nook's Awesome Cheese Burger Soup; it's cheeseburger in the form of soup. Rich, creamy soup is speckled with minced beef and enriched with cheddar. I read in the menu description that lettuce is one of the ingredients tossed into this soup, but I didn't detect any (which is a good thing for this veggie-hater).
I love the whole concept of D.I.Y pancakes, but the savoury dishes were disappointing, and are in dire needs of refinement.
Nevertheless, I had an enjoyable session with the Openricers! Thank you Openrice for inviting me.
Nooks D.I.Y House of Pancakes
Bukit Timah, 21 Lorong Kilat #01-03
Singapore 598123
Tel: (65) 6466 1811
Website: http://nook.sg/
Opening hours:
Tuesday to Friday: 12pm – 10pm
Saturday and Sunday: 10am – 10pm