These days in Singapore, with the increasing popularity of Spanish tapas bars, more and more restaurants – Spanish or not – term anything of petite proportions served on a plate or as a platter as tapas.
Setting aside the innumerable array of tapas interpretations – some rather pretentious, some simply inspired – Octapas Spanish Tapas Bar is where you'll take a leap closer to Spain without having to hop on a plane.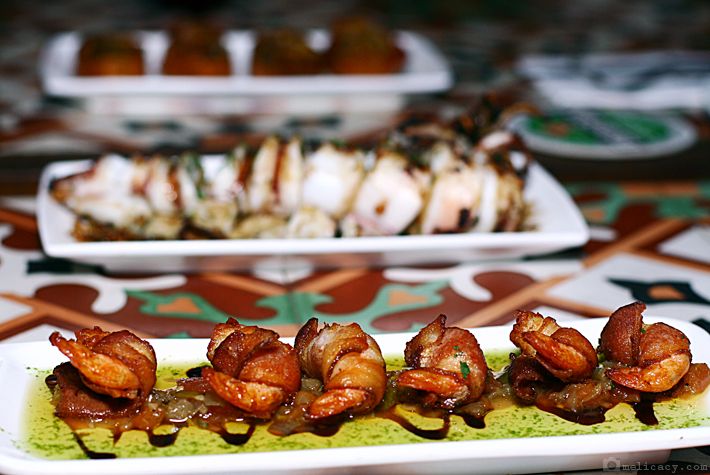 Tocino Envuelto Gambas; Prawns Wrapped in Crispy Bacon ($16.50)
Consultant chef Javier Lecumberri from San Sebastian, Spain, brings his expertise in modern Spanish fare to the table, at Octapas, revitalising the tapas scene with a new menu, Bay of Biscay.
Some of Chef Javier's rustic Basque creations are reminiscences of his hometown, on the coast of Biscay, while many are of modern and inventive twists without losing the authenticity.
Here are some recommended items: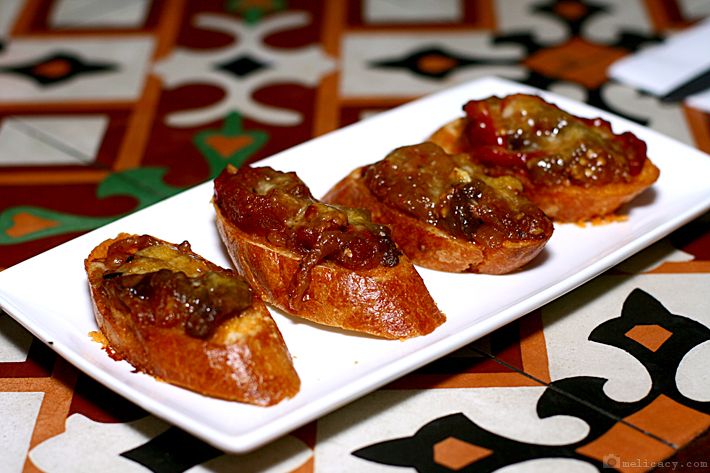 Berenjena Tostada; Toasted Bread topped with Aubergine, Peppers, Onions and Parmesan Cheese ($9.50)
To start off, the delectable melange of aubergine (eggplant), peppers, onions and Parmesan cheese topped on toasted crusty bread is bound to stimulate your appetite.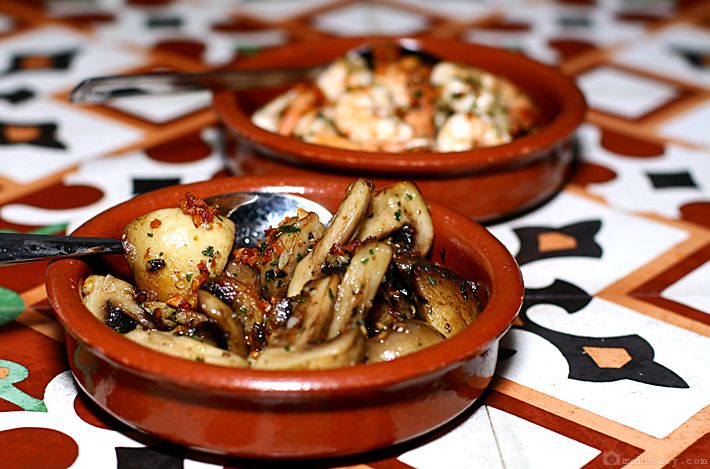 Sautéed Mushrooms in Sherry & Garlic Sauce ($9.50)
An earthy aroma captures your senses. Within a matter of seconds, you're left with an empty dish that was once filled with sautéed mushrooms.
For those with a heavier palate, you can opt for mushrooms smothered in cream sauce, which sounds absolutely arresting.

Gambas al Ajillo; Sautéed Shrimps in Garlic & Olive Oil ($16.50)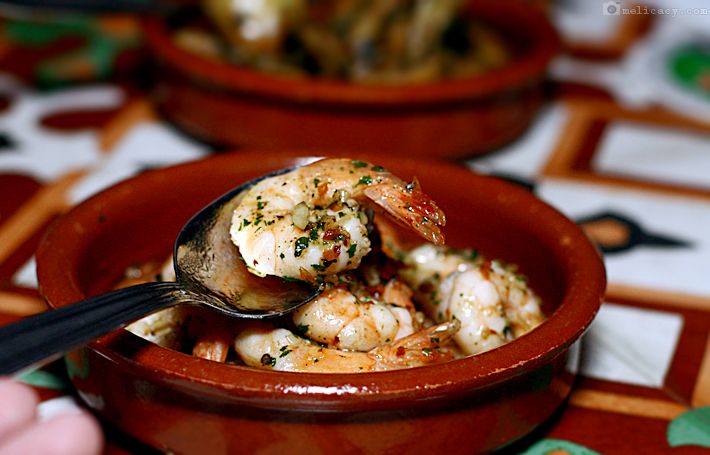 Many at the table agreed that this dish is a highlight, in which the simplicity of sautéed shrimps boasts succulence and fragrance.

Croquetas de Pollo / Jamon Chicken / Ham Croquettes ($12)
I would nibble relentlessly on these comforting deep-fried crisp croquettes –simply can't stop at one.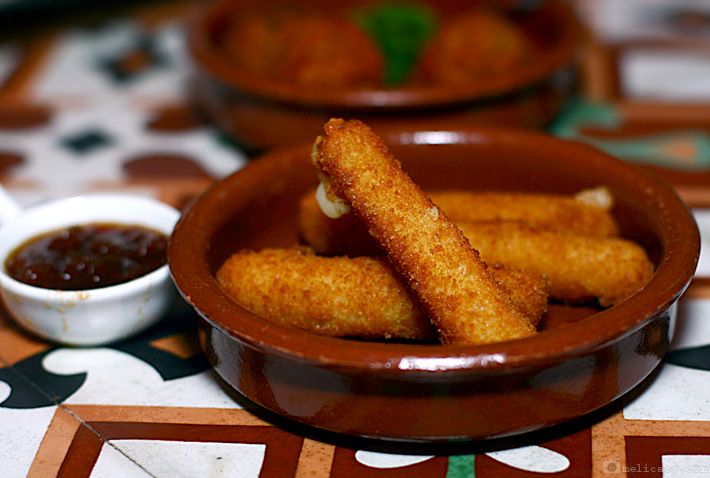 Croquetas de Queso Emental; Cheese Croquettes with Tomato Jam ($12)
The cheese croquettes paired with tangy tomato jam proves to be a crowd pleaser as well. Who doesn't enjoy crisp bites that explode with gooey cheesy goodness? I'll have your portion.

Huevo Escalfado con Setas; Poached Egg with Shitake Mushroom and Truffle Oil ($12)
Mushroom lovers are in for another treat! As if the enchanting aroma from the mushrooms isn't enough to allure, truffle oil is added to build on to the fragrance, emitting an aura that further arouses your senses.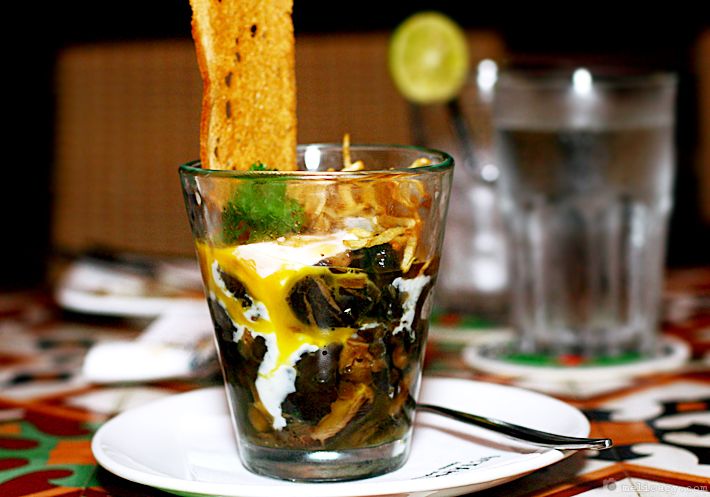 Gently break the poached egg, and allow the yolk to bleed into the crevices and gaps, coating every morsel of mushroom with richness. The crispy elements are added bonuses for textural contrasts.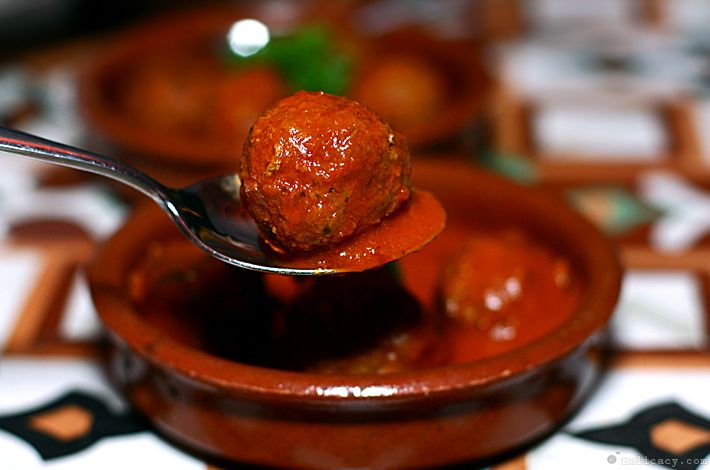 Albondigas; Beef and Pork Meatballs in Tomato Sauce ($14)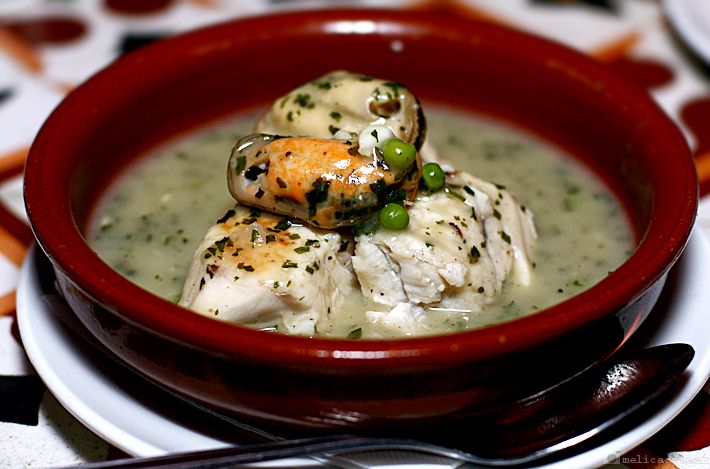 Lubina en Salsa Verde; Seabass in Salsa Verde ($17.50)
Seasoned simply with sea salt and pepper, the seabass is simmered just right to retain the pristine textures of the fish, and complemented with Octapas' Basque rendition of Salsa Verde, which is nurtured from a flavourful blend of herbs and spices.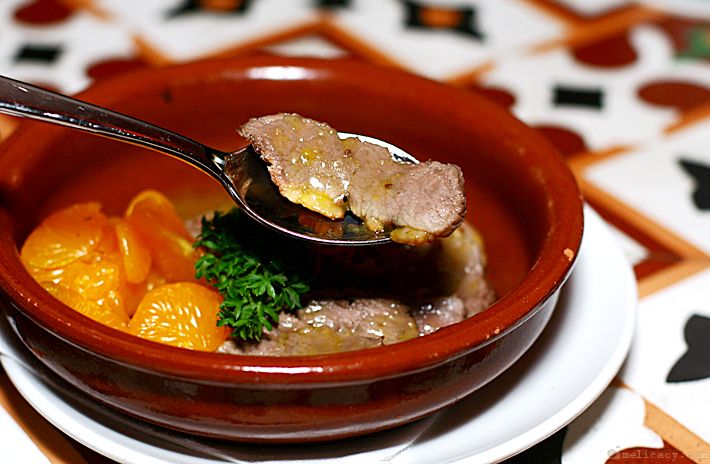 Pechuga de Pato; Duck Breast with Caramelised Orange Reduction ($12)
This is a must-try. I was blown away by the tenderness and moistness of the duck, and the zesty flavour that ignites one's appetite.

Calamares en su Tinta; Squid Cooked in its Own Ink ($15)
Not the most fitting to order on a date, this dish will smear your lips and teeth with black. The positive aspect is that the smears come with deliciousness that one cannot resist. Now choose: look pretty or eat yummy.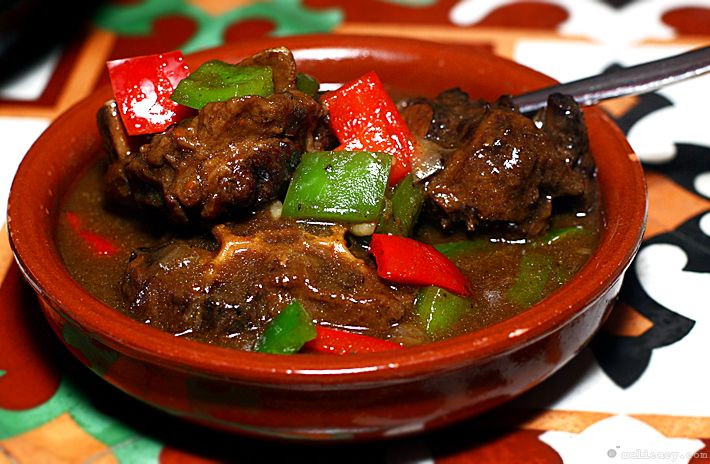 Oxtail with Peppers and Red Wine Sauce ($16)
Another highly recommended dish, also a personal favourite, is the Oxtail with Peppers and Red Wine Sauce. Stewed to utmost tenderness, the hunks of almost-gelatinous and meaty goodness are infused with bold flavours all the way through.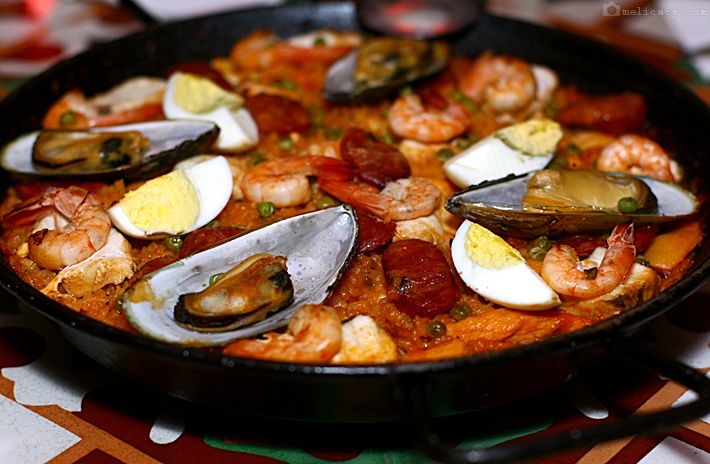 Valenciana Paella ($40 for 2 pax portion, $60 for 4 pax portion)
Great for sharing, the Valenciana Paella entices you with a generous topping of ingredients, and grains of rice stained an appetising orangey tone.
Scrape to the bottom for crusty slightly burnt rice –my favourite part.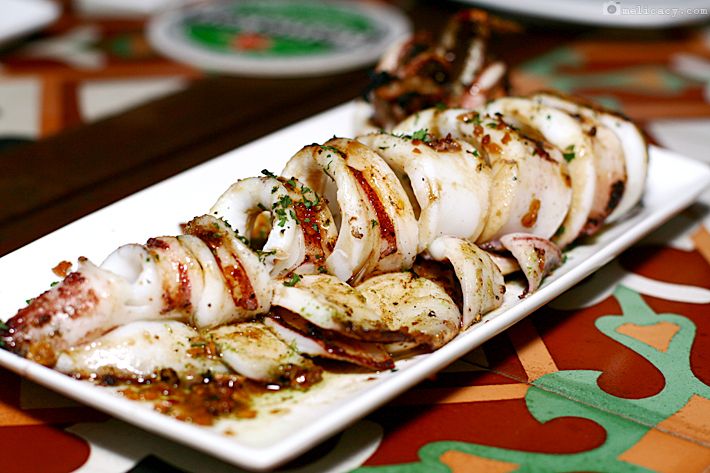 Calamares a la Parrilla; Grilled Squid ($16)
The menu is rather extensive, with hot and cold tapas, seafood and veggie options, and four varieties of paella (Valencia, Negra, Carne, Mariscos and Verduras). The range of desserts is rather limited.
Here are two desserts that are worth ordering: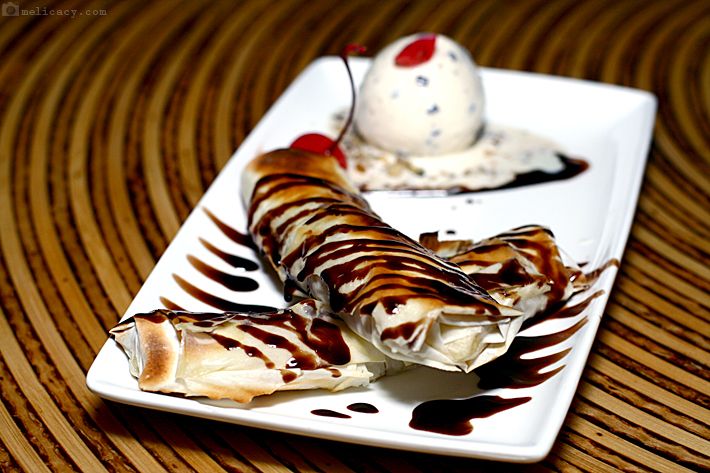 Platano de Filo y Helado; Filo Banana with Vanilla Ice Cream ($12)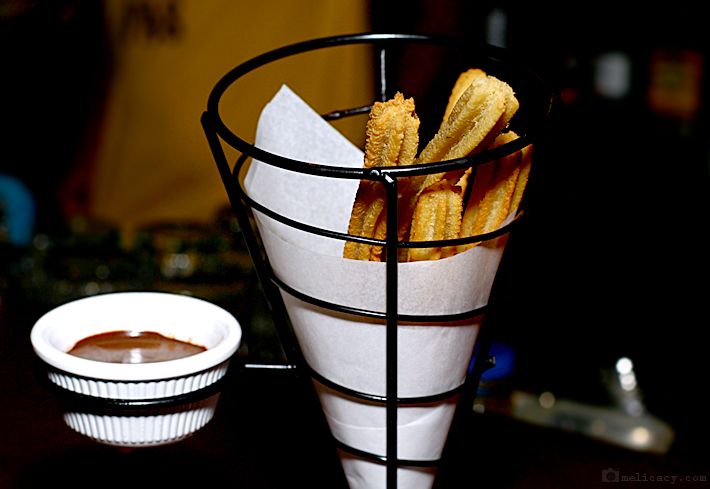 Churros con Chocolate; Spanish Doughnut with Chocolate Sauce ($10)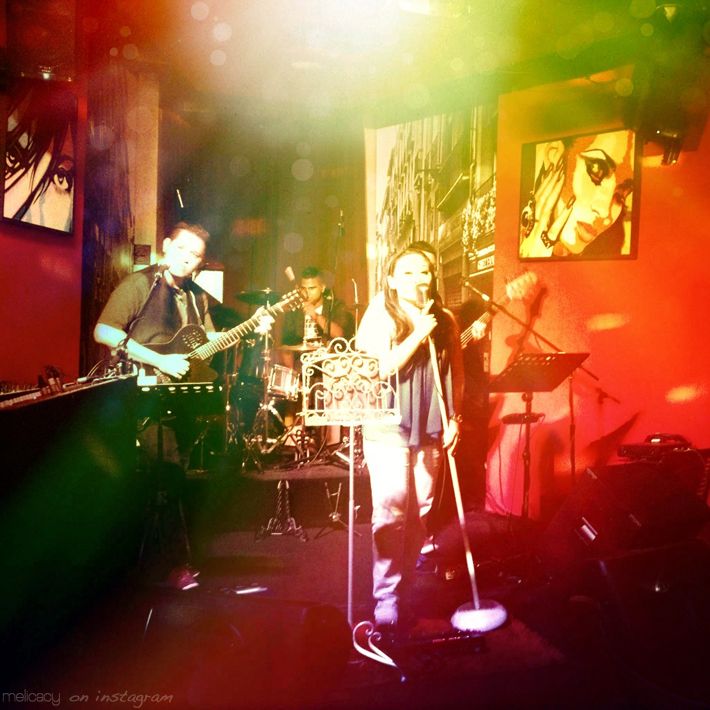 After a bout of tapas at the alfresco area, we headed to the indoor bar to bask in jaw-dropping live music, performed by the talented Live Conclusions. The band of four worked together in perfect harmony, as Singer Diwi Aishah Ali mesmerises the crowd with her indisputably amazing vocals, complemented by flawless music in the background.
Octapas Spanish Tapas Bar
Blk D, #01-08 Clarke Quay
River Valley Road, Singapore 179023
Tel: (65) 6837 2938
Website: http://www.octapasasia.com/
Opening hours:
Sunday to Thursday: 12pm – 1am (Last orders at 12.30am)
Friday, Saturday & Eve of Public Holiday: 12pm – 2am (Last orders at 1.30am)