Dining these days is no longer merely for sustenance. Fastidious diners are bringing to a standstill the seeking of belly-fillers; the entire package from the ambience to service to impeccable plating are now taken into significant account in evaluating their dining choices. Many are willing to splurge on meals at preeminent restaurants with Michelin stars to boot, even if they end up leaving the restaurant still peckish from the petite portions plated like a piece of art.
Would you rather proceed to a hawker centre, and load up on a satiating plate of char kway teow?
I confess to enjoying greasy calorie-laden fried kway teow, fried oyster omelette and fried carrot cake amongst many other hawker foods. But, the queue, the clammy environment, the uncivilised and inconsiderate folks that we sometimes encounter, and some snobbish vendors that piss us off with bad service, are just some of my many gripes. So often the ugly side surfaces and overshadows the pleasant side that unfortunately remains taken for granted.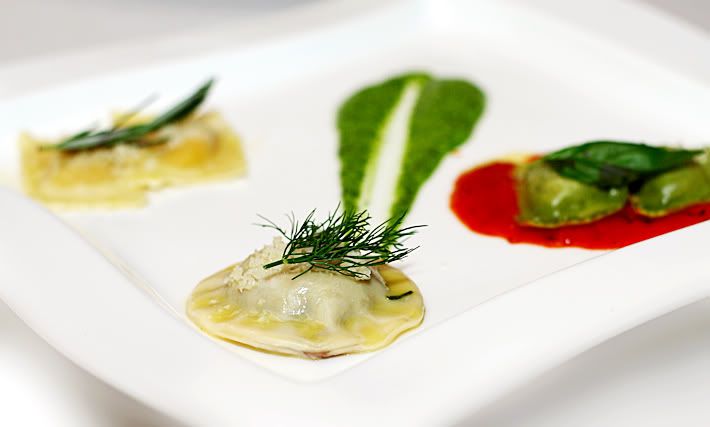 Do you prefer our local 'wanton' dumpling or the Italian ravioli?
If we are talking about the food and just the food in its entity, judging by the taste and flavour profile, the level of satisfaction our favourite hawker foods gives definitely surpasses that of a Michelin-starred restaurant dish –hawker food gets the upper hand because it's something close to my heart – the familiar tastes and aromas that have accompanied you through your growing years – and I'm sure majority of Singaporeans, born and bred in Singapore, can relate.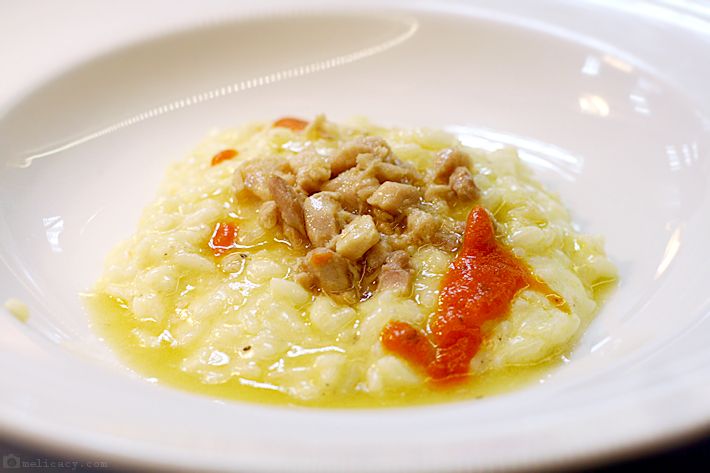 An Italian rendition of Chicken Rice at OTTO Locanda; Aged Parmesan Cheese Risotto "Carnaroli" with White Chicken Ragout and Chili Dressing
In my response to HungryGoWhere's article "Are Singapore hawkers not Michelin-worthy?" I disagree to a certain extend. Hawkers are not on par with Michelin-starred chefs, because they're both in a totally different and opposite league. You can't compare apples to oranges. However, if the question was, are hawker foods inferior to award-winning restaurant dishes, I disagree wholeheartedly.
Skills: There is almost zero chance of finding hawkers with the knowledge of molecular gastronomy. Simultaneously, Michelin-starred chefs will experience the same level of difficulty replicating centuries-old recipes of hawker fare.
Hard work: Hawkers wake up way before the sun rises, to prep for the day's business. Sauces and stocks are painstakingly made from fresh ingredients, from scratch, every single day, with no lack of consistency. We are talking about hawkers who take pride in their food. They deserve the same recognition as Michelin-starred chefs.
Execution: Just to give an example, a Michelin-starred Chef's version of Chicken Rice will differ hugely from our hawkers' version –from the ingredients used, to the cooking techniques applied, to the mode of presentation. Would like to see that happen in a live cook-off!
Hawkers would simply plonk a heap of rice on a worn-out plastic plate and shove it to you, sometimes hastily, which may accompany oily shillings reeking of a melange of sauces if you pay in larger denominations. Michelin-starred chefs would plate the dish meticulously on a spotless and fragile dinnerware, paying close attention to the most intricate of details.
It is without a doubt that Singaporeans love hawker foods. Even when we are traveling to other parts of the world, what we crave for most is a humble plate of chicken rice, char kway teow, nasi lemak, bak chor mee or chwee kueh.
Singapore's hawker heritage is at risk, and I can hardly imagine how life would be if hawkers start diminishing. How can we encourage young talented cooks to join the trade?
Would you care to say a few words to potential hawkers, about how much you love hawker food and can't live without it?