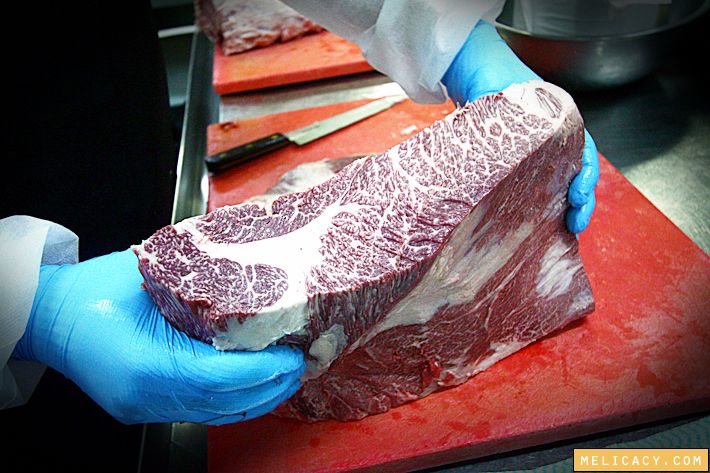 Fans of Wagyu beef will be delighted to know that Pan Pacific Singapore's signature restaurants – Edge, Hai Tien Lo and Keyaki – will be featuring special Omi Wagyu menus, available from 12 to 31 August 2013.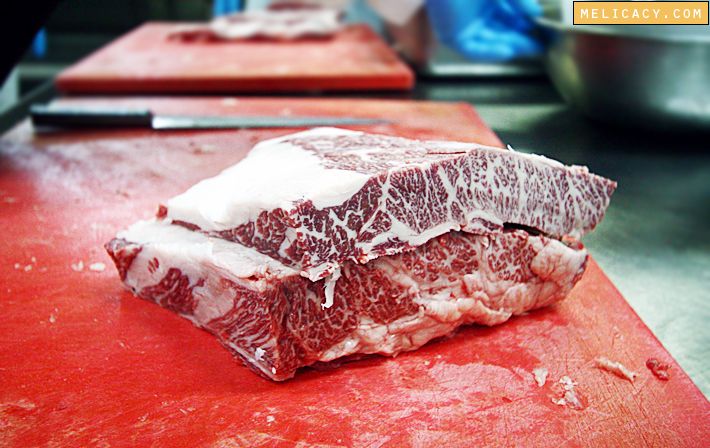 Omi beef is one of the top three premium Wagyu beefs in Japan, specially imported from the Daikichi Rach in Shiga Perfecture for this seasonal promotion. Derived from an excellent lineage of Wagyu cattle, fine marbling and high fat content are characteristics of Omi Wagyu.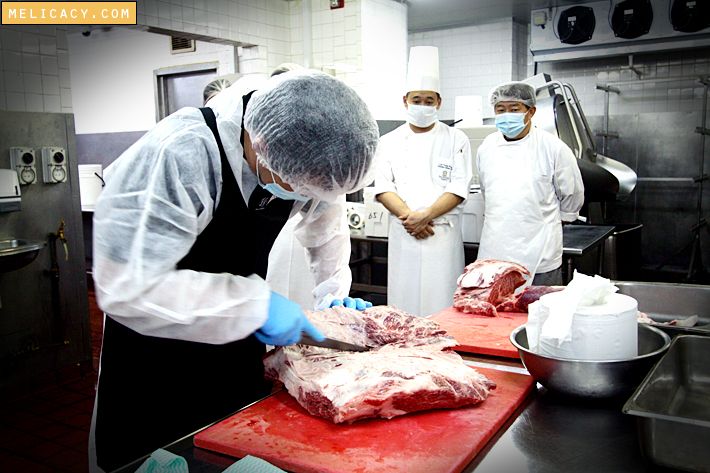 I had the opportunity, together with Catherine from Camemberu, Celine from Hungrygowhere and Litian from Mangosteen, to witness the cutting and trimming of the Omi Wagyu at an exclusive "behind the scenes" media session.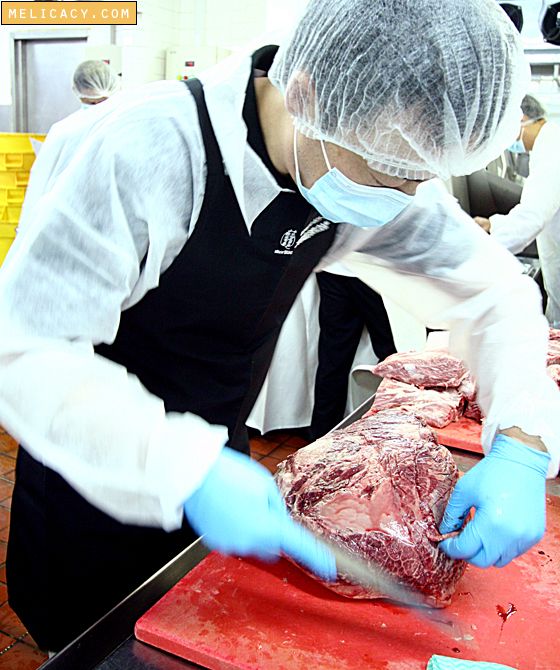 During the session, we learnt that the Omi Wagyu chuck ribs are fatty and well marbled, suitable for yakiniku, while the chuck tender contains a higher ratio of red meat.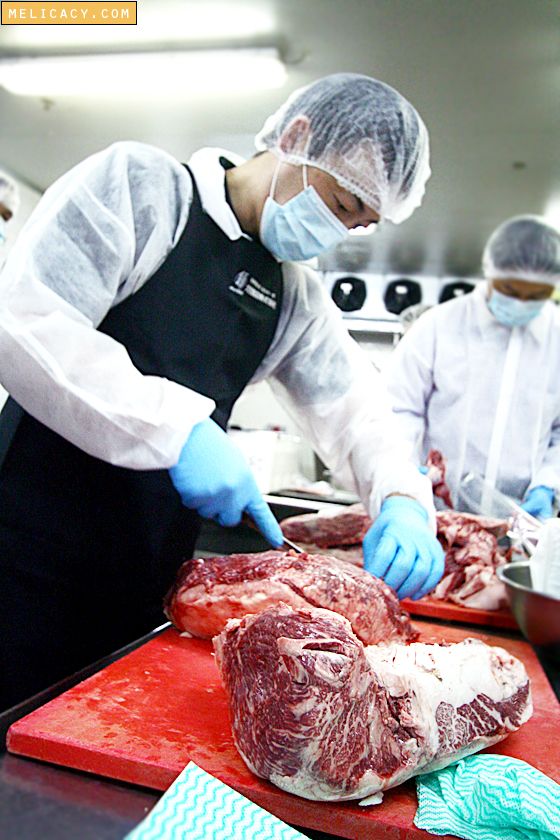 The cow's neck contains a lot of gelatine, which makes it suitable for braising or stews.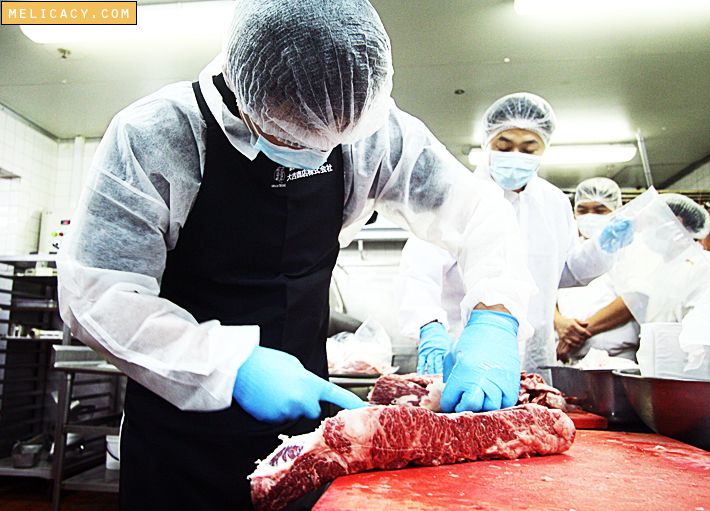 This specially imported Japanese grain-fed cow weighs roughly a hefty 400kg, containing 150kg worth of meat for intended devouring pleasures.
The knife used in this butchering is made of steel, which facilitates the sawing motion during the trimming and cutting.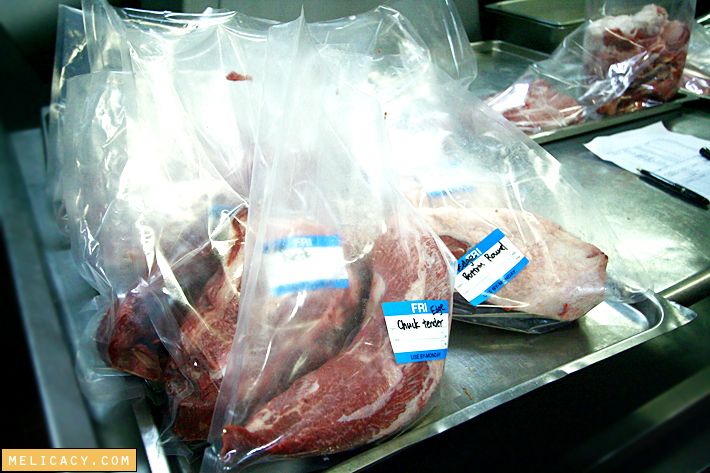 During this promotional period, Keyaki, Hai Tien Lo and Edge will each showcase a variety of Omi Wagyu dishes built around different cuts of beef; from the more popular ones like the ribeye and tenderloin, to other cuts such as the brisket, calf, thigh and tendon.
Keyaki
Renowned for its traditional and authentic Japanese cuisine, Excutive Chef Hiroshi Ishii will feature three Omi Wagyu Kaiseki set menus that showcase the beef in various ways such as seared Wagyu Sushi, Wagyu Teppanyaki, Steamed Wagyu Beef on Rice, and Wagyu Sukiyaki. For those looking to savour the natural taste of premium Japanese Wagyu, daring dishes on the a la carte menu like the Wagyu Sashimi and Korean-style Beef Tartare.
Omi Wagyu Kaiseki Sets from $150++ per person. A la carte dishes from $45++.
Hai Tien Lo
A master of innovative Cantonese cuisine, Executive Chef Lai Tong Ping transforms unusual beef cuts such as the tendon, calf and thigh into surprising dishes like the Steamed Diced Wagyu Beef Tendon Balls with Pearl Rice and Truffle, to excite the palate. Other noteworthy dishes include the flavourful Braised Wagyu Beef Calf with Pan-fried Yeast Rice in Fermented Bean Curd Sauce, and the Braised Wagyu Beef Thigh with Preserved Vegetables in Spicy Bean Paste Sauce, which marry the comforting flavours of Chinese cuisine with Omi Wagyu.
Omi Wagyu a la carte dishes from $40++.
Edge
Executive Chef Vincent Aw enhances the theatrical and interactive dining experience at Edge with Omi Wagyu additions to the already extensive buffet spread. Savour both local and Western favourites such as the Stir-fried Wagyu Top Round with Ginger and Spring Onion and the BBQ Wagyu Shoulder, made luxurious with Omi Wagyu. The show-stopper is however the Slow-roasted Wagyu Rump with Red Wine Sauce at the Western Carving Station.
Buffet Dinner (featuring Omi Wagyu dishes) will be available on Friday, Saturday and Sunday evening only. From $88++ per person and includes coffee, tea and a local beverage.
All Omi Wagyu menus will be available at Keyaki, Hai Tien Lo and Edge from 12 to 31 August 2013.
For culinary reservations or enquiries, please call (65) 6826 8240 or email celebrate.sin@panpacific.com.
Pan Pacific Singapore
7 Raffles Boulevard, Marina Square
Singapore 039595