I can be majorly finicky when it comes to planning the perfect date, and I try to make it a point to secure a table at my ideal restaurant in advance to avoid any possible hiccups.
Recently, I went through a series of frustrating, hair-pulling, head-banging moments while trying to make reservations at restaurants I've shortlisted in Tokyo for my upcoming trip.
Firstly, no email addresses are stated on the restaurants' websites (if they even have a website). Secondly, no one ever picks up the phone (do they despise overseas calls?). The only way I could ever secure a table would probably be seeking help from someone who resides there, who can either make a local call to the restaurant or make a trip down personally to make reservations. Why do I even have to go to such lengths? I desperately wish they were listed on Chope.
The Chope Group is Asia's premier online reservations service provider, where diners can make dining reservations for free and get confirmation instantly, anytime of the day, and any day of the week, from anywhere in the world.
This means that while you're incessantly and obsessively food-blog hopping in the wee hours in search for promising restaurants to visit next, and something caught your attention, you can make an online booking on the spot, right in your pyjamas, snugly in your couch.
First established in Singapore, Chope has curated over 300 restaurants on the network till date, in Singapore (www.chope.com.sg) and Hong Kong (www.chope.com.hk). I hope they would continue expanding further into other regions.
If you're undecided about dining plans, the Search Across feature categorises and filters results by location, cuisine type and other requirements (e.g. child friendly, romantic dates, average spending and more) to aid with decision-making.

This feature is especially handy for last minute suggestions and bookings.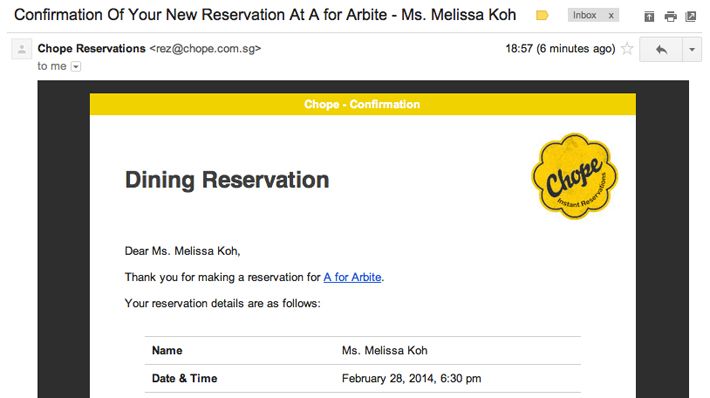 With a click of a button, your reservation is made. Within seconds, you'll receive an email confirmation. How easy is that!
Make your reservations at Chope HERE.