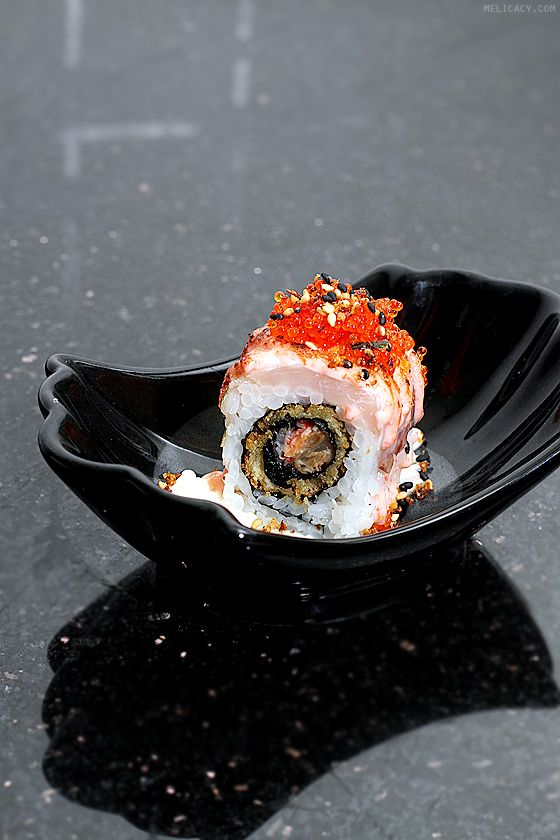 Chikusen Japanese Restaurant, located along the row of shophouses at Tanjong Katong, is where fine Japanese cuisine meets comfort. Executive Chef Fabio Lee demonstrates his broad wealth of culinary experience, of over 25 years, through fresh, inspired and palatable dishes.
The welcoming 80-seater restaurant encompasses a graceful yet cosy dining room, two private rooms that can open up to one, and a bar area ideal for pre or post dinner drinks. Parking lots are available right behind the restaurant.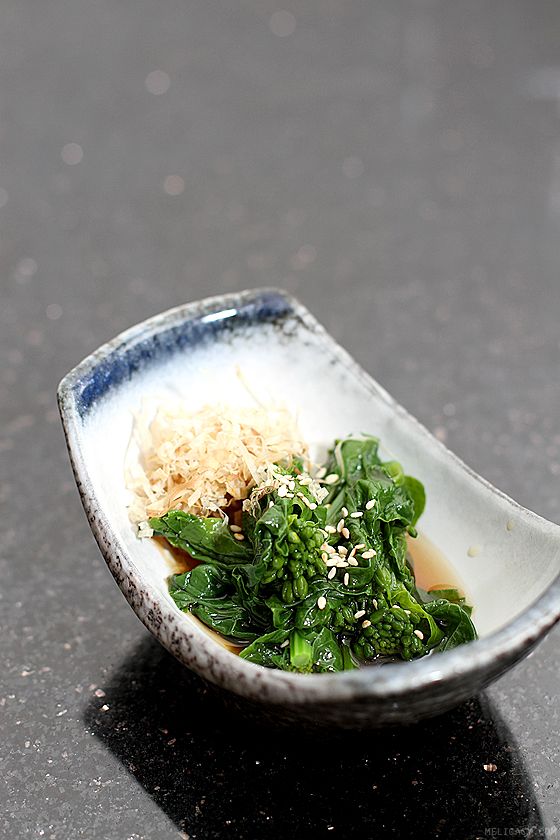 Rape Blossom (Nanohana) with Soya Sauce Dashi
This spring season, Chikusen curates a 7-course menu that will be available from April through June 2014, priced at $138++ for 2 persons. Courses include an appetiser, salad, sashimi, braised/grilled fish, beef/pork sukiyaki, noodle and dessert.
The meal commences with the appetiser of Rape Blossom (Nanohana) with Soya Sauce Dashi. Nanohana is the young, tender shoot of the rapeseed plant (also known as canola), best eaten in early spring. The bright green florets are doused in a light dressing made of dashi stock and soy sauce.

Grilled Fresh Bamboo Shoot
The second part of the appetiser course is the Grilled Fresh Bamboo Shoot that is simple and glorious at the same time. Fresh bamboo shoots are chosen over canned ones for their delicate sweet flavour. I've never liked bamboo shoots until I've been introduced to fresh ones like this. To bring out the sweetness and crunch, they're lightly grilled, remaining oh-so-juicy and fresh.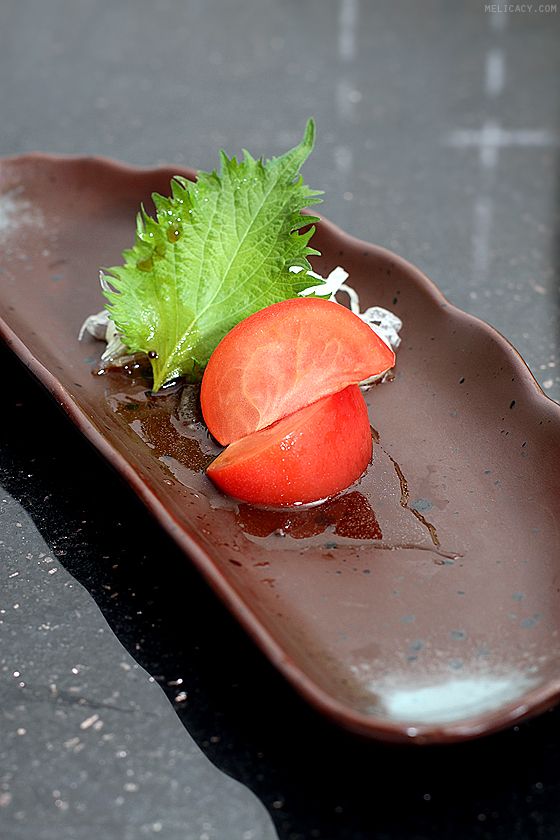 Momotaro Tomato with Wasabi Yuzu Dressing
Momotaro, one of the most popular tomato varieties in Japanese markets, is highly prized for its attractive colour and sweet flavour. Already divine on its own, here it is invigorated with a punchy dressing made of fresh wasabi combined with the juice and zest from yuzu.

Bonito, Halfbeak (Soyori) and Bream (Tai)
I have to admit, I didn't snap a good picture of the sashimi platter to fairly showcase the lovely slices of fish. I sped up with the photo taking so I could quickly devour it.
Bonito is a member of the mackerel family; it is an oily fish with a firm texture that's lighter than tuna, boasting a distinctive quality of its own. It pairs well with the wasabi yuzu dressing. The Japanese Halfbeak or "Soyori" has a densely packed and firm texture, but light and delicate in taste. Sea bream (called "Tai" in Japanese) that are caught in early spring are prized for their bright colour and rich flavour. Just a light dab of bamboo salt brings out the pristine flavour of the fish.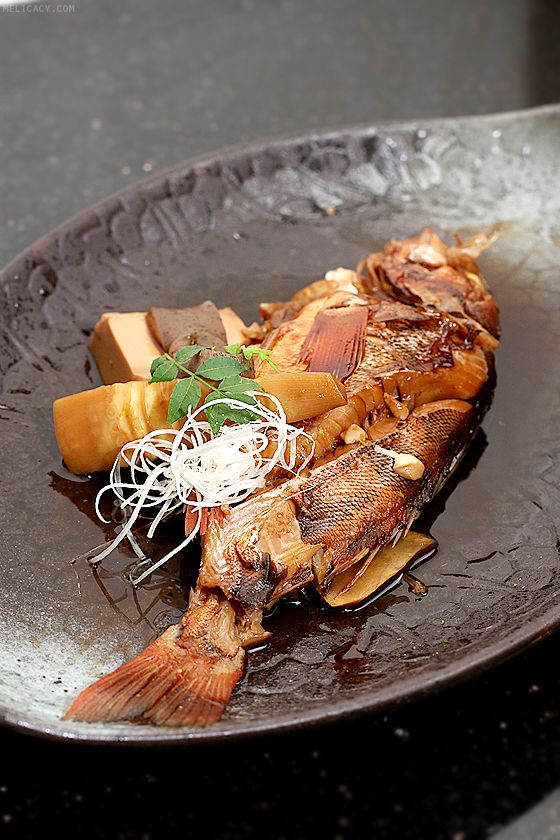 Braised Rockfish (Mebaru) with Foie Gras, Mushroom, Devil's Tongue & Fresh Bamboo Shoot
The mebaru rockfish is considered a delicacy in Japan, well loved for its succulent white flesh. Diners have the option of having the fish grilled or braised –I chose the latter, and did not regret my choice. The fish is stuffed with foie gras and braised till it reaches a handsome brown down to the bone, accompanied by mushroom, bean curd, devil's tongue (a plant used to make konnyaku jelly, which contains zero fat and calorie), and fresh bamboo shoot.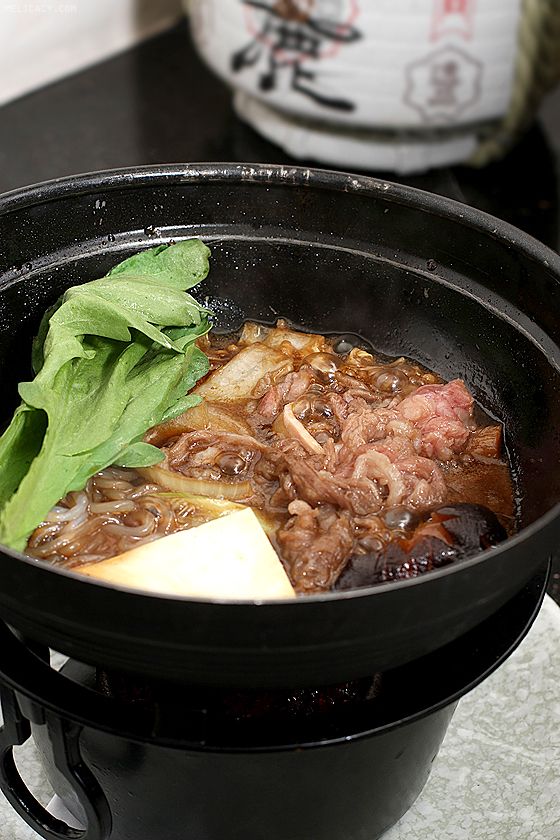 Wagyu Beef with Mushrooms, Tofu & Vegetables
One of the highlights of the meal would be the Sukiyaki course. Diners can choose between thinly sliced wagyu beef or black pork.
Simmered in sweet savoury broth along with spring vegetables, the succulent slivers of meat turn deeply flavourful after mere seconds. I chose the wagyu beef but got to try the black pork, thanks to my dining companions Daniel & Esther for sharing. Both meats were of superb quality, but if we had to pick one item that goes better with the sukiyaki, the black pork garners the most votes.

Yaki Somen
The Yaki Somen is a typical Okinawa noodle dish, here stir-fried in fish stock and served in an uncomplicated manner, simply topped with spring onions. It is light on flavour, with no traces of fishy stench.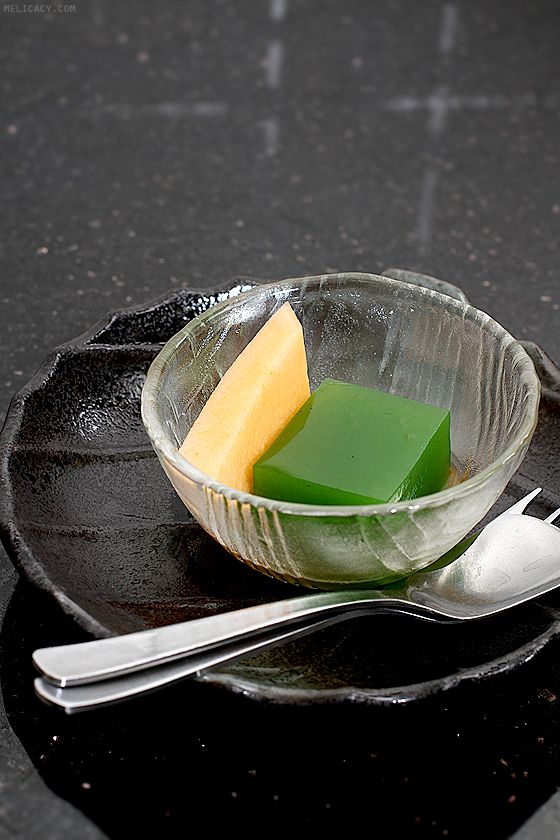 Plum (Ume) Jelly
When dessert arrived, I was initially unimpressed by the characterless block of green jelly accompanied by a slice of fruit. I shouldn't have judged it by its appearance. My first bite altered my perception of it. The jelly is richly concentrated with plum flavour, sour but not overwhelmingly so. The naturally sweet rock melon provides the perfect balance. What a refreshing way to round off the meal.
Make reservations at least one day in advance to receive complimentary 300ml sake with every order of the spring course.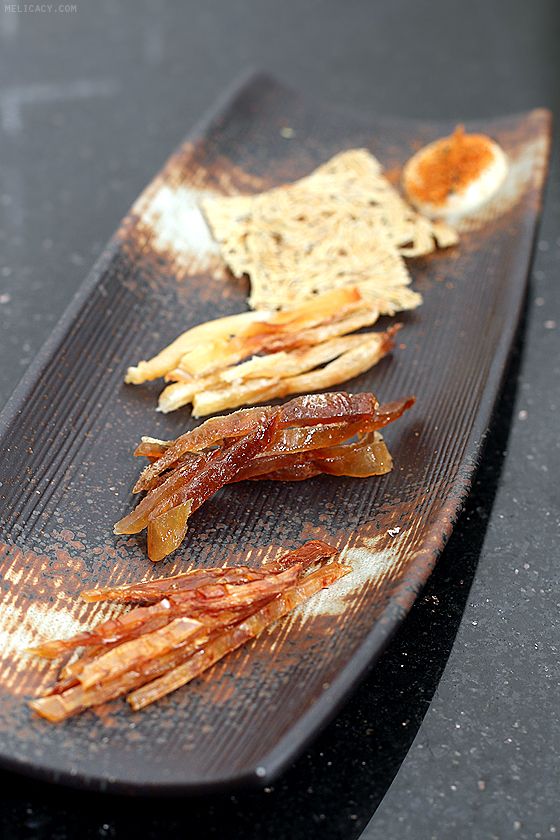 Heavenly Four
For those imbibing, the Heavenly Four platter consisting of caramelised stingray, leatherjacket (or skipjack) fish, fugu (puffer fish), and crisp anchovy sheets, is said to go exceedingly well with sake.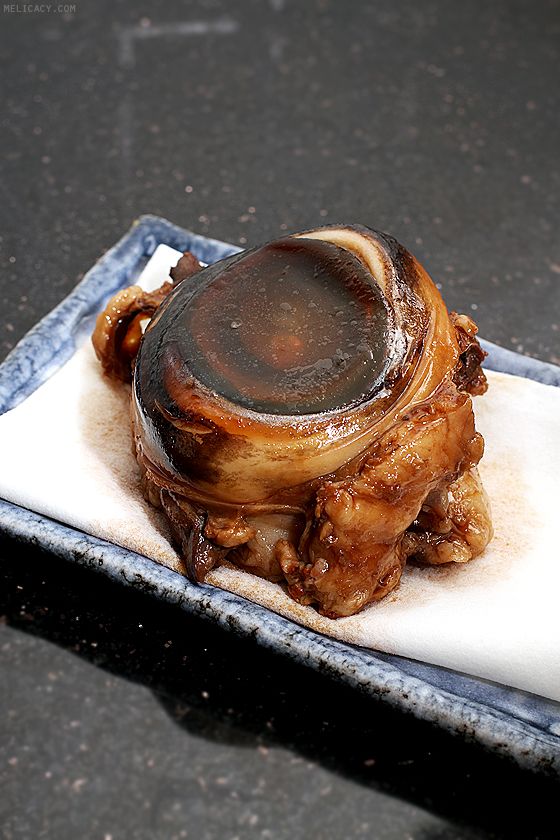 To pander to the daredevil in you, exotic items such as the Tuna Eye are available upon special order. For me it was almost akin to going through a Fear Factor episode. The gruesome looking eyeball, bigger than my fist, was just hard to get pass, but once you do, the taste is actually nothing absurdly uncanny.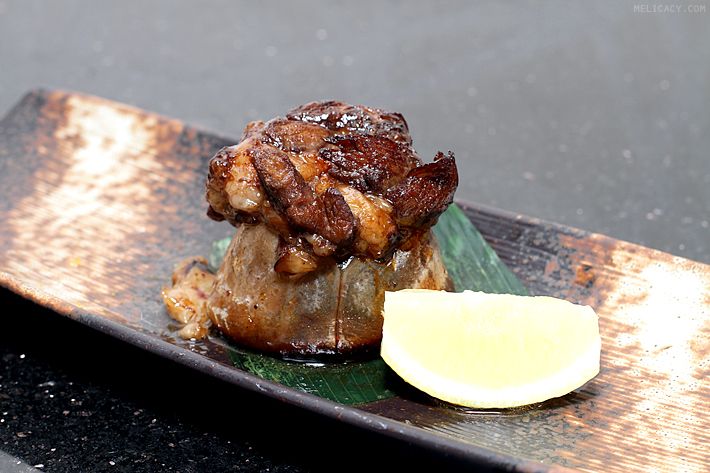 Grilled to a sweet savoury finish, the gelatinous part near the eyeball contains collagen that's said to be good for complexion.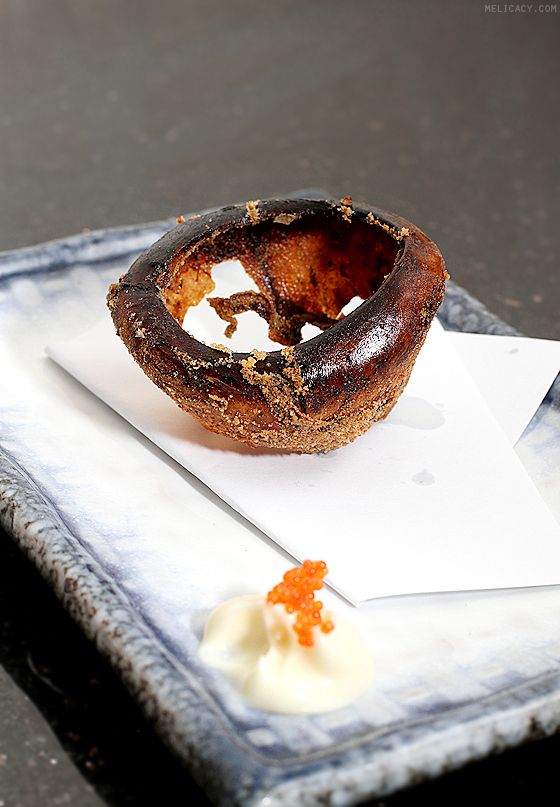 I'm not good with anatomy –the part surrounding the eyeball (we didn't eat the eyeball thank goodness) was flash-fried to a crisp. Just treat it like you're eating chips, you can easily forget this was part of a fish's eye.
Chikusen Japanese Restaurant
309/311 Tanjong Katong Road
Singapore 437092
Tel: (65) 6348 1966
Website: chikusen.com.sg
Opening hours: 11.30am – 2.15pm, 6pm – 10.15pm daily