The Singapore Resort & Spa Sentosa welcomes the third Michelin-starred Guest Chef Saul Bolton from New York City to showcase his culinary expertise from 9th to 13th July 2014 at The Cliff, posterior to Chef Pascal Aussignac of Club Gascon, London in May and Chef Jarad Gallagher of Chez TJ, California in June.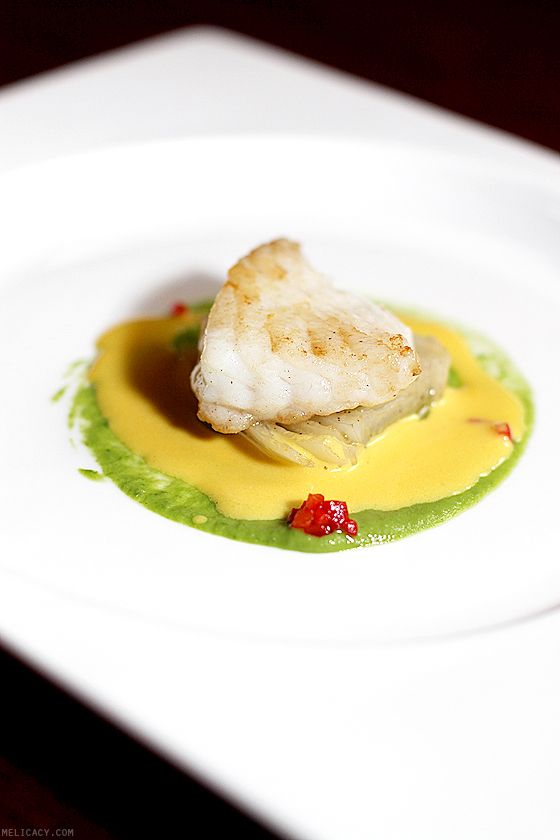 French Turbot with Fennel, Piquillos and Saffron Sauce
His Michelin-starred restaurant, Saul, has held a Michelin Star rating for eight consecutive years and is listed by the Zagat's guide as one of the top restaurants in New York City. I would never give up an opportunity like this to pamper my palate with such highly rated gastronomy.

Chawanmushi of Sea Urchin, Warm Black Truffle Vinaigrette
During his stay in Singapore, Chef Bolton will be presenting a specially designed menu that features diverse cultures borrowed from all over the world. Asian pleasures include the Chawanmushi served with a luxurious dollop of sea urchin (uni) and blanketed with a layer of black truffle-infused-and-studded vinaigrette. Divine.

Amuse-bouche of Spanish Octopus, Bacalao & Oysters

Amuse-bouche of Spanich Octopus, Bacalao & Oysters
Most amazing was the buttery-smooth oyster that glides down the throat with subdued brininess and added crunch.

Crudo of Japanese Hamachi, Ponzu Gelée, Ginger, Puffed Jasmine Rice
Brightening the palate is the Crudo of Japanese Hamachi with tangy Ponzu Gelée, ginger and crispy puffed jasmine rice.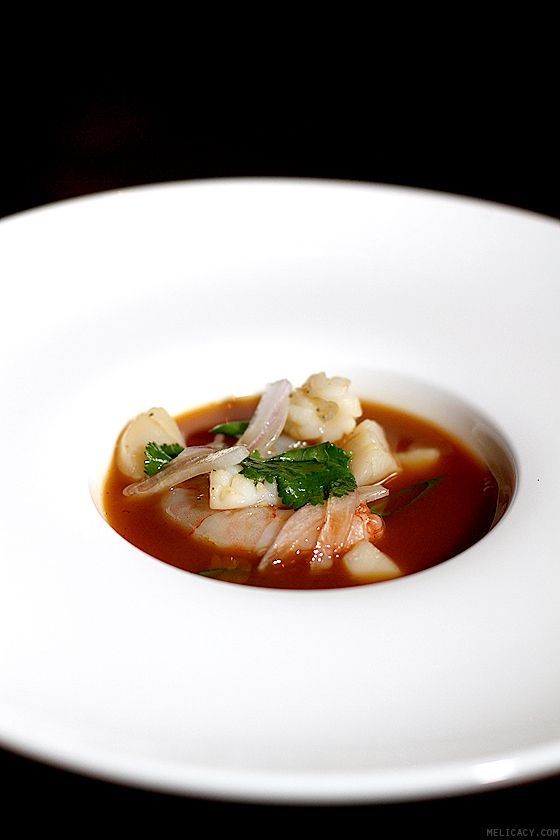 Soup in the style of Menudo, Fruits de Mer, Pozolé, Cilantro
The 6-course dinner, priced at $188++ per person, includes a glass of champagne on arrival, amuse-bouche, appetisers, soup, fish, choice of main and choice of dessert.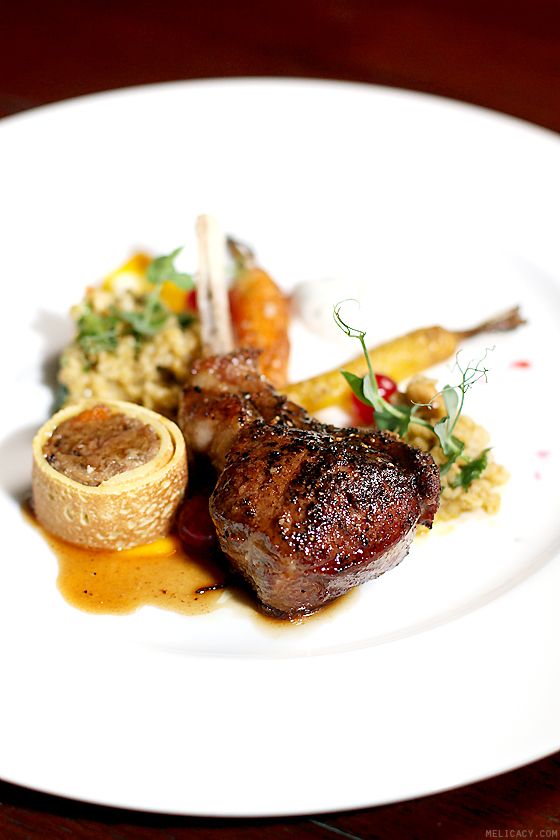 Diners get to choose their mains from two equally stunning options: Australian Lamb with Roasted Carrots, Almond and Currants, or North American hard Shelled Lobster with Coconut Rice, Long Bean and Curry. I was torn between the two but after a tough consideration (almost as severe as if casting my vote in an election) I chose the latter.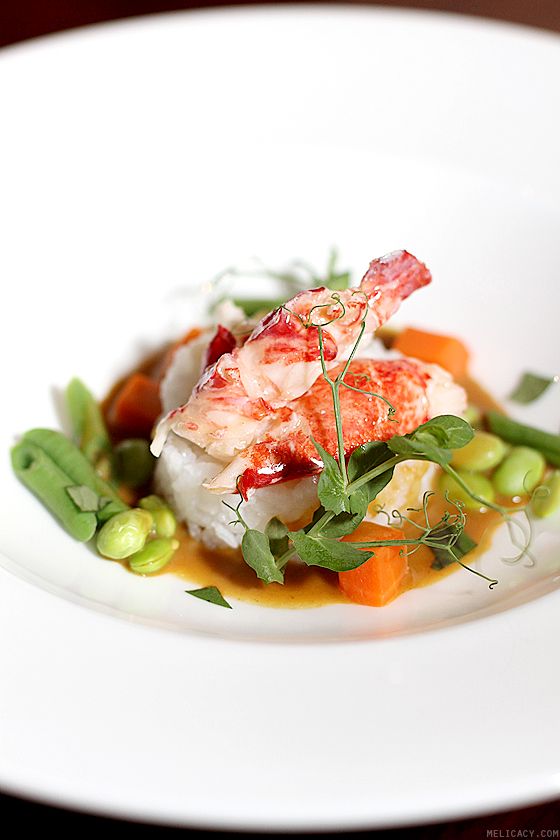 North American Hard Shelled Lobster with Coconut Rice, Long Bean and Curry
The life-changing choice of North American Hard Shelled Lobster with Coconut Rice, Long Bean and Curry prompts an Asian of elevated homely fare. The lobster and the quality of it require no special publicity; neither did it need any condiment or sauce to go with it. That's how good it is in its unadulterated form. Then Chef pairs it with a helping of steamed coconut rice and long beans, galvanised with a ladle of curried sauce, where the word comfort kicks in. The aromatic coconut rice may come across as a little bit soft towards mushy to some, but to many it pleases the senses from the smell to the touch.

Strawberry Lychee, Coconut Tapioca, Mango-Passion Sorbet
For a refreshing palate cleanser, go for the one with strawberry, lychee, coconut tapioca and house-made mango-passion sorbet.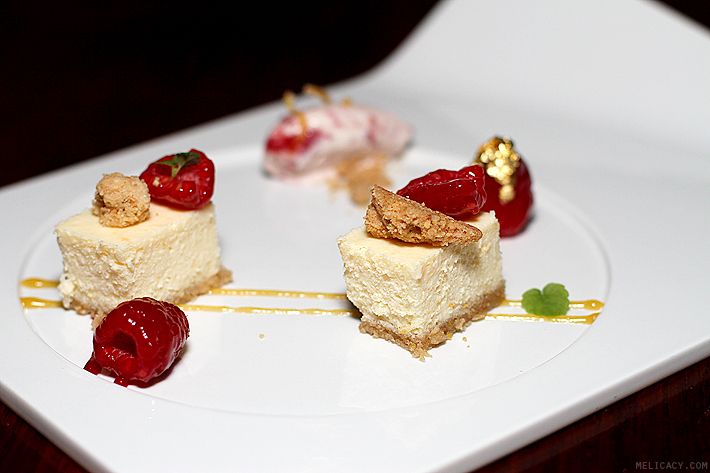 Orange Scented Cheese Cake with Raspberry Swirl Ice Cream and Oatmeal Crumble
Chef Bolton will also be helming the Sparkling Sunday Champagne Brunch on 13 July to showcase five of his signature dishes, including Smoked Trout with Apple & Horseradish, and the Wagyu Ribeye with Roasted Potatoes, Creamed Spinach & Free Range Eggs.
For details, menus and reservations, visit www.singaporeresortsentosa.com
The Cliff at The Singapore Resort & Spa Sentosa
2 Bukit Manis Road, Sentosa, Singapore 099891
Tel: (65) 6371 1425