"Uncaged" is a term defined by Singapore's national icon Tiger Beer as having the courage to follow your instincts, live on your own terms and look at things afresh. The home of the 82-years-old brand, Tiger Beer looks to become the symbol of courage, inspiring young adults and the new generation to 'uncage' their ambitions, igniting and leaping full of passion to achieve their dreams. This campaign upholds the pride of the Singaporean identity and it is only fitting to lead the launch of Tiger's global repositioning on home grounds.
This symbol of courage is also portrayed and runs deeply in Chef Han's culinary roots –Chef Han of Resetaurant Labyrinth being one of Tiger's Uncage personalities.
The already celebrated chef of experimental cooking methods initiated the use of our national beer as an ingredient, to further inspire Singaporeans out from societal or family expectations, and walk down the road less traveled. Singapore's most iconic brew flows through an exclusive array of dishes conscientiously designed by Chef Han himself, and through him diners conceive a delicious access to his creations both bold and courageous. Bold enough to apprise the challenges of working with conventional preparations yet remaining true to its root flavors.

Amuse bouche
Tiger beer sorbet with apple flan: an alluring creme-coloured sorbet not too sweet to be a desert, has the clean flavour of the refreshing Tiger beer zest.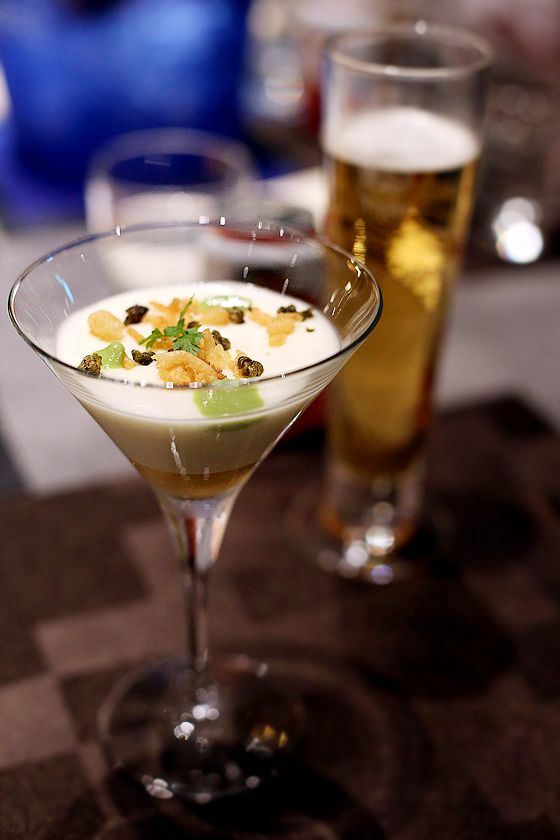 Fish & chip beer
Tiger beer jelly, duo of cod brandade and potato espuma topped with crispy garnishes. From its profile view, it beholds the appearance of beer. Light bodied in the fluff of cod brandade and potato espuma, it readily opens the appetency for the following servings.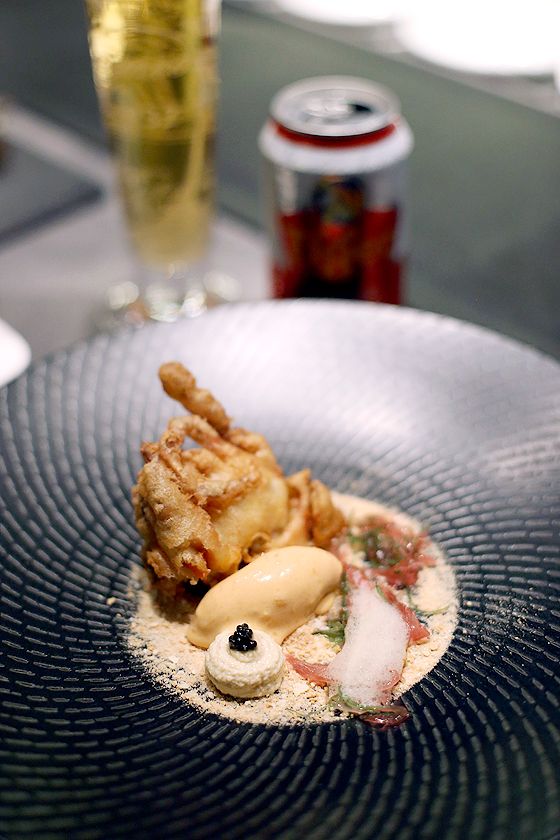 Labyrinth chili crab
Chili crab ice cream is paired with tiger beer battered soft shell crab and crab mousse. Decked up similarly as a seaside, this well received and meticulously prepared dish packs an authentic punch of the uniquely singaporean chili crab's flavor. True to its favourable reputation, the chili crab ice cream aside to the beer battered soft shell crab is carefully timed and temperature monitored to reach your table perfectly served.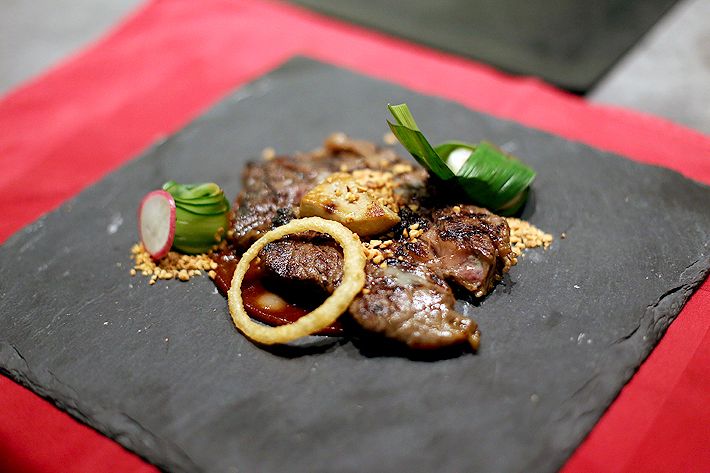 Satay steak
The satay marinated steak is well balanced, not overwhelmed with peanuts, with each slice of the delicate hand pounded medium rare steak succulent and rich. Delightful is the pan seared foie gras, with peanut mochi adding a little sweet touch in this savoury generous portion.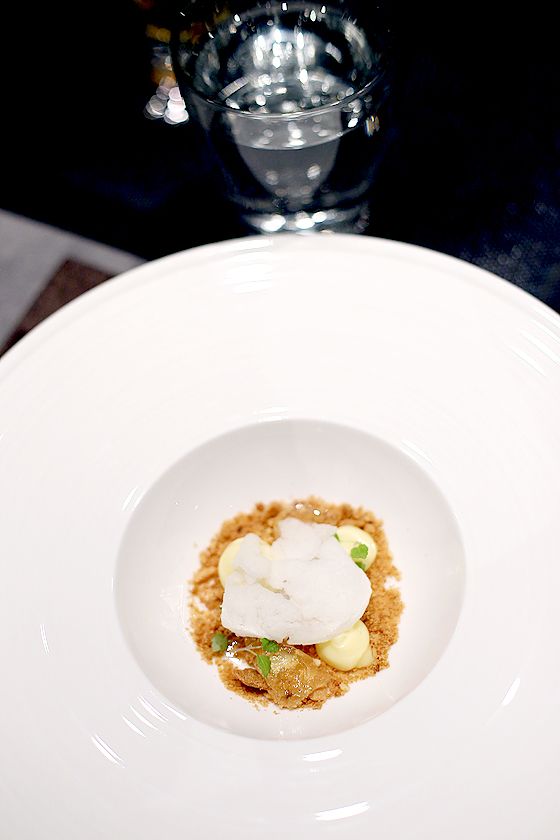 Radler meringue tart
Tiger radler meringue, lemon curd, tart "soil". An epic deconstructed meringue tart is served with lemon curd that's curious and engaging. A snow frosting gently sits atop, in which you may find yourself addicted to the sheer complexity of sweet flavors tingling your senses with each spoon full.

Singapore breakfast
This is by far the most unexpected and pleasant surprise in my little gastronomical adventure.
The only possible way to explain is as though I stood before the very first invention of the chocolate egg 'kindle surprise', yet surpassing it by leaps and bounds.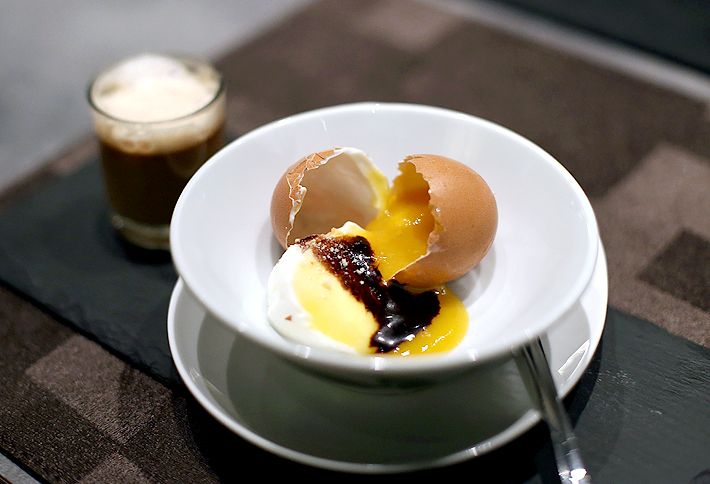 Highly deceptive, dressed and adorned as the common local breakfast, the egg is actually filled with Panna cotta and mango purée, served casually with almond powder and dark chocolate disguised as the pepper and dark sauce bottles; this innovation is to be applauded for. Accompanying it is the Teh Tarik Creme Brûlée.

Petit fours
Challenge and 'Uncaged' your dining experience through Chef Han's limited edition Tiger-inspired menu at Labyrinth. Only available from now till the 10th of August in celebration of 2014's National Day.
Read more about Tiger Beer's patriotic packaging here: http://melicacy.com/?p=7479
For more information on Tiger Beer's National Day campaign, visit its Facebook page at facebook.com/TigerBeer.sg
Restaurant Labyrinth
5 Neil Road, Singapore 088806
Tel: (65) 6223 4098
Email: info@labyrinth.com.sg
Website: http://www.labyrinth.com.sg/
Opening hours:
Tuesday to Sunday: 6.30pm to 10.30pm (Closed on Mondays)
Words and picture by Timothy Seow Theron.