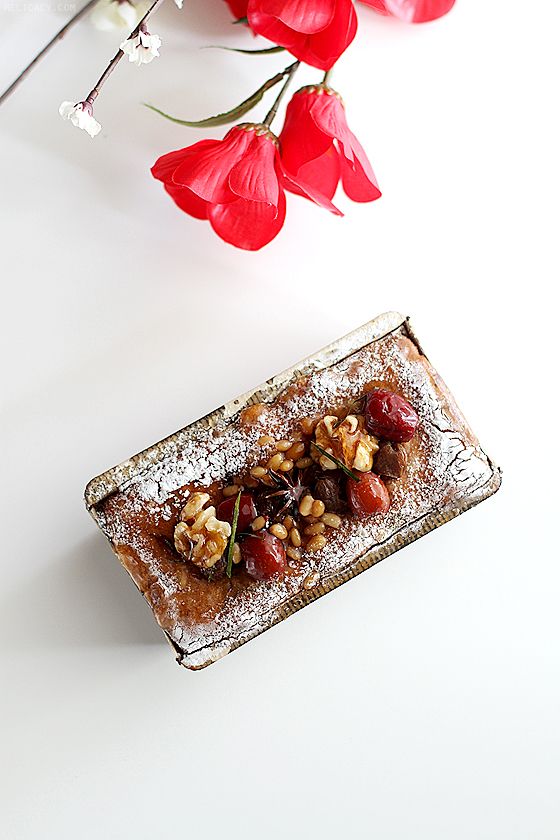 Antoinette, much favoured for its French pastries and cakes, unveils a Lunar New Year Collection inspired by Chinese traditions and local flavours. Created by Executive Chef Pang Kok Keong, the Lunar New Year confectionery and specialty cakes showcase his creative touch and mastery, bound to impress in the aesthetics and taste department. They're not your usual Chinese New Year goodies. Think: Valrhona chocolate love letters, fluffy pork floss meringue, macaron made of mandarin orange and white lotus paste, earl grey mandarin orange chiffon cake and more.
The most groundbreaking creation would be Chef Pang's reinvention of the iconic Yu Sheng (Lo Hei); the Queen's Yu Sheng ($88++, serves 6-8 persons) is a dessert with French elements, eaten as a sweet ending to the Chinese New Year meal. It features a large chocolate Golden Egg symbolising birth and renewal, perched on a "nest" of auspicious sweets such as chocolate fish, ingots and coins, 5-spiced almonds and cashews, mandarin orange butter cake and meringue kisses, and yam and sweet potato chips. A wooden hammer is served alongside, where diners reveal the ingredients hidden within the chocolate egg with a strike: pineapple, Thai green mango, red dragon fruit and pomelo, all diced and shredded just before serving. The dressing is unique blend of mandarin orange, plum and gula Melaka. The communal tossing then follows.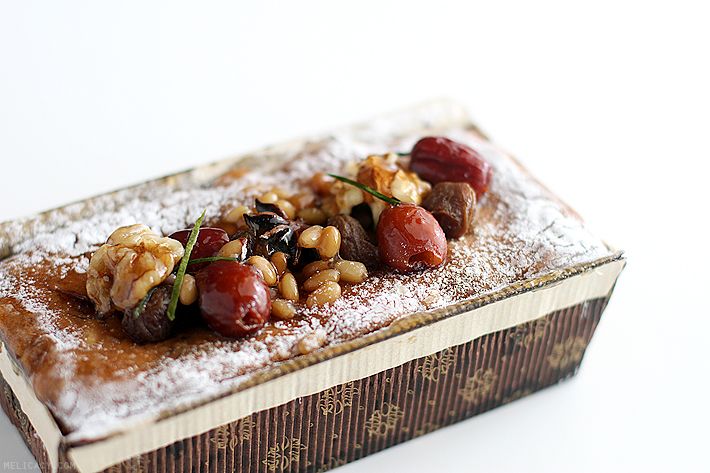 Eight Treasures Cake ($16.05 per loaf or $64.20 for whole cake)
Inspired by the eight treasures tea, commonly known as "ba bao cha" that was coveted by Chinese royalty in the olden days, Antoinette presents the Eight Treasures Cake this Lunar New Year to pay homage to time-honoured traditions. It is a rich butter cake uniquely infused with the flavours of the eight treasures: red dates, roasted pine nuts, dried longan fruit, candied ginger, kaffir lime leaves, walnuts, goji berries, tangerine peel and spices.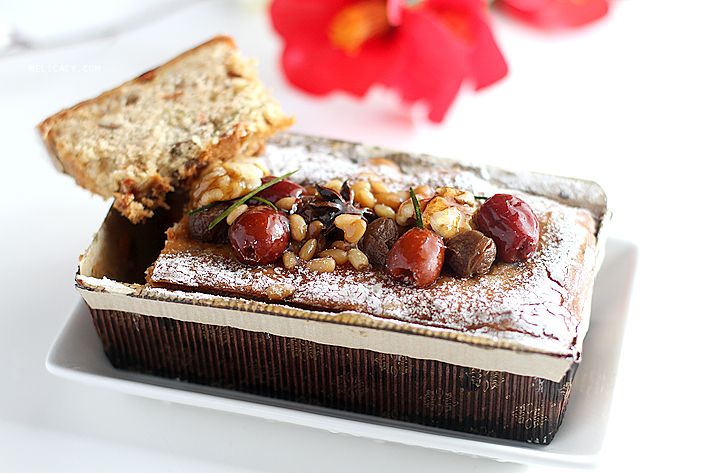 The butter cake is utterly moist and suitably dense, studded with bits of various aforementioned eight treasures ingredients. The oriental flavour is not overwhelmingly so, adapting effortlessly into the buttery cake.
Antoinette at Penhas Road
30 Penhas Road (off Lavender Street)
Singapore 208188
Tel: (65) 6293 3121
Email: sweets@sugardaddy.com.sg
Website: Antoinette.com.sg
Facebook: facebook.com/Antoinette.sg