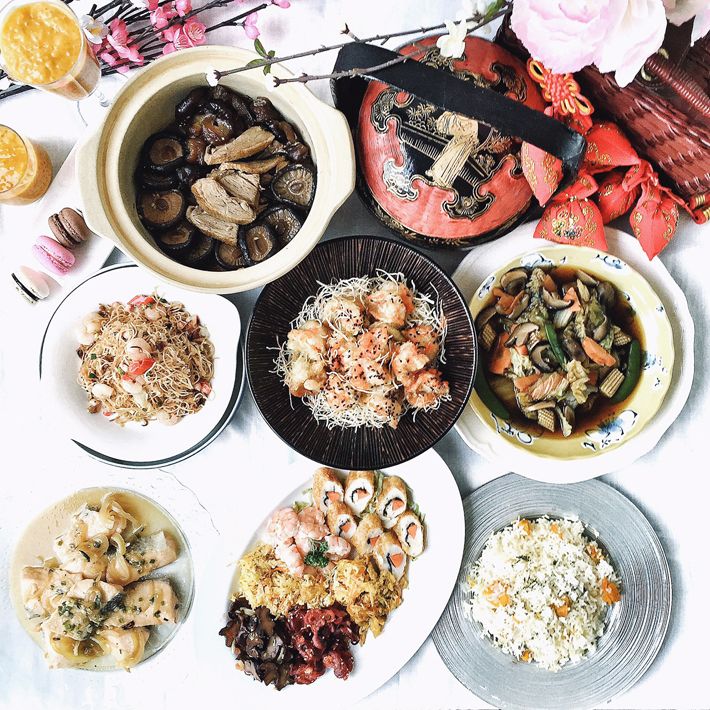 This Lunar New Year, One Paradise and Silver Tray catering have got the home-dining aspect covered with several festive menus priced from $21.80 per person or $42 onwards for a la carte items, as well as 2 party sets at $348 and $388, suitable for a party of 8 to 10 people.
I got the Bountiful Harvest Party Set priced at $388 ($415.16 W/GST) per set for our cosy family gathering of 6 and it was more than sufficient in terms of portion sizes. The delicious Mixed Vegetables Deluxe, of three varieties of vegetables, carrots and black moss, was snagged up real quick. The second most popular dish was the flavourful fried Seafood Mian Xian; if it wasn't heavy on carbohydrates, it could jolly well be the most popular dish! My dad favours the Braised Duck with chunky Sea Cucumber and Mushroom, while my other half enjoys the appetiser platter, the Fortune Treasure Combination, of prawn salad, Japanese octopus, marinated top shell, nori seafood roll and vegetarian shark's fin omelette. The Signature Wok-Fried Wasabi Prawns is also highly popular, in need of a bigger portion. The Honey Soy Asian Baked Salmon Fillet is a personal favourite, much due to my love for fish. Filling us up is the fragrant Steamed Pumpkin Rice that tastes even better the next day when re-fried with new ingredients; the portion was so generous we had lots of leftover. Sweetening our palates is the thick Chilled Mango Puree with Sago, as well as mini macarons that are especially popular with the young ones.
For more information, visit http://www.oneparadise.com.sg/ and http://www.silvertray.com.sg/ (halal certified caterer).