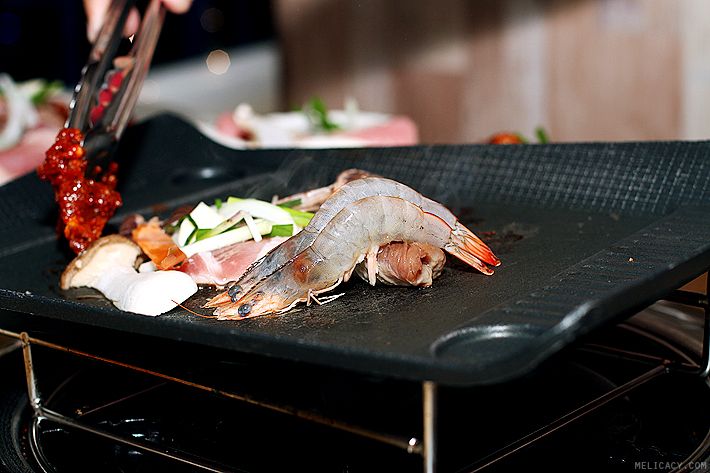 Korean BBQ buffet lovers used to gather at the Tanjong Pagar precinct, until more and more similar concepts start sprouting across Singapore in sync with the growing demands. Those that emerge just to earn a quick buck will see a decline in business in due time because diners are unlikely to patronise restaurants that short-change in quality. Hansik Korean Family Restaurant is one of the few Korean restaurants that will last the test of time, not only because it is run by Korean descendants (the Choi family) with lots of passion in food, but also because they strive to keep the prices affordable without compromising on quality. They have an a la carte menu offering a myriad of traditional Korean dishes such as Bulgogi, Ginseng Chicken Soup, Bibimbap, Korean pancake and more, but most enticing is the BBQ buffet that we are all fanatical about, priced at just $16++ for lunch and $22++ (additional $3 for weekends/PH) for dinner. Seniors get to enjoy special rates of $15++ for lunch and $20++ for dinner, while 1 student dines free with every 3 paying students.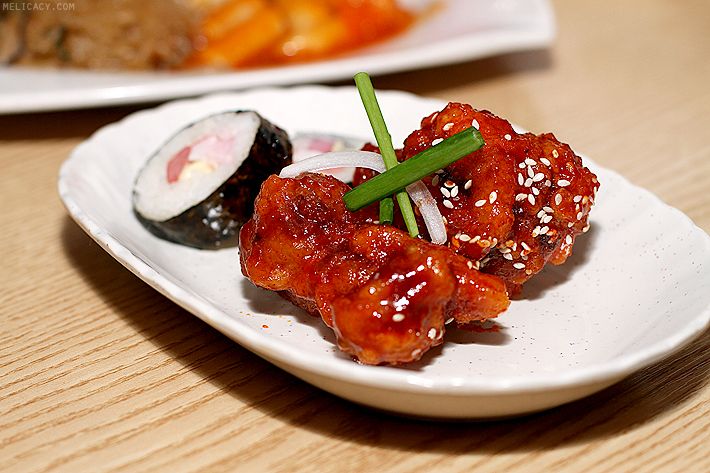 Side dishes available in the buffet – Korean fried chicken and Gimbap (Korean equivalent of sushi)
Most interesting is the current promotion, where 10 people get to dine free every day if they complete a particular task or meet a certain criteria, such as "going to National Service within 7 days", "born today", "able to sing the Korean National song", "able to recite the East West MRT stations sequentially from Joo Koon to Pasir Ris", "has skinhead", is wearing Mickey Mouse apparel", "sung the Singapore National anthem at Orchard MRT platform and recorded on the phone", "enters the restaurant, tumbling", "has hello kitty tattoo (henna not included)" or "is able to peel a prawn with only chopsticks in 10 seconds".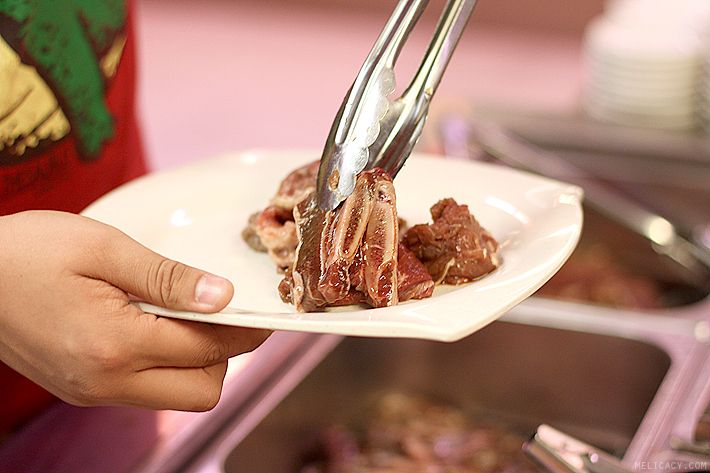 What outshines many other Korean BBQ restaurants is Hansik's range of meats, which include well-marinated bulgogi (beef, chicken and pork), spicy chicken, beef short plate, short rib, pork rib and pork collar, alongside sizeable prawn and succulent squid.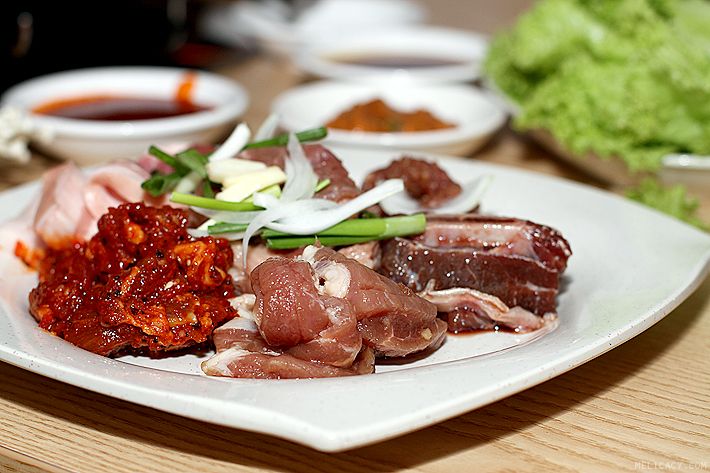 Carnivores will adore the selection!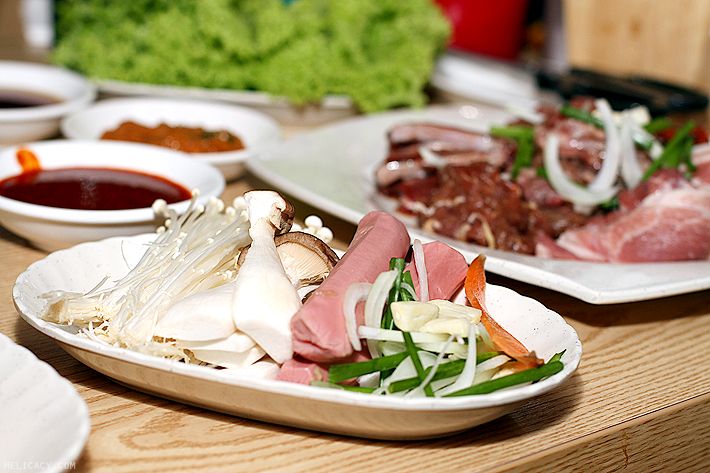 Other BBQ-able items include sausages and mushrooms, accompanied by a selection of condiments.
While you're hungry and waiting for the food on the grill to be cooked, take delight in some of the cooked items at the buffet station.
They include Kimchi fried rice, Korean glass noodles (Jap Chae), pancakes and Tteokbokki (spicy rice cake).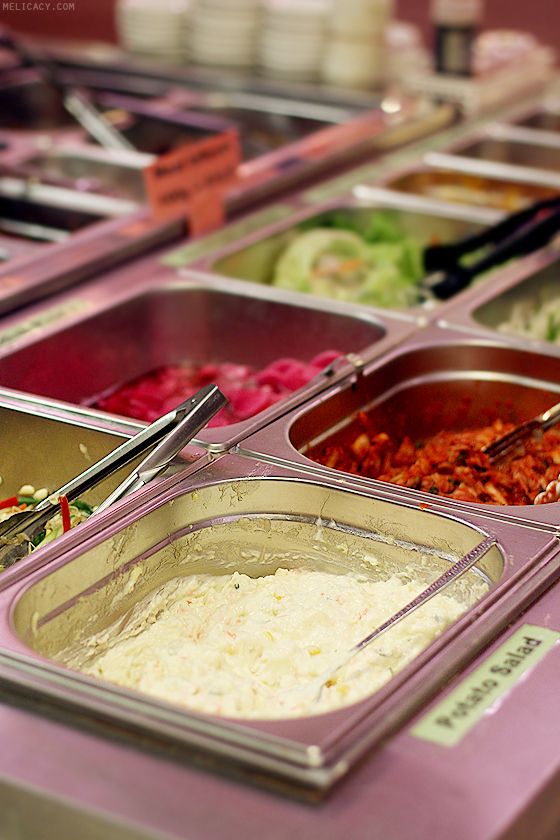 I am totally digging the potato salad!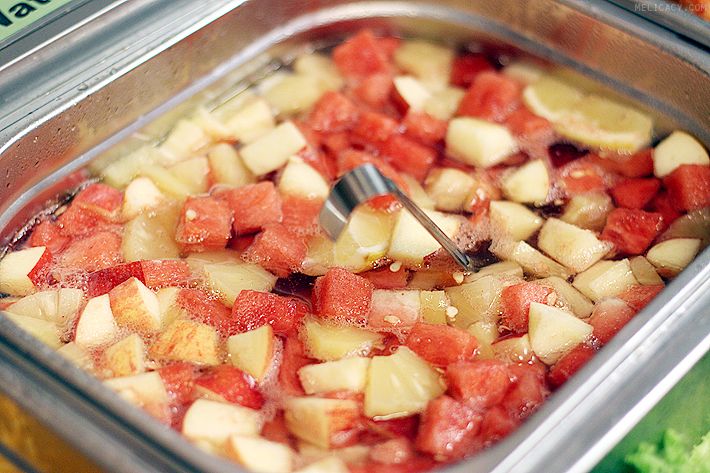 And the assortment of cut fruits steeped in soda, a refreshing palate cleanser between BBQ meats.
Adding more value to this buffet package are the soups available, one of which is the highly coveted ginseng chicken soup, cooked with Korea-imported ginseng.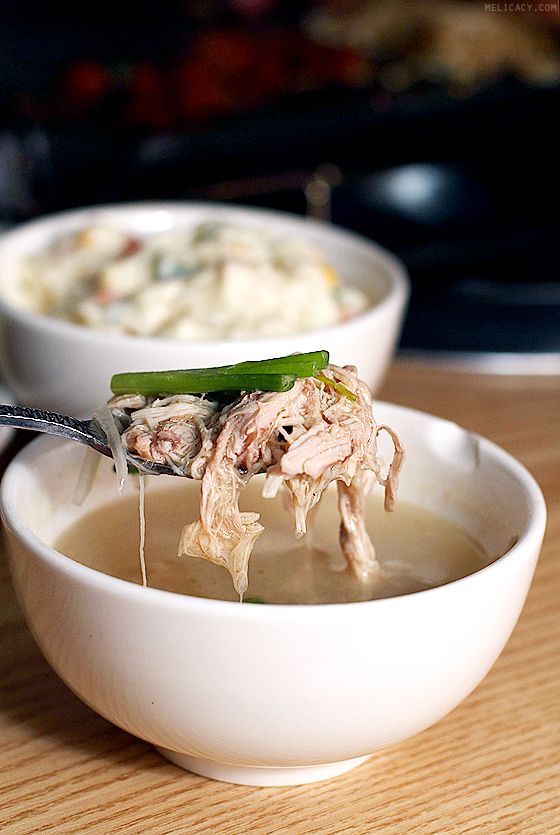 I had at least 3 bowls of this!
An unlimited flow of soft drinks is what makes buffet restaurants (especially bbq buffet restaurants) even more attractive.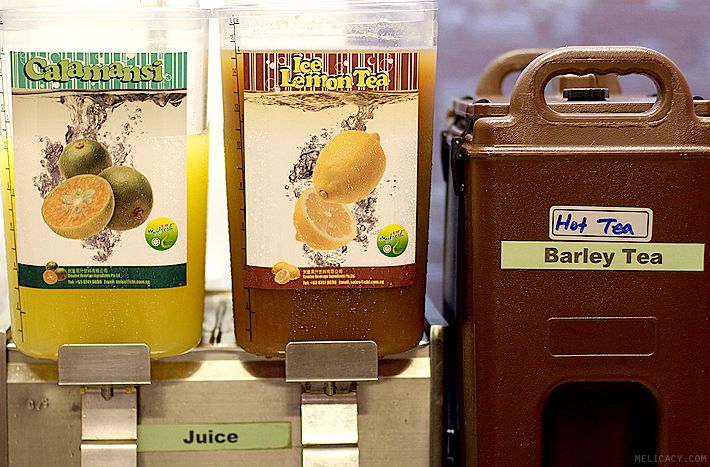 Soft drinks, citrusy calamansi and iced lemon tea are included in the buffet, as well as hot barley tea.
If not for its slightly remote location away from the city, I'd be patronising this restaurant on a weekly, if not monthly basis!
Hansik Korean Family Restaurant (Queensway)
1 Queensway #03-51
Queensway Shopping Centre
Singapore 149053
Tel: (65) 6471 5393
Opening hours:
Monday to Friday: 11am to 3pm, 5pm to 10pm
Saturday, Sunday and PH: 11am to 3.30pm, 5pm to 10pm