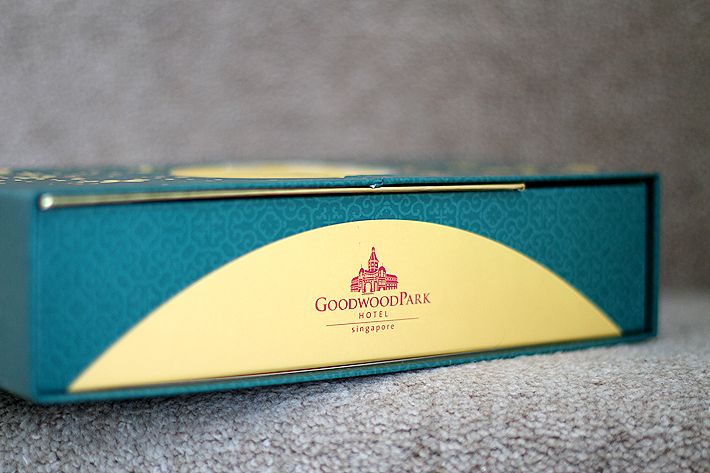 Goodwood Park Hotel in Singapore is especially renowned for their irresistible array of handcrafted sweet treats. Think: mouth-watering durian creations appropriate for any occasion. This Mid-Autumn Festival, expect nothing less than awe-inspiring. The crowd-winning all-time favourite Premium Durian Snowskin Combo is joined by new creations, setting the stage for uphill excitement.

Tropical Royals – limited edition ($45 per box of 2 pieces)
Contained in sophisticated packaging are two gems: the Tropical Royals, featuring the king of fruits, durian, and the mammoth tree-borne fruit, jackfruit, for the first time in baked mooncake history. One of pure D24 durian pulp blended with white lotus seed paste, and another of juicy jackfruit bits adding texture to the white lotus seed paste. They are available in very limited quantities per day, so it's best to order in advance.
Another new highlight this year is the Pineapple, Lemongrass and Dark Cherry Snowskin Mooncake, enthralling mooncake enthusiasts with gorgeous watercolour-inspired swashes of vibrant green and yellow. The pineapple puree is delicately infused with lemongrass, with a macerated dark cherry sitting snugly in the middle.
Check out the rest of their creations at festivepromotions.goodwoodparkhotel.com.
Goodwood Park Hotel's mooncake creations are available from 16 August to 27 September 2015. To order, visit the Deli from 9am to 9pm daily, contact the Mooncake Call Centre at (65) 6730 1867/1868 from 9am to 7pm (Mondays to Fridays) and 9am to 1pm (Saturdays, Sundays and public holidays), or email the order form (available at the hotel or at www.goodwoodparkhotel.com) to mooncake@goodwoodparkhotel.com. Alternatively, you can place online orders at festivepromotions.goodwoodparkhotel.com. Last pre-order date is 21 September 2015, 5pm.
Goodwood Park Hotel
22 Scotts Road
Singapore 228221