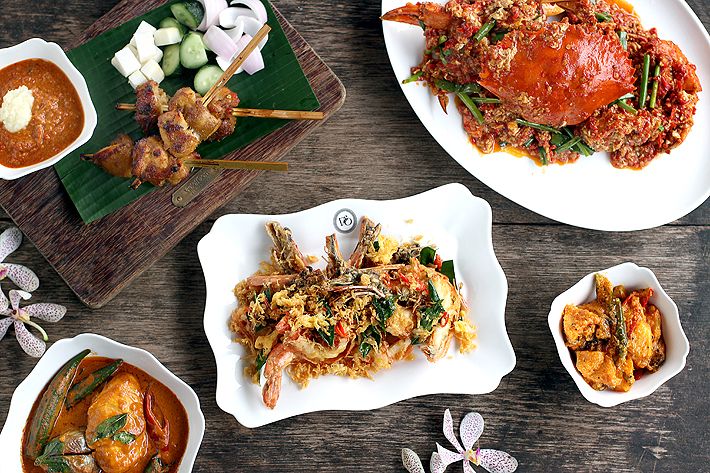 Often, when foreign visitors seek local food in Singapore, they are directed to hawker centres, where our gems are. While there are plenty of food stalls in the bustling hawker centres dishing out truly Singaporean dishes, there isn't one restaurant in Singapore that does all that with flair and sophistication, not until National Kitchen by Violet Oon came along. Potentially one of our national prides, National Kitchen by Violet Oon serves up significant dishes from various ethnic groups that make up the Singapore culture.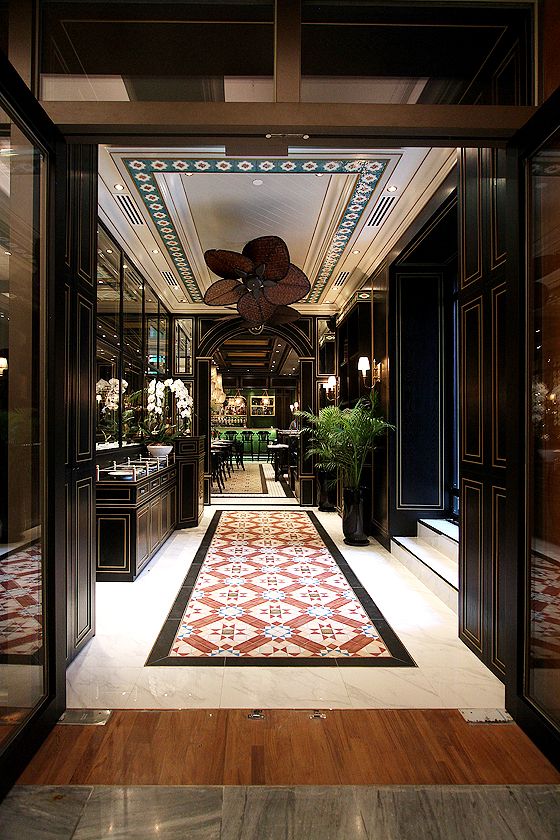 The lavish design and grandeur of the restaurant integrates seamlessly into the majestic architecture of the National Gallery Singapore and its vibe.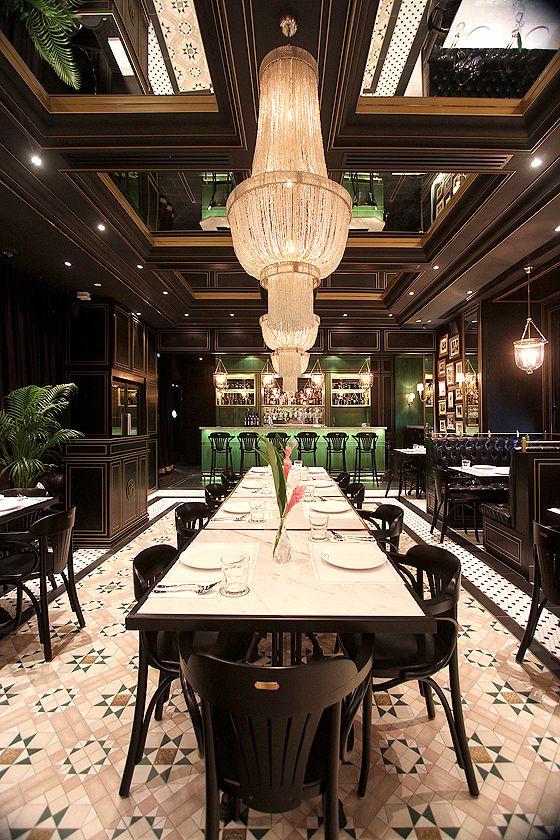 Crafted with strong attention to detail and amplified with specially sourced vintage tiles, the stunning interior speaks of classy flamboyance matched with rich heritage.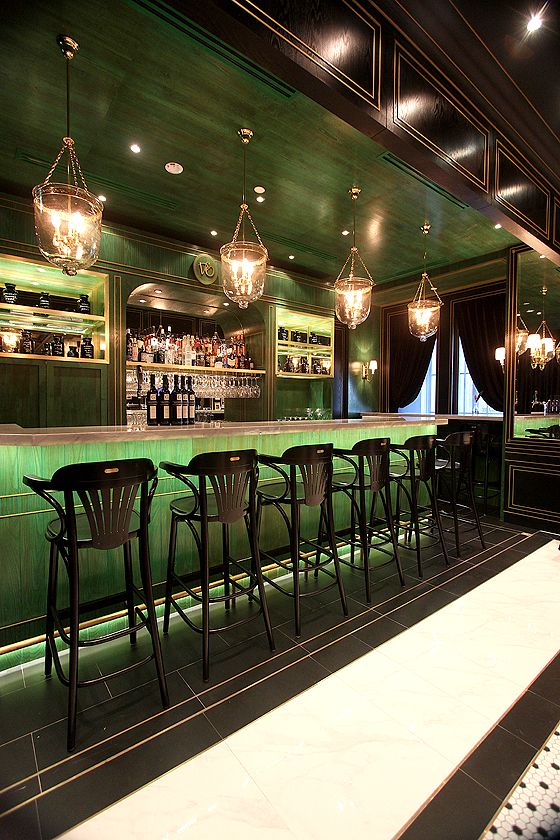 They even have a gorgeous bar with the prettiest chandeliers. If you can resist the urge for alcoholic libations, their homemade ginger beer and traditional coffee is a must try. Otherwise, browse through the cocktail offerings that are enhanced with Asian ingredients.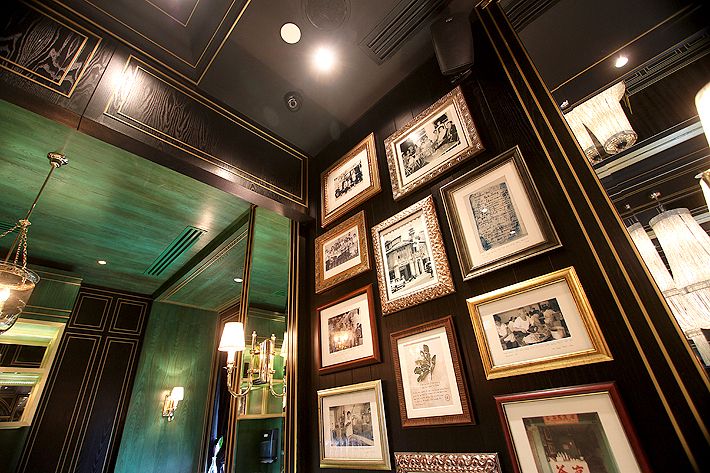 Photographs from the olden days are framed up and mounted elegantly on the walls, some of which are of Violet Oon's personal collection and memories.
National Kitchen by Violet Oon is a place to share stories of Singapore's history, to celebrate the growth of Singapore and its food scene, and to savour the culinary goodness they have to offer.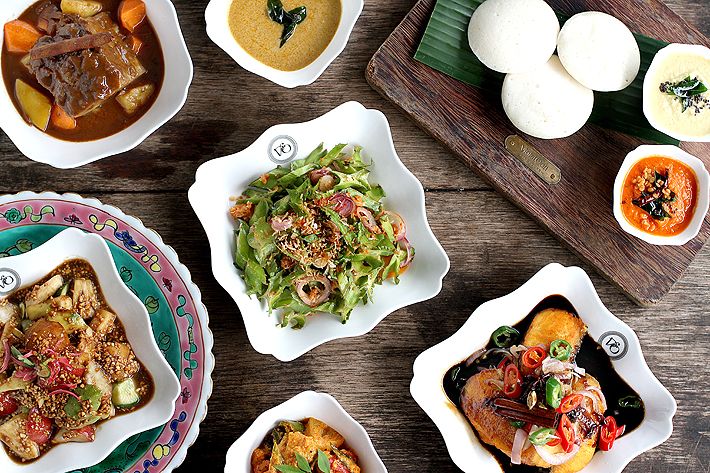 Best to go in a group to share several dishes paired with jasmine rice, Nasi Lemak coconut rice, or chicken rice. Top picks include the Daging Chabek Beef Cheek ($35) of beef cheek slow-braised in a rich tamarind gula Melaka gravy and coconut, Ikan Goreng Chilli ($19), Ju Hee Char ($13) of julienned vegetables stewed in cuttlefish broth and topped with deep fried cuttlefish, Udang Goreng Chilli ($32) of sizeable prawns tossed in a chilli padi garlic rempah that packs lots of flavour and a spicy kick. For starters to share, order the platter of dainty Kueh Pie Tee of bamboo shoot and turnip poached in prawn bisque, prawn, chilli sauce, and a sweet fruit sauce served in a crunchy case, and Ngoh Hiang of deep fried beancurd skin rolls encasing prawn, crab, chicken and water chestnut seasoned with five spice powder. For dessert, the Roti Jala ($10) of traditional nyonya laced pancake served with gula Melaka and banana coconut sauce gets my vote. The Kueh Dah Dah ($9), grated coconut cooked with gula Melaka wrapped in pandan infused crepe, is also a must try!
National Kitchen by Violet Oon
1 St Andrew's Road, #02-01
National Gallery Singapore, City Hall Wing
Singapore 178957
Opening hours: 12pm to 3pm and 6pm to 11pm daily
Website: Http://violetoon.com