Oven-baked Chorizo Eggs ($22) – Two Japanese farmhouse eggs baked with chorizo sausage, roasted baby potatoes, caramelised onions
To please brunch enthusiasts, there are a few criteria to meet. First of all, locations matter –the more inaccessible and off-the-beaten-path, the better. Somewhere with lots of natural sunlight. Next, the presentation of food has to be Instagram-worthy; egg dishes are good for some egg-cutting yolk-dripping action shots. It has to photograph well. Lastly, the menu should be diverse enough to pander to not just the eggs benedict and pancake lovers.
Shelter in the Woods puts a tick in each check box, ready to impress once again with the Sunday brunch affair, available only on Sundays from 11.30am to 2.30pm.

Shelter Eggs Benedict ($22)
Japanese-born and European-trained Chef Masashi Horiuchi puts his own twist on brunch classics. The Shelter Eggs Benedict for instance come with two wobbly poached Japanese farmhouse eggs doused in the requisite hollandaise sauce, perched on a toasted bagel, and visually and palatably enhanced with smoked bacon. There's nothing not to love about this dish; it's a safe but sure way to start the Sunday on a good note.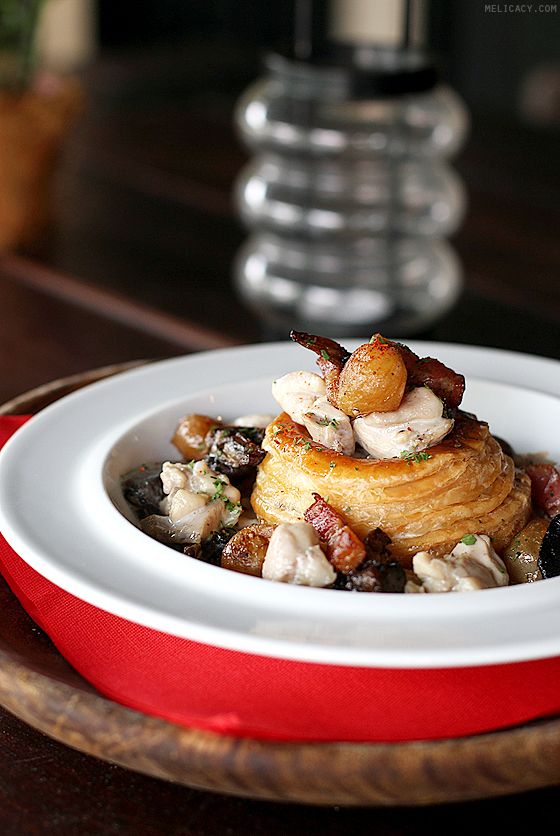 "Vol-au-Vent" Chicken-Mushroom ($24)
The "Vol-au-Vent" Chicken-Mushroom is one of the star dishes that set off uhmmms and ahhhhs. Accompanying the golden-brown baked puff pastry is a medley of creamy mushroom, pan-fried chicken, smoked bacon chunks and pearl onions. This dish scores high on taste and comfort level, and its presentation highly prepossessing.