Hard Rock Café is rocking our island three outlets to date –the oldest outlet in Orchard, its second outlet in Changi Airport Terminal 3 transit lounge, and its newest outlet at The Forum in Resort World Sentosa.
The trend of collecting Hard Rock Café t-shirts and merchandise from all over the world has yet to dwindle, evidently with a steady string of tourists purchasing highly prized collectibles and mementos.
Hard Rock Café is predominantly known for its vast music collection and signature décor. Will the foods make the cut?
Drinks and Milkshakes
The drinks menu is extensive. The number of cocktails available will send you into a dilemma. Smoothies and non-alcoholic mocktails are as widely popular.
Left picture – Cecil Ice Tea ($6)
Refresh your palate with the highly recommended Cecil Ice Tea, composed of black tea, clove, orange juice and cinnamon. This non-alcoholic drink is refreshing and distinct.
Right picture – Thick Shakes ($12)
Milkshakes at Hard Rock Café are made using premium Haagen-Dazs ice cream. I was squealing with joy upon the proclaiming tidings. I LOVE HAAGEN-DAZS ICE CREAM!
It's a pity that only Vanilla and Chocolate is available, but that will suffice. Anything that has been churned out from the Haagen-Dazs factory is ethereal.
Salad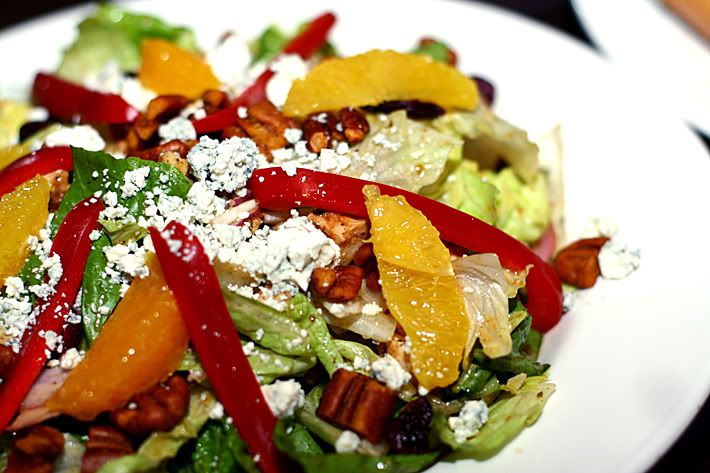 Honey-Citrus Grilled Chicken Salad ($20)
Fresh cut greens are tossed with grilled Cajun chicken and sweet red onion in a honey-citrus dressing, topped with fresh orange segments and spiced with pecans, red pepper strips, sweetened dried cranberries and blue cheese crumbles.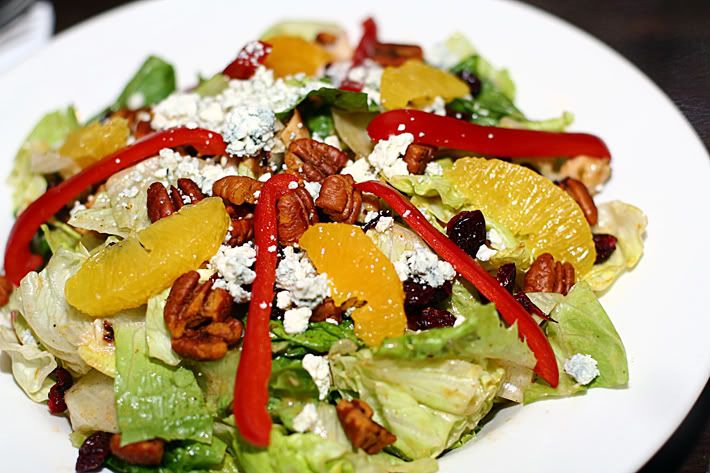 What a medley of textures and flavours; the orange segments lend a refreshing zesty kick, while the blue cheese isn't overwhelmingly "stinky" –the elements create necessary oomph that will intrigue your taste buds.
Note: The portion size is huge.
Starters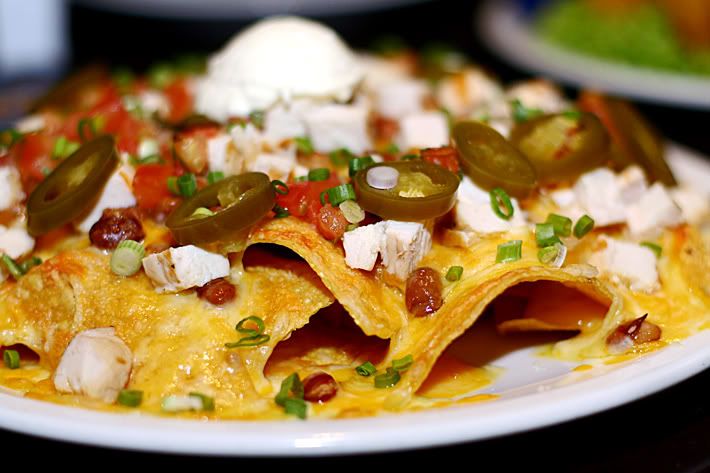 Hard Rock Nachos ($20)
Add-ons available:
– Grilled chicken ($6)
– Bar-B-Que Pulled Pork ($6)
– Grilled Fajita Beef ($8)
The Hard Rock Nachos is a definite crowd-pleaser, the faint-hearted to be excluded from the crowd. A huge portion of crispy fresh corn tortilla chips topped with a gooey melted Jack and Cheddar cheeses, followed by a generous scattering of diced grilled chicken (add-on), chopped green onions, pico de gallo, jalapenos, and finally a dollop of sour cream, will feed a party of five.
The freshly made Hard Rock Salsa and Guacamole dip are the perfect accompaniment.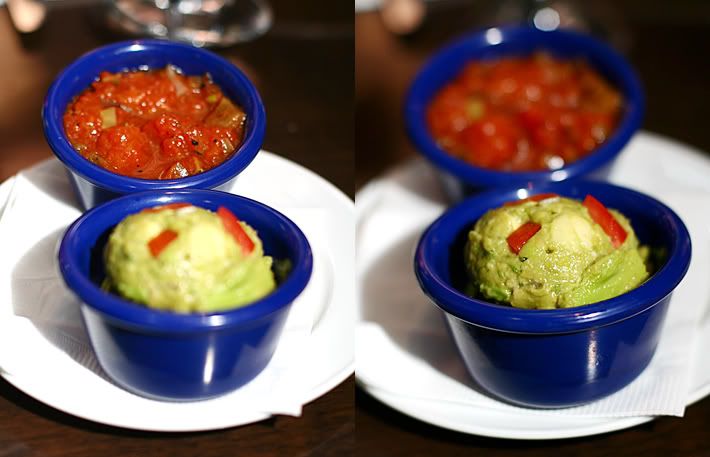 Jumbo Combo ($28)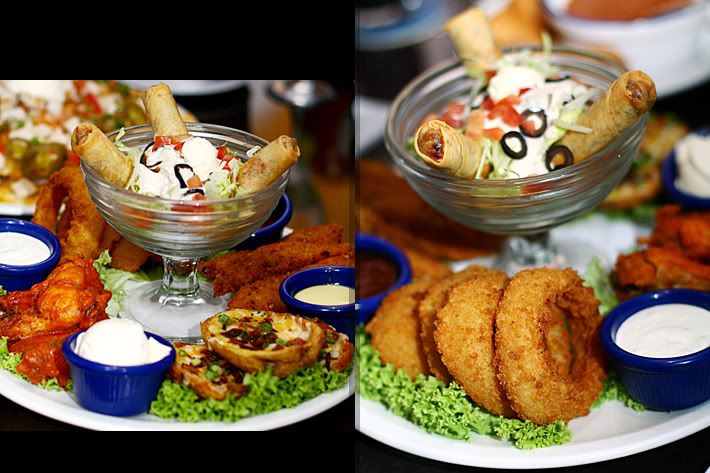 Jumbo Combo features their most popular starters, big enough to share among four. It is served with four different sauces for mixing and matching: Chipotle Ranch, Bar-B-Que, Blue Cheese and Honey-Mustard.
The Santa Fe Spring Rolls are stuffed with spinach, black beans, cilantro, corn, jalepenos, diced red peppers and Jack cheese.
The Hickory-Smoked Chicken Wings are a tad dry for my liking, but I'm intrigued by their superb marinate.
The Onion Rings are so huge, I thought they resembled calamari. Fresh thick juicy slices of onion are breaded and fried to a deep golden; one of the best onion rings I've had.
The Potato Skins resembles a tart. The potato shells – acting as the pastry case – are fried, filled with Jack & Cheddar cheeses, and finally sprinkled with crisp seasoned bacon and green onions.
It is a nice interpretation and a personal favourite. I would definitely order the regular portion the next time I'm there!
Tupelo Chicken Tenders; boneless, seasoned and breaded chicken tenders. I was too overwhelmed by my favourites – namely the Potato Skins and Onion Rings – that the Tupelo Chicken Tenders seemed underwhelming.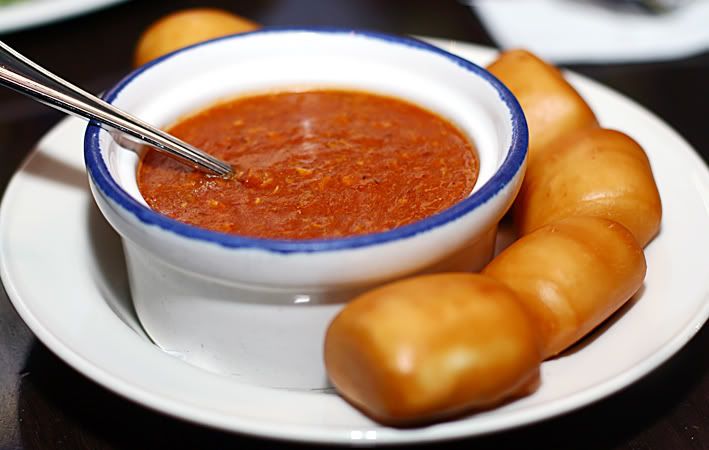 Chilli Crab Dip with deep-fried Chinese buns ($15)
The Chilli Crab Dip is a must-try! Hard Rock Café brings the ever-popular Singaporean dish to greater heights, by creating a smooth blend of gravy, redolent of the native dish, paired with Chinese buns, like how the Singapore Chilli Crab is typically paired with.
We shall call this the lazy man's Singapore Chilli Crab.
The dip doesn't only go well with the accompanying Chinese buns. Adventurous foodies like us will always be game to experiment different flavour combinations. We dunked nachos and fries into it, and the verdict is: whatever modest morsel you dunk into it will launch into scepticism that will evolve into amazement.
This had me pining for more.
Burgers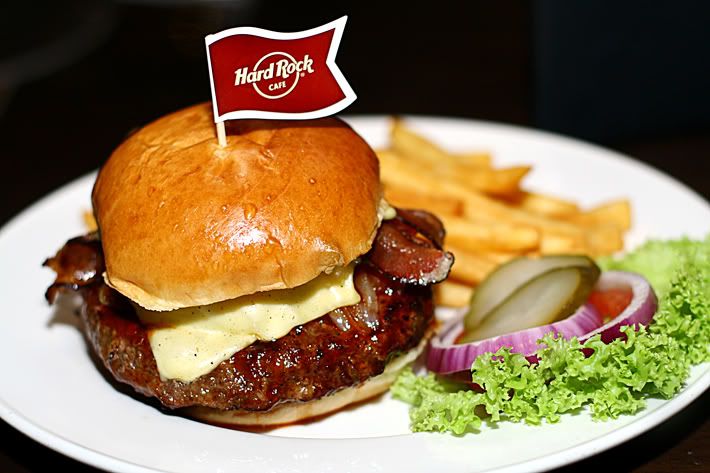 Hickory BBQ Bacon Cheeseburger($26)
Basted with a special Hickory Bar-B-Que sauce and smothered with caramelised onions, topped with crisp seasoned bacon and melted Cheddar cheese.
Juicy patty, wonderful flavours; there's no way I can fault this dish.
Entrees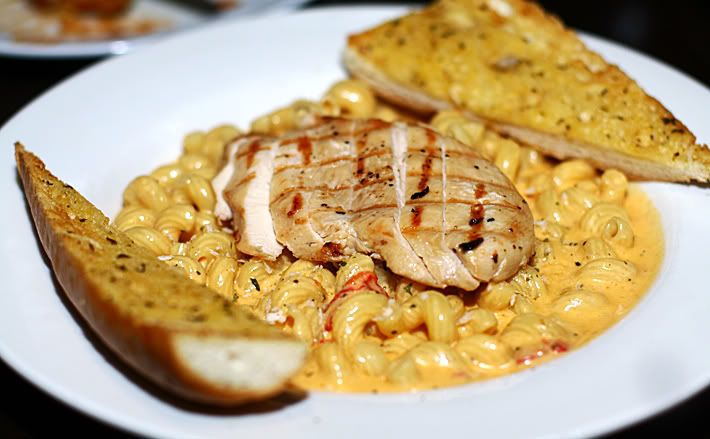 Twisted Mac, Chicken & Cheese ($26)
The enticing menu description – grilled chicken breast atop twisted Cavatappi pasta, tossed in a lightly spiced 3-cheese sauce, with garlic, roasted red peppers and Romano parsley bread crumbs, served with a side of garlic toast – provides sufficient information on what to expect.
All the ingredients contribute to a bounty of flavours.
I would love a Mac & Cheese that is finished off in the oven, resulting in a crisp golden crust. The grilled chicken breast is a tad dry for my liking; my preferences would steer me away from lean meats.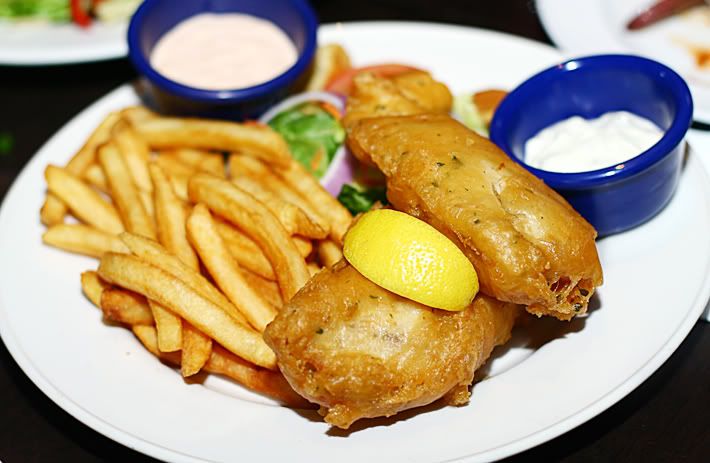 Fish & Chips ($26)
The Fish & Chips is another of my favourites. I won't deny my favouritism towards fish, but if it turns out dry and unappealing, I won't stomach it.
Hard Rock Café gives the Fish & Chips a unique approach, using a fish popular in Chinese dishes, usually steamed (blame my poor encyclopaedic knowledge for not being able to name that fish), instead of the conventional fatty dory fish.
It turns out well executed –moist and tender inside, crispy on the outside.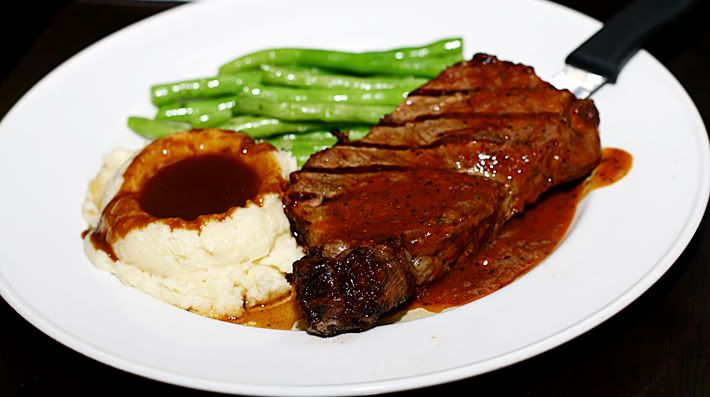 New York Strip Steak ($46)
Smokehouse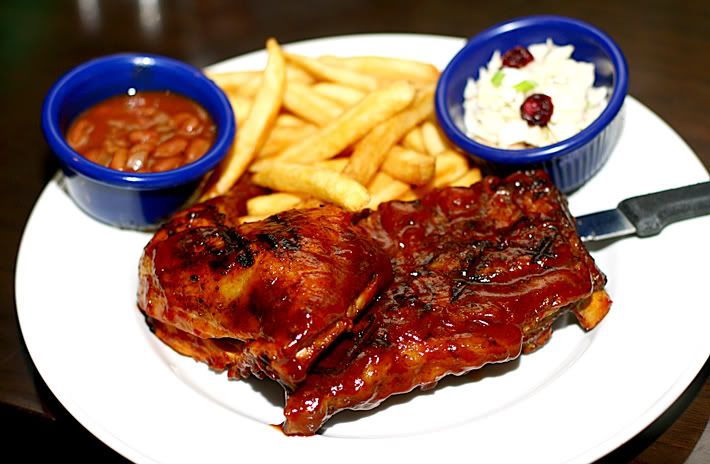 Hickory-Smoked Bar-B-Que Combo ($32)
For the Hickory-Smoked Bar-B-Que Combo, we opted for a duo of Bar-B-Que Chicken and Bar-B-Que Ribs. They both turned out to be perfectly done. With a stunning sauce and meat that falls right off the bone, I couldn't ask for more. Highly recommended!
Rock The Wok –All Time Asian Favourites

Seafood Char Kway Teow ($18)
Stir fried flat noodles tossed with bean sprouts, fish cake, Chinese sausage, egg, prawn, squid and a sweet and spicy soy sauce.
For those hankering for local delights, the Seafood Char Kway Teow will blow you away.
You'd think that Hard Rock Café offering local delights is probably just a scheme to cater to the tourist crowd, who have never eaten our famous hawker fare – the Char Kway Teow – in their life, thus there will be no basis for comparison, leaving contented.
In my opinion, Hard Rock Café's execution surpasses and exceeds my expectations, and left me craving for more.
The portion size is huge. Although you'll probably pay half the amount for that portion in a hawker centre, you can enjoy the ambience and a whole lot more that Hard Rock Café has to offer.
Dessert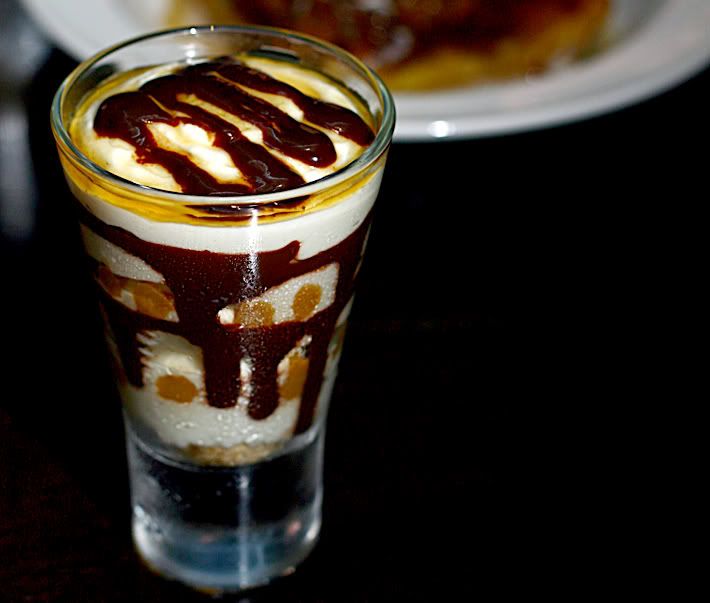 Chocolate Caramel Cheesecake ($8)
A famous New York-style cheesecake served with a blend of chocolate and caramel sauces
This tiny dessert will not suffice if you'd wish to end your meal on a sweet note, as it was more of a salty-savoury cheesecake –it is quite an acquired taste.

Fresh Apple Cobbler ($16)
An apple cobbler, topped with walnuts for texture.
The Haagen-Dazs ice cream atop sets off bells and whistles. *Grinning from ear to ear*

Mud Pie ($16)
Cookie crust filled with heavenly concoction of coffee and chocolate ice cream topped with hot fudge and crunchy almond flakes.
The Mud Pie is worth the calories. Hard Rock Café has successfully ignited my love for mud pies.

Hot Fudge Brownie ($18)
Haagen-Dazs vanilla ice cream and hot fudge on a fresh brownie, topped with chopped walnuts, chocolate sprinkles, fresh whipped cream and a cherry.
Hard Rock Café does a good job with their brownies –crisp edges with a rich and moist chocolate-y interior. The whipped cream is a tad denser than the usual; I'd rather another scoop of Haagen-Dazs, thankyouverymuch!
If the night is still young, sit back, relax, and enjoy the extensive range of booze. A screen streaming music videos live from the Hard Rock Café headquarters in the states will keep you entertained.
Today, eating is not only a basic necessity of life, but also a consumption of leisure. For a jamboree of good food and good music, Hard Rock Café is an ideal spot.
Interesting facts: Hard Rock Café is always scouring for unique personalities to join their crew, with a particular fondness for body adornments such as tattoos and piercings. If their staffs wish to get their hair coloured in the most fanciful of colours, they get it done for free.
Hard Rock Cafe Sentosa Singapore
26 Sentosa Gateway
#01-209 to 214 The Forum
Singapore 098138
Website: http://www.hardrock.com/locations/cafes3/cafe.aspx?LocationID=568&MIBenumID=3
Opening hours:
Restaurant:
Mon – Sun 11:00AM – 1:00AM
Last food order: 10:30 PM
Merchandise:
Mon – Sun 11:00AM – 1:00AM
Telephone:
+65-67957454
Contact:
enquiries@hardrockcafe-singapore.com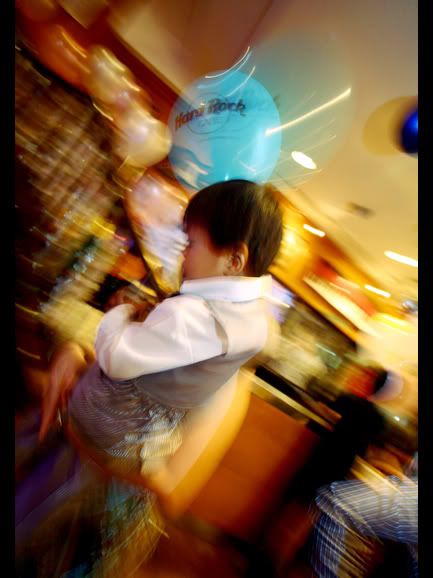 This picture was taken at a wedding event held at Hark Rock Café outlet in Orchard, Singapore.
Thanks Derrick for organising this makan session, and Natalie and Chris from Hard Rock Cafe for being such wonderful hosts.