The annual OMY Singapore Blog Awards is here! It is to my endless delight that Irene, widely recognised as Moonberry, is shortlisted as a finalist once again –she was a winner of last year's Best Beauty Blog.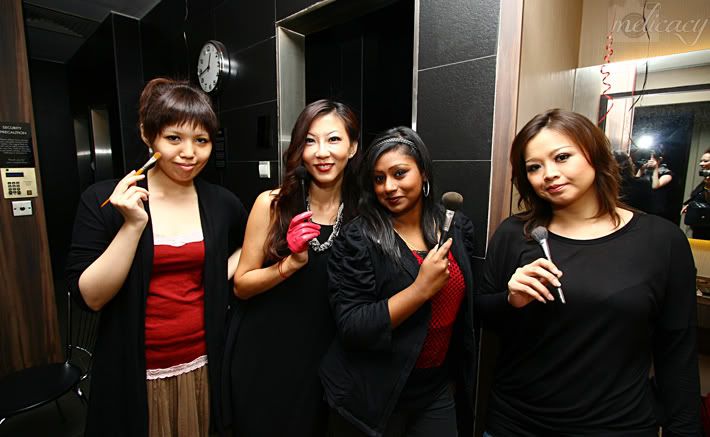 Each category – such as lifestyle and beauty – is sponsored by different organisations –Panasonic for the former and Mary Chia for the latter. Psst… Moonberry is shortlisted in the Best Lifestyle Blog category as well. Do shower her with your support generously by voting daily in both categories!
Being a finalist in the Mary Chia Best Beauty Blog category is no easy role. Not only do the 10 beauty bloggers need to look pretty and solicit votes with their puppy eyes and enchanting smiles, but they were also given a task to complete.
They each are to orchestrate a themed party, which will be held at randomly assigned Mary Chia outlets. They have to work within a $300 budget –but that certainly did not flag Irene's enthusiasm!
The best parties are never templates, only ideas hungrily deliberated. After a good deal of brainstorming, Irene came up with the theme "Velvet & Roses".
15 girlfriends were invited to her party, and we too had to rack our brains over our outfits in order to fit the theme. Good thing Irene compiled several images into inspiration boards – you can tell she pays attention to details – from makeup to accessories, from head to toe.
If you know me personally, my outfits are all about comfort. If I could, I would wear my comfy hoodie everywhere I go. BUT for Moonberry, I resigned from wearing hoodie, for a day, and donned on a slightly revealing outfit. Think: bareback. Only for you, Moonberry!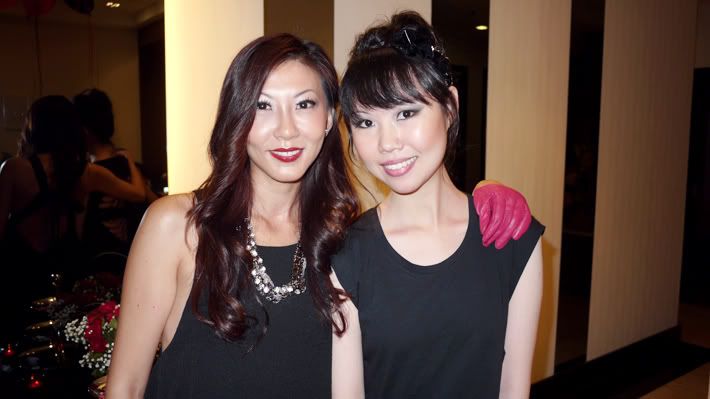 Undoubtedly, she is no novice at party planning. She knows exactly what she's doing, and takes care of every single detail immaculately. The party went on without hiccups.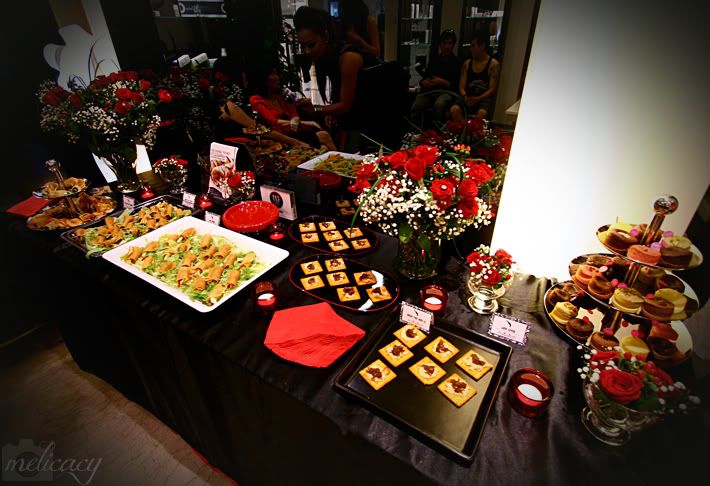 Carrying the theme "Velvet and Roses", the Mary Chia studio at Orchard Point is meticulously decorated: the interior bedazzles in seductive hues, alit sumptuously with candles of orange flames that flicker to a smooth funk; helium balloons colour the ceilings in red and black.
As its title "Velvet and Roses" would suggest, there are certainly no shortages of fresh roses, replete with subtle floral scents that waft around the studio.
It is glam meets roguish, where girls arrived dressed up in gorgeous black and/or red outfits to match the theme.
Designed to be a fun, interactive and pampering event, attendees have a line-up of activities to luxuriate in.
Girls left the party with baby-soft and silky-smooth hands, thanks to the Hand Paraffin Treatment – courtesy of Mary Chia – while the Tension Relief Back Massage eliminated stress and aches.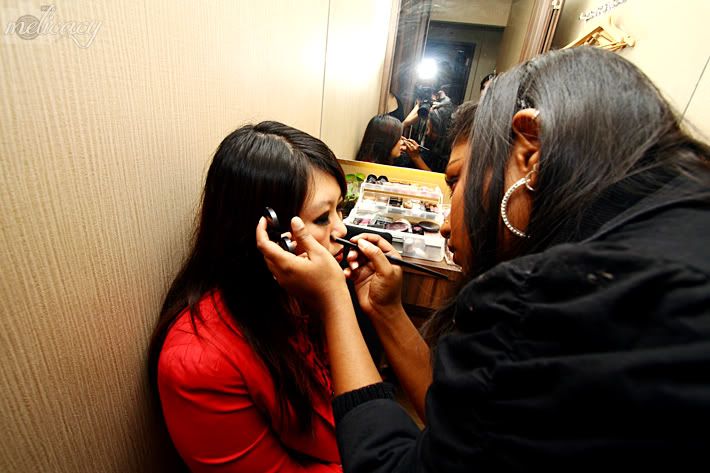 Irene also engaged two makeup artists where girlfriends got to enjoy mini makeovers. Think: smoky eyes and vampy lips.
Her style of hospitality blends graciousness with informality, making us girls feel at home.
The highlight for me is (not surprisingly) the food –from Robolots.
The menu seemed to be tailor-made to match the badness theme –check out the quirky names!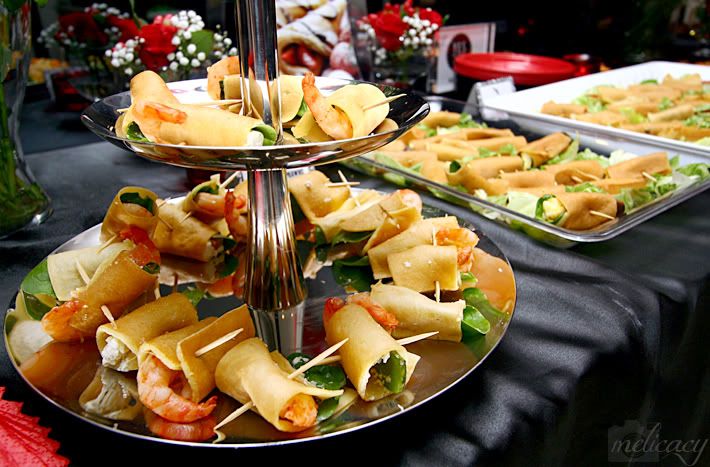 Gar-Lick My Prawns and Shuffle My Truffle
Fresh succulent prawn or the opulently aromatic truffle, wrapped in crepe, and secured with a toothpick –it is easy to pick up, and fuss-free to consume.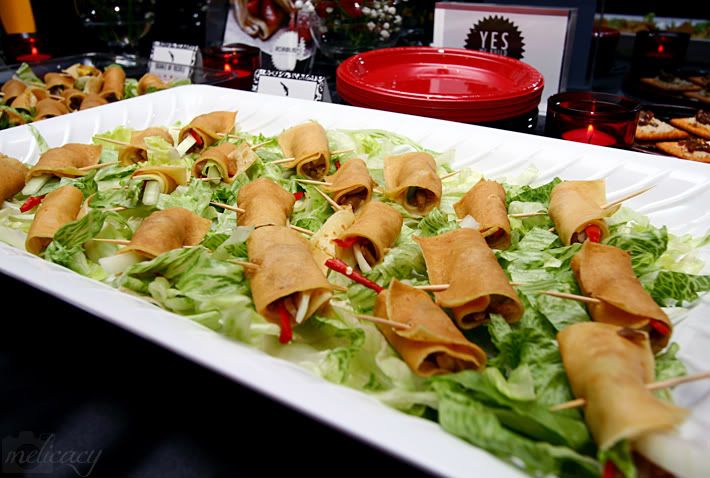 Hot Chicks
Chic in crepes!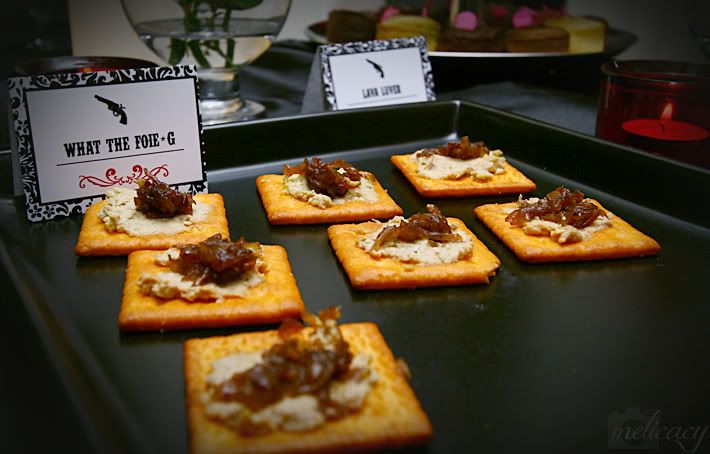 What The Foie-G
What The Foie-G is my favourite of the savoury lot. Crisp cheesy biscuits topped with foie gras mousse and caramelised onion; it is perfect. Doesn't crumble and isn't messy to eat.

Lava Luver
Lava Luver comes in a tier of colourful lava mini-cakes in different flavours: pistachio, mixed berries, rum & raisin, lemon and chocolate.
Sadly I didn't get to try the pistachio lava cake –highly raved by those who finished it (before we could try it)!!!!
The lemon lava cake was a pleasant surprise of refreshing lemony perfume –the molten core is deeply fascinating. Very novel!
Purists will not be disappointed with the chocolate lava cake. I loved it!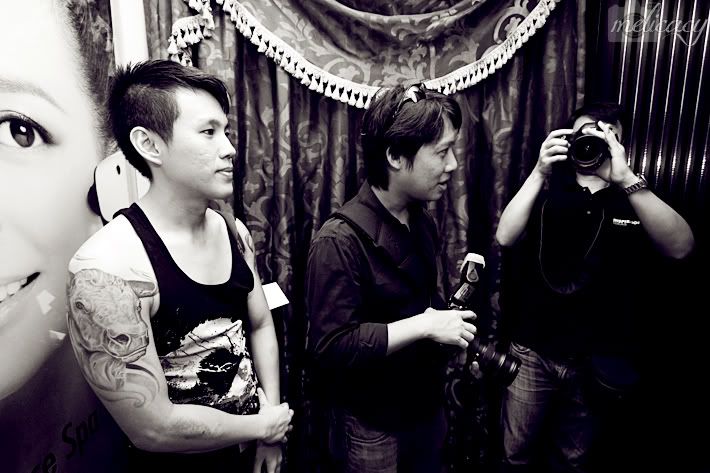 We did not have a lavish cocktail party with caviar and lobster, neither did we have a pianist at an ebony baby grand –but the party was rocking awesome.
Oh, and we didn't leave empty-handed. Yay to goodie bags!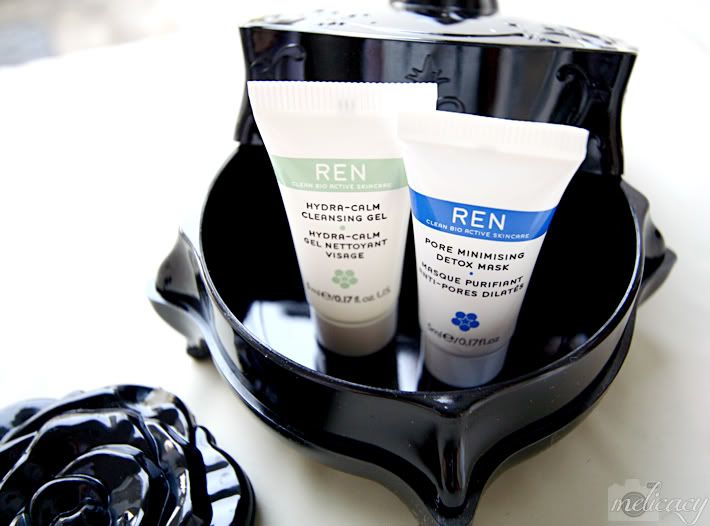 Here's a contest where you can win these items!
All you have to do is:
– Vote for Moonberry at http://sgblogawards.omy.sg/2012/category/fb.php?cat=beauty&seq=6
– Capture a screenshot after you've voted (Press Printscreen on windows or hold on Command+Shift+3 on mac) *The 'Vote' icon will turn from yellow to blue.
– (Optional) Like her facebook page https://www.facebook.com/MBxMB
– Send the screenshot to femmelicacy@gmail.com and tell me which items you'd like to win.
– Contest ends on 30 June and winners will be notified by email.
*Self collect at Serangoon MRT Station (Nex)
Why Moonberry deserves the title?
She's a beauty buff and fashionista with taste, attitude and class; she has an aura of confidence, and is creative, smart and articulate. Her blog is the go-to place for beauty tips and advices for modern women of today.
Her writing style is characterised by wit and her contents don't bore you out. Don't you just love reading her blog?
Vote for Moonberry!
xoxo

Picture taken from Moonberry's blog
Check out her post on the event here: http://blog.moonberry.com/beauty-journey-mary-chia-chapter-5/#more-2433