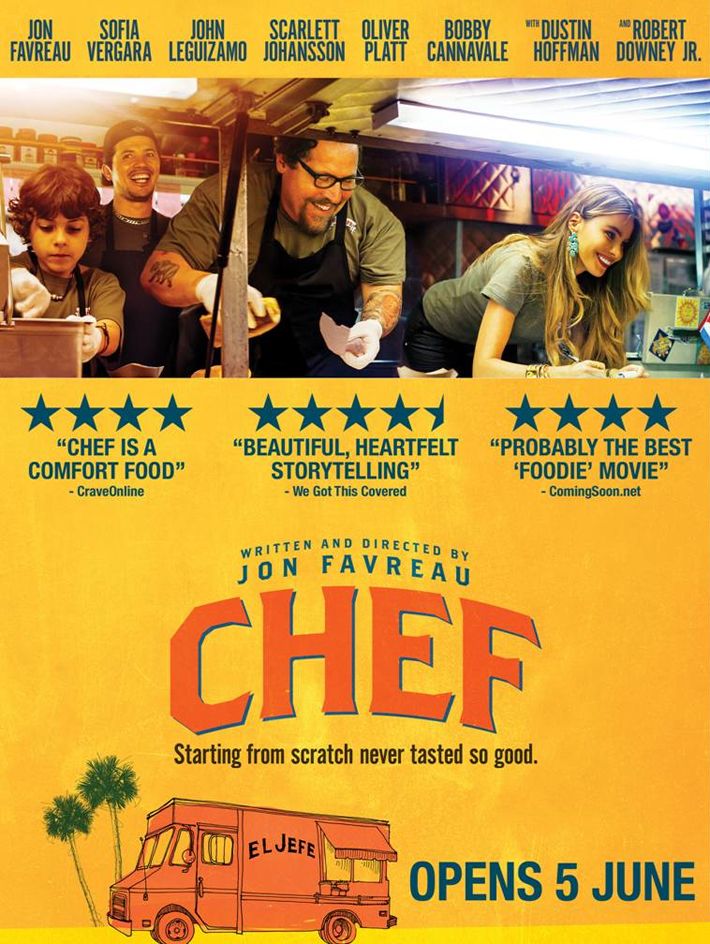 Written, directed and also starred in this half and one hour long foodie comedy is Jon Faveau, as Carl Casper, the 'Chef of disappointment'. Additionally please do not anticipate Jon Faveau, executive producer for Iron Man, and Robert Downey Jr. for some 'Iron Chef' collaboration. To spread around further Faux pas, audience will actually feel moment of embarrassing social blunder or indiscretion, thankfully not for themselves but for the leading protagonist. Simply due to that this is definitely not your run out-of-the-mill slapstick comedy with toilet humor.
Viewers will be utterly disappointed, this again is not a movie that got made by accident when lunatics took over the asylum and decided to start filming themselves cook. Chef, is a brilliantly composed and sequenced piece of culīna art. Carefully structured, within the first ten minutes into the film, one can relate and be immersed into the life of Chef Carl Casper. Why the Chef of disappointment, you may ask, firstly as cliché as it is he disappoints his kid with many promises he could not fulfill while he seeks fatherly approval. Secondly he is secretly disappointed with himself, unable to let loose his true creative process and abilities in an dictatorial environment by the controlling restaurant owner. Everyone loves a critic, and intense pressure from the highly acclaimed world renowned food critic Ramsey Michel (Oliver Platt), who unfortunately became the inciting incident for Chef Carl Casper, product of a simple tweet reply on 'twitter'.
The authentic story of rags to riches is now in reverse; riches to rags. While esteeming himself as a restaurant chef before he quits his job, he reluctantly starts up a food truck, the only means to do the thing he loves so passionately. Refusing to compromise his creative integrity at the restaurant, he is now set free to make magic with the menu he wishes to create. Starting back in Miami with a ruined heap of moving metal with traces indicating it was a burrito truck, he teams up with former Chef de partie (John Leguizamo) and his son (Emjay Anthony) to rediscover his passion for the kitchen. First opening and they were hard at work, dealing 'cubanos' cuban sandwiches, taking money, making change, dumping crushed up dollar bills into the money box, passing and repassing each other in their cramped space with moves like dancers perfectly choreographed, foreshadowing a sign of excellent teamwork. Out from a little initiation, they embarked on a journey, road trip, open road discovery towards home, along the way finding his roots and discovering his need for family connection. The underlying message of this comedy is the bond between father and child, no matter how busy dad is or the gap in generation. Doing 'fun things' together may not exactly be the definition of 'good time with dad' from a rejected child's point of view.
The cast is faultless –the movie wouldn't pull it off any better with any other actors or actresses. Essentially there was well-timed breathing space for laughs and a good comedy's exact opposite, those heart wrenching moments. Where you want to shout from your seat to urge him to persevere on, or break your heart, suffer in silence and remorse for him. A little trivia during the credits, you will learn that Jon Favreau did his own cooking by training with food truck chef, Roy Choi. With cinematographer, Kramer Morgenthau (Thor 2013, Game of Thrones 2012), the presentation of food seen through the lens will more than blow your mind from all logical explanation and science, you'll develop the ability to smell the food off-screen and even have a taste on the lining at the tip of your tongue, not the overwhelming full flavors of it, but enough to get you begging to have a bite. The soft ambience lighting with dramatic highlights in scenes will present food in such a sumptuous manner, you want to climb through the screen to satisfy and reach a mental climax.
No doubt that this is a comedy not to be missed, especially by families. It is often and well said that 'a family that eats together, stays together'. Having enough spice and a solid storyline, I would strongly recommend viewers to enjoy the full experience, by skipping on your meal before the show.
Watch the trailer here:
This review is written by Timothy Seow Theron. He is a Lighting Technician and Artist, involved in film productions such as Anthony Chen's Ilo Ilo as the Assistant Art Director. His photography works on elements and interior design are also featured in local periodicals.