The Escape Hunt Singapore – Would this be a locked room mystery from Sir Author Conon Dolye adaptation? And for the fans of crime mystery, would you expect an inspiration by Miss Marple or Hercule Poirot? Tracing its origins to real life games in Japan, the well popular and widely received "escape the room" game is now embracing local youth and even the youths at heart. Players range from early youth to working adults, drawn to the alluring idea of escaping. Whether it is to escape studies, deadlines or from certain reality, Escape Hunt is an engrossing game to test the player's wits, utilise their smarts and compel their fears.
The 'Escape Hunt; The ultimate live escape game' is played with a minimum of 2 players and maximum of 5 per room. After the initial briefing by the game master, players will be guided to one of three rooms –perfect situation for conflict resolutions between co-workers or appreciable bonding between friends. Plus point: the room is exclusive to your group. Various scenes have been set to immerse the players into the grand plan to escape, in which players have to meet all objectives under the allocated time. Clues have to be searched for, some in the darkness, while others hiding in plain sight. The brain will be tested: solving puzzles, recreating hypothesis, and explaining how that conclusion was reached, while trying to escape under the ticking clock. The layout and game scene get reviewed and amped up every 6 months. Escape Hunt Singapore is now into their second month.
On a side note, complimentary biscuits and tea are provided to keep you fueled up during the game.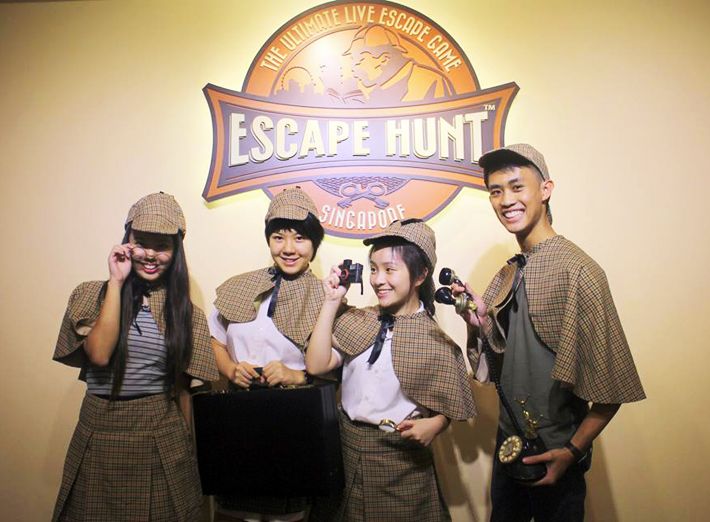 Timothy and the ladies – Photo credit: The Escape Hunt Singapore – You get to dress up in Sherlock Holmes costumes for photo-taking!
Having tried the hardest level, this escape revolves around multiple micro puzzles seemingly connected to the end result. However it will be highly interesting to see more relation from the initial briefing with the elements in the waiting room to play a part as one of the clues. Even in the waiting room, the setting could be made as it were in the same house as the locked room. Thus players will have to be observant and recall the clues made evident, now that they are trapped in this scene. The idea could be more realistic, down to the details making effective use of spatial sensory awareness, and 'recycling' the answers; having gained a few pieces along the journey to ultimately be a key to the final lock. This as a whole would probably bring more satisfaction and learning fulfilment for players discovering themselves through this game, with value added. Nonetheless this is highly recommended as a light-hearted thriller and a mind teasing 60-minute experience.
Pricing:
2 pax: $38/pax
3 pax: $33/pax
4 pax: $30/pax
5 pax: $28/pax
For more information, visit http://singapore.escapehunt.com/
Follow their facebook page for the latest news: https://www.facebook.com/EscapeHuntSingapore
This review is written by Timothy Seow Theron.
Thank you Nuffnang for this fun experience.