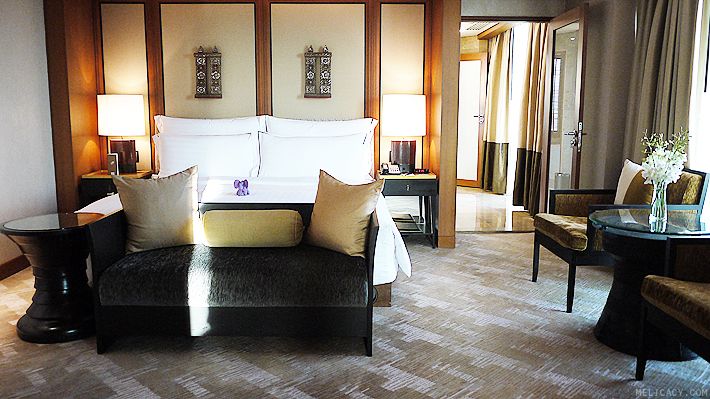 In November 2013, Conrad Bangkok earned the title of Country Winner Thailand, Luxury City Hotel, in the World Luxury Hotel Awards, competing together with over 1,000 hotels from 87 countries nominated to participate across 50 categories including Luxury Private Island Resort, Casino Hotels, City Hotels and Lodges. In addition to that prestigious award, they also triumphed in The International Hotel Awards with a triple win with Best Conventional Hotel Thailand, Asia Pacific and International.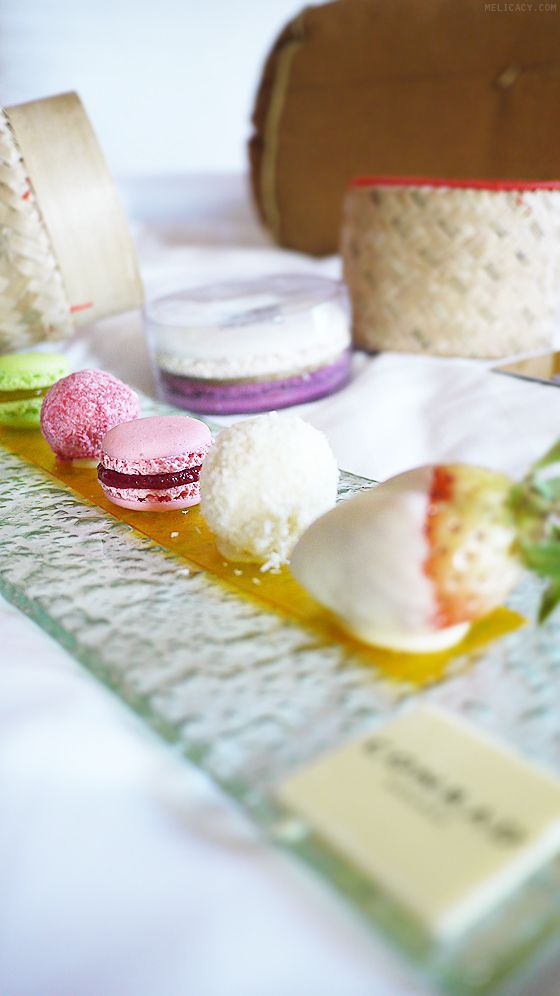 Conrad Bangkok also received a TripAdvisor Certificate of Excellence award in May 2014, given only to establishments that consistently achieve outstanding traveller reviews on TripAdvisor, with ratings of at least four out of five, taking into account the volume and recency of reviews.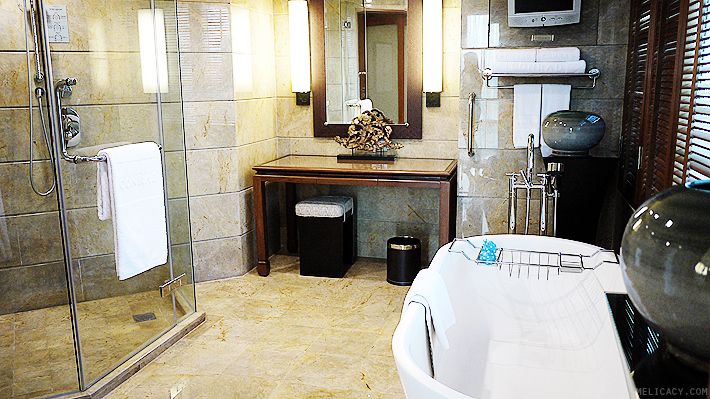 Also worth mentioning: green advocates will be pleased to know that every bulb throughout the hotel will be entirely replaced with LED lightings – which are brighter and significantly more efficient than fluorescent counterparts – as a measure of promoting a greener future through energy savings.
Having gathered all these news, I figured I couldn't possibly miss out on Conrad Bangkok as part of my agenda during my work-come-leisure trip.
The Pillow Menu is another reason why Conrad Hotel & Resorts remains a preferred choice for many. The menu varies by destination (check out the full list of pillow options available globally here). Over in Bangkok, options include the Feature Pillow (for deep sleep/pain reduction), Foam Pillow (proper head and neck support for deep and pain-free sleep), Shogun Pillow, Igusu Pillow, Moromae Pillow, Polyester Pillow (light and soft), Miracle Pillow (hygienic, warm, shape retaining, springy, insulated, antiallergenic and antibacterial), Natural Rubber Pillow (stable and supportive), and Yoga (Yoga Mat Set).
I had a few types of pillows on the bed that honestly I can't identify with the naked eye, but all I can say is that I slept so comfortably I was reluctant to wake up every morning!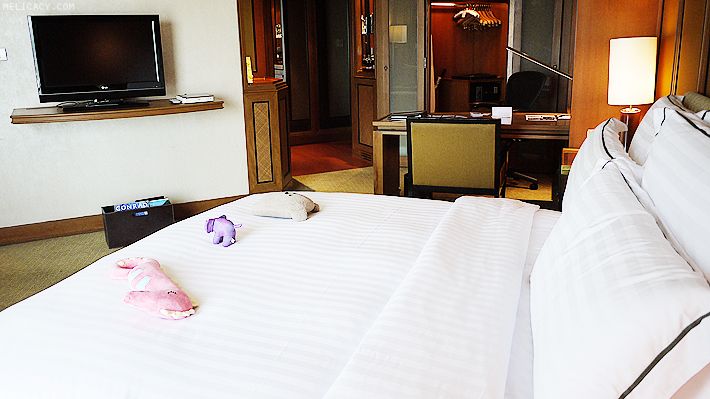 Among the 14 room types, the King Bed Executive Corner that I stayed in spans across 570 square feet. I had lots of room to work comfortably, with two staple spots: the work desk and the plush individual sofa with leg rest by the window. Of course working in bed is not an option because I would doze off almost instantly –Conrad's bed is a remedy for insomnia. The room is spacious and luxurious, with dark woodwork imparting a touch of comfortable homely vibe, decorated and furnished with Thai accents.
Compared to the other room types, the corner room features an extended walkway from the door to the bedroom, hence conversations in the room remain absolutely confidential, unlikely to be overheard by guests who happen to walk pass the room.
Another thing I like about the room is the walk-in closet that hides away the clutter of my shopping stash out of sight with the sliding door. Tucked within the walk-in closet are also the safe box, ironing board and umbrella.
To facilitate travellers with multiple electronic devices, there are several universal electrical outlets around the room. The wireless Internet was stable and I never encountered connectivity issues during my stay. On top of the Herman Miller office chair at the work desk, there's an extra chair across the table. This presents as an appropriate space for work discussions.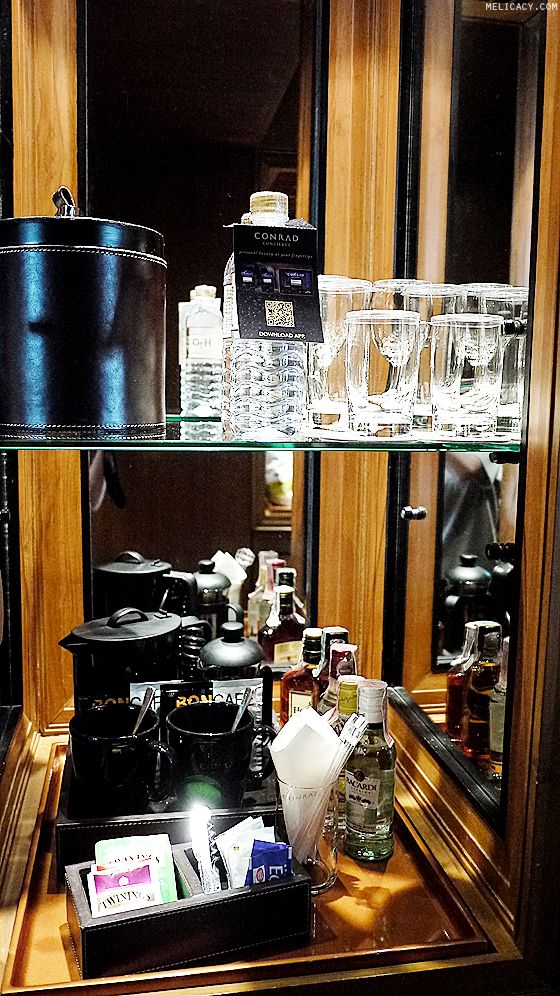 Apart from the usual coffee and tea making facilities, the hotel also provides the French press (coffee plunger).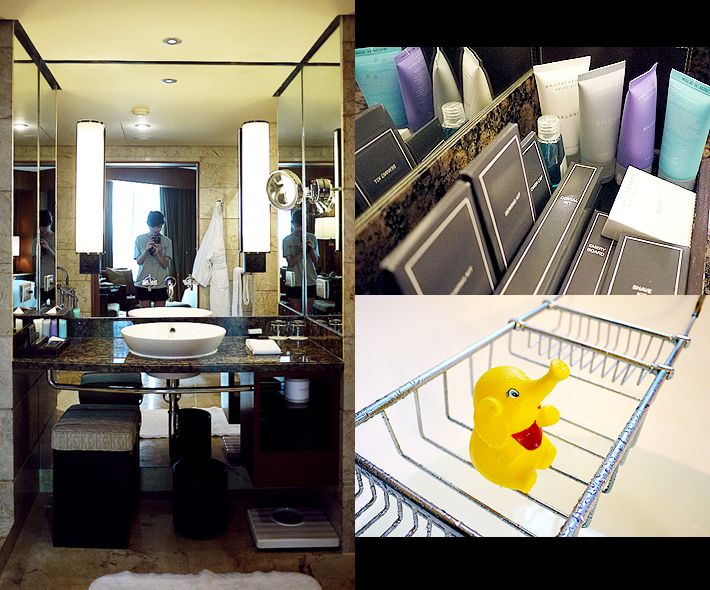 The bathroom is spacious with a separate shower and bathtub. The freestanding bathtub is placed next to the window that looks out to the city's skyline.
Great for unwinding after a long day!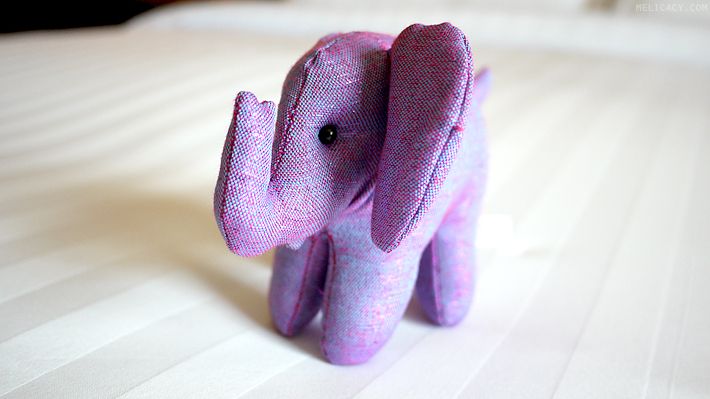 Loyal patrons of Conrad would have accumulated a huge family of toys from their stays, some of which are limited editions! Every Conrad in the world has its own unique toy. I have collected a few bears from Conrad Centennial Singapore. I like the monkey toy from Conrad Bali but I haven't had a chance to visit! Conrad Bangkok has the elephant toy, which is most apt because the elephant has always been a cultural icon of Thailand.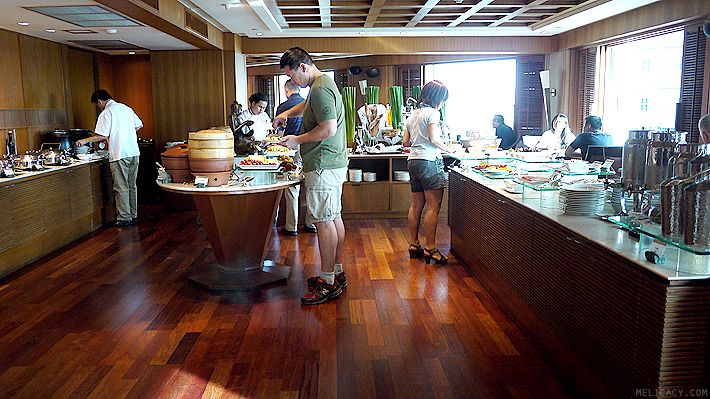 Executive Lounge benefits include complimentary hot breakfast each day, afternoon tea and coffee, and meeting room usage. I actually enjoyed the little chocolate morsels available in the evenings, with quality indistinguishable from Valrhona (I'm not sure of its origin).
The calibre and variety of facilities the hotel provides are hard to beat. On the 7th floor, you can find the swimming pool, tennis courts, spa and fitness centre, with a serene garden setting to complement.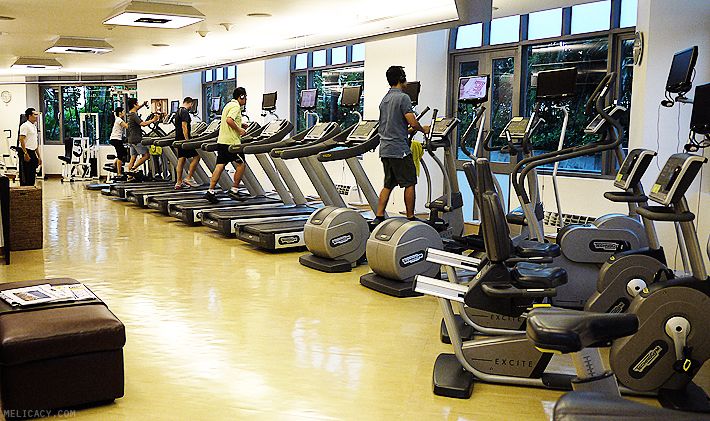 The well-equipped gym overlooks greenery; you can almost feel like you're exercising outdoors, just without the sun and heat.
Apart from an extensive range of gym equipment, Conrad Bangkok's gym offers a series of exercise classes conducted by qualified instructors –something many hotel gyms do not provide. Gym classes are complimentary for hotel guests, and run throughout the week except for public holidays. Classes range from Hip Hop to two types of Yoga, and Toning-Step to Pilates.
If I knew about the tennis court I would have brought my exercise attire! Hotel guests can book the court for free.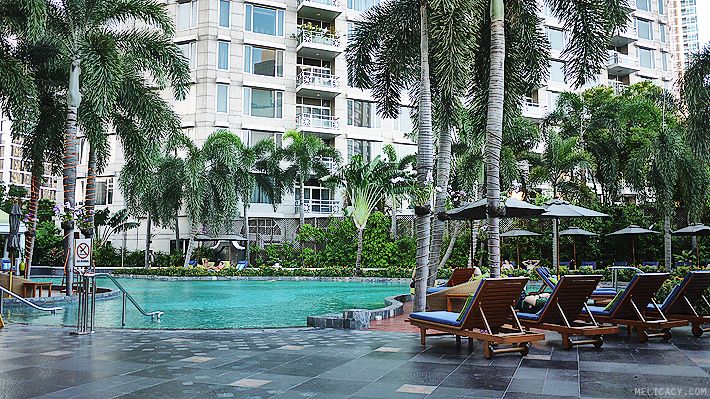 Swimming pool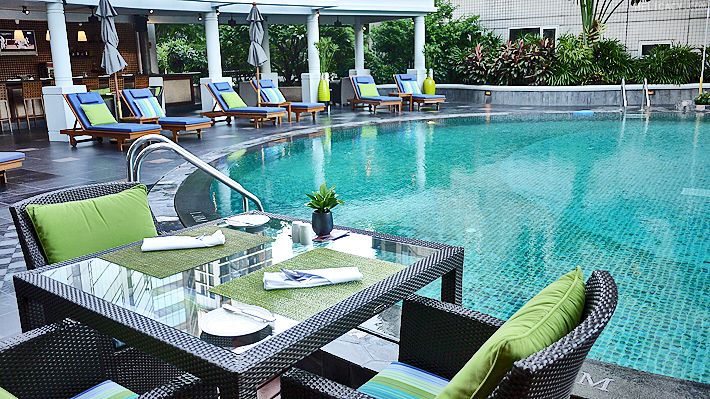 Conrad Bangkok has a few dining options within the compound. One of which is the casual poolside restaurant, City Terrace-Pool Restaurant, open from 7am to 9pm. Apart from breakfast, lunch and dinner, there are also light snacks such as healthy salads and sandwiches with fresh fruit juices to accompany.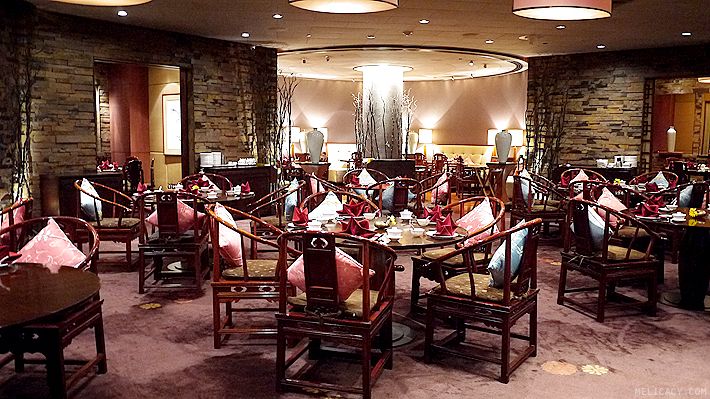 Liu – Chinese restaurant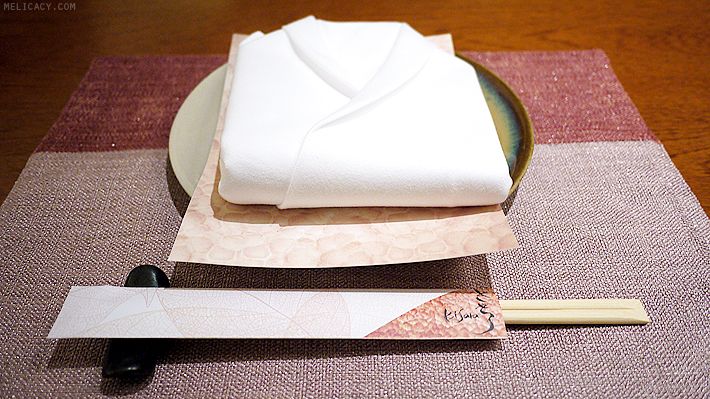 KiSara is a Japanese restaurant that houses a teppanyaki station, sushi counter and tatami rooms, open for lunch and dinner.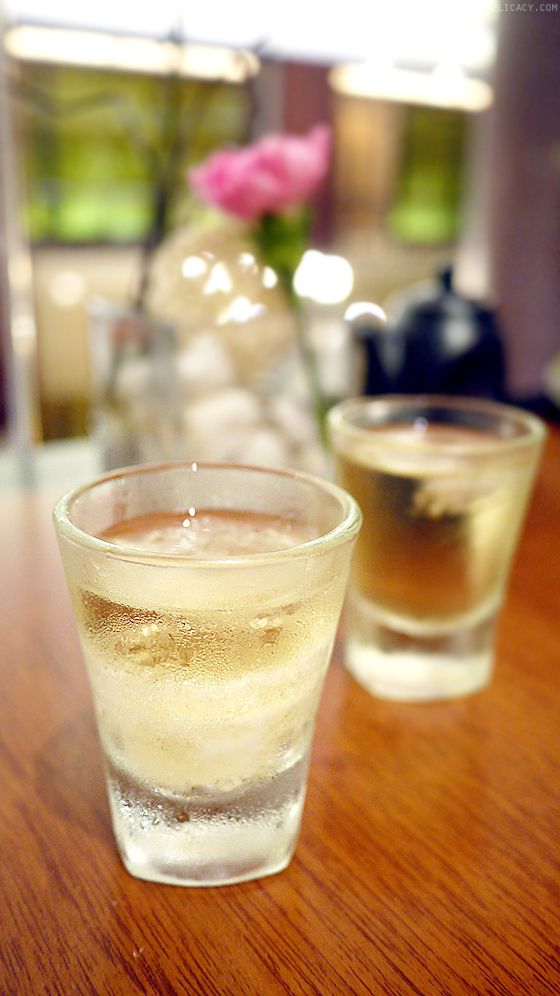 Plum wine, which stimulates the palate before the meal commences
Diners can order a la carte or opt for a multi-course meal. Read on for my dining experience, featuring the seasonal Hokkaido Kamui menu priced at THB 4,100 per person.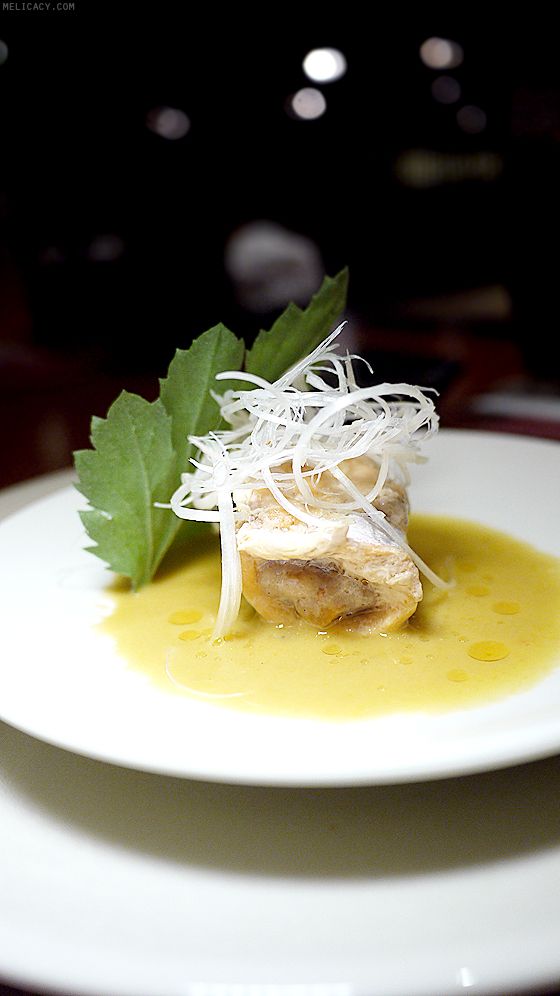 Saki-zuke (Amuse-bouche)
The amuse bouche kick-started the meal on a positive note. Succulent minced pork is meticulously wrapped in salmon belly and served in a light and fragrance sauce infused with sakura leaves.

Tokusen Otsukuri Moriawase
The next course is a premium selection of fresh sashimi such as scallop yellowtail, toro (the best part of tuna!) and salmon.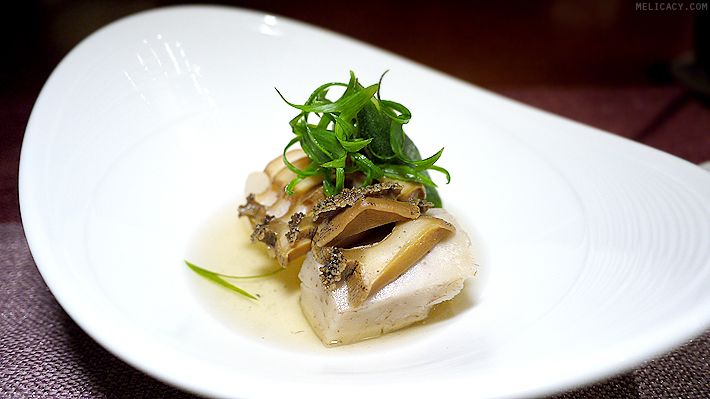 Awabi no Yawaraka-ni (Slow-cooked abalone with dried bonito broth)
Fans of abalone will find a new way to appreciate it in the Awabi no Yawaraka-ni. The accompanying dried bonito broth lends a distinctive (salty and fragrant) characteristic to the dish.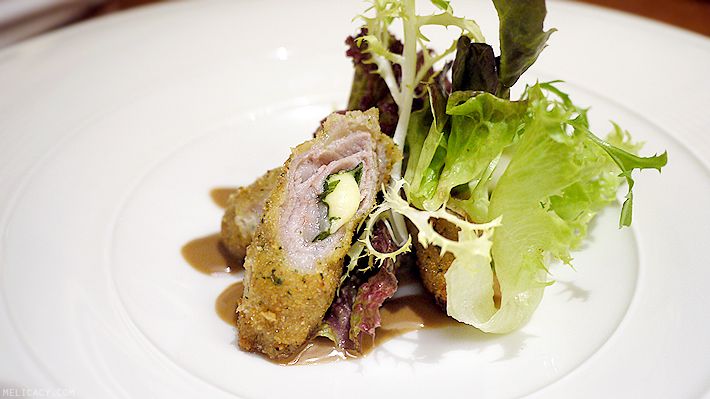 Kurobuta Cheese-maki Kousou-age (Crispy black pork with cheese and herb)
The Kurobuta Cheese-maki Kousou-age is one of my favourite courses. Kurobuta (black pork) is one of the most supreme pork varieties (some say it's the pork equivalent of wagyu beef). Juicy, succulent and heavily marbled, here it is thinly sliced and rolled together with cheese and herb, then breaded and fried to a delightful crisp.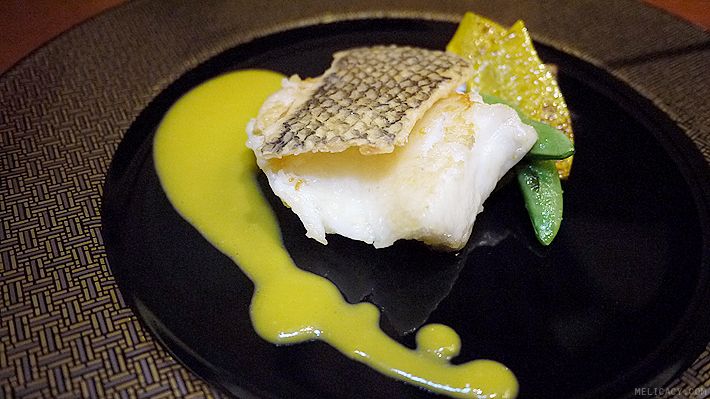 Snow Fish with Nankin Sauuce (Snow fish with yellow vegetable sauce)
The Snow Fish with Nankin Sauce is simply executed, not overpowered by seasoning and other components. The skin of the fish is battered and fried separately for a cracker-like texture. Served with a light pumpkin sauce, this is something only a fresh piece of fish can pull off.

Hokkaido Kamui Gyu, Yakimeshi, Miso Shiru (Hokkaido Kamui served with fried rice and miso soup)
Apart from steakhouses, reputable Japanese restaurants are the best places to eat beef. Wagyu beef is highly prized for its high level of marbling. It can simply be seared on a teppanyaki grill and sprinkled with salt and pepper, and taste so so divine.

Satsuma-imo Cake Tounyu ice cream Zoe (Sweet potato cake with soy milk ice cream)
Dessert came as a surprise as I wasn't expecting that much effort to go into dessert, especially in Japanese restaurants. The sweet potato cake enchants with a smoky char, while the housemade soymilk ice cream brings endless delight.
Pertaining to airport transfers, the luxurious car ride comes with a whole control system at the back seat where you can adjust the temperature, choose the background music (basically your personal entertainment system), track the current location from the system installed with GPS (so you can also check how long more it takes to reach your destination), and even make phone calls. Business travellers will find this handy because they can immediately get started on business as soon as they hop on. In some cases guests can check-in in the room immediately with no time waste. Conrad's strategies are relevant to business travellers, especially those of CEO levels, where time is money.
The environment is secure, private and exclusive. Not the most easily accessible (it's a short walk to the BTS, Ploen Chit station), but the good thing is that they provide complimentary shuttle bus to the BTS that runs throughout the day, every 30 minutes during non-peak hours and every 10-15 minutes during peak hours.
Conrad Bangkok
87 Wireless Road, Phatumwan
Bangkok, Thailand, 10330
Tel: (66) 26909999
Website: http://conradhotels3.hilton.com/en/hotels/thailand/conrad-bangkok-BKKCICI/index.html