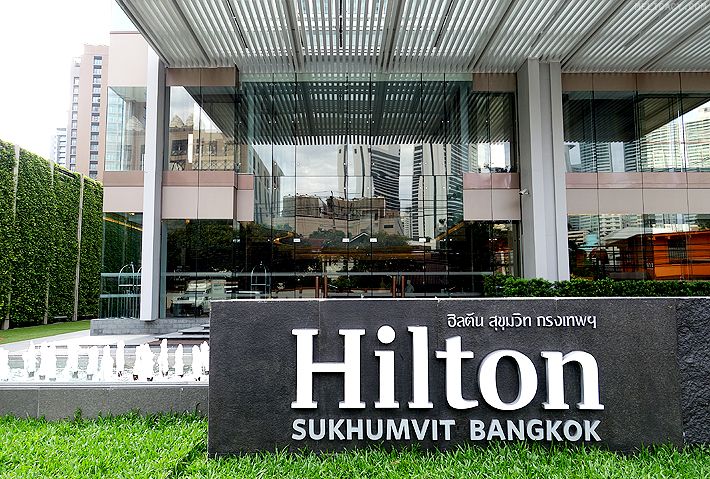 Worldly travellers and business travellers alike will adore Hilton Sukhumvit Bangkok –there are no reasons not to. The façade spells chic and sophistication, fronting with tall floor-to-ceiling glass panels that extend to the second storey, inviting guests to a bright and expansive lobby adorned with intriguing modern art pieces.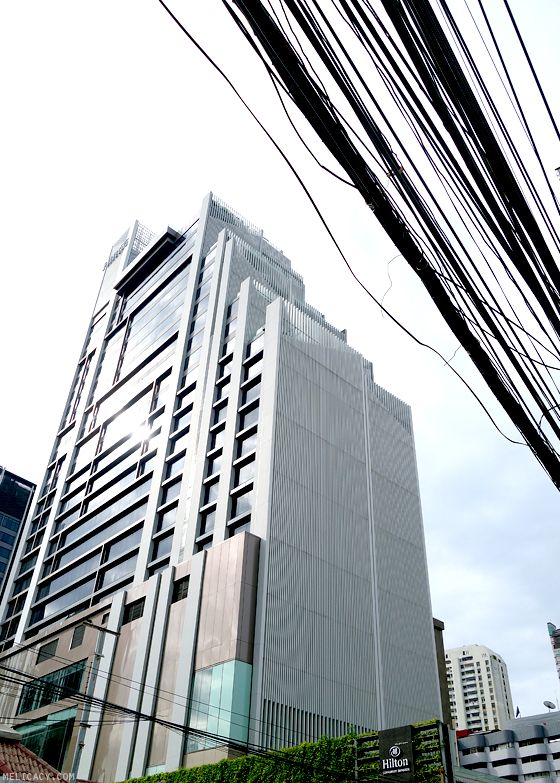 Hilton Sukhumvit Bangkok is conveniently located in the heart of Sukhumvit's business, shopping and entertainment district, a five-minute walk from the train station (BTS) Phrom Pong station as well as the popular upscale shopping mall Emporium. Guests have easy access to many shopping destinations around Bangkok via the BTS, such as Terminal 21, MBK Centre, CentralWorld, Siam Paragon and Jatuchak weekend market.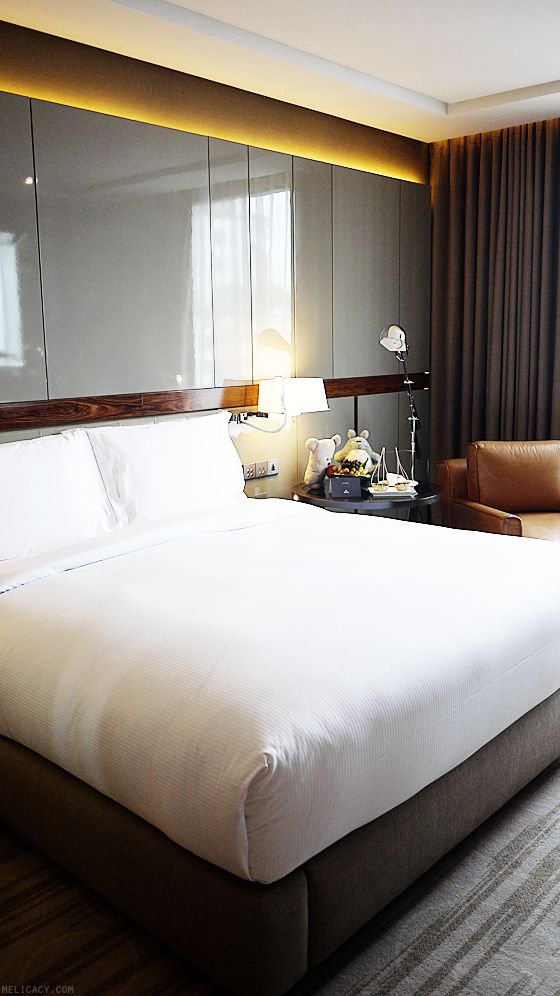 Setting the benchmark in the hospitality industry, the Hilton Worldwide group has always aced in every aspect of a traveller's needs; Hilton Sukhumvit Bangkok is no exception. Take for instance the comforts of the room in which guests would hold trust in the hotel for cleanliness and hygiene on top of luxurious fitment.
The Deluxe Room that I stayed in comes with all the basic necessities that I would require for a 3-night stay, and more.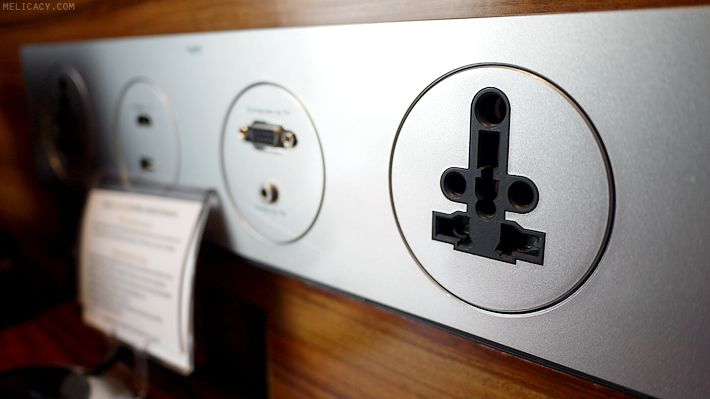 A travel adaptor has always been an essential accessory –isn't it always cringe-worthy when forgotten about, reaching the destination helpless and frustrated when you need to get your devices charged up. Thank goodness for the universal electrical outlet, giving guests with more reasons to choose Hilton over other hotels.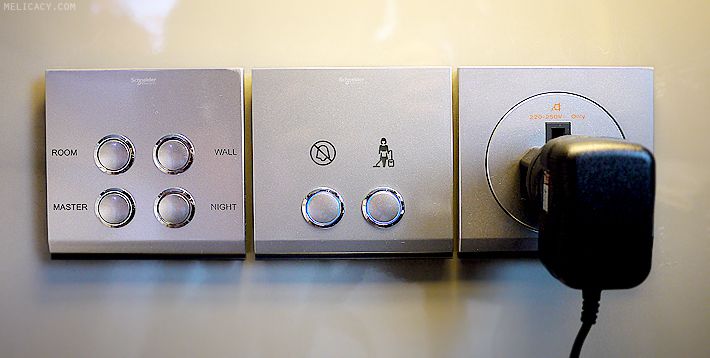 Hands up those who can relate to the frustration of facing multiple light switches and not knowing which switch triggers which light to be turned on or off. It's also not uncommon to find that some light switches work in opposite directions, adding on to the confusion. Here, you're saved from that unnecessary trouble; the buttons are clearly labelled and when switched on, a glow encircles the button.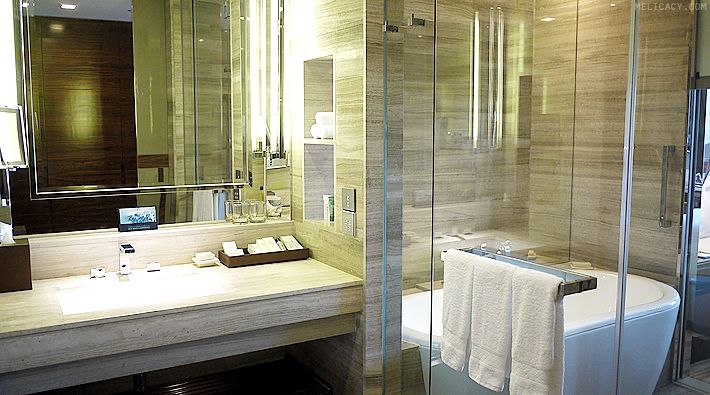 The ultra sleek and modern bathroom is more than meets the eye. Step aside from the bathtub to the shower area equipped with both the rain shower fixture and the handheld shower.
Love it when natural sunlight streams into the bathroom through the window and through the glass panel that separates the room and bathroom. Guests can choose to put down the blinds (note: the control is not within the bathroom but outside in the room).
The above picture shows the versatility of the smartly engineered showerhead that releases water in four different styles with a simple flip.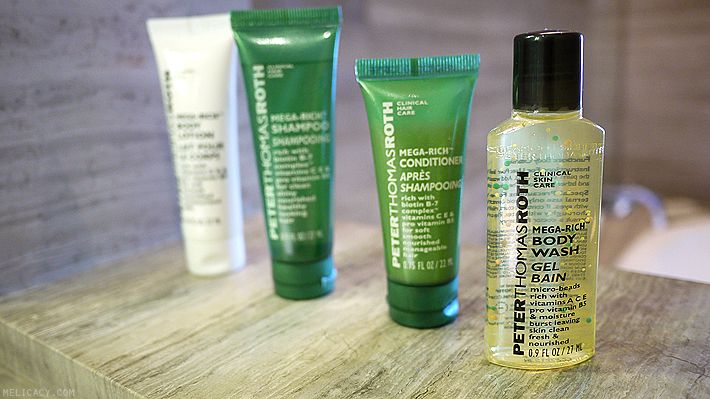 I never fail to highlight the top-notch bath amenities by Peter Thomas Roth Hilton provide, consistently throughout the globe.

Salon-grade hairdryer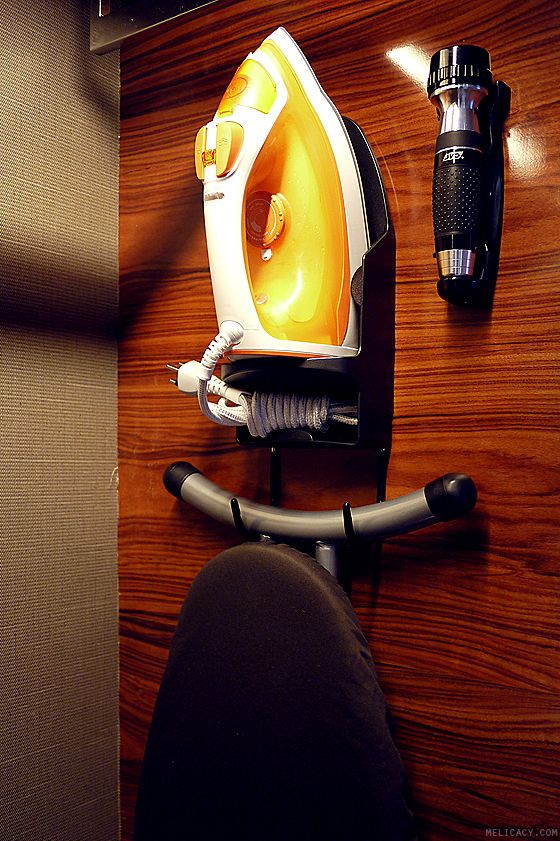 Guests are also provided their personal umbrella, torchlight, iron and ironing board.

Complimentary drinking water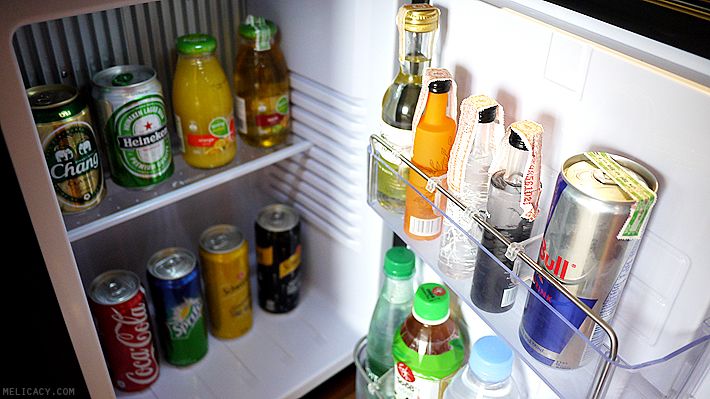 Well-stocked minibar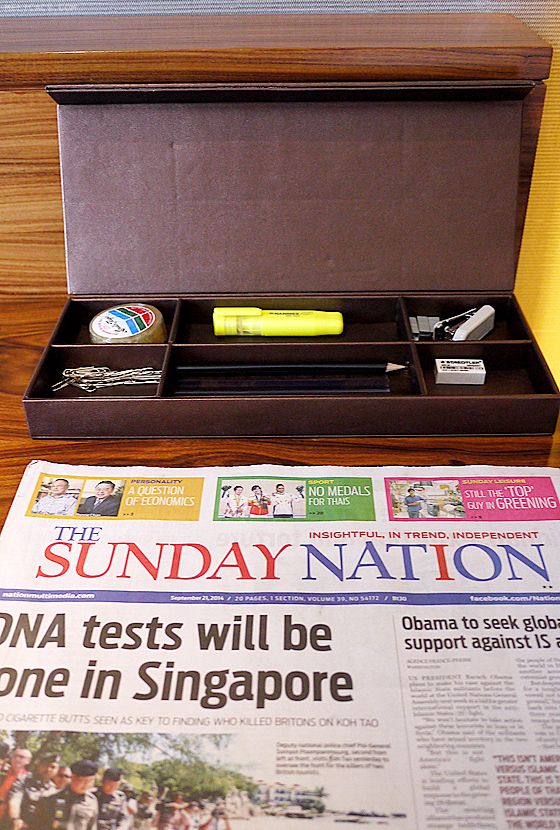 Stationery and daily newspapers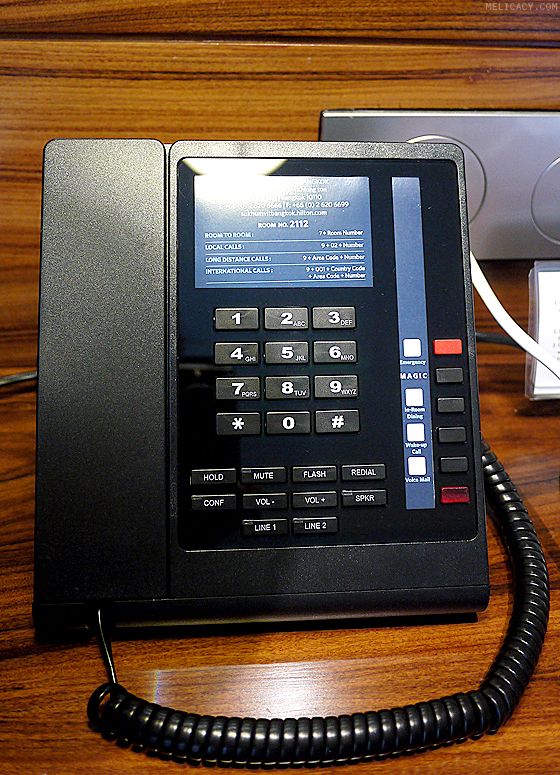 Noteworthy is the phone that allows guests to engage in conference calls –which can come in handy for business travellers.
A cityscape view poses as an inspiration to many, sparking creative thinking when having a mental block.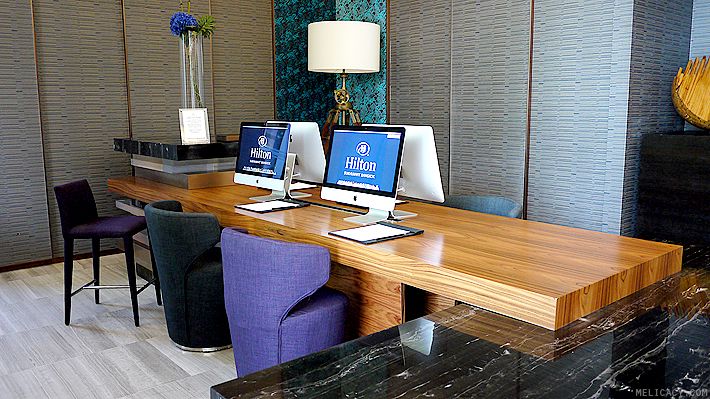 Complimentary usage of computers at the lobby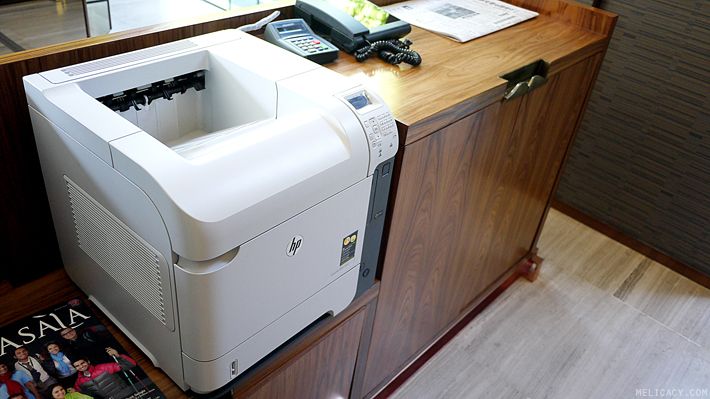 The hotel is able to give the support a business traveller needs, for instance, the printing and photocopying facilities in the lobby, as well as seven unique meeting and event spaces in the hotel. Wireless and wired Internet throughout the hotel ensures guests can stay connected throughout the stay.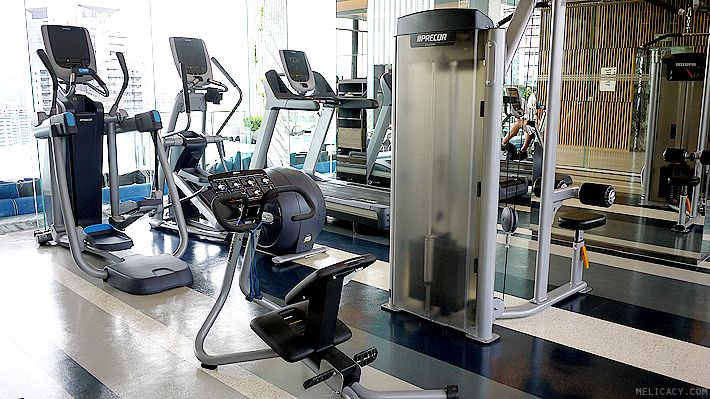 24-hour fitness centre
If time permits, have a dip in Lapse, the sparkling rooftop infinity pool overlooking the city.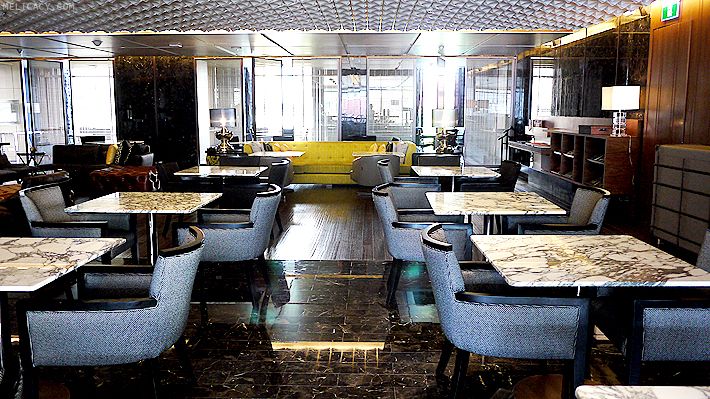 It is worth getting access to the Executive Lounge –and I don't usually say this about other executive lounges. The interior exudes artistic elegance, well appointed with striking furniture. It makes you want to stay longer, be it to work on something on the laptop or just recline with a book and drink. Gaining access to executive lounge also gives you complimentary breakfast, afternoon tea and evening cocktails, as well as two hours of meeting room usage.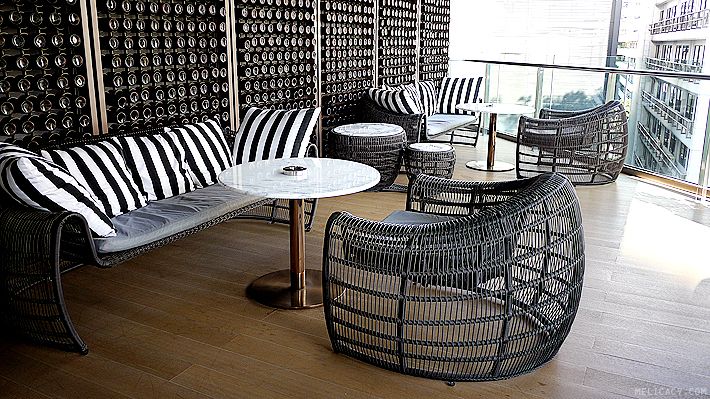 For a breath of fresh air, hop out to the equally chic al fresco area of the Executive Lounge, with a view to boot.
One of Hilton Sukhumvit Bangkok's proudest assets is Scalini. Breakfast by morning and fine dining by evening, the cuisine transforms from an international spread to a well-curated menu of Italian favourites.
Guests can openly take glances at the kitchen crew at work, or regard the open kitchen as an action-packed spectacle where you might even learn a cooking trick or two. While the chef is taking a breather from the flames, you might be able to squeeze a conversation or two with him.

Chicken Ballotine stuffed with Wild Mushrooms and Sausages served with Butternut Squash Puree and Mustard Jus (850 Baht)
Executive Sous Chef Egidio Latorracca hails from Milan, Italy, armed with over 15 years of culinary experience in fine Italian cuisine. With a strong foundation in traditional Italian food, he works his magic on injecting modern touches without dishonouring the cuisine.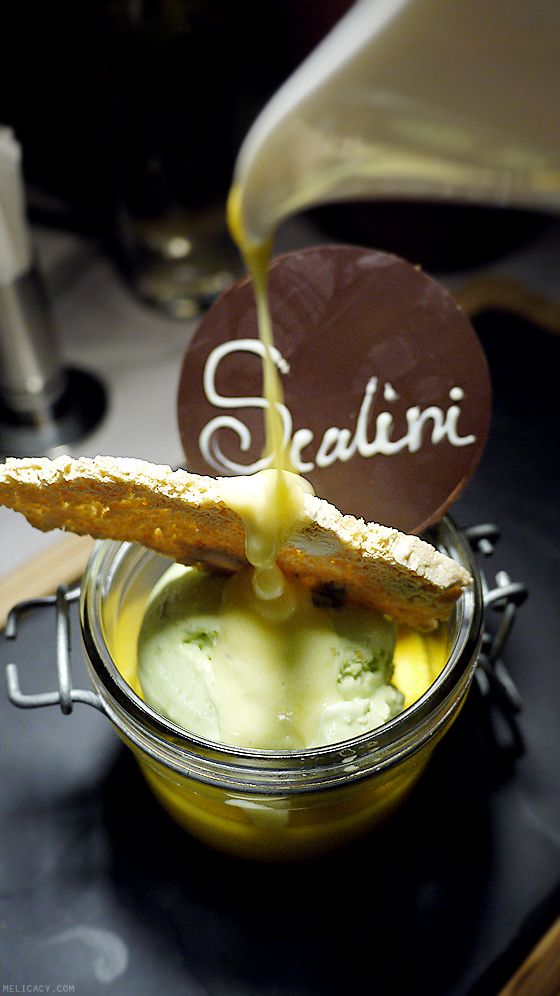 Filled with enthusiasm and passion, the outlet manager Roberto Visaggio charms diners with his humour and knowledge. His energetic and entertaining personality makes for a natural icebreaker between business dinners aside from the topic of work, leading the conversation to the magnificence of food.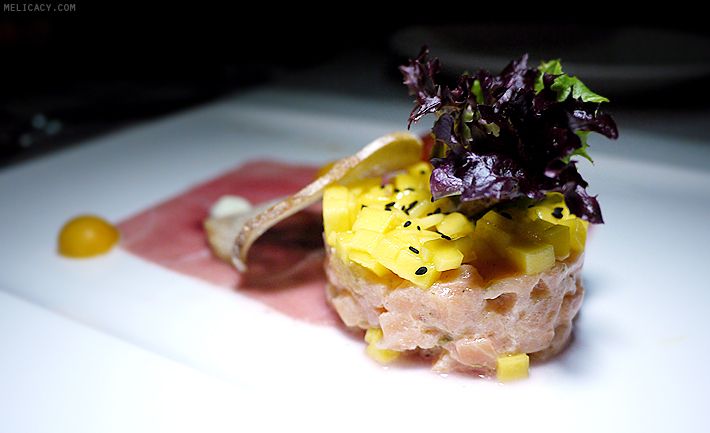 Tuna and Salmon Tartar with Lemon Aioli and Seared Ciabatta (475 baht)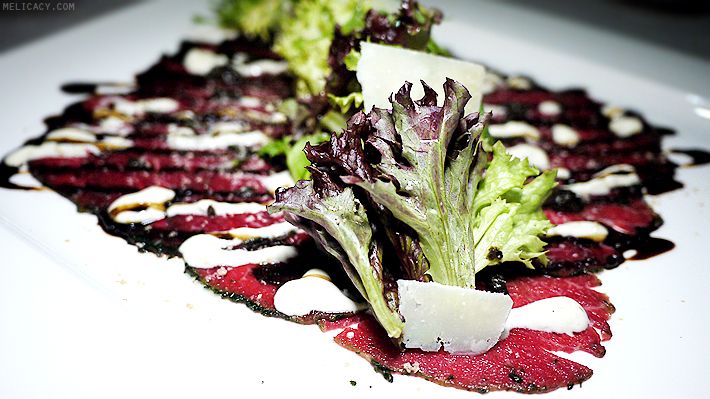 Wagyu Beef "Carpaccio" with Salad and Truffle Dressing topped with 36 months Parmesan shavings (550 Baht)

The Antipasti (appetiser) section scores high points. Take for instance the Tuna and Salmon Tartar that's crowned with diced mango for a sweet contrast, suggestive of subtle Thai influence. The Wagyu Beef "Carpaccio" just needed a more delicate presentation, but the fine ingredient (you can't get any better than wagyu) itself brings this dish to a high level of enjoyment. I was tempted to order almost everything from the antipasti section, enticed by things like seared Hokkaido scallops paired with avocado guacamole dressed in cherry vinaigrette and fresh basil.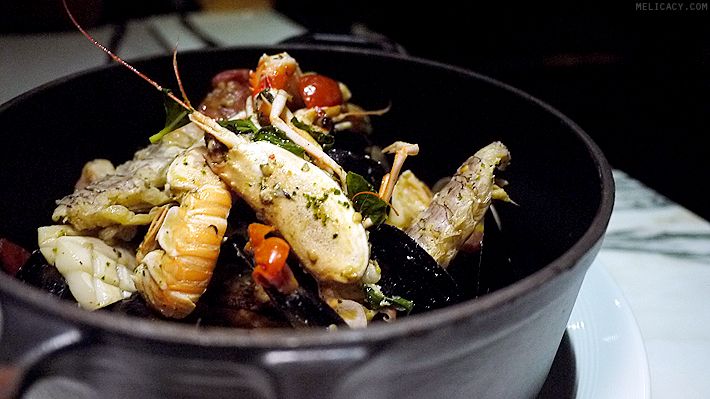 Sauteed shellfish, calamari, tiger prawn and mantis prawn in white wine sauce (1,200 baht, suitable for 2 people)
We also ordered the assorted seafood "stew" to share. The heap of seafood helps conceal the brioche beneath that soaks up all the heavenly juices of the ocean.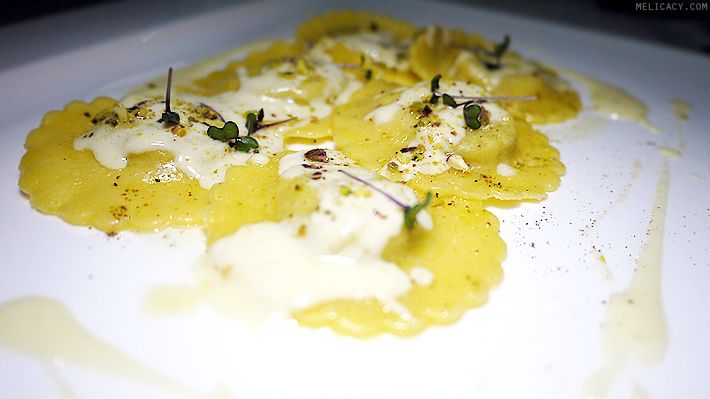 Pumpkin and Sage handmade Ravioli, Parmesan Fondue, Pistachio and Hazelnut Oil (380 baht)
Another must-try in any Italian restaurant is the handmade pasta, in this case we delighted in the pumpkin and sage ravioli drizzled in Parmesan fondue and sprinkled with crushed pistachio and a touch of hazelnut oil.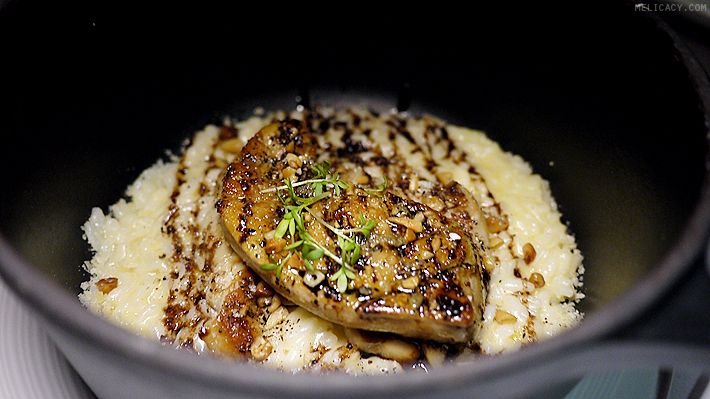 Risotto funghi e foie gras (800 baht)
Equally delightful is the risotto composed of carnaroli rice, porcini mushrooms, foie gras and balsamic reduction.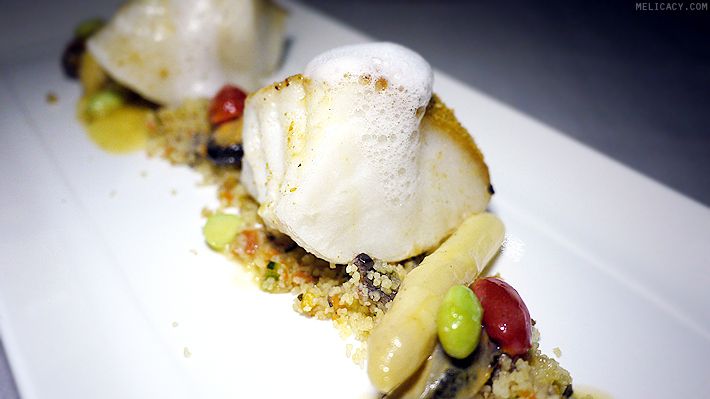 Baked black cod fillet with white asparagus, Sicilian couscous and black mussel sauce (900 baht)
From the mains, I highly recommend the baked black cod fillet that comes with white asparagus, Sicilian couscous and black mussel sauce. The pristine Alaskan cod is rendered moist and flaky with a nice sear on one side. The complementing ingredients are more than embellishment; this dish tastes as beautiful as it looks, I promise.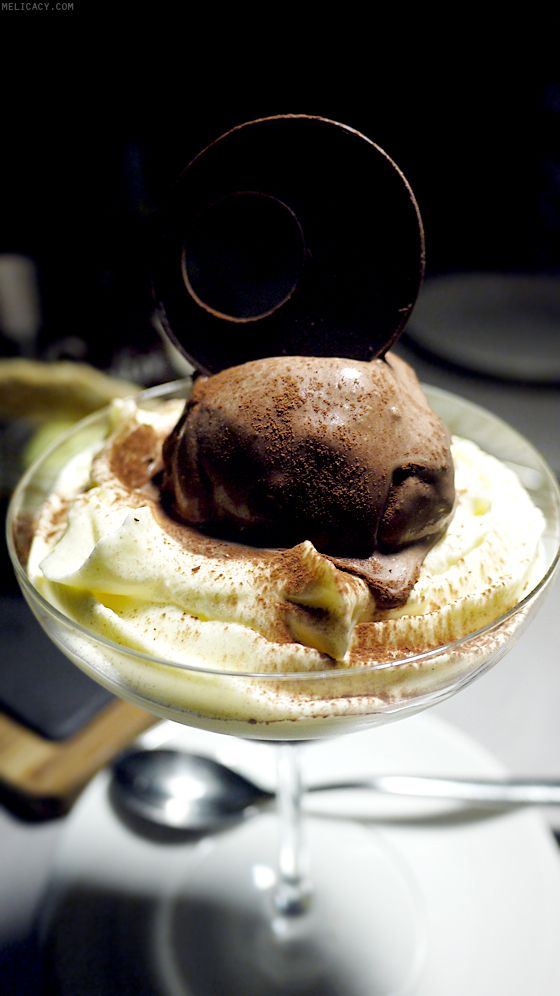 Scalini Tiramisu (300 baht)
Round off the meal with familiar desserts like panna cotta, tiramisu and crème brulee that arrive in chef's own unique presentation. The tiramisu comes with a scoop of rich chocolate ice cream that lures repeated spoonfuls.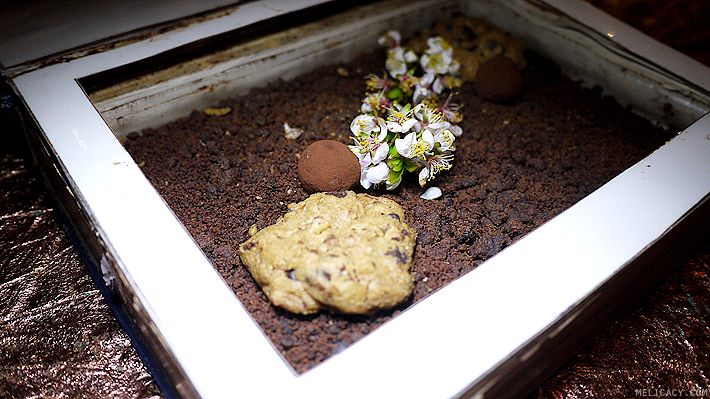 Just as we thought the meal was over, the finale was an emptied "book" –flip open the hard cover to be greeted by an enchanting chocolate garden. Scalini is a great dining spot for many occasions from romantic dinners to business dinners; it is a place to celebrate (say a business partnership or an anniversary) and to impress. Service is sincere and genuine, at every touch point throughout the hotel, but most apparent at Scalini.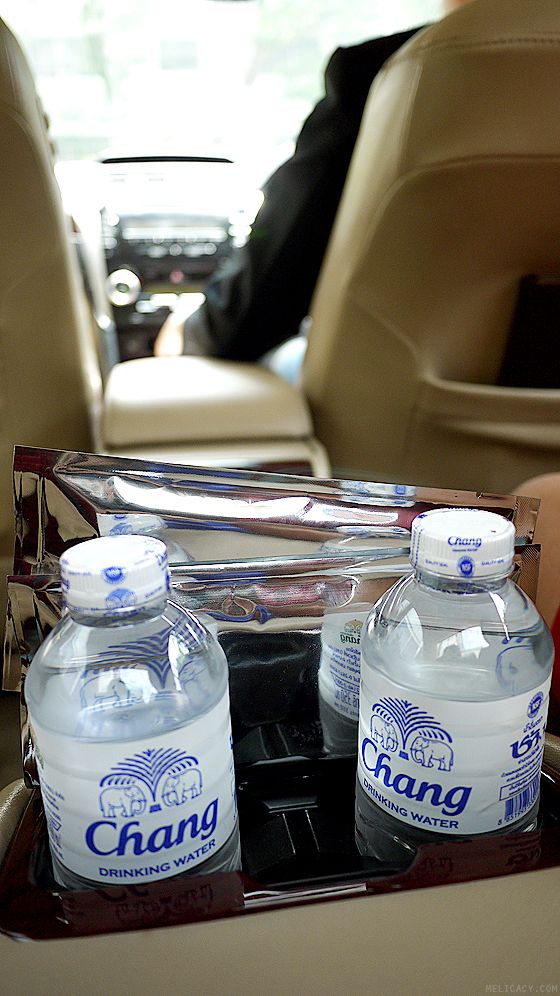 Airport transfers can be arranged for ultimate comfort. It also helps that the driver is proficient in the English language and eager to share about the beautiful city.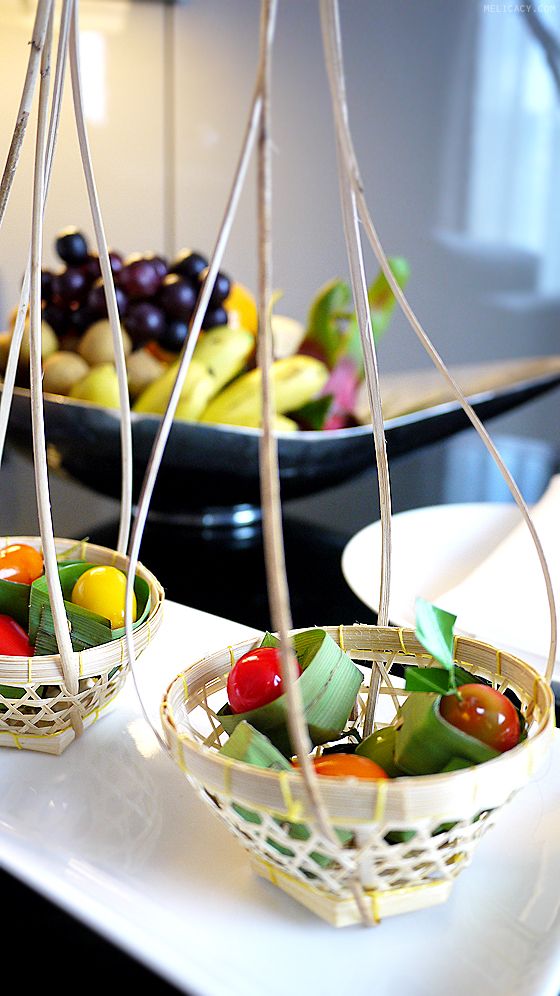 Hilton Sukhumvit Bangkok
11 Sukhumvit Soi 24, Khlong Ton, Bangkok, 10110, Thailand
Tel: +66-2-6206666
Email: bkksu.info@hilton.com