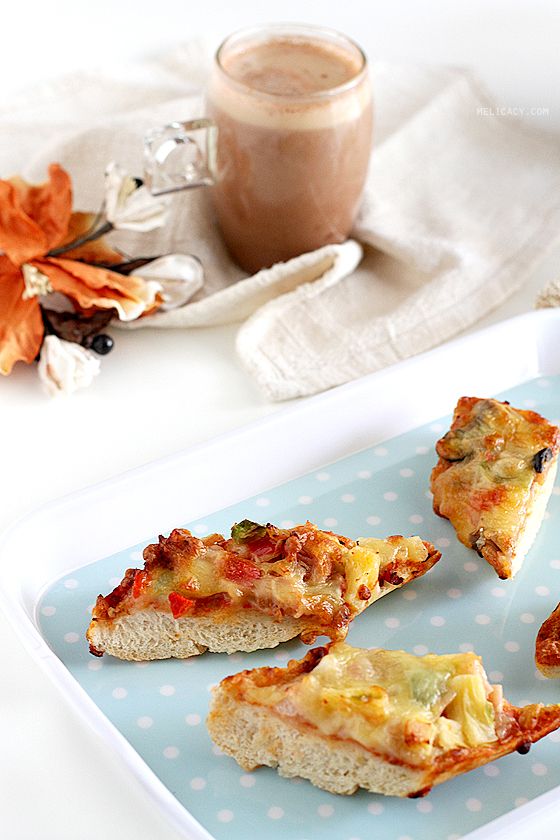 Well-loved French café, Délifrance, adds three new variants to its one-of-a-kind Pizza Baguette menu. I'm not sure about you but Délifrance is what ignited my love for French baguette. The brand is possibly the pioneer in Singapore to popularise French pastry (I loved their croissants endlessly). The Pizza Baguette is where France meets Italy; it is essentially French baguettes with pizza toppings fused with mozzarella cheese. I call it the French pizza.
The existing Pizza Baguette menu – which includes the Vegetable Pizza Baguette and the Tahiti Pizza Baguette – sees the addition of Hawaiian, Spicy Chicken Delight and Tuna variants. The Hawaiian Pizza Baguette comes with juicy pineapple chunks, chicken ham and chicken sausages; the Spicy Chicken Delight comes with fresh capsicums, marinated chicken and pineapple chunks; and the Tuna Pizza Baguette comes with light flaky tuna, mushrooms, capsicum and onions.
Pizza Baguettes are available a la carte for $5.80 per piece, or in a Set Meal at $9.90 per person. The meal includes a Pizza Baguette, soup of the day and a choice of drink. Couples can enjoy a Set Meal for 2, which includes a Pizza Baguette, a choice of Chicken Rendang Baked Rice or Pesto Chicken & Mushroom Baked Macaroni, and 2 drinks at $18.90. All products are halal certified.
For the list of locations, visit http://www.delifrance.com.sg/outlets.