It used to be almost impossible for busy executives to cook a decent meal at home, especially after a toiling day at work, much less restaurant/hawker-quality Asian cuisine. The amount of time one needs to spend on prepping the ingredients is enough to deter. Now, with the aid of Dancing Chef, you can flaunt an impressive spread, ready in a flash.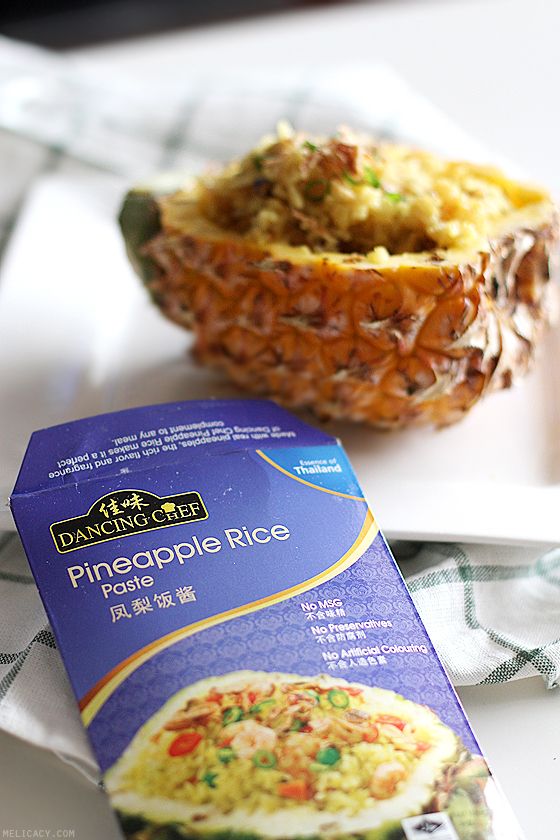 Dancing Chef was my best friend when I was based in Melbourne for a month, homesick and craving for Asian cuisine. The brand carries a range of easy-to-use Asian cooking pastes and stir-fry sauces encompassing the tastes of Thai, Chinese, Singaporean and Indonesian cuisines. It's good to know that the pastes embody only natural ingredients, with no added MSG, preservatives, artificial flavouring or colouring. The basis of a cooking paste involves the chopping, blending and pounding of ingredients, which Dancing Chef has got it covered. You can make your own paste from scratch (which I have done before), but it takes lots of effort and time (though I would say it is worth it if you have time to spare).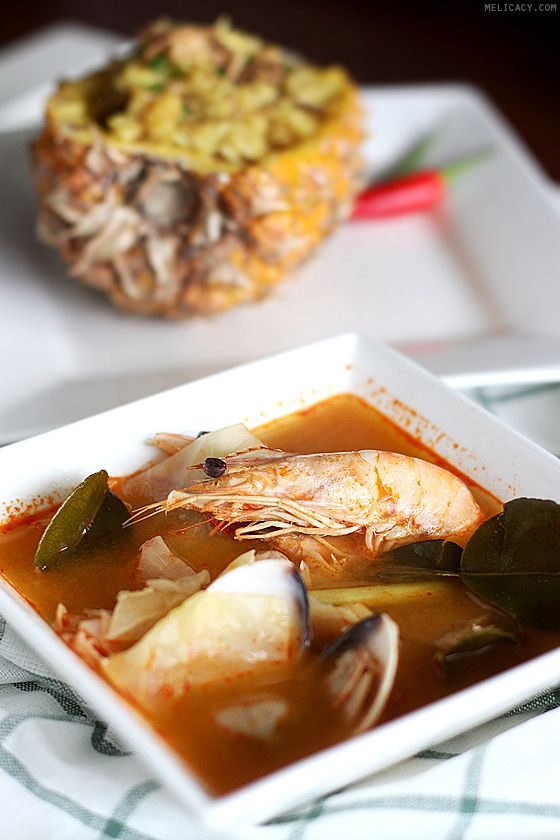 So with the convenience of Dancing Chef's cooking pastes, all we need to do is add in a few key ingredients such as fresh meat and vegetables, cook for a few minutes and the meal is ready to be enjoyed. With the cooking pastes, you can rustle up the meals easily, quickly and consistently. The cooking pastes also presents as a base for further enhancement, where you can allow your creative flair to shine by adding your own unique touches.
Here's just one of my many experiences with Dancing Chef's cooking pastes: Pineapple Fried Rice paired with Tom Yam Soup.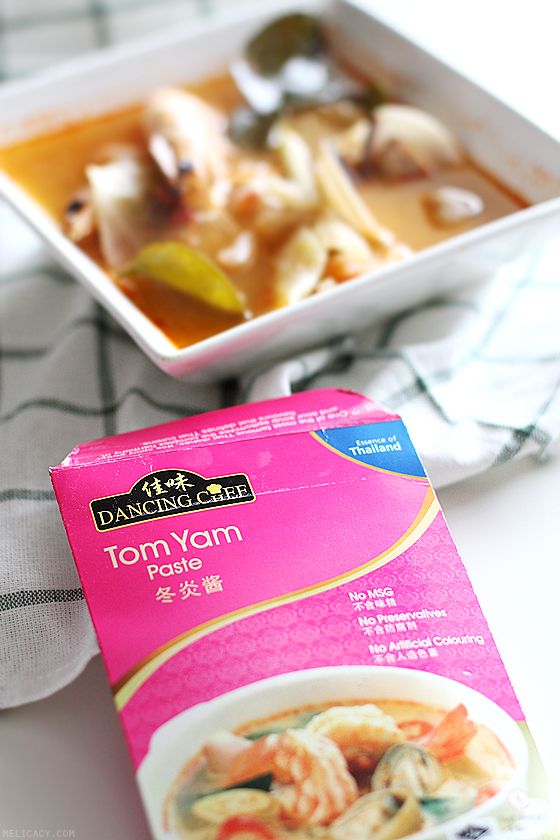 The soup requires almost zero effort: just throw in the ingredients in a pot of water in the correct sequence and viola! The method of cooking is written on the back of each package so it's really no-brainer to prepare meals with Dancing Chef. Ingredients needed for the Tom Yam soup includes Dancing Chef Tom Yam Paste, prawns, straw mushroom, water, lemongrass, kaffir lime leaves, galangal and parsley. The spice level is pretty much toned down so you can choose to intensify the spiciness by adding some freshly cut chillies. I also added some cabbage and carrot along with chicken broth for more flavour. Just be careful how much water you add so as not to dilute the paste too much.
For the Pineapple Fried Rice, begin with Dancing Chef Pineapple Rice Paste, cooking oil, diced prawns and chicken, sliced onion and cooked rice.
Follow the method on the package if it's your virgin cooking experience. The instructions are uncomplicated and easy to follow. It says to fry prawn and chicken until cooked then set aside, followed by the sautéing of pineapple rice paste and onions together. Add rice last. I sautéed the onions for a bit before adding the cooking paste, that's all I did differently.
The most challenging part of preparing this meal is actually getting the pineapple fruit out of its "shell". You will need a special carving tool for this. I resorted to using a kiwi slicer that looks like this:
…that I got from Chefland in Richmond, Victoria. They're open 7 days a week and can be contacted at 94297085. Location:
There's bound to be a better tool more suitable for taking the flesh out of the pineapple shell. If you come across any, do let me know where I can get it!
For more information on Dancing Chef, visit http://www.dancingchefonline.com/.