Lipton has made its mark in the beverage market, statistically being the world's most preferred brand of tea. Since its founding in 1890, Lipton has expanded its repertoire of tea from just the Yellow Label to now specialty infusions, green tea, black tea, specialty flavoured tea and hot instant milk tea. Tea is made for drinking, but as the culinary scene matures, we have seen the increasing usage of tea leaves in cooking. Tea leaves, when used in cooking, add a unique dimension of flavour and subtle aroma to food.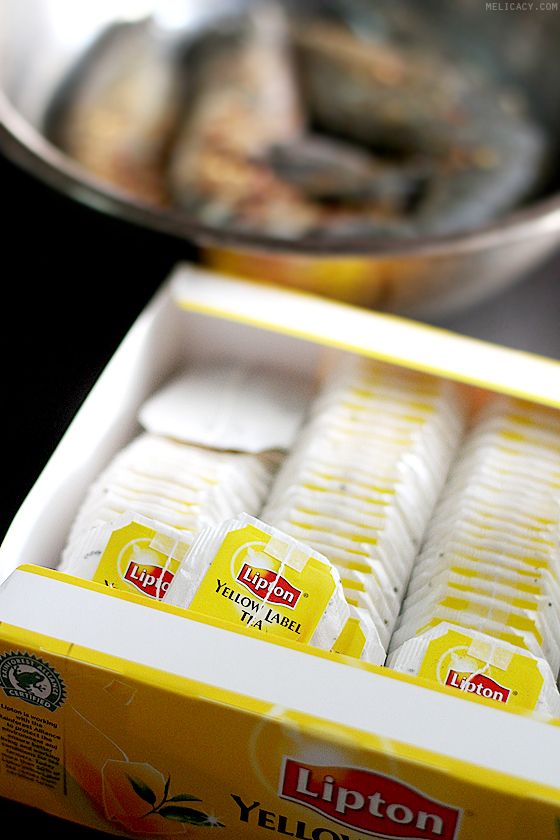 Here I'll be sharing two recipes featuring two variants of tea leaves. For the first recipe, the Tea-smoked Prawn paired with Avocado Salsa, I chose the classic Lipton Yellow Label Tea. As Lipton's flagship product, Lipton Yellow Label is made of the finest blends of Ceylon and Kenya. The signature aroma is one that most of us are familiar with due to its widespread popularity. Using this classic blend gives this dish the aroma of tea without additional flavouring that would have otherwise mask the pristine taste of prawn.
Recipe 1: Tea-smoked Prawn with Avocado Salsa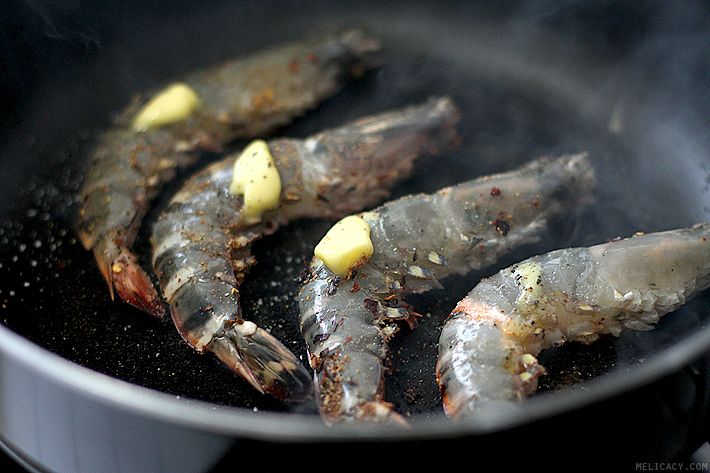 Ingredients for prawns:
– 4 king prawns
– 6 bags of Lipton Yellow Label Tea
– 2 tbs butter
– Salt and pepper
– 1 tbsp Paprika powder
Ingredients for avocado salsa:
– ½ -1 onion, chopped finely
– 2 tomatoes, diced
– 2 avocadoes, diced (reserve avocado shell for plating)
– 1 tbsp lime juice
– Parsley flakes
– 1 tsp chilli flakes
– Salt and pepper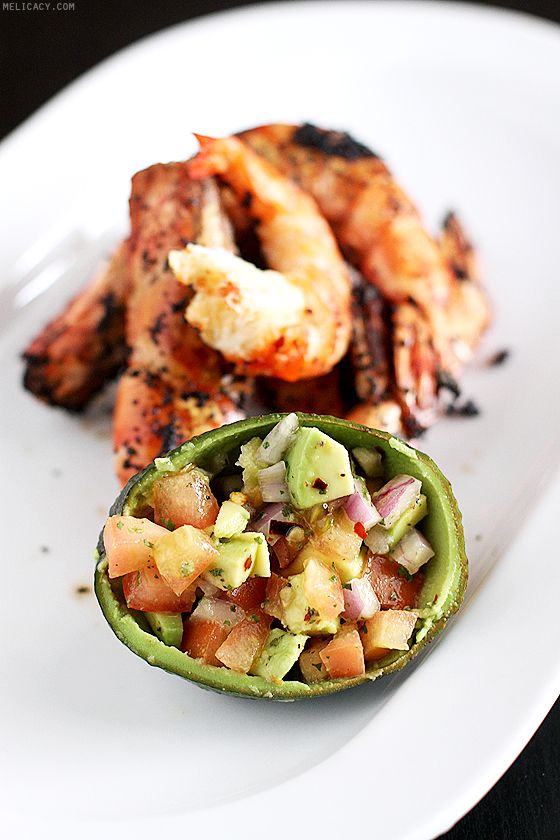 Method for avocado salsa:
1) Combine all ingredients in a big bowl and add salt and pepper to taste.
Method for prawn:
1) Combine a pinch of salt, pepper and paprika powder with prawns and let it sit for 15 minutes in the fridge.
2) Remove tea leaves from teabag.
3) Heat non-stick pan and lightly toast tea leaves for 2 minutes.
4) Place prawns on tea leaves and top with a knob of butter and let it cook on each side till done.
5) Season with a bit of salt and pepper on each side.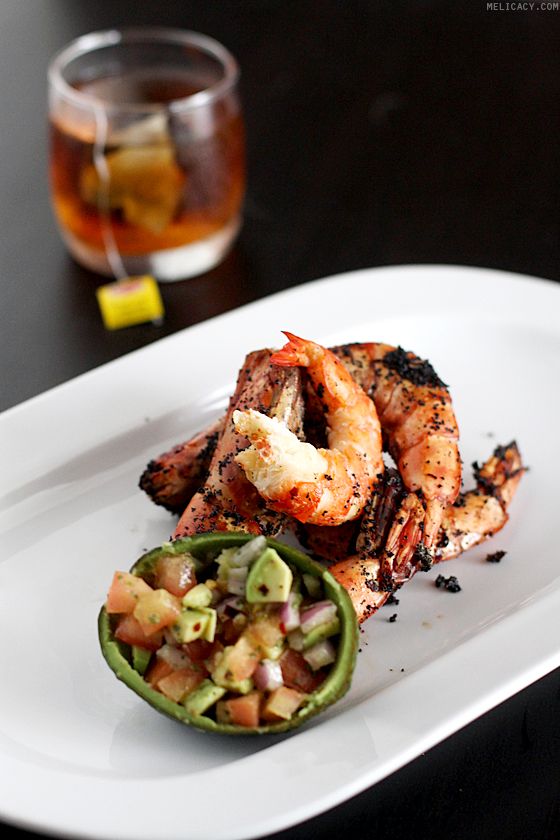 Because the shell protects the prawn, it is feasible to grill it in a pan with a layer of tea leaves directly beneath to infuse aroma without leaving a gritty texture when consumed out of the shell.
This dish would match well with the Orange Countea cocktail that also uses the Lipton Yellow Label Tea. Citrus and seafood go hand in hand; the right amount of tang brings out the mild flavour of the prawn without masking the flavour.
Recipe 2: Mint tea-smoked Cod Fish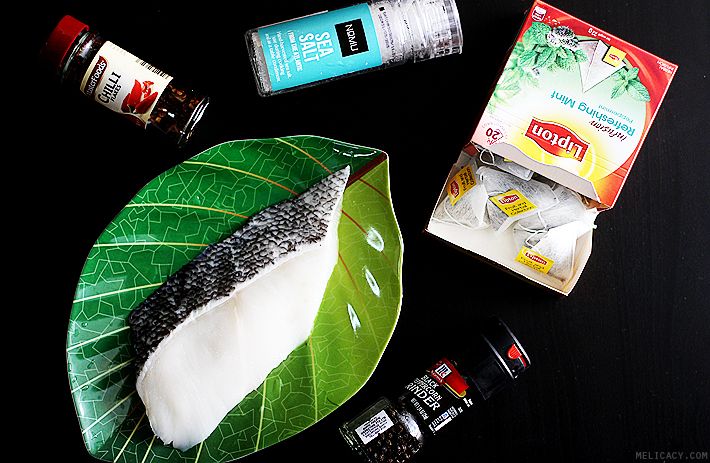 For my second recipe, I'm pairing Lipton Refreshing Mint Tea with codfish. The refreshing flavour of mint goes brilliantly with the oily fish.
Ingredients:
– 4 bags of Lipton Refreshing Mint Tea
– 1 portion of cod fish
– Salt and pepper
– Dried chilli flakes
– 1 tbs butter (melted)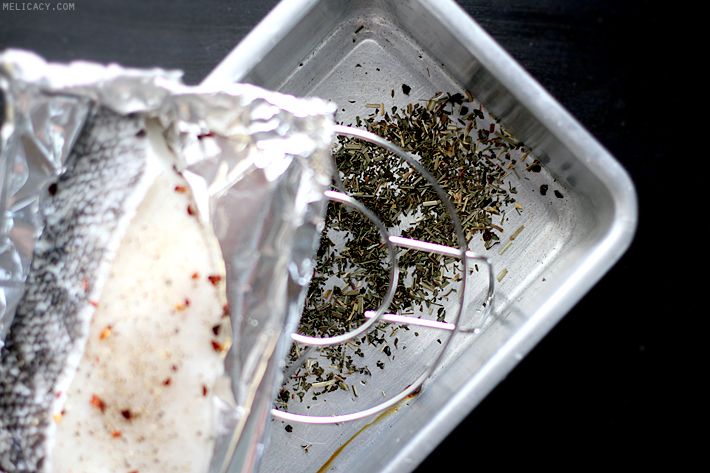 Tools:
– Metal steaming rack
– Tall baking tray
– Aluminium foil
– Oven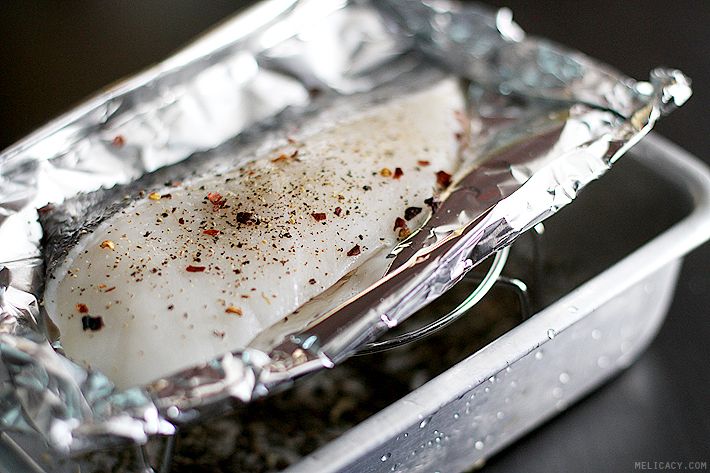 Method:
1) Preheat oven to 200 degree Celsius.
2) Brush cod with melted butter, lightly coated.
3) Season with salt and pepper on both sides.
4) Sprinkle with chilli flakes.
5) Remove tea leaves from the tea bag and fill the baking tray with a layer of tea leaves.
6) Place cod fish on aluminium foil (2 layers) and place it on top of the rack, in the baking tray, as shown in picture.
7) Bake for 20 minutes.
8) Serve with lemon wedge.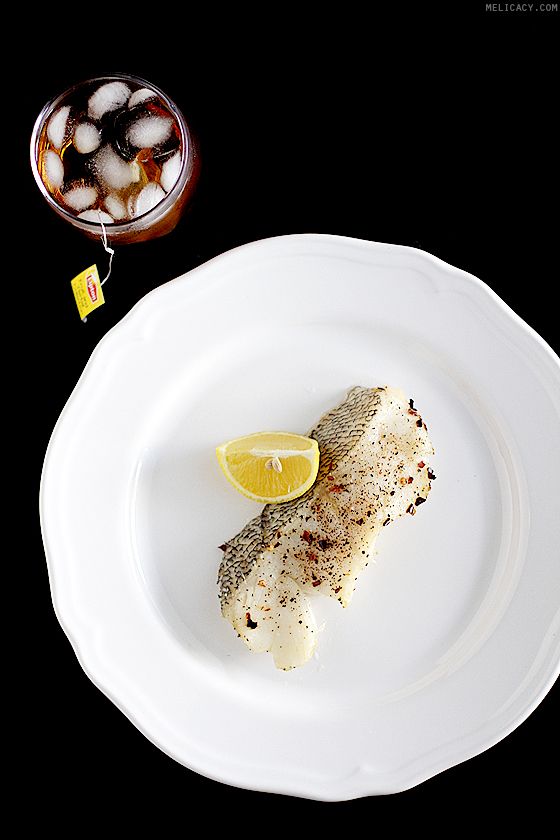 The seasoning is kept simple, with just salt, pepper and chilli flakes, so as not to overpower the pristine taste of cod.
For an additional burst of mint, complement the meal with the Mo-tea-to cocktail that also uses the Lipton Refreshing Mint tea called for in the recipe.
For more recipes of Lipton cocktails and mocktails, visit liptonmoments.com.