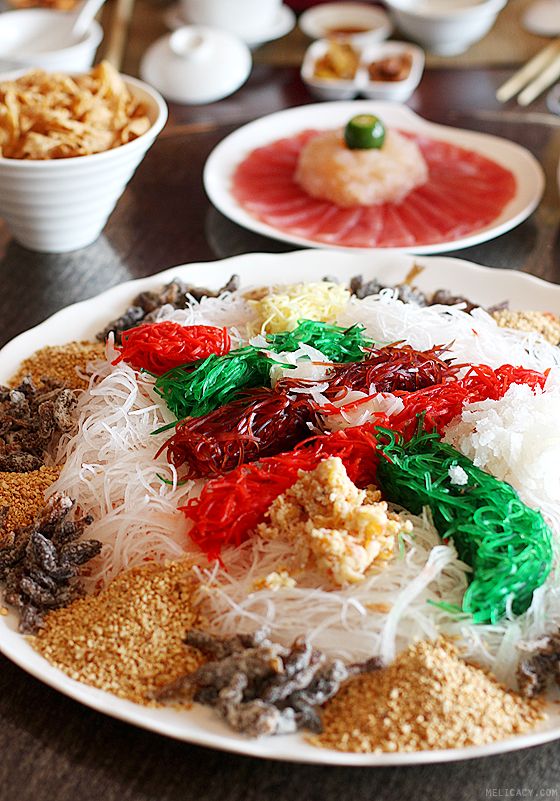 Lunar New Year celebrations commence as early as 2 February through 5 March 2015 at Fairmont Singapore, as Chef Mok Wan Lok of Szechuan Court rolls out eight promising New Year set menus accompanied by a collection of chef signatures, all set to welcome the new year with a bang.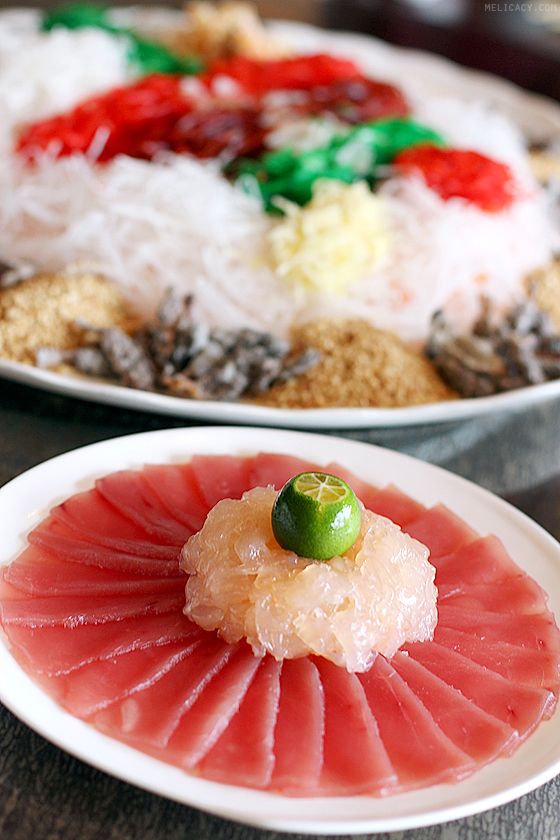 Ultimate Success Yu Sheng ($238++, serves 10)
Among the 6 Yu Sheng varieties available here, the Ultimate Success Yu Sheng showcases an exceptional choice of ingredients such as Maguro (Tuna) and Boston lobster, with crispy morel mushrooms adding an extra crunch to this traditional dish. What gave the chef the idea to use this ingredient is that the name of this mushroom – "羊肚菌" in Chinese (denoting goat) – signifies the year of the goat. Other Yu Sheng variants with a choice of salmon, tuna, abalone or Boston lobster are available from $68++ per set.

Szechuan Court's Prosperity Pot of Gold ($438++ for 6, $688++ for 8 to 10 persons)
The iconic pot of treasures (pen cai) is quintessential in Lunar New Year celebrations, believed to bring good luck for the year ahead. Signifying abundance and opulence, Szechuan Court's Prosperity Pot of Gold features fourteen different ingredients including the highly prized African abalones, giant Japanese dried scallops and oysters, succulent fish maw, sea cucumbers, and a selection of roast meats, simmered in chicken stock and a concoction of sauces for six hours to reach a deep fusion of flavours.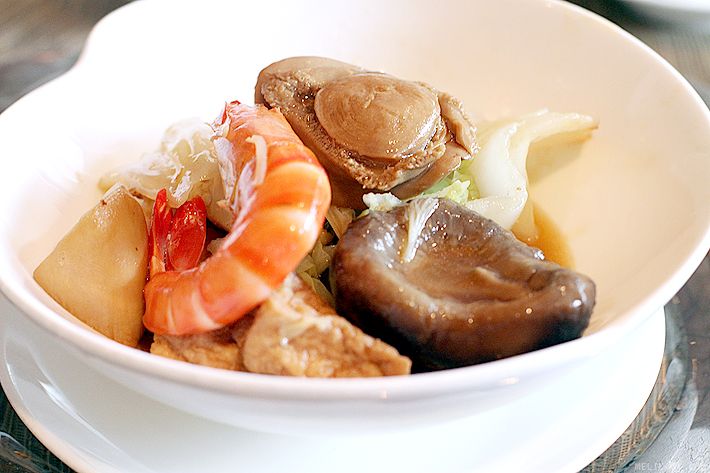 What I always love about pen cais are the vegetables that are cooked till soft and sweet, drawing in and embracing flavours from its companions in the pot.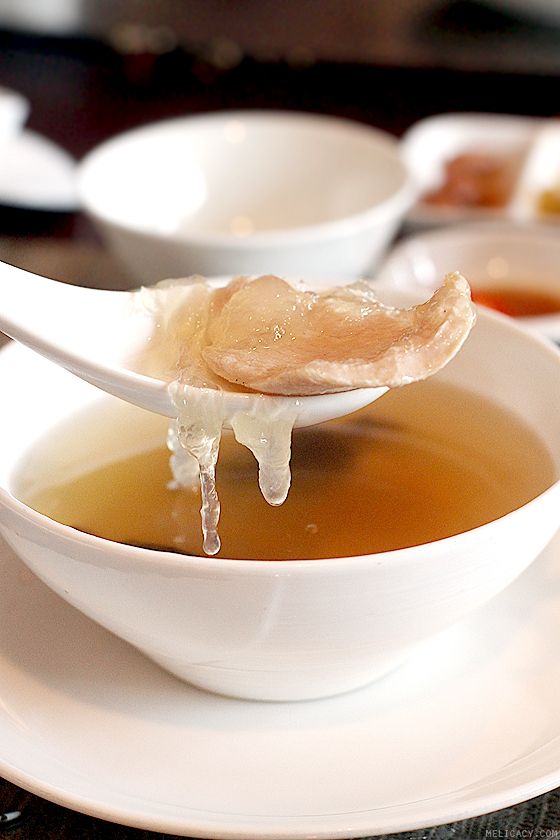 Double-Boiled Bird's Nest Chicken Soup with Morel Mushrooms ($58++ per person)
This palatial bowl of soup is a great substitute to shark's fin soup. Fairmont Singapore has taken extra effort to bring forth equally delectable and elegant soups that will make dining experiences as sumptuous and memorable without contributing to the demise of the sharks. The Double-Boiled Bird's Nest Chicken Soup with Morel Mushrooms is another new addition to this year's Chinese New Year menu, which will be deeply appreciated especially by ladies for its nutritional, health and beauty benefits.

Steamed Pomfret, Soy Bean Crumbs ($128 per order)
Some of Chef's recommended signature dishes for Chinese New Year include the sizeable Steamed Pomfret topped with fragrant soya bean crumbs, as well as the succulent Sautéed Tiger Prawns with Homemade Spicy Chilli Sauce. These items are available in the a la carte Chinese New Year menu as well as in selected set menus.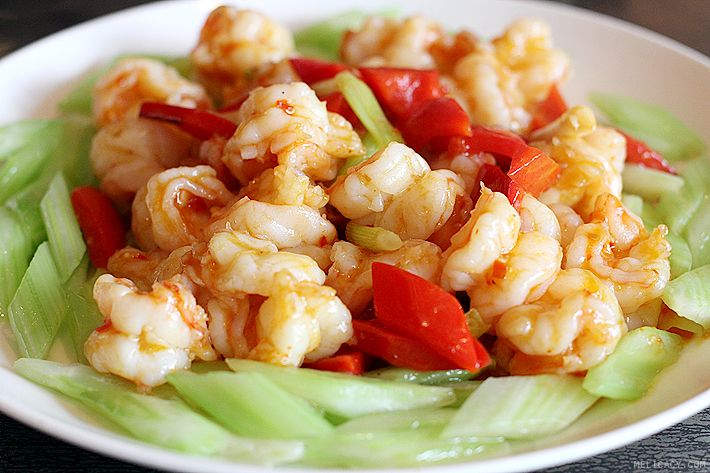 Sautéed Tiger Prawns, Homemade Spicy Chilli Sauce ($40/60/80)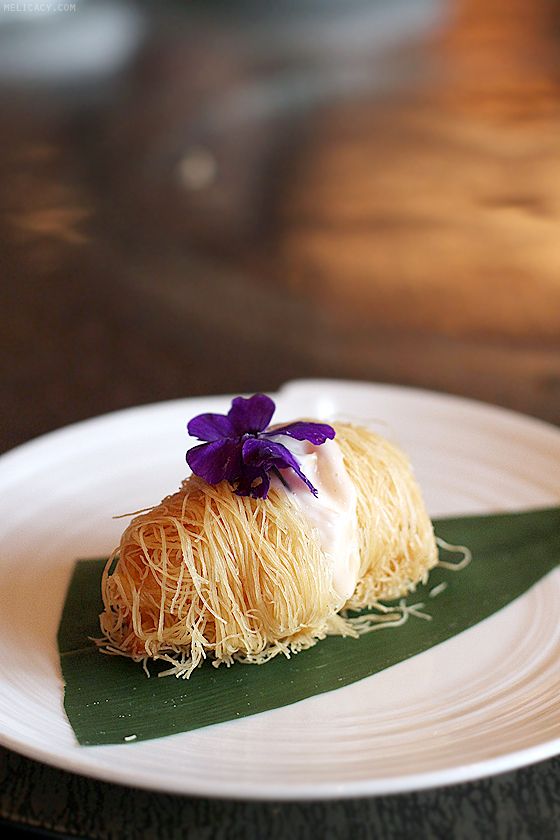 Fried Shredded Filo Dough Roll with Prawns and Lychee ($8.80++ per set of 3 pieces)
Dim Sum Chef Mandy Yeo has also handcrafted some delectable bites for the Lunar New Year. The Fried Shredded Filo Dough Roll with Prawns and Lychee is a highlight –one of the best dim sum items I've ever had!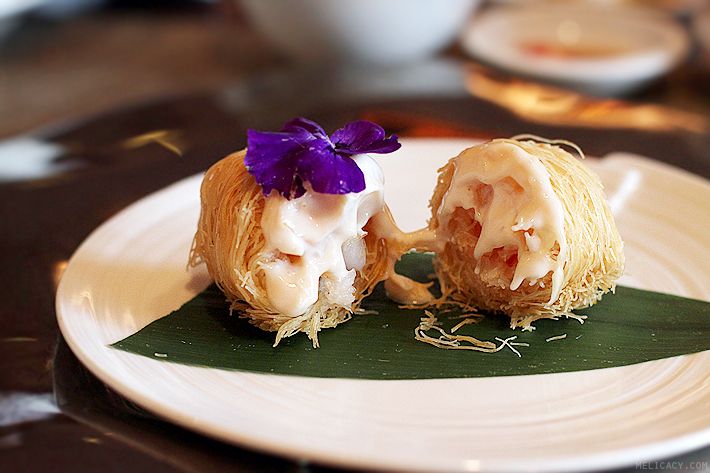 This exquisite creation involves shredded filo dough fried till golden and crunchy, encasing succulent sweet chunks of prawn and lychee bits, paired with a house-blended Thousand Island sauce. Fit for royalty.

Braised Ee-Fu Noodles, Dried Scallop, Crab Meat
The well-curated set menus are propitiously named Prosperous, Joyful, Abundance, Success, Auspicious, Blissful, Fortune and Blessed, encompassing Yu Sheng as a staple along with the kitchen's fine works of soups, scallops, prawns, fish variants, auspicious abalone dishes, wok-fried rice or noodles and desserts. Set menus are priced at $338++ and $438++ for 4 persons, $538++ and $638++ for 6 persons, $828++ and $988++ for 8 persons, and $1,038 and $1,388 for 10 persons.

Traditional, Red Kidney Bean, Green Tea Nian Gao coated in Coconut Flakes
Believed to enhance good luck, harmony and unity, Nian Gao here are specially crafted by Dim Sum Chef Mandy Yeo, available in Traditional and Green Tea flavours as well as one studded with red kidney bean.
During the Lunar New Year period, Szechun Court will still be offering the a la carte dim sum, lunch and dinner menu.
Chinese New Year Eve Seatings: 6pm to 8pm and 8.30pm to 10.30pm
For dining reservations, call (65) 6431 6156 or email dining.singapore@fairmont.com.
Szechuan Court
Level 3, Fairmont Singapore
80 Bras Basah Road, Singapore 189560
Lunch: Monday to Friday 12pm to 2.30pm; Saturday, Sunday and Public Holidays 12pm to 3pm
Dinner: Daily 6.30pm to 10.30pm