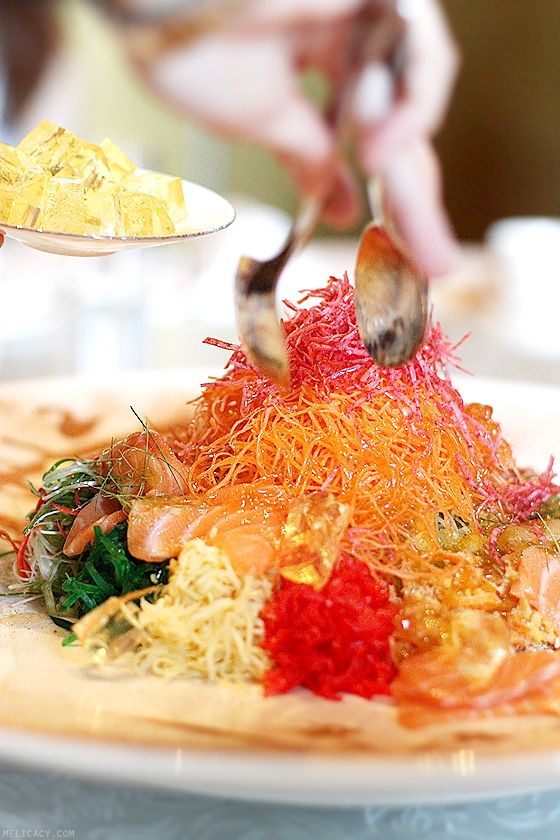 Esteemed Chef Leong Chee Yeng and his culinary team at The Fullerton Hotel's Jade Restaurant are gearing up this Lunar New Year with feasting menus ready to impress. Celebrations stretch from 3 February to 5 March 2015 here, and one should not miss out on their signature Eight Happiness Gold Rush Yu Sheng with Champagne Jelly, Salmon, Olive Oil and Peach Dressing to toss to greater fortune. Dine-in orders of Yu Sheng feature beautiful calligraphy with auspicious greetings hand-drawn personally by Chef Leong.

Eight Happiness Gold Rush Yu Sheng with Champagne Jelly, Salmon, Olive Oil and Peach Dressing ($68 per person for 5 persons and below, $98 per person for 6 to 8 persons, $138 for 9 to 12 persons)
Chef Leong introduces champagne jelly accompanied by edible gold leaves in the Yu Sheng for a special touch of luxury. Exquisite calligraphy that decorates the plate are drawn by Chef Leong using olive oil and dusted with cinnamon powder.

Poached Minced Fish and Mutton Fortune Dumpling ($16 for 3 pieces or $38 for 8 pieces)
It is believed that the more dumplings one eats during the spring festival, the more fortune one will receive. Dumplings shaped to resemble ingots are stuffed with a combination of fresh minced fish and mutton –I'm sure by now you can guess where Chef has gotten the inspiration to use mutton (羊). Interestingly, the combination of the words fish (鱼) and mutton (羊) constitutes to the word "Fresh" (鲜) in Chinese. This dish is certainly an auspicious ode to the Year of the Goat (羊). Those who don't like mutton and are sceptical to try this, you can't even tell there's mutton by smell.

Braised Seafood Soup with Abalone and Fish Maw in Superior Golden Broth
Fresh succulent seafood accompanied by abalone and fish maw are steeped in a collagen-rich broth that's cooked using pork, old hen and chicken feet for 6 hours over big fire, hence the thick and smooth consistency. This is one soup you can't resist.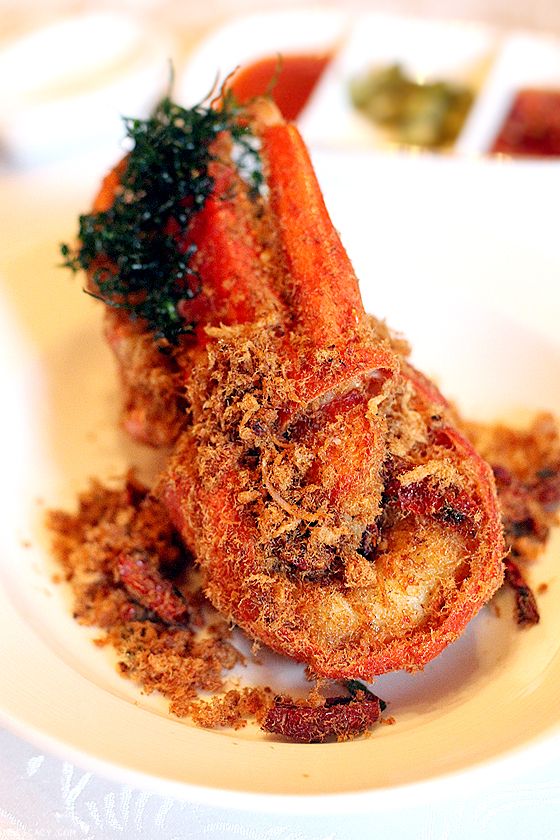 Sautéed Boston Lobster with Chicken Floss in Spiced Fragrant Salt ($88 for a whole 700g lobster)
The sweet and juicy lobster is spiced up with an aromatic medley of spices, dried chilli and ginger flower, generously showered with chicken floss for added flavour and texture.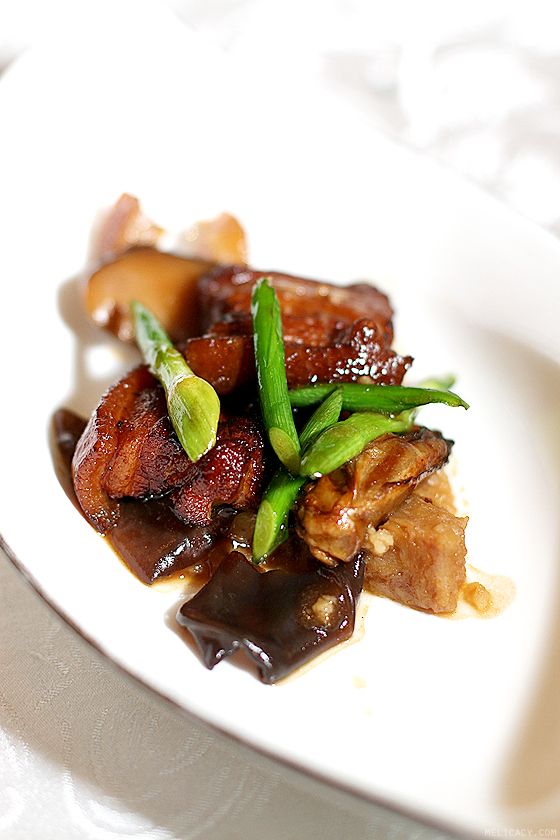 Stewed Pork Belly with Dried Oyster, Black Fungus, Yam, Mushroom and Leek Flower prepared in Hometown Style ($18 per person or $44 per portion)
Pork belly is stewed with dried oysters, sea cucumber, black fungus, yam, mushrooms and leek flower over low heat for 90 minutes, resulting in fork-tender meat and a comforting blend of flavours.

Fragrant Wok-fried Five Grain Glutinous Rice with Chinese Sausage
Sumptuous set menus consisting of a selection of the aforementioned dishes are priced from $78 per person. The Eight Happiness Gold Rush Signature Yu Sheng and Eight Treasures Fortune Pen Cai are available as takeaways and ready for collection from 9 February to 5 March 2015.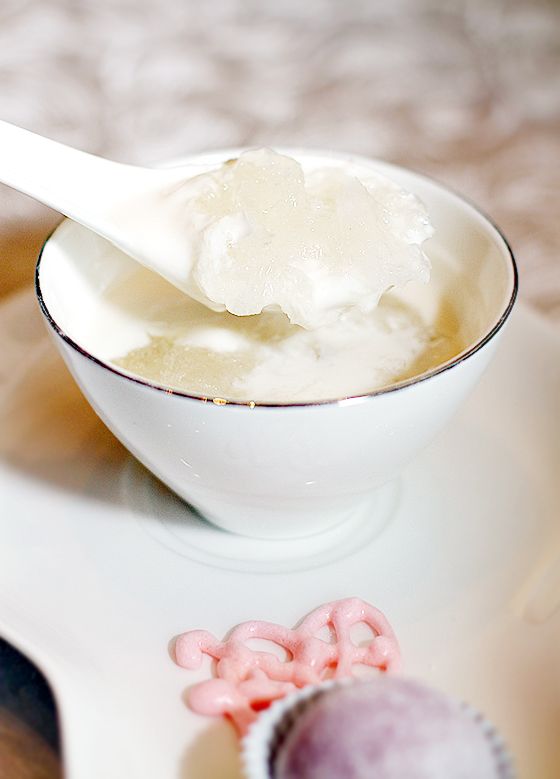 Almond Cream with Bird's Nest accompanied with Pistachio "Muah Chee" Glutinous Rice Ball
Lunar New Year goodies worth trying include the Yam Paste "Nian Gao" Tarts ($28+ for a box of 8), Pistachio "Muah Chee" Glutinous Rice Ball ($26+ for a box of 8) and Harmony Koi Fish Nian Gao ($38+).
For dining enquiries or reservations, call (65) 6877 8188 or email jade@fullertonhotel.com.
For enquiries or orders for takeaway goodies, call The Fullerton Cake Boutique at (65) 6877 8943 or email fullertonshop@fullertonhotel.com.
The Fullerton Hotel Singapore
1 Fullerton Square
Singapore 049178