Golden Happiness Fruit Yu Sheng ($128++, serves 10/$78.80 for small)
This Lunar New Year, we explore Crystal Jade's fine dining outlet, Crystal Jade Palace Restaurant and its palatial festive spread. Diners can choose from 11 luxurious festive set menus priced from $298++ for 4 persons to $4,988++ for 10 persons. Start with the dynamic and vibrant Golden Happiness Fruit Yu Sheng to toss to greater heights, it comprises a colourful medley of fresh fruits such star fruit, rock melon, pomelo bits, mango, pear, apple and strawberry, accompanied by crispy deep-fried yam strips, crunchy peanut, sesame and succulent jellyfish. Adding an opulent touch are gold flakes adorning the platter, and not forgetting the star of the dish, premium Hamachi fish. Combine these ingredients in the citrusy house-made sauce, a blend of lemon juice, plum sauce and ginseng. There's a great harmony of tastes and textures among the contrasting ingredients, especially amongst the different fruits –what a refreshing and healthy start to the meal.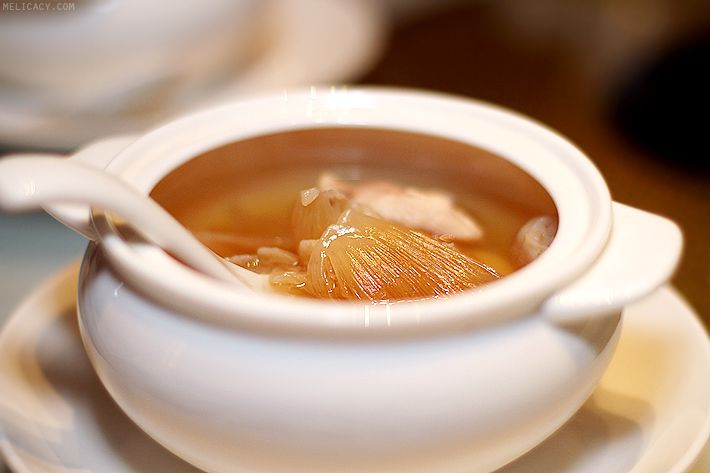 Double-boiled Superior Shark's Fin with Chicken ($52++ per person)
The deeply flavourful soup base is culminated from long hours of slow boiling with high proportion of chicken and chicken feet, good with or without the highly prized shark's fin of a smooth finish served in generous proportions.

Sautéed Lamb Cubes with Sliced Garlic ($40++)
One of the star dishes this year for me would be the Sautéed Lamb Cubes with Sliced Garlic, brought forth specially for the Year of the Goat. Wok-fried with capsicum, crunchy asparagus and deep-fried sliced garlic, the Australian lamb cubes turn out nicely pink in the middle and surprisingly soft to the bite with no gamey odour.

Braised Sliced Abalones with Dried Oysters & Black Moss (seasonal price)
Since it was just a cosy table of 2, we had a small portion of the Braised Sliced Abalones with Dried Oysters & Black Moss, featuring succulent thick slices of Australian abalone partnering premium dried oyster signifying 'good business', and black moss signifying 'striking rich' (fa cai).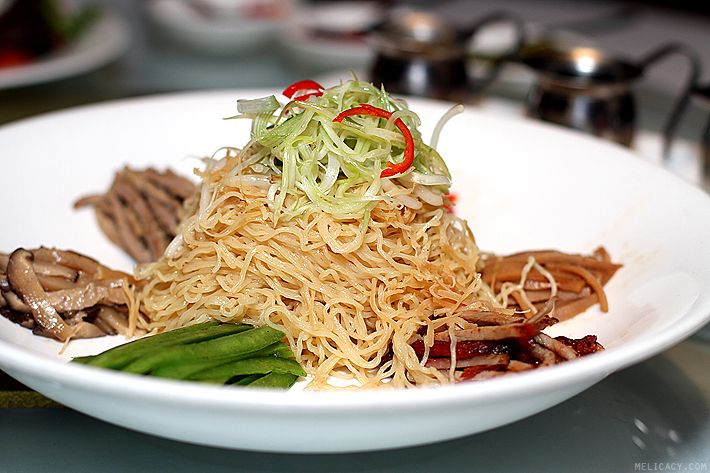 Longevity Tossed Noodle ($36.80++ per serving)
Double the fun and prosperity to the festive celebration by tossing twice! The Longevity Tossed Noodle is conceptualised for Singaporeans' love of the customary 'Lo Hei', comprising Crystal Jade's well-loved wanton noodles as a symbol of eternity and longevity with its seemingly endless strands.
Toss it up with the accompanying abalone slices, conpoy, roast duck and Honey BBQ pork, with binding liquids of rich sesame sauce, sesame oil and soy sauce. If only they have this all year round!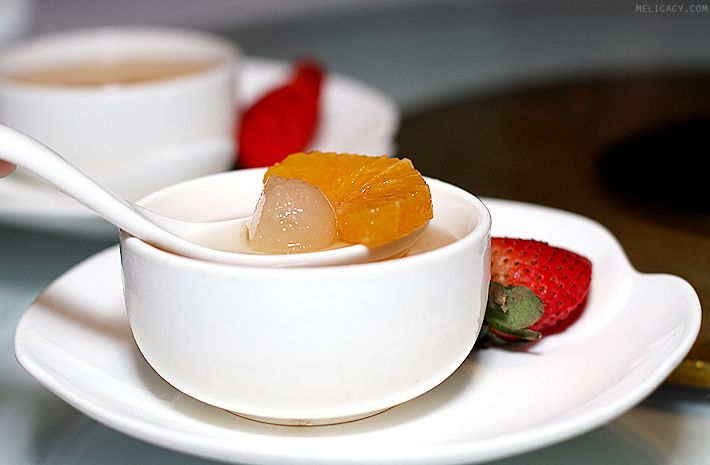 Double-boiled Snow Pear & Orange with Ginseng & Honey ($6.50++ per person)
Conclude the meal with the soothing and nourishing Double-boiled Snow Pear & Orange with Ginseng and Honey, served warm.
For more information on Crystal Jade's Lunar New Year promotions across all outlets, visit http://www.crystaljade.com/promotions-announcement/lunar-new-year-set-menu-2015/
Crystal Jade Palace Restaurant
#04-19 Ngee Ann City
391 Orchard Road
Tel: (65) 6735 2388