Salted vegetable duck soup
True Blue Cuisine, situated next to the Peranakan Musuem, serves up true blue peranakan cuisine with no twists. The essence of Peranakan cuisine is kept true to its roots, showcasing time-honoured recipes handed down through generations.

Nonya Chap Chye
I silently protest the unnecessary air of conceitedness, first encountered upon entering the restaurant, short of smiles; the staff greets with a nasty demand of an "entry pass", as if not making reservations at a moderately filled restaurant is a crime. They ought to come to terms that they aren't the only ones who can deliver good tasting and authentic Peranakan cuisine.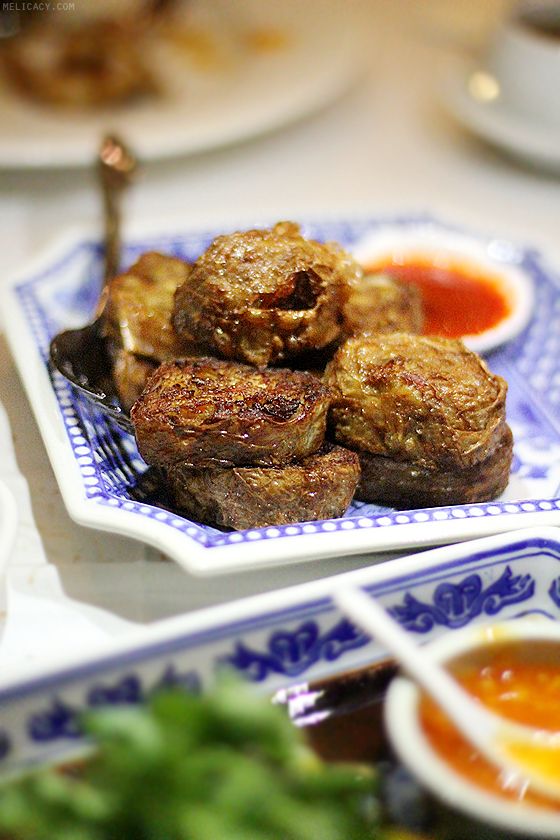 Ngoh Hiang
While the restaurant's interior is reminiscent of a Peranakan home, featuring the mandatory "chim chae area/airwell" that was used for collecting rainwater and sunning preserved foods, and adorned with their private collection of pictures and antiques, the tables dressed in white linens seem out of place, and slightly pretentious. Immediately the sense of cosiness and warmth of a Peranakan home is lost. It would fare badly as a fine dining restaurant in many aspects, so let's not even speculate that they are attempting to go towards that direction. It doesn't help when your waitstaff can't understand English, Malay or Hokkien to save his life; I have no doubts he would perform doubly well at a Chinese restaurant.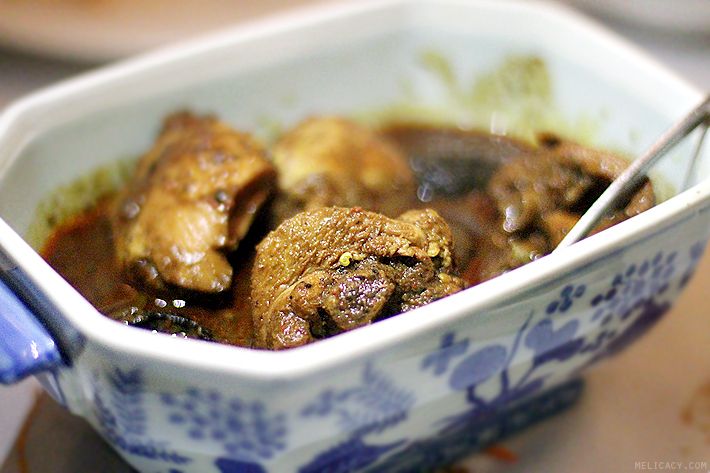 Ayam Buah Keluak
Being born with Peranakan roots, I can't help but be slightly critical on how they're portraying the cuisine, as being inaccessible and overblown. On the other hand, they deserve due credits for the food and flavour they bring to the tables.

Itek Sio (Braised Duck)
You won't be disappointed with dishes like Ayam Buah Keluak, Nonya Chap Chye, Ngoh Hiang (a personal favourite) and Itek Sio, as well as our perennial favourite Durian Pengat.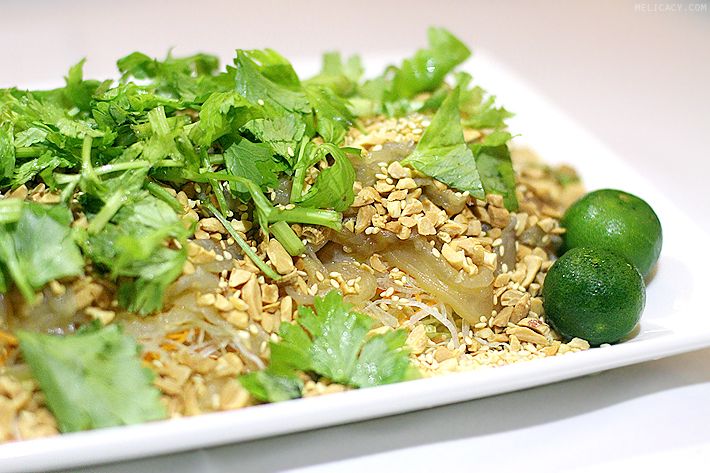 For Lunar New Year, they are presenting their Peranakan take on "Lo Hei", encompassing crunchy slivers of jellyfish accompanied by shredded vegetables and crushed peanuts, drizzled in plum sauce and lime juice. It looks harmless, but take caution: the spice level is rather mighty.
They should consider serving this in a bigger plate, because this one leaves us with no room for the mess that comes with the tossing. The mess ended outside the perimeters of the plate, soiling the white linen tablecloth that was once perceived as elegant.
True Blue Cuisine
47/49 Armenian St.
Singapore 179937
Website: truebluecuisine.com