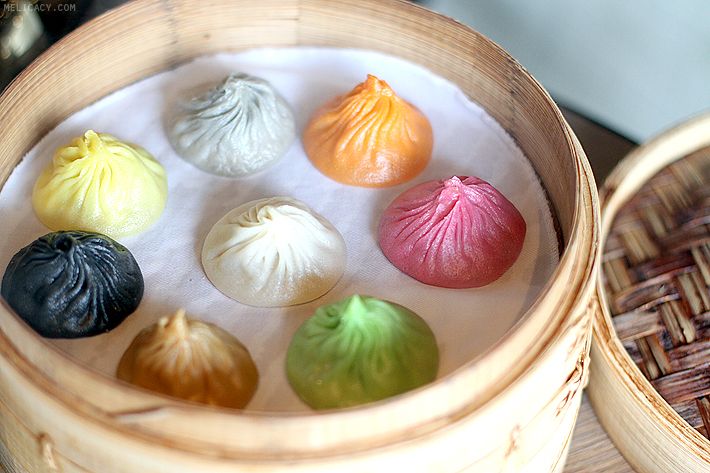 Signature Dynasty Xiao Long Bao ($14.80 for 8 pieces)
Think of Paradise Dynasty, and the signature multi-coloured xiao long baos come to mind. A basket of Signature Dynasty Xiao Long Bao comes with 8 flavours, namely the Original, Cheesy, Szechuan, Garlic, Ginseng, Crab Roe, Black Truffle, and Foie Gras, which are also sold separately in single-flavoured baskets of 6 and 10. It was love at first bite for me, especially with the Foie Gras Xiao Long Bao, and I'm sure many can relate.

Chilled Malva Nut Tree with Pear Bits ($4.80 or $3.80 for OCBC cardmembers and PGR members)
This season, Paradise Dynasty takes a bold step, bringing forth an exciting and somewhat exotic menu, available at all outlets from 9 March to 31 May 2015. Some items on the menu might not bode well with conservative diners, for instance the Braised Duck's Tongue and Steamed Bullfrog with Diced Chilli, but those who are well acquainted and appreciate these delicacies will be first to flock there for a chance to satisfy their cravings. A popular Shanghai dessert, Chilled Mava Nut Tree with Pear Bits also makes a rare appearance in this 3-month long promotion –a refreshing and not too sweet dessert perfect to end the meal with.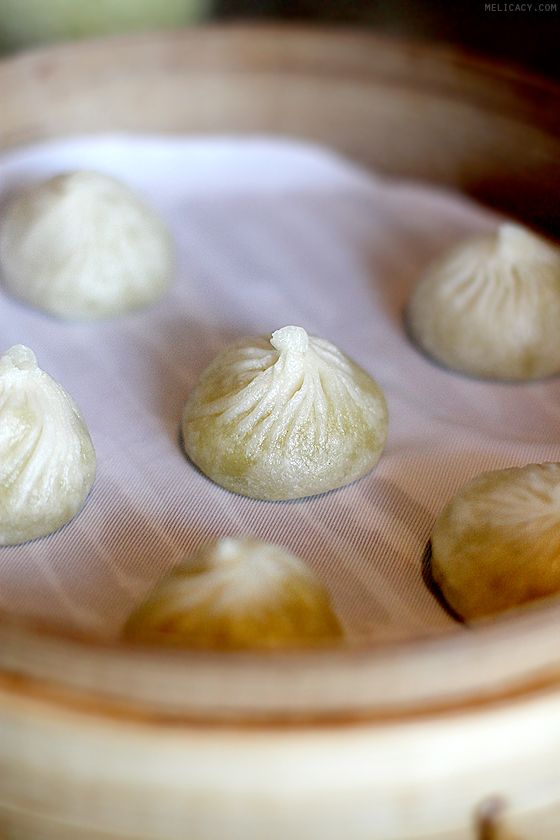 OCBC Credit/Debit card members and PGR (Paradise Gourmet Rewards) members get to enjoy special prices during this promotion. For instance, 6 pieces of durian xiao long bao is available at a special rate of $8.80 (usual price $10.80).
Durian lovers will be enthralled by the durian xiao long bao, made with the highly prized Mao Shan Wang durian.
I had such high expectations hearing about the use of Mao Shan Wang durian; unfortunately to my dismay the filling wasn't made entirely of durian pulp –it's more of like a durian paste that reminds me of the filling seen before in durian snowskin mooncakes. Nevertheless, we all know that taste is subjective, especially when it comes to durian. Some say that it's an acquired taste (and smell) that you'd either adore or abhor. However, I disagree slightly with the preceding statement, in the sense that I enjoy the taste and texture but still am intolerant to its distinctive smell to a certain extend. The creamy texture I was dreaming of didn't come true, but that I could understand as there are possibly various reasons why it won't work. On another note, when steaming hot, the heavenly aroma of durian actually intensifies. Durian lovers who want a sweet alternative to the usual savoury xiao long baos can try this.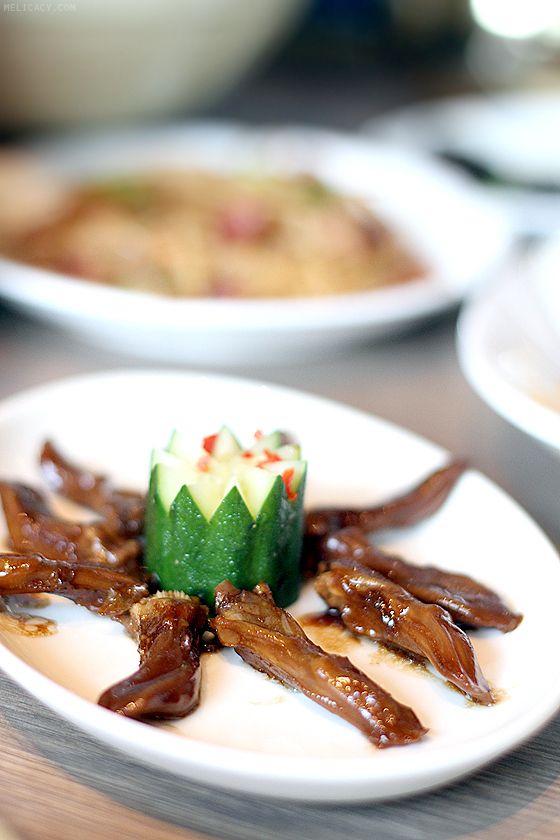 Braised Duck's Tongue with Oyster Sauce ($9.80 or $7.80 for OCBC cardmembers and PGR members)
This dish is no stranger to Hong Kongers, but to Singaporeans especially the younger generations, this might be a little hard to accept. This rare delicacy is mild in flavour with no outlandish odour; when executed well, in this case, steeped in rich braising sauce, it actually tastes decently good, well infused with flavour. The texture is unlike what I'd imagine a tongue to be (creamy and gritty), instead it has a succulent crunch. Those who travel frequently Hong Kong and China would have come across this ingredient a lot. It just needs some getting used to.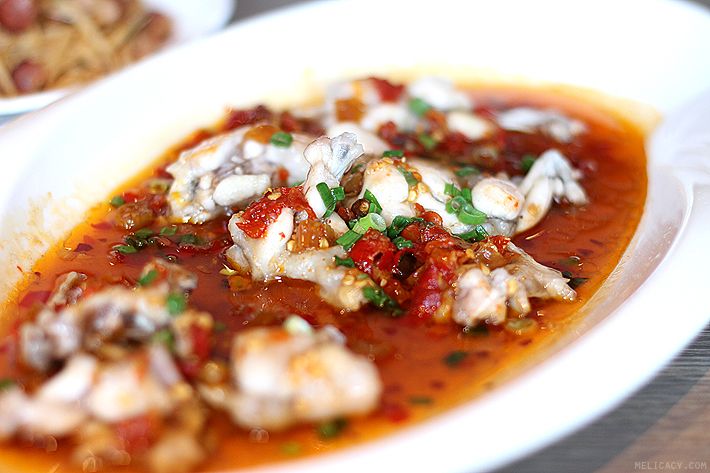 Steamed Bullfrog with Diced Chilli ($15.80 or $13.80 for OCBC cardmembers and PGR members)
Something less exotic would be the Steamed Bullfrog with Diced Chilli. Having eaten and enjoyed frog leg on a regular basis, I have no qualms indulging in this dish brimming with piquancy. The sizeable bullfrog boasts substantial succulent meat that's of an exceptionally smooth texture.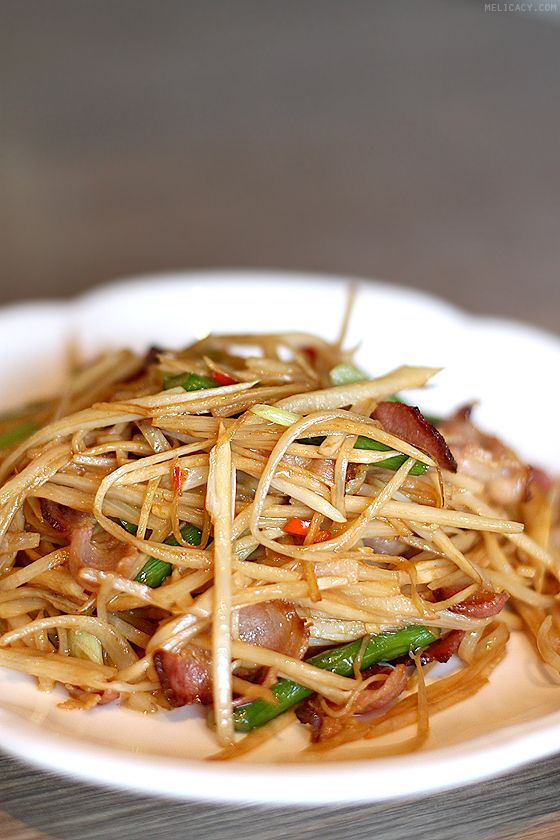 Stir-fried Asparagus, Bamboo Shoots and Bacon ($13.80 or $10.80 for OCBC cardmembers and PGR members)
One of my favourite items from the promotional menu is actually the simple but superbly flavoured Stir-fried Asparagus with Bamboo Shoots and Bacon, in which bamboo shoots explicitly make up the bulk of this dish. Displaying excellent wok skills, there's a nice smoky aroma (wok-hei), and what came through nicely was the goodness of the bacon fat enriching the crunchy vegetables. They should consider prolonging its stay on the menu.
The following dishes mentioned will be from the regular a la carte menu.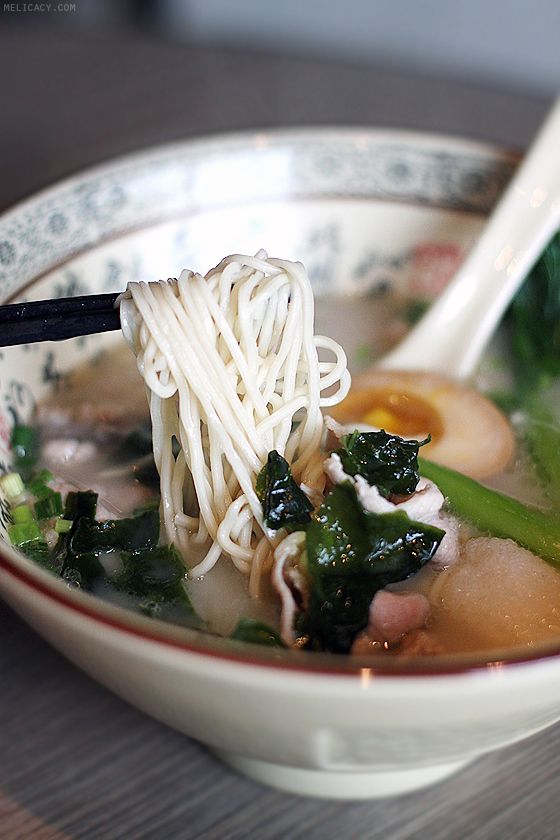 La Mian with Sliced Pork ($9.80)
During the course of my extended lunch, I witnessed countless tables with orders of la mian that come in oversized ceramic bowls. I had to try it. And when I did, its immense popularity started to make sense. The pork bone soup (simmered for 12 hours) is richly satisfying, and the noodles are nicely springy in texture.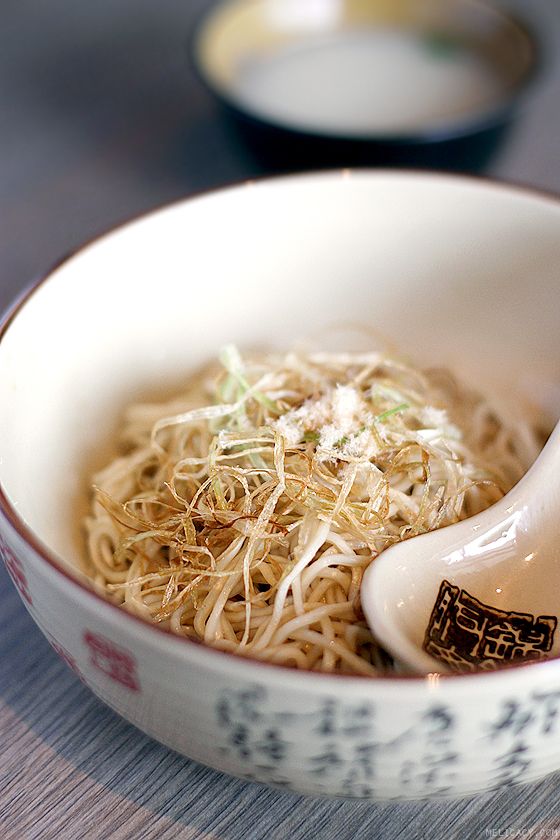 Dry La Mian with Dried Shrimp and Scallion Oil ($7.30)
For a dry version of the La Mian, the meatless Dry La Mian with Dried Shrimp and Scallion Oil (served with a small bowl of that rich pork bone soup on the side) mesmerises with great aroma and taste. For a moment, we didn't see a need for any meat component.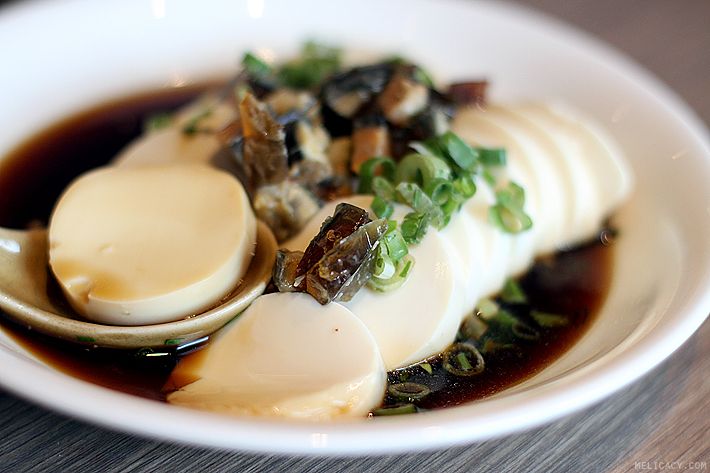 Chilled Tofu with Century Egg ($6.80)
One of my favourite appetisers from the regular menu is the Chilled Tofu with Century Egg, primarily due to its outstanding soya sauce concoction.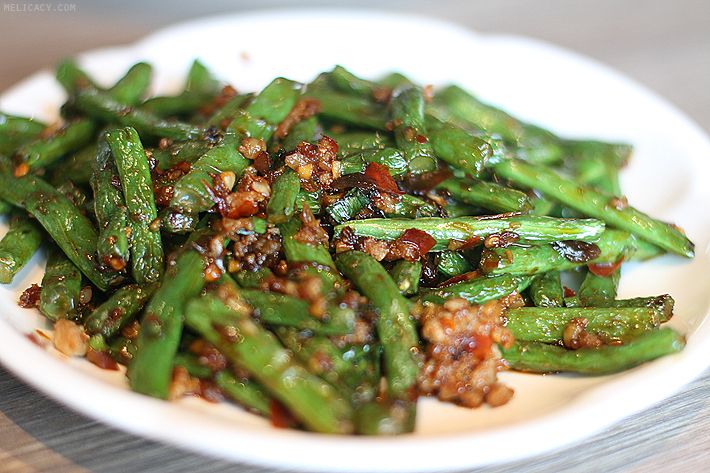 Stir-fried French Beans with Minced Pork ($11.80)
There are several veggie options, but if flavour is your only concern, go for the fragrant Stir-fried French Beans with Minced Pork, a homely dish that you can eat simply with plain rice, boasting great complementing textures of the veggie and meat.

Radish Pastry ($4.50 for 3 pieces)
For dim sum pleasures, I highly recommend the Radish Pastry. The crust is made from multiple layers of pastries, scoring full marks for effort and crunch. Fried at the right temperature, the pastry turns out not too oily. Within the crust are slivers of radish cooked till nice and soft. I never fail to order this whenever I'm here.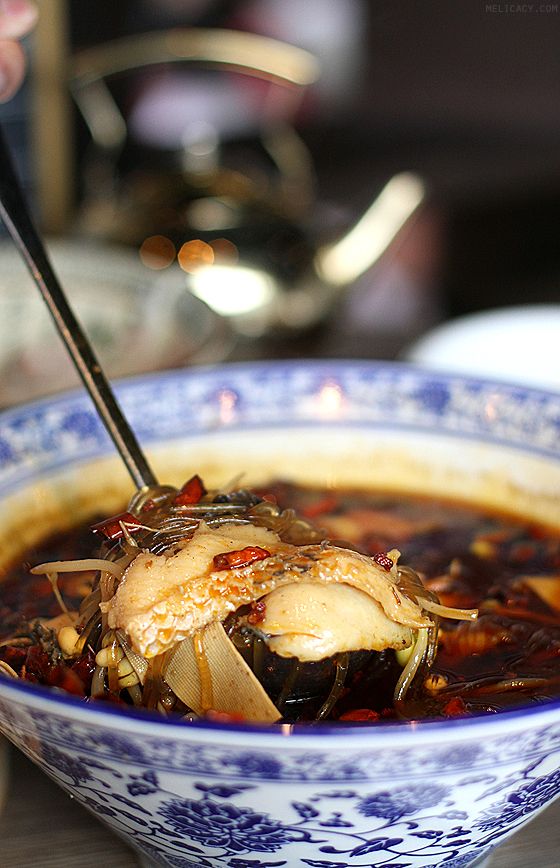 Poached Sliced Fish in Szechuan Chilli Oil ($20.80)
The menu also encompasses a selection of Szechuan dishes, of which one of the must-tries is the mammoth porcelain bowl rich of spicy goodness, the Poached Sliced Fish in Szechuan Chilli Oil. Within you will find substantial slices of succulent fish well entrenched in the piquancy of Szechuan peppers and dried chilli, traveling with slippery glass noodles. Diners can choose the spice level that they are comfortable with, from "less spicy", "spicy" and "very spicy". I played safe and went for "spicy", which has just the right amount of numbing heat.
The Deep Fried Diced Chicken in Szechuan Style (Bang Bang Ji) is another must-try. The crispy bite-sized chicken pieces tossed with Szechuan spices in a heated wok strikes as being highly addictive –you won't be able to stop at one morsel.
For more information, visit paradisegp.com.
Paradise Dynasty's locations include Causeway Point, Changi Airport T3, ION Orchard, Lot One, OneKM Mall, VivoCity and Westgate.
Opening hours: Monday to Friday 11am to 10pm, Saturday Sunday & Public Holidays 10.30am to 10pm.