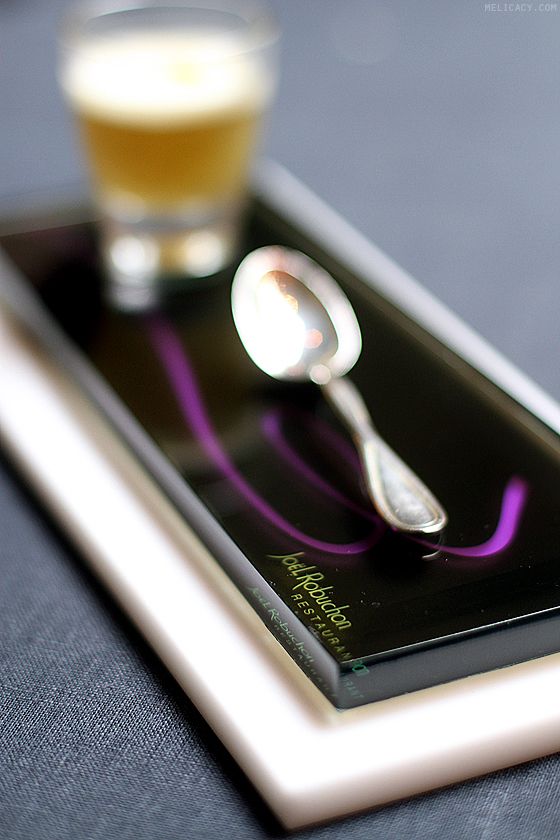 Joël Robuchon, a renowned culinary figure whom has accumulated a total of 25 Michelin stars in different parts of the world including Singapore, Hong Kong, Las Vegas, London, Macau, Monaco, Paris and Tokyo, whose restaurants are on the top of every gourmand's checklist, is a man of firm principles when it comes to French cookery. Speak to him about "molecular gastronomy" and expect a long face.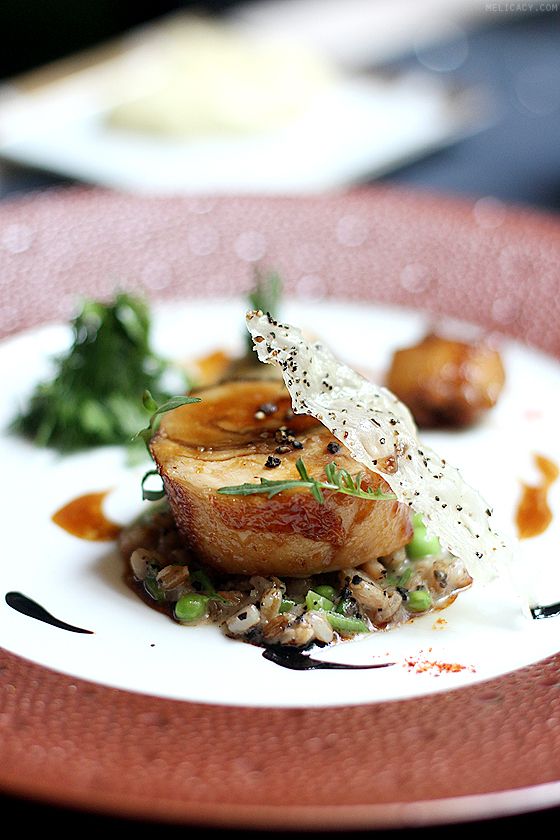 Seen as a stern and austere man, who allows no inferior work to leave the kitchen with his knowledge, those who have secured a position in his kitchens ought to be no less than the top of the line with great ambitions and talents. I can imagine the workspace spiralling into a frantic pace with each visit he makes, but his very appearance is also what many would eagerly anticipate –a rare occasion to meet the culinary legend that we worship endlessly. Even the staunchest fan may not have the opportunity to catch a glimpse of him.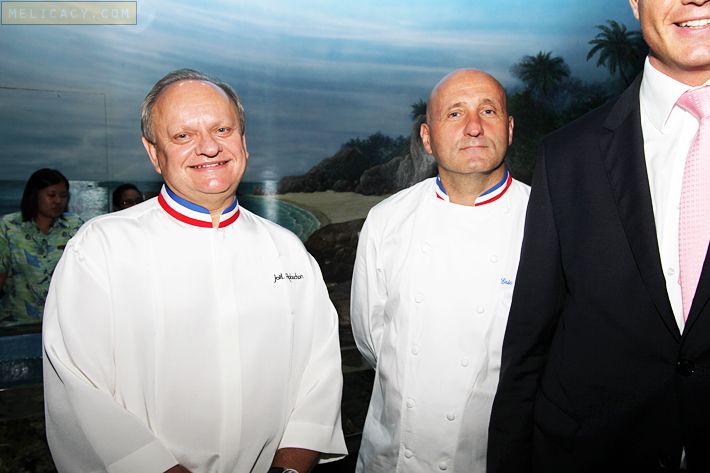 I felt so privileged to be able to meet him in person, two years ago, when Resorts World Sentosa organised the RWS Food Affair, in which the RWS Celebrity Chefs Dinner brought together six prominent chefs including Joël Robuchon.
Dining at Joël Robuchon Restaurant may not be that far-fetched a dream. While it can cost up to an intimidating $500 per person for dinner, fans can get a taste of Joël Robuchon's culinary finesse for just under $60. Turn to L'Atelier de Joel Robuchon, a relaxed concept adjacent to Joël Robuchon Restaurant underlining a heightened level of interaction between chefs and diners with just a (wall-less) counter separating the kitchen and main dining area. Lunches are priced at $48, $68 or $108 per person, and dinner at $68, $98 or $138. The a la carte menu also offers tasting portions.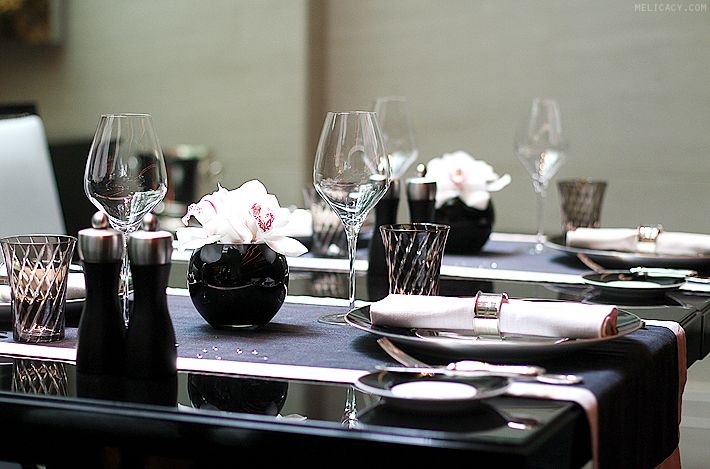 I headed to Resorts World Sentosa with great anticipation that Saturday afternoon, all eager to be impressed all over again at L'Atelier de Joel Robuchon where I visited two years ago, only to find out that I have gotten the date wrong. L'Atelier de Joel Robuchon was closed; it is only open for lunch on Sundays (operates for dinner from Thursdays to Mondays). Joël Robuchon Restaurant on the other hand opens for lunch on Saturdays (operates for dinner from Tuesdays to Saturdays). I was dressed for L'Atelier de Joel Robuchon, and underdressed for Joël Robuchon Restaurant, and so was my dining companion. The front of house crew were gracious and ushered us to the seating area without any air, while a table at the swanky Joël Robuchon Restaurant was being prepared for us. I took awhile adjusting to the situation, having to strip off the casual persona and gradually starting to believe that I'm going to dine at Joël Robuchon Restaurant. Lunch at Joël Robuchon Restaurant is far more affordable than dinner, starting at $78 to $118 per person. The versatile menu allows diners to compose their own meals by picking and combining items from a list of appetisers, mains and desserts. For instance, the $118 per person meal includes the Amuse-Bouche, choice of 1 appetiser, choice of 1 soup, choice of 2 main courses, choice of 1 dessert, and coffee or tea served with petit four. Dinners are priced at $228 to $428 per person.
Quoting Joel Robuchon, "Innovation, Modernity and Tradition are the three words that inspired me to create this menu…" "You can adapt as you wish by choosing one, two, three or four services, depending on your appetite, your desires, and discover a multitude of flavours."

Warm and crusty house-baked breads arrive shortly after we placed our orders. Spreading a blob of that rich French butter on a fragment of the impressive French bread, and savouring each morsel till the very last crumb, reaps a massive amount of satisfaction. It was then we decided to chuck our calorie counters aside for the day.

Amuse-Bouche
The Amuse-Bouche of Calamansi Jelly with Vanilla Cream opens up the palate with a citrusy note juxtaposed by the intensely vanilla bean-specked cream balancing out the acidity.
We are ready.

Le Caviar
A signature of Joel Robuchon, Le Caviar's reserved presentation fools one into thinking he/she's about to eat a full tin of caviar, which turns out to be more than just that as you delve in.
Beneath the dark pearls of Imperial caviar is a layer of crabmeat salad and another distinct layer of crustacean jelly. A mouthful of crustacean heaven is what you get.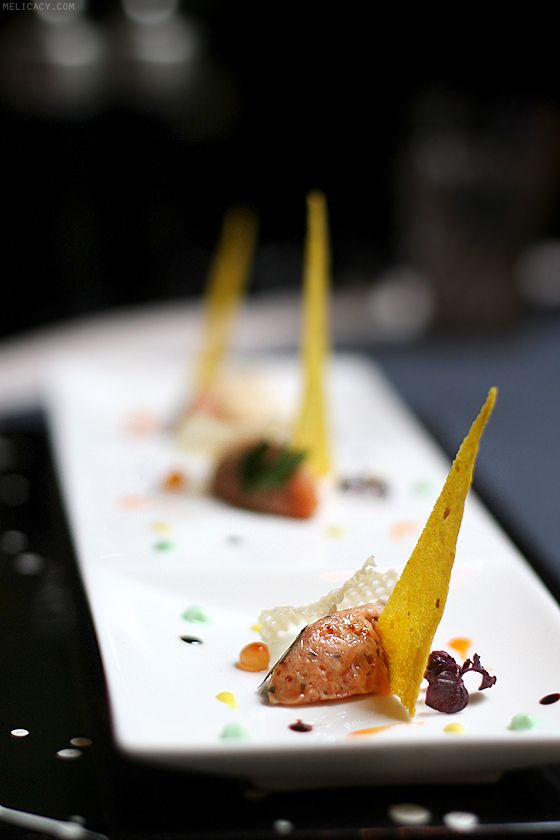 My appetiser: Le Saumon – Salmon Tartare with Shiso Baby Sprouts

His appetiser: L'Œuf de Poule – Crispy Soft Boiled Egg, Parmesan Cheese Mousseline and "Iberico" ham
Another indispensable dish is the much-talked-about L'Œuf de Poule, available in Joel Robuchon's numerous restaurants around the world.
A soft poached egg quivering with molten yolk within, is encrusted with thin strips of phyllo dough, handled with delicate care and deep fried to a crisp, complemented by salty sheets of iberico ham and drizzled with chicken jus for added flavour.

Soup: Le Thé de crevette – "Botan" shrimp in Fresh Coriander and Tumeric Infusion
A clear and light-tasting chicken broth is dribbled into a glass bowl containing succulent shrimp. The fresh scent of dill is pronounced but not overpowering. Traveling alongside are deep fried prawn heads served hot and crispy.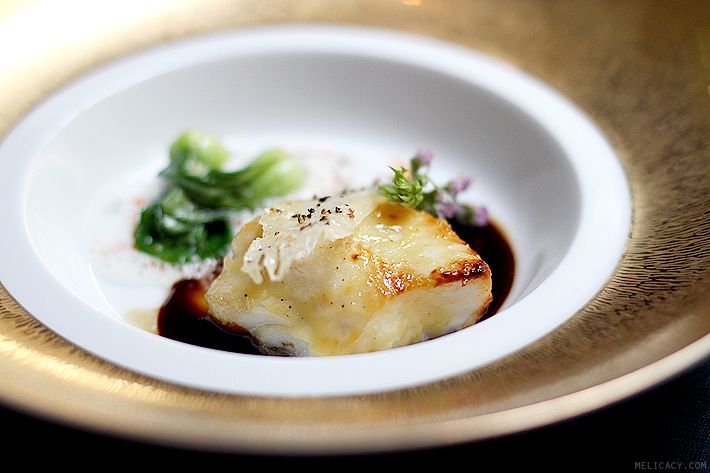 My 1st main course: Le Black Cod – Roasted Black Cod with Bok Choy, Black Malabar Pepper Sauce
The smooth and silky codfish comes with bok choy and black Malabar pepper sauce. In my tasting notes, I highlighted that the onion foam wasn't just subtly flavoured air like the ones we normally come across, but one with substance, of rich cream infused with onion aerated till foamy.

His 1st main course: Le Flétan – Halibut Fillet with Saffron, Marinated Crunchy Vegetables and Romesco Sauce

My 2nd main course: Le Volaille – Combination of Caramelised Chicken and Foie Gras with Spelt Risotto
I have to be honest, the only reason I ordered this dish was for the foie gras as I am no huge fan of poultry. I would have otherwise ordered the wagyu. Never would I imagine how one could combine the candid poultry with the splendid foie gras and create magic, but it happened. The chicken is rendered moist and tender, with the rich and creamy foie gras acting as the chicken's underlying layer of fat, then rolled up in its own skin that's expectedly well caramelised. It's served with spelt risotto, herb salad, garlic confit and a segment of chicken wing that's seemingly saturated in caramelised chicken jus.
The main course came with Joel Robuchon's highly raved mashed potato, thick and smooth, made with nothing less than the best French butter.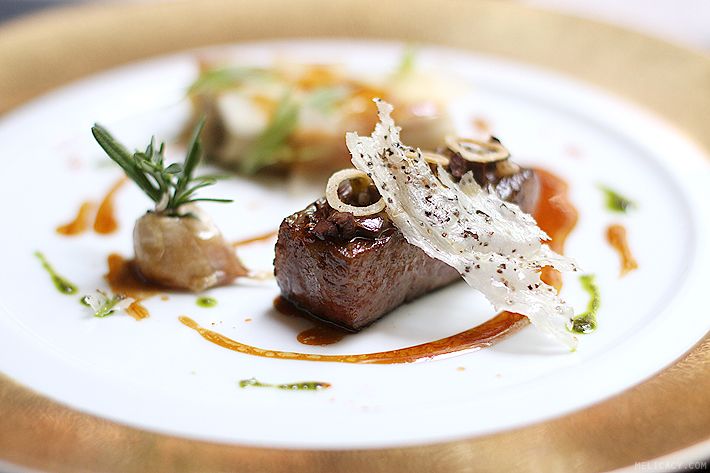 His 2nd main course: Grilled Wagyu Striploin with Aromates and Macaroni stuffed with Wild Mushrooms and Mizuna

His dessert: Le Sensation – Araguani Creamy Chocolate, Cocoa Sorbet Cookie Oreo
Another signature, Le Sensation is a stunning beauty that beguiles with the richness of dark araguani chocolate (72%), studded with cookie textures.

My dessert: Le Carioca – Fresh Papaya Lightness with Guava Mousse and Blackcurrant
Le Carioca came as a tangy and refreshing contrast to the chocolaty dessert, spiked with a bit of rum. Of course, we can't ignore the dramatic presentation.
As our meal comes to a close, we had the option of coffee or tea, accompanied by petit four, which were the truffle chocolate with coconut centre, Chinese black tea chocolate ganache, and orange blossom macaron.
Our dining experience was consistently outstanding throughout the meal, even with the coffee that was subtly acidic and highly aromatic. The staffs presented themselves very well, and extremely knowledgeable about the menu. Service is genuine and sincere with no arrogance. Every element in the restaurant has been well thought-of, including the sterling silver wine bucket, and glittering diamantes adorning the black table linens.
This is one of my greatest dining experiences of all time. From here, I am bent on embarking on Joel Robuchon Restaurants across the region and around the world.
For more information on Joel Robuchon Restaurant at Resorts World Sentosa Singapore, visit http://www.rwsentosa.com/Homepage/Restaurants/CelebrityChefs/JoëlRobuchonRestaurant
Joël Robuchon Restaurant
Level 1, Hotel Michael
8 Sentosa Gateway
Singapore 098269
Tel: (65) 6577 6688 or 6577 7888
Email: dining@rwsentosa.com or Robuchon@RWSentosa.com