Fragrance Black Pepper Crab
Brizo Restaurant & Bar at Park Hotel Clarke Quay is running its second season of crab buffet this year from 1 April to 28 June 2015, featuring a total of 22 crab dishes and a new star dish, "Crab in a Pan".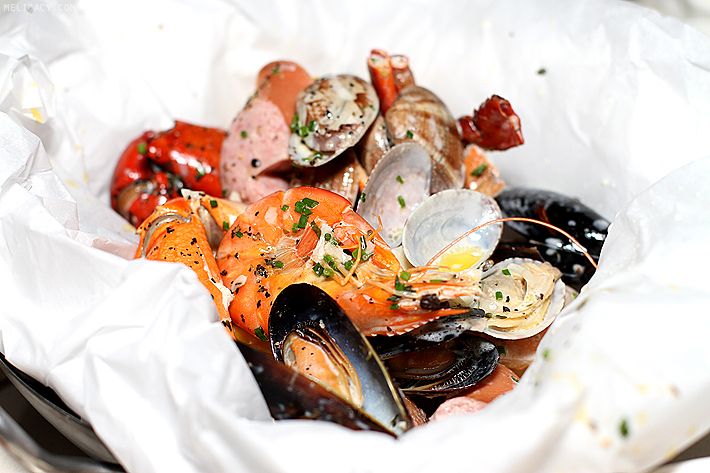 Crab in a Pan
Come in pairs to enjoy the Crab in a Pan. Cooked upon order, it comes brimming with a whole crab, prawns, clams, black mussels, potatoes, corn and sausages. You have a choice of sauce from Mariniere (onion, parsley, butter, celery, leek, white wine & cream), Bouillabaisse (fish stock, fennel, saffron, onion & pernod) and Cioppino (tomato paste, anchovies, celery, fennel & white wine). I picked Mariniere and enjoyed it thoroughly. This is available from Wednesday to Sunday during dinner only.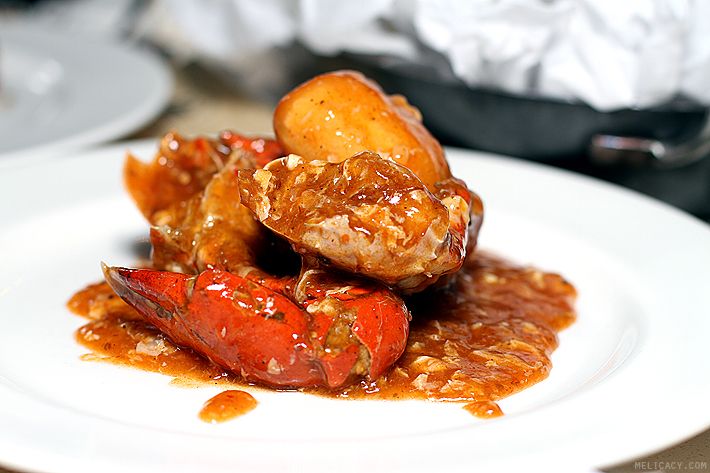 Brizo Signature Chilli Crab
All-time favourites include the Brizo Signature Chilli Crab paired with deep-fried man tou, Butter Crab with Fried Curry Leaves, and a personal top pick would be the Heavenly Fragrance Crab. For something more exotic, try the Indian Spice Flower Crab Masala, best paired with prata, papadum or keropok.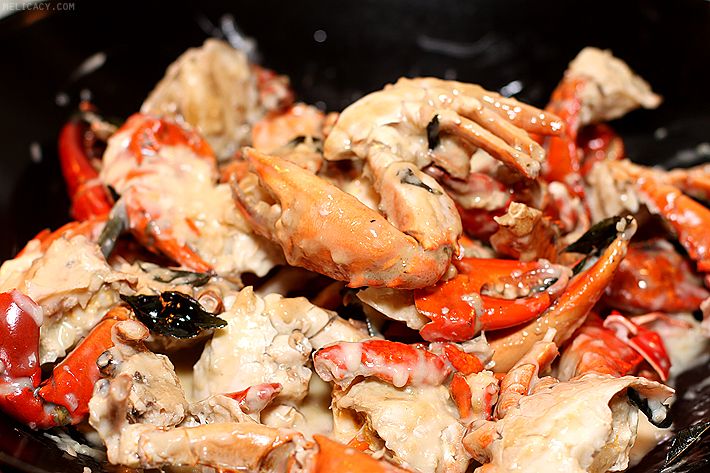 Butter Crab with Fried Curry Leaves
It is not often you can enjoy a huge array of crabs cooked in different styles for just one fixed price. The claws tend to get snagged up fast, but the restaurant is pretty efficient in replenishing the buffet line.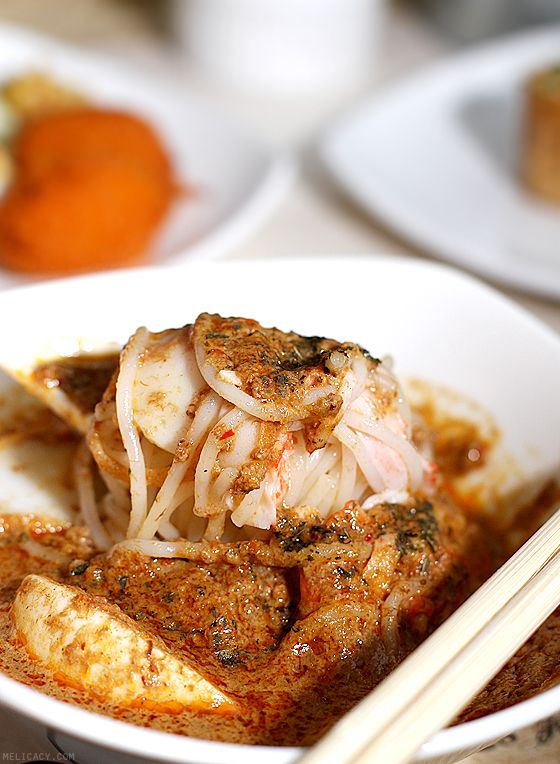 Brizo Signature Crab Meat Laksa
Brizo's Signature Crab Meat Laksa has gotten my nod of acceptance for its richness and aroma. This dish would fare better with crabmeat chunks as opposed to slivers of crabstick.
If you don't mind filling up on a bit of carbohydrates, the Fried Rice with Crabmeat is a must-have. The chef behind the wok deserves due credit for the smoky aroma clearly evident in each grain of rice, in which he displayed excellent wok skills. This is actually my favourite item on the buffet line, unfortunately also the item I had the least of due to limited stomach space. The comforting and creamy Baked Cauliflower with Crab Stick & Cheese is another personal favourite.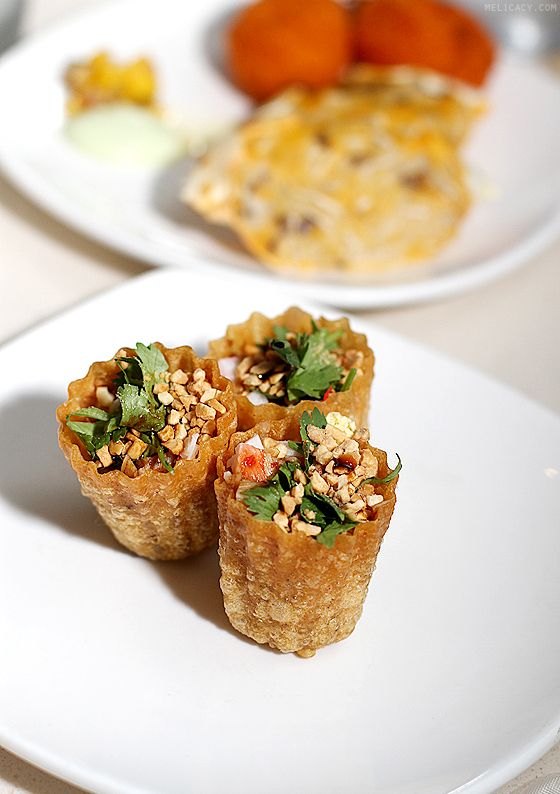 Baked Crab Shell, Breaded Crab Claws, Crab Pie Tee with Condiments
Light bites include the Crab Pie Tee, a novel take on the Kueh Pie Tee, as well as Breaded Crab Claw and Baked Crab Shell complemented by a range of dips such as the spicy Thai chilli & coriander, mango salsa, wasabi mayo, and chive & capers tartare.

Tom Yam Crab Meat & Mushroom Soup
As it is all about crabs, the soup is the invigorating Tom Yam Crab Meat & Mushroom Soup.
Other things to look forward to are seafood items on ice, featuring crabs like flower crab, spanner crab and Alaskan crab legs, aside from other shell fish like Chilean Prawn, Green Lip Mussels and Canadian Green Whelks. Also, enjoy unlimited servings of fresh salmon sashimi and an assortment of sushi.
Pre-assembled salads include the Crab Stick & Glass Noodle Salad, Crabmeat Salad with Tomato, Pickle Chilli & Cilantro, Waldorf Chicken Salad with Celery, or the Citrus & Fennel Salad.
For dessert, Brizo Durian Pengat and Chilled Melon with Sago are top picks. Other desserts include kueh lapis, macarons, cookies, jelly & mousse in shooters, and chocolate fountain. What I've always enjoyed at Brizo is their selection of ice cream, which includes individual and unlimited servings of Mini Cornetto, Mini Magnum in various flavours, and local Potong ice cream sticks.
On another note, diners stand to win a staycation at Park Hotel Clarke Quay when you share the most delicious (and prettiest) plates:
1) Snap a picture of what's on your plate and upload to instagram.
2) Hashtag #crabbuffetatpark and follow @parkhotelgroup
3) The person with the best photo wins a weekend staycation.
4) Entries have to be submitted anytime from 1st April to 28th June 2015.
Book early to enjoy the early bird discount of 20% off. Call Brizo at (65) 6593 8855 or email brizo.phcq@parkhotelgroup.com for reservations.
The crab buffet promotion is available from 1 April to 28 June 2015 for dinner (6.30pm to 10.30pm).
Pricing:
Wednesday to Thursday: $68++ per adult, $34++ per child
Friday to Sunday: $80++ per adult, $40++ per child.
Park Hotel Clarke Quay
1 Unity Street
Singapore 237983