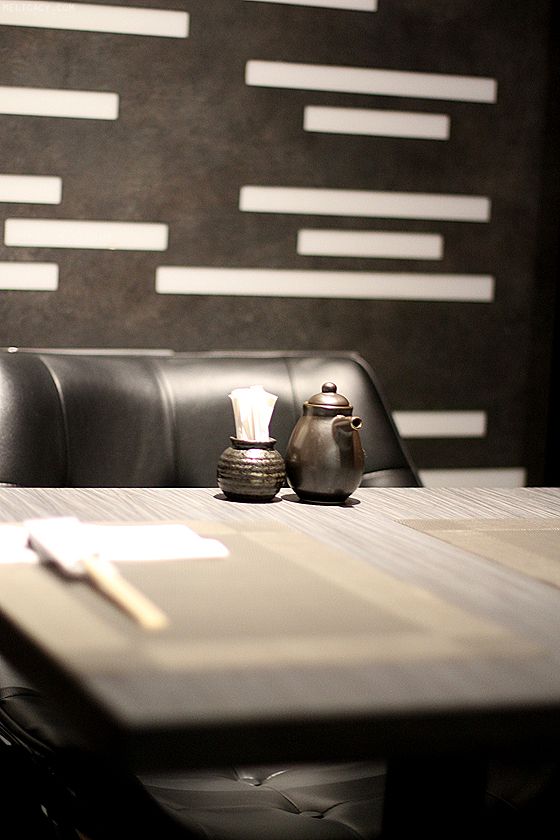 Palais Renaissance, positioned at a quieter corner along the bustling stretch of Orchard Road, has a new addition to its dining offerings. Ginzawa is a new Japanese concept underlining traditional Japanese fare with modern twists, and encompassing multiple facets of Japanese cuisine from kaiseki and seasonal omakase to lunch set dons and chirashis.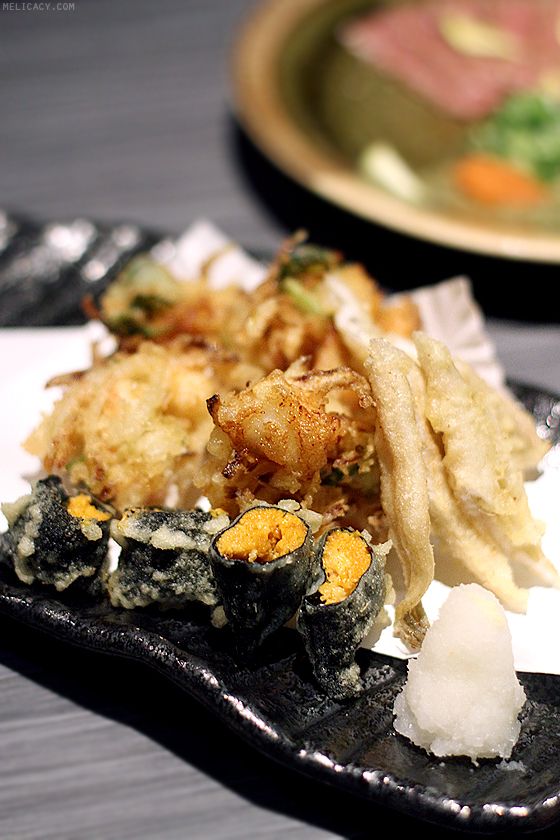 Deluxe Tempura Moriawasu ($35) – Anago Ippon Age, Uni Tempura, Amaebi Hotate Kakiage
The menu consists of sections dedicated to steamed, grilled, sushi and tempura dishes. Also available are seasonal offerings that allow the chef to showcase his creativity and culinary techniques. The man behind these dishes is veteran Chef Donny Tan, whom has accumulated over 30 years of culinary experience at Japanese restaurants in the US, Europe, Japan and Singapore.

Sake Kinuta Maki ($12)
Kick-start the meal with the palate-and-mind-teasing Sake Kinuta Maki, consisting of clear distinct layers of salmon wrapped in a delicate slice of pickled daikon with seaweed and chrysanthemum at its epicentre, served with a seductive egg yolk sauce that enriches each mouthful.

Sakura Ebi Mizuna Salad ($22)
Of a heartier starter portion is the Sakura Ebi Mizuna Salad, which makes a meal on its own, but great for sharing. A heap of fresh greens tossed in a light and appetising dressing of mirin, dashi and soy sauce, is made even more appealing with the fragrant and crunchy cherry blossom shrimps and crispy garlic flakes.
For crunchy pleasures, order the Deluxe Tempura Moriawasu ($35) that comes with an assortment of tempura including Anago Ippon Age, Amaebi Hotate Kakiage, and the highly coveted Uni Tempura of crisp seaweed filled with lusciously rich, creamy and opulent uni.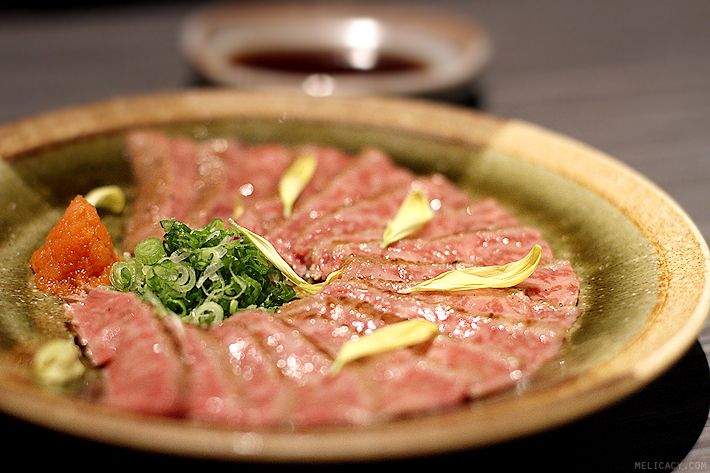 Wagyu Beef Tataki ($30) – served with ponzu sauce
Wagyu beef has stolen my heart a long time ago, and I rarely took fancy of any other beef since then. My dining partner, who used to not like eating beef, is now a convert because of the magnificence of wagyu. To fully appreciate wagyu beef, order the the Wagyu Beef Tataki that's lightly seared on the outer layer and thinly sliced, revealing the splendid marbling one would marvel at.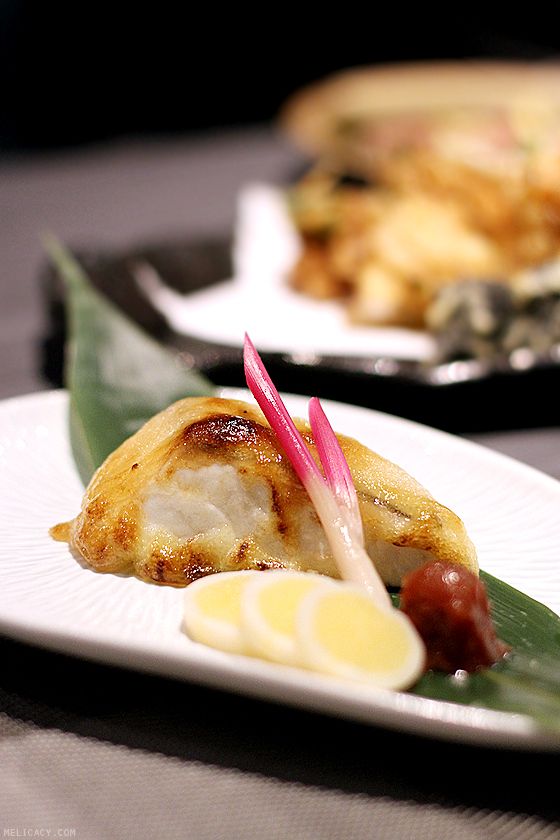 Tai Moto Yaki ($22)
Another top pick would be the Tai Moto Yaki of grilled snapper fillet brushed with the crowning glory of caramelised egg yolk sauce and served with a crisp juicy squid ring stuffed with shishamo roe.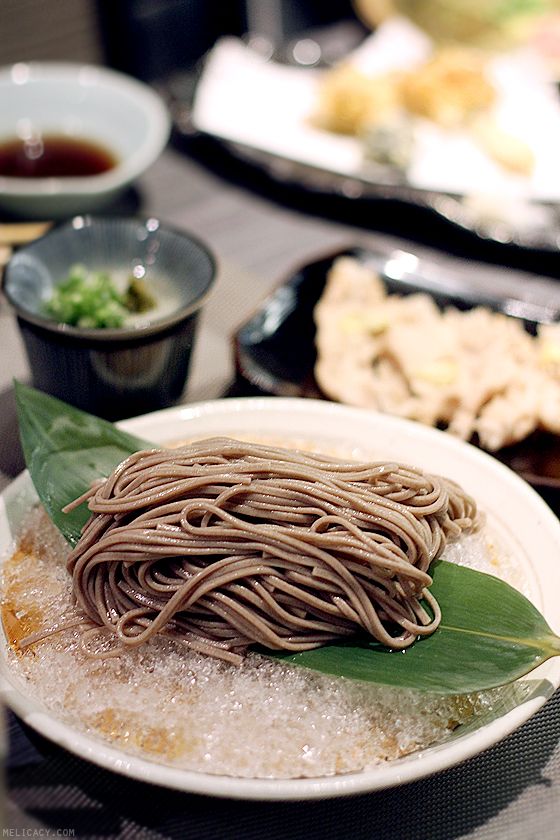 Kurobuta Tsuke Soba ($20)
The Kurobuta Tsuke Soba dish pairs the cold buckwheat noodle with thinly sliced kurobuta (black pork), alongside a hot yuzu-perfumed sauce for immersing pleasures.

Tokusen Hokkai Chirashi Don ($50)
The lavish Tokusen Hokkai Chirashi Don is a showstopper, featuring 11 types of premium seafood sashimi includig Otoro (fatty tuna), kinmedai (alfonsino), shima aji (striped jack), hirame (flounder), tai (sea bream), uni, ikura (salmon roe), botan ebi (botan shrimp), akami (red tuna), scallop (hotate), zuwai kani (wild Alaskan snow crab). This dish comes in lunch set that includes miso soup, chawanmushi and dessert. What a substantial meal!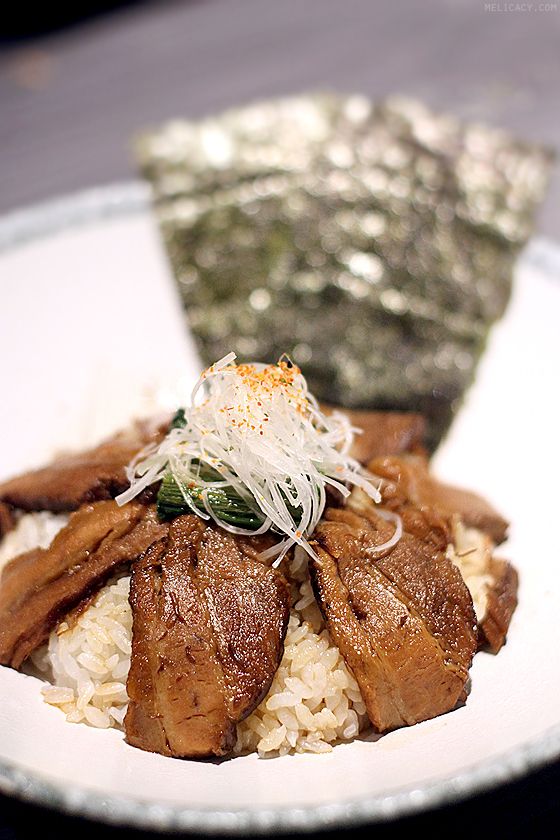 Kurobuta Zaku Don ($35)
The Kurobuta Zaku Don comes as a pleasant surprise. We rarely see this dish at Japanese restaurants, but apparently this is a dish a typical Japanese family would have at home. Sliced pork belly, the premium kurobuta pork in this case, is braised for eight hours to reach the ultimate tender texture. The bonito-based sauce that's drizzled over the pork belly has been simmered for 10 hours –that explains its intense flavour. Many Singaporeans would be able to pick out familiar flavours in this dish, and reminded of home. This dish is available in lunch set that comes with miso soup, chawanmushi and dessert.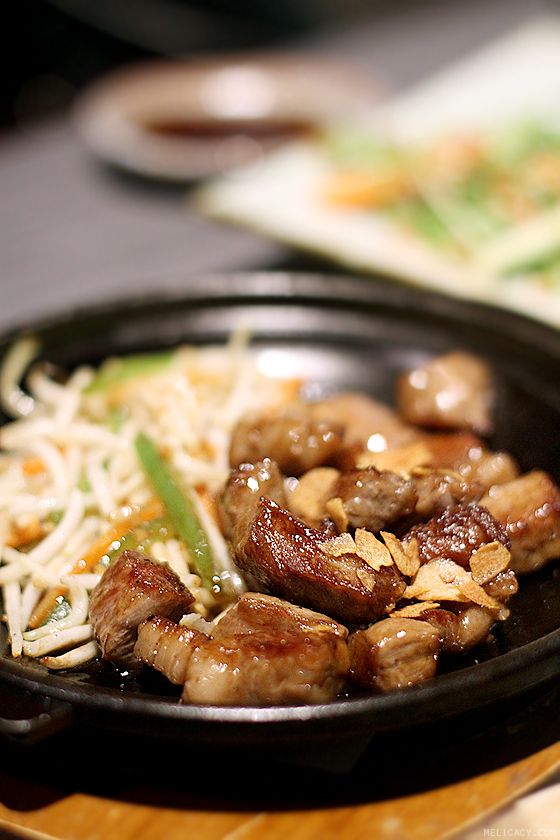 Wagyu Saikoro ($48)
Wagyu beef lovers should also not miss out on the Wagyu Saikoro, served in a hotplate sizzling with grilled cubes of tender Japanese A5 wagyu beef sprinkled with crispy garlic flakes and stir-fried bean sprouts alongside.

Panna Cotta
The dessert of the day was the silky smooth and creamy Panna Cotta, summing up the meal on a good note. We heard the restaurant manager makes good mochi –it's off the menu but you can try requesting for it.
The restaurant is not huge, but the wise space planning allows for dining groups of various sizes. Booth seats seat four, while the private dining room, ideal for small intimate gatherings, caters to up to eight. A long bar counter allows diners to interact with the team of chefs,
Ginzawa
Palais Renaissance
#01-06/07, 390 Orchard Road
Singapore 238871
Tel: (65) 6736 0100
Email: info@ginzawa.com
Website: ginzawa.com
Facebook: facebook.com/ginzawa
Instagram: instagram.com/ginzawa (#ginzawasg)
Opening hours: 12pm to 3pm and 6pm to 10.30pm daily