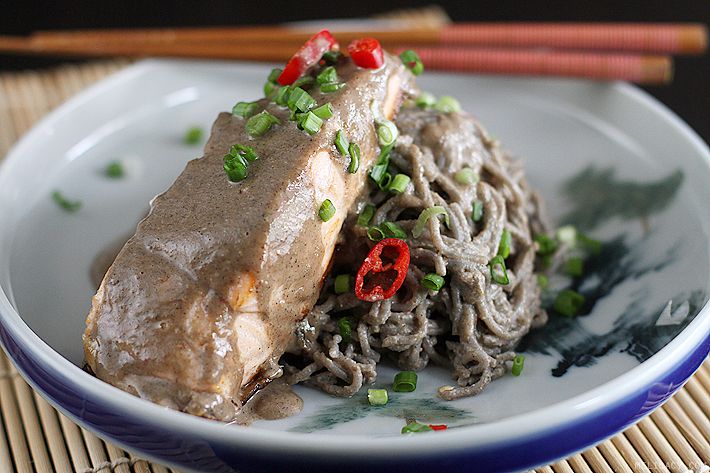 If you have been following me on Instagram, you are probably aware that I've been experimenting a lot with the Philips Noodle Maker since a few months ago. I started with the simple "egg, water and flour" noodle and whipped up many successful noodle dishes from this one simple type of noodle – many of which inspired from local hawker fare, and some are personal tweaks from the recipe book that came with the Philips Noodle Maker – but I never felt extremely proud of any of my creations and neither will I claim credit for the wonderful recipes that the recipe books have provided. The dish of black sesame noodles with peanut sauce is one of my most satisfying creations.

This recipe is inspired by the jet-black squid ink noodles, but veers towards Asian flavours; black sesame noodles, paired with a creamy peanut sauce, which can easily be complemented by a range of meats or seafood such as chicken, fish and prawn.
Ingredients for Black Sesame Noodles:
(Part 1)
– 2 tablespoons black sesame seeds
– Water (just enough to blend into a smooth paste)
(Part 2)
– Paste from part 1
– 1 egg
– Water if needed to fill the measuring cup to the marking
Method:
First, you blend a couple of tablespoons of black sesame seeds with a touch of water till smooth.
Then make a portion of noodles by adding an egg and top it off with the black sesame blend, using the Philips Noodle Maker measuring cup provided.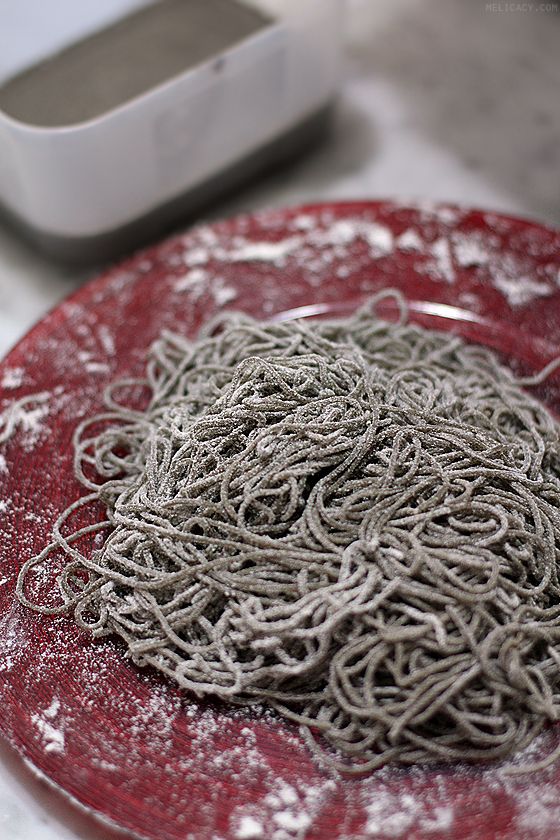 I dusted the uncooked noodles with flour to prevent them from sticking and clumping.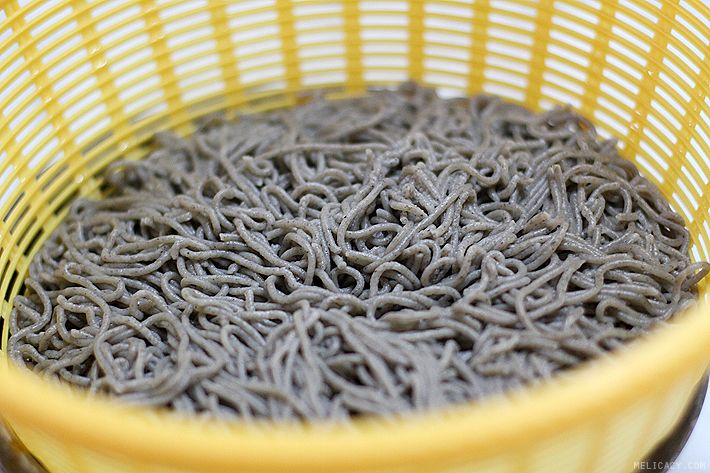 Throw the noodles into boiling water for about 3 minutes, drain, and rinse under tap water. I like to add a pinch of salt in the boiling water.
For the sauce, you need:
– ½ cup crunchy peanut butter
– 2 tablespoon soy sauce
– A little water (amount depends on your preferred thickness of the sauce)
– 1 tablespoon chopped peeled fresh ginger
– ½ garlic, peeled into individual cloves
– 2 teaspoon maple syrup
– 1 chilli padi, sliced (use normal big chilli for less heat)
– 2 tablespoons black sesame oil
– 1 teaspoon of black sesame seeds
Blend the ingredients into a smooth consistency.
For the meaty component, I simply seared a fillet of salmon till nicely crisp on the skin and drizzled the sauce all over. Garnish the dish with chopped spring onion and sliced red chilli. I also tried this dish with prawns, in which I simply stir-fried with garlic and plated with the noodles, drizzling the sauce all over for the finishing touch.
I've also experimented with our local hawker favourite, Laksa, which I will soon share with you my own interpretation. I'm constantly inspired to come up with exciting new noodle dishes! Do let me know what you think of the outcome if you've tried this recipe.