Laksa is known to be tedious to prepare. The key to a great laksa is in the gravy, which is made up of a medley of spices and aromatics, blended into a paste. In the olden days, they use the mortar and pestle to crush and grind the ingredients, but now with new technology and kitchen gadgets like the food processor, less effort is required. Here's the recipe for the spice paste as well as a laksa leaf-infused noodle that you can make at home from scratch, for modern day homecooks like myself.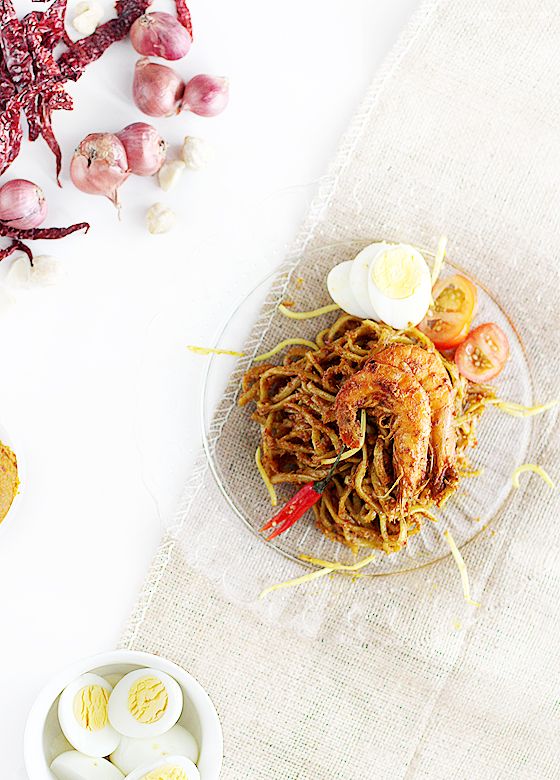 Scroll to the bottom for the dry stir-fry version.
Spice Paste (Rempah in Malay)
-Serves 4 to 6
– 2 tablespoon ground turmeric (or 1 tablespoon of fresh turmeric, peeled)
– 10 slices of galangal
– 25 pieces dried red chillies, pre-soaked in water to soften
– 7 candlenuts
– 500g shallots
– 5 stalks of lemongrass (just the bottom white part, chopped)
– 1 tablespoon of ground coriander
– A handful of laksa leaves
– A pinch of salt
– A handful of dried prawn, pre-toasted in pan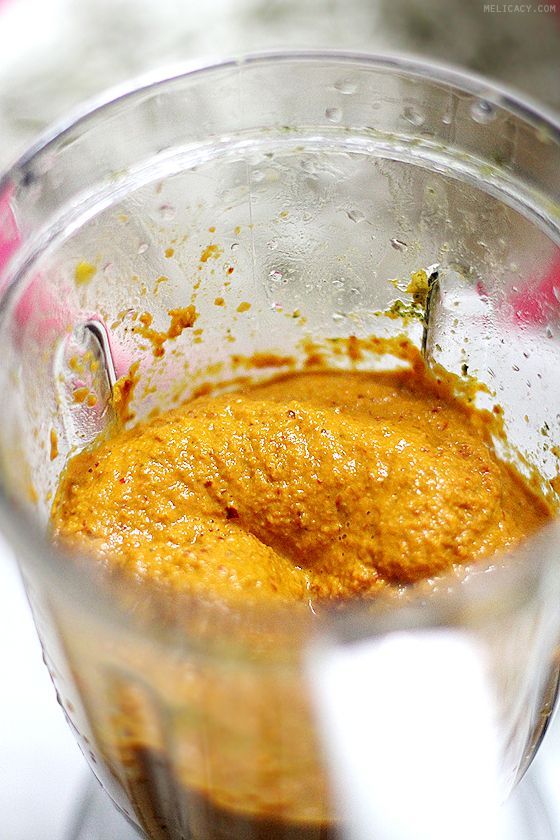 Blend all the ingredients till it becomes a paste. Heat up a wok with about 4 tablespoons of oil and fry the paste for about 30 minutes on low heat till fragrant.
I would usually make a big portion of the spice paste and keep the remainder in the freezer so I can use it instantly whenever the craving strikes.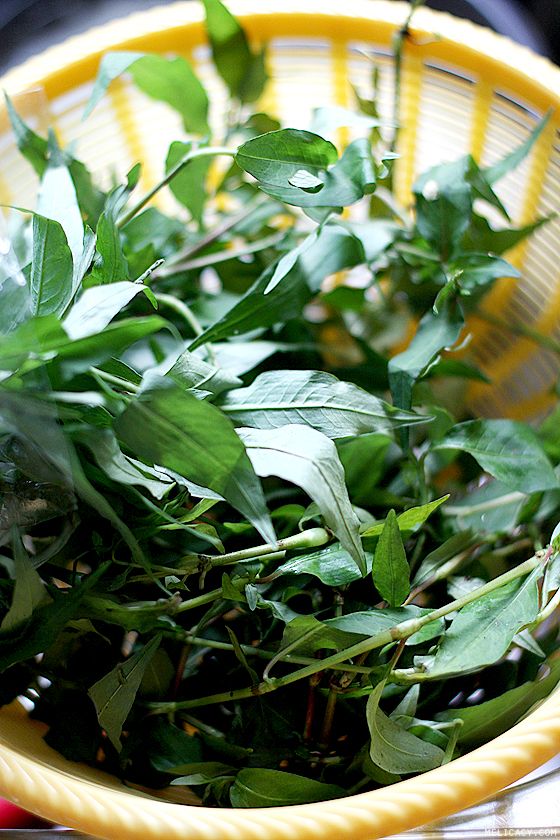 For the noodles, instead of using the typical thick vermicelli, I made a laksa leaves-infused noodle using the Philips Advance Collection Noodle Maker.
Laksa leaf-infused Noodle:
– 100g laksa leaves (just the leaves without the stalk)
– 2 cups of flour (using the cup provided for flour measurements)
– Water
First, blend the laksa leaves with just enough water to form a smooth puree.
First, add 2 portions of plain flour into the noodle maker. In the other cup provided for liquids, add the laksa leaf puree with some water till it reaches the maximum point marked for two portions of flour.
Set it to churn for 8 minutes for bouncy noodles. Add the liquid while the machine is churning so everything gets mixed in nicely.
Cook noodles for 3 minutes, drain and set aside.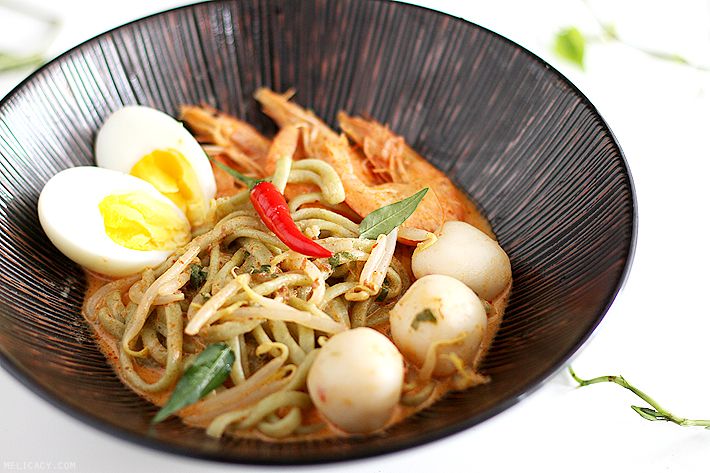 For the gravy version, simply add 3 tablespoons (or to your liking) of prepped spice paste with 100g of coconut milk and bring to a simmer. Add prawns, sliced fishcake or fishballs, beansprouts and a few laksa leaves. When prawns are cooked, add noodles for a minute and it's ready to be served. Garnish with hard-boiled egg, laksa leaf and red chilli.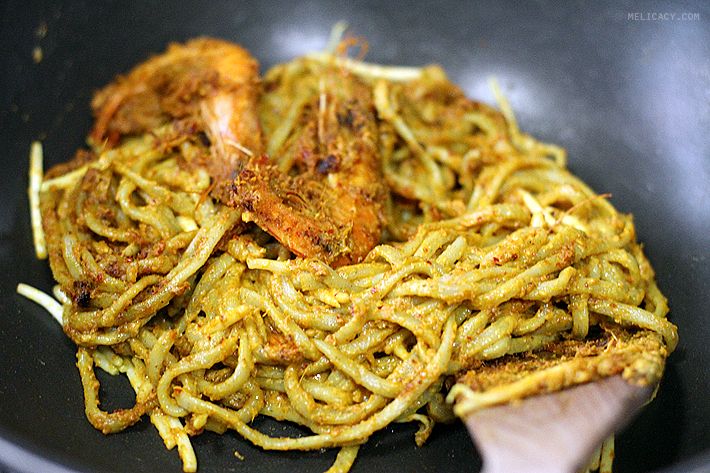 For the dry version, stir-fry the noodles, prawns, sliced fishcake, laksa leaves and beansprouts with 3 tablespoons of spice paste (or to your liking), then add 1-2 tablespoons of coconut milk to moisten up.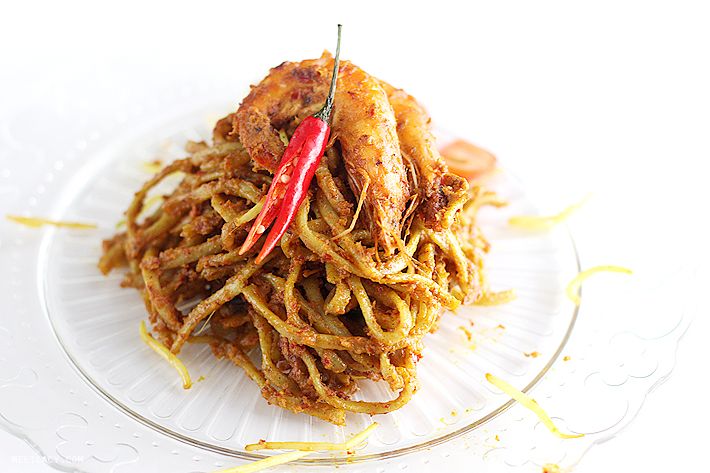 To serve, garnish with red chilli and laksa leaves.
Alternatively, if you find making the paste too much of a hassle, there's always ready-to-cook pastes, such as the one from Dancing Chef!