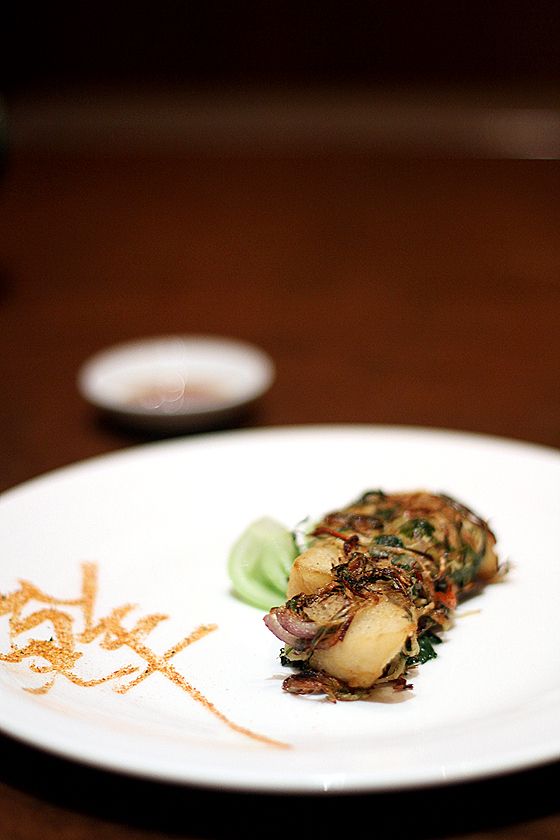 Being based overseas and now returning to Singapore for a short break, there is just so much I want to eat here, but so little time! For this reason I've got to be extra selective on dining options, more so than before. Jade Restaurant at The Fullerton Hotel, Singapore is one of the places where one can expect elegant Chinese cuisine with originality, and excellent service. Since my first encounter, Chef Leong Chee Yeng never fails to impress with his culinary artistry, his dedication, and fervent attention to detail. His culinary creations seem to possess the power to draw one back to experience recurrent brilliance and in anticipation for more pleasant surprises. This trip, I was just in time for the "Flavours of Chinese Spices" promotion that runs from 9 November till 30 November 2015.
The meal begins with the Tasty Trio Combination of Deep-fried Chilli Crab Meat Ball (one of their signatures) that won many hearts and continues winning hearts with its crusty breaded exterior, loaded with shredded crabmeat smothered in thick sweet and lightly spicy gravy that rounds off with a fragrant hint of lemongrass and ginger, Pomelo and Mango Salad topped with Crispy Peking Duck Skin that entices with the sweetness from the mango, tanginess from the pomelo, and the well-loved savouriness and crispness of the classic peking duck, and the well-liked Crispy Prawn coated with Chocolate Mayonnaise and Oat, an unusual combination, chocolate and prawn, but didn't taste exotic at all.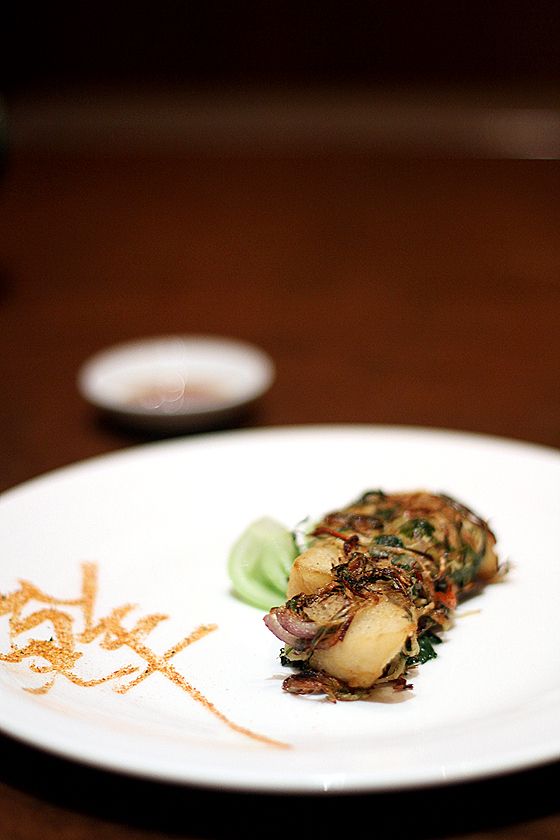 The Pan Fried Seven Spiced Garoupa in the picture above is pan fried to a golden brown and wrapped in an artistic mesh of spring onion, shallot, chilli, and chives.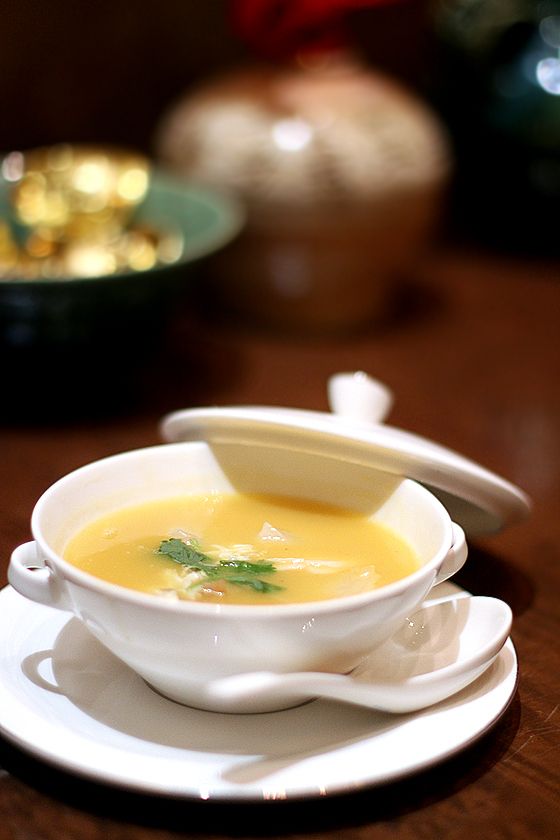 The soup of Braised Abalone, Sea Cucumber, Duo Fish Maw and Dried Scallop in Superior Broth brings a great amount of comfort, psychologically and physically. Every sip of this rich, warm broth brings to mind how soups always make one feel better when they're feeling down or unwell. The flavour of the broth has reached its optimal peak, boiled for over 6 hours. The yellowish hue comes from yellow carrots, while the thickness comes from the collagen from chicken and its bones. Adding to its grandeur is a whole abalone, sea cucumber, fish maw and dried scallop.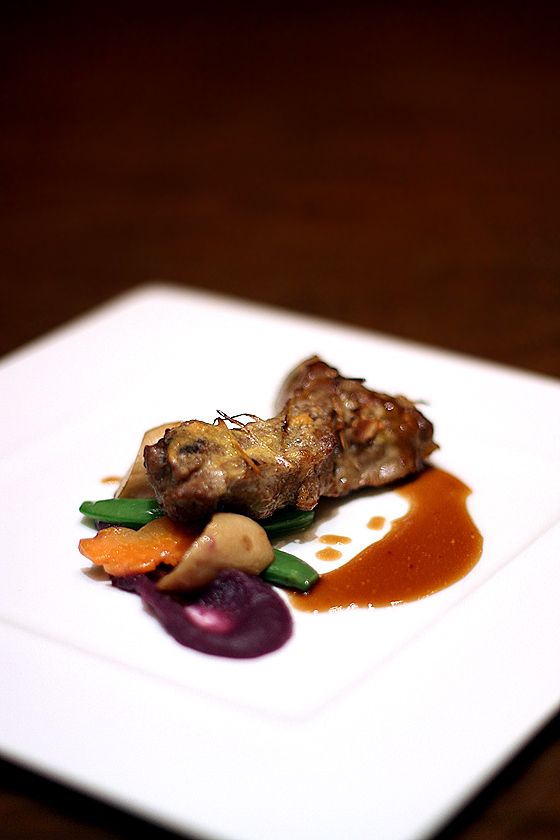 The Oven-baked Lemongrass flavoured Pork Ribs appears tough, but what's put in the mouth gives a whole different experience. The meat is pretty lean with a nice ratio of well-distributed fat, nicely browned on the surface, tender within, with little resistance when chewing.
The Simmered Egg Noodle with River King Prawn in Traditional Style gained quite a bit of popularity on our table. Wanton noodles are fried and simmered for an enhanced umami flavour. The star of the dish is the sizeable prawn, and its essence that blankets the dish with its richness.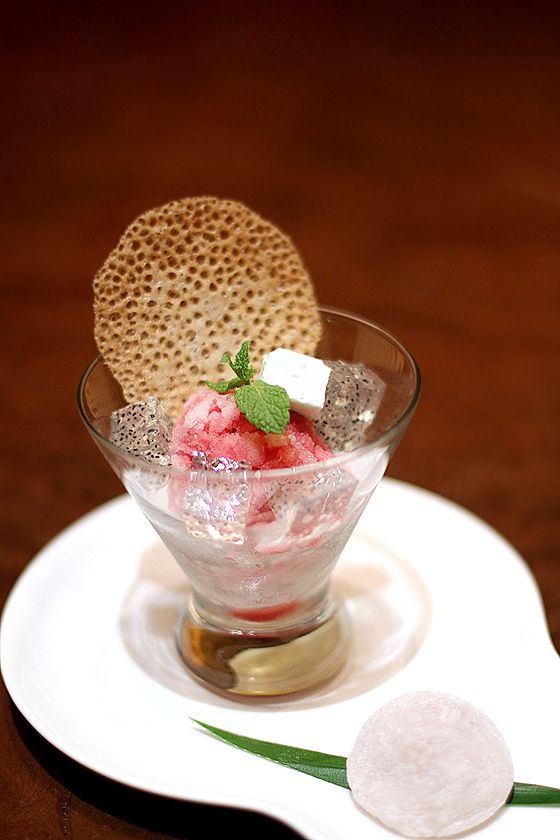 Dessert-wise, I LOVED it! The Roselle Sorbet is refreshing and boasts its own distinctive floral note. Notable toppings include a jelly made with basil seeds, and pandan-flavoured marshmallow, all made in-house, accompanied with Jade Restaurant's famous Glutinous Rice Ball with Walnut Filling.
Jade Restaurant's "Flavours of Chinese Spices Feast" 6-course meal is available from now till 30 November, dinner from 6.30pm to 10.30pm, at $98++ per person. For reservations, call (65) 6877 8188 or email jade@fullertonhotel.com