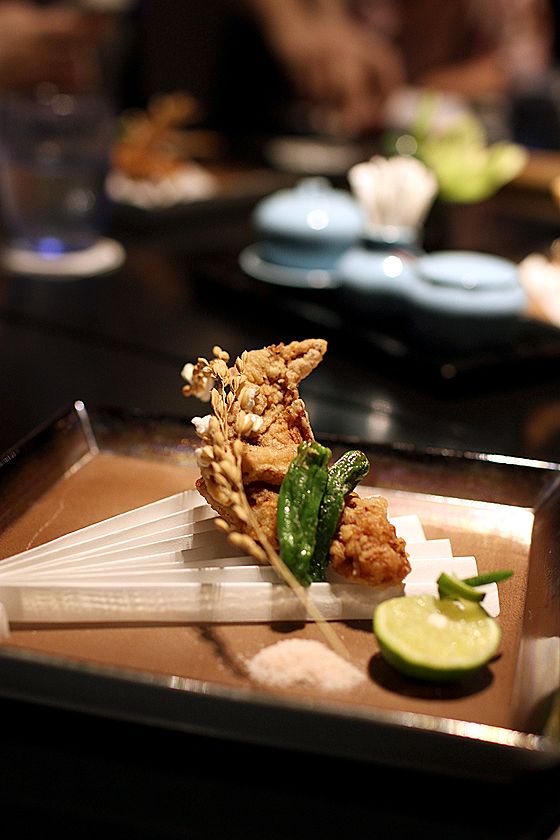 The exotic Fugu (pufferfish or globefish), is extremely lethal if not prepared with extreme caution, and only chefs who have obtained a license and have gone through years of apprenticeships can serve fugu. Chef Moon of Mikuni at Fairmont Singapore is one such licensed chef with heaps of culinary talent and creative power. This winter, Mikuni draws on the fruitful supply of fugu and brings forth a Grand Tasting 8-course menu ($220 per person or $310 with sake pairing) that celebrates various parts of the Fugu anatomy, showcasing Chef Moon's artistic strength in blending modern and centuries-old Japanese culinary techniques seamlessly.

Otoushi – Globefish Skin Jelly, Miso, Sushi Ball, Fugu Mirin Boshi, Caviar
The meal begins with "small bites" of jelly made from fish bone broth brimming of collagen goodness, sliced fugu on a sushi ball, and sun-dried fugu saturated in mirin topped with tuna belly tartar and caviar, a beautiful combination of taste and texture.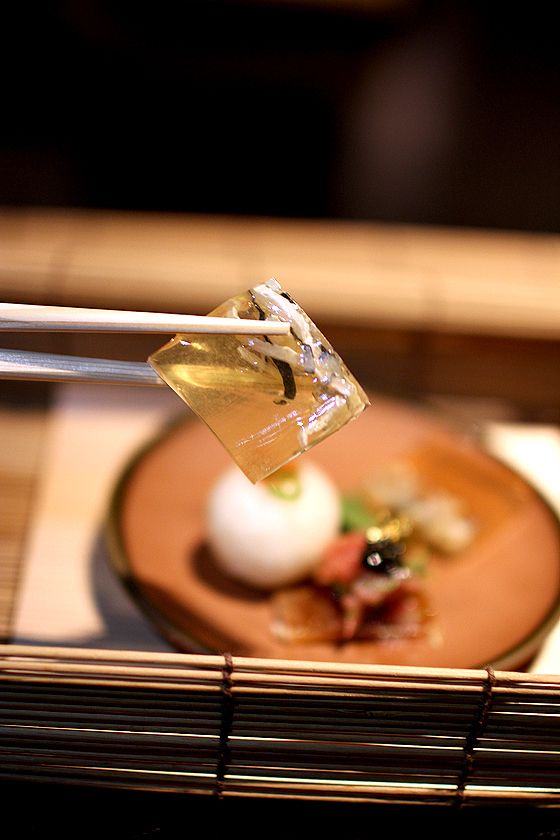 Here's a close-up of the jelly made from fish bone broth – you get a mild saltiness and fresh fish flavour without any unpleasant fishiness.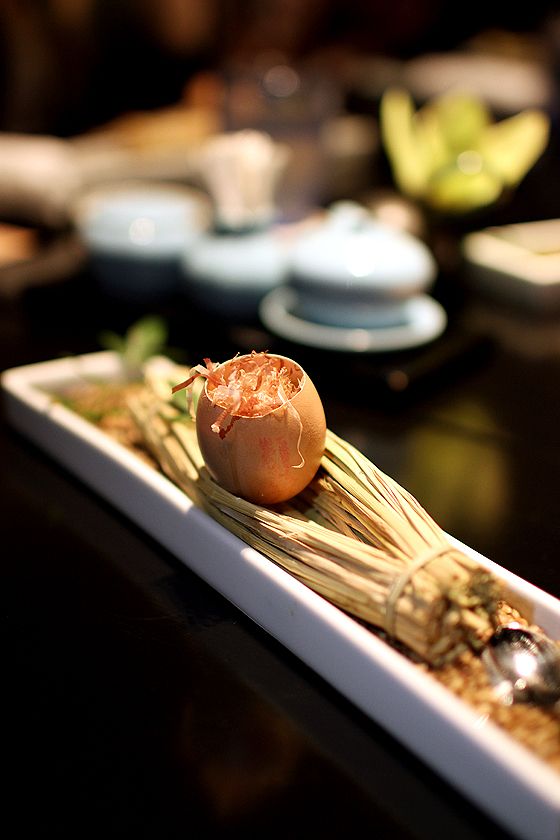 Globefish Shirako Egg Custard with Yuzu
The second part of the first course is beautifully and rustically presented – delicate steamed egg custard married with globefish roe and topped with bonito flakes, with a hint of citrus fragrance cutting through.

Tataki – Tataki Globefish, Seasonal Japanese Mini Cabbage, Globefish Skin, Moro Miso
Next up, the lightly seared and thinly sliced globefish comes wrapping around julienned chewy fugu skin, served with refreshing crunchy cabbage and the umami-rich moro (barley) miso. Eat this all in one mouthful to enjoy the textures and flavours coming together.

Sashimi – Seasonal Tokusen Sashimi Toro, Yellowtail
Mikuni never disappoints when it comes to the unparalleled quality of sashimi. Needn't say more!

Sashimi – Globefish Sashimi, Baby Leek, Ponzu
Diners get to play with their food with this course. Roll up the globefish sashimi that is sliced thinly and almost translucent, with baby leek and julienned globefish skin, and dip it in the accompanying ponzu sauce.

Grill – Miyazaki Wagyu Rib-Eye, Seasonal Vegetables, Organic Beetroot, Yam, Chestnut, Garlic, Gingko Nut
This is one of my favourite courses although there's no fugu in it. Chef Moon decides to give diners a break from fugu with the marvellously marbled Grade 5 Miyazaki Wagyu Rib-Eye, served with a colourful bounty of Japanese potatoes, vegetables and beetroot. What's not to love about wagyu?

Deep-fried – Globefish Karaage, Japanese Sweet Green Chilli
The crispy Globefish Karaage is up next, simply coated in cornstarch and seasoned with sakura salt, and deep-fried till golden brown.

Hot-Pot – "Fugu Chiri Nabe" Globefish Hot Pot
Then comes the comforting hotpot with chunky fugu meat in a clear and light broth.

Rice – Hokkaido Sea Urchin, Takana Onigiri
The rice dish has been thoughtfully packaged in a way that diners can choose to bring it home to enjoy if they find that their stomach capacities have reached the limit. The full-flavoured sea urchin infused rice wrapped within the nori is bound to win hearts.

Dessert – Hokkaido Organic Yogurt, Strawberry, Blueberry, Orange, Wine Jelly
To end the meal, the refreshing dessert of Hokkaido Organic Yogurt with strawberry, blueberry, orange segments and the most delightful wine jelly takes Singaporeans' love for frozen yoghurt to the next level.
This Grand Tasting menu is available from now till the end of January 2016.
Mikuni
Level 3, Fairmont Singapore
80 Bras Basah Road, Singapore 189560
Tel: (65) 6431 6156
Reservations email: dining.singapore@fairmont.com
Opening hours: 12pm to 2.30pm and 6.30pm to 10.30pm