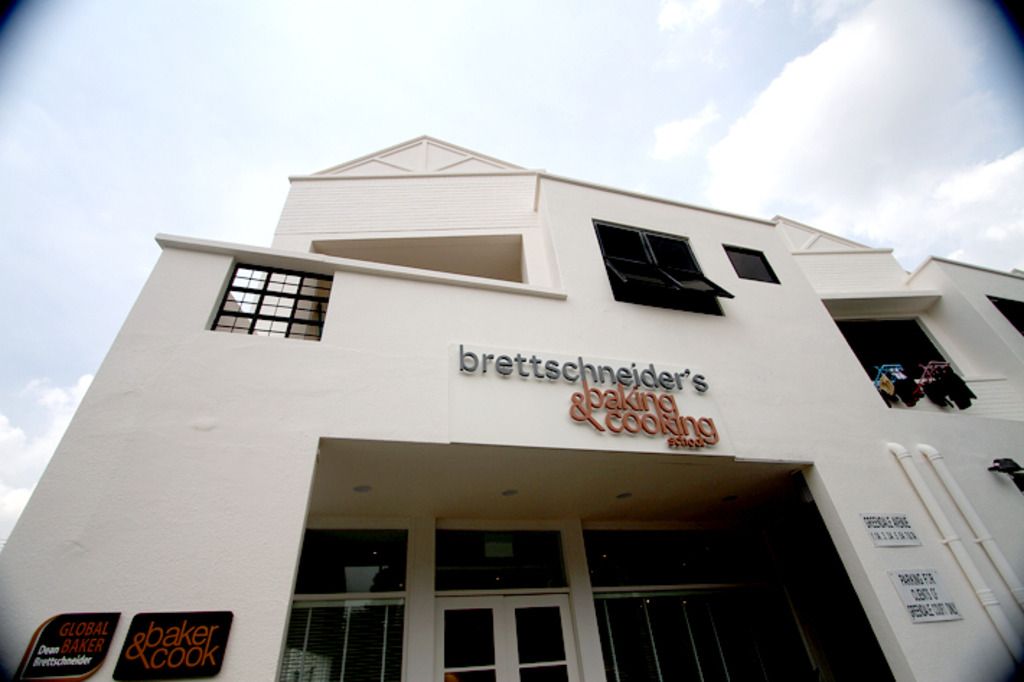 Brettschneider's Baking & Cooking School is where you can achieve your baking goals without having to part with a hefty sum of school fees that you would otherwise have to, at say Le Cordon Bleu, which is the ultimate choice for those who aspire to bake as a career. This is the perfect place for passionate home-cooks and home-bakers who want to take their skills up a notch.

The founder, Dean Brettschneider, is also the co-owner and founder of Baker & Cook. He will be imparting his brilliant baking skills such as Bread Baking, Italian Flatbreads & Pizza Making, Classic Cakes, Pies & Tarts, Patisserie & Pastry, and Croissants & Danish Pastry (2-day Intensive). If you ever want to impress someone with a homemade treat, attending one of these classes should give you an edge!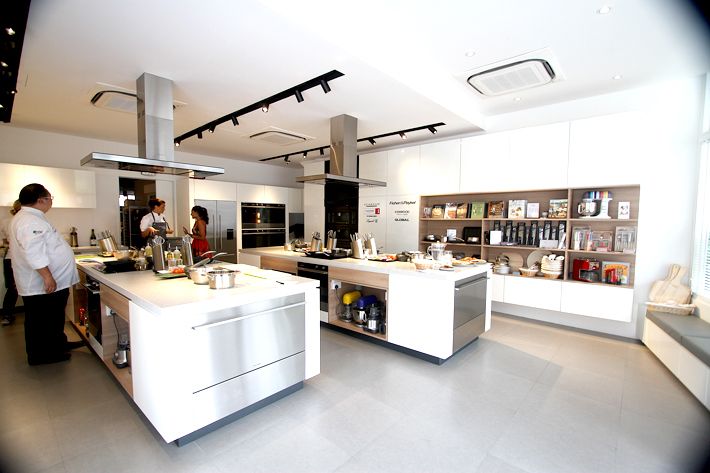 Classes are small and intimate. The best way to learn is not by watching a demonstration, but by practicing! Hence, hands-on classes are optimum for learning. With top-notch equipment provided, and quality ingredients individually portioned, all you need to do is watch, follow instructions, and you'll be rewarded with a sumptuous meal at the end of the session, and knowledge and skills to take home with you.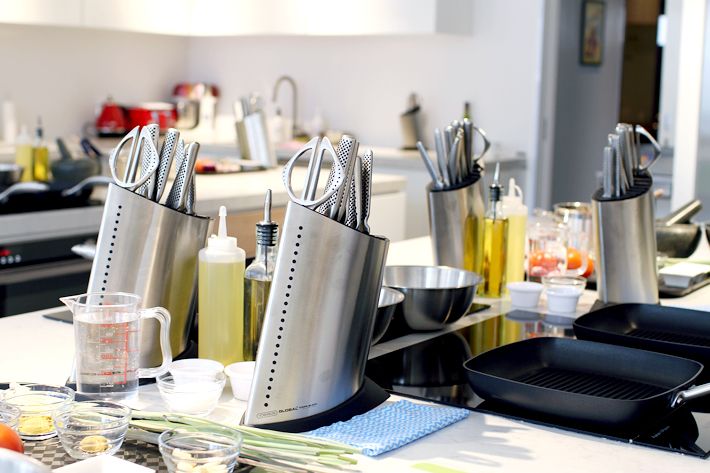 Global knives are used here! Lightweight, sleek, and really sharp. Global knives are also used in the Masterchef studio by the way!
By the end of the cooking class, a long table will be set up, where you'll enjoy your culinary creations accompanied by drinks/wine.
While Dean conducts most of the classes, he also partners with chef friends such as Italian Chef Lino Sauro who will be teaching pasta-making, Terri-Anne Leske who emphasises on healthy eating, and Jenna White who will be guiding you to making the perfect macarons.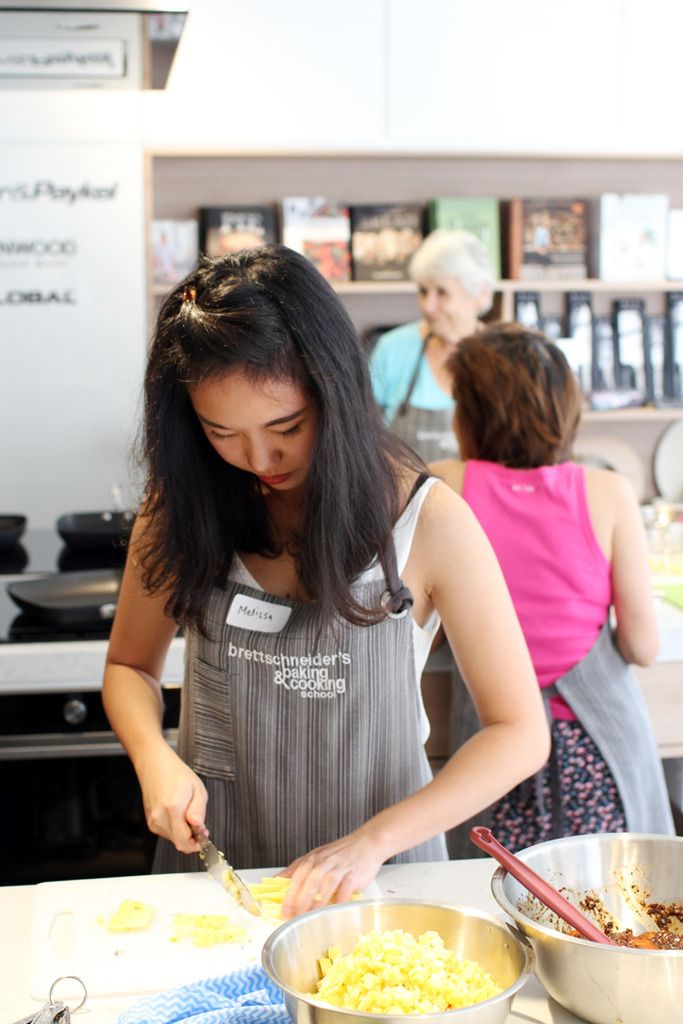 When I was back in Singapore last May, I happen to be able to make it for one of Singapore's top chefs, Chef Eric Neo's (InterContinental Hotel's Executive Chef) class! This is where Singapore flavours take centre stage.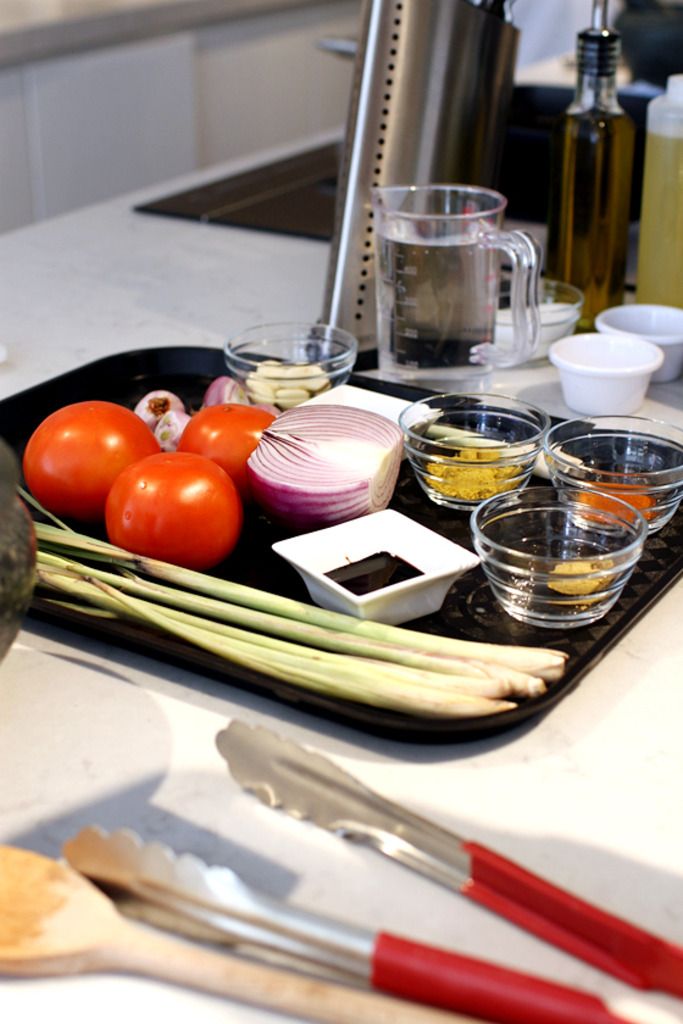 Satay (skewered meat) is amongst the popular dishes in Singapore. While it's usually sold as chicken, beef, or mutton satay, Chef Eric Neo decided to do a fish version. After experimenting on various fish species, he concluded that salmon works best.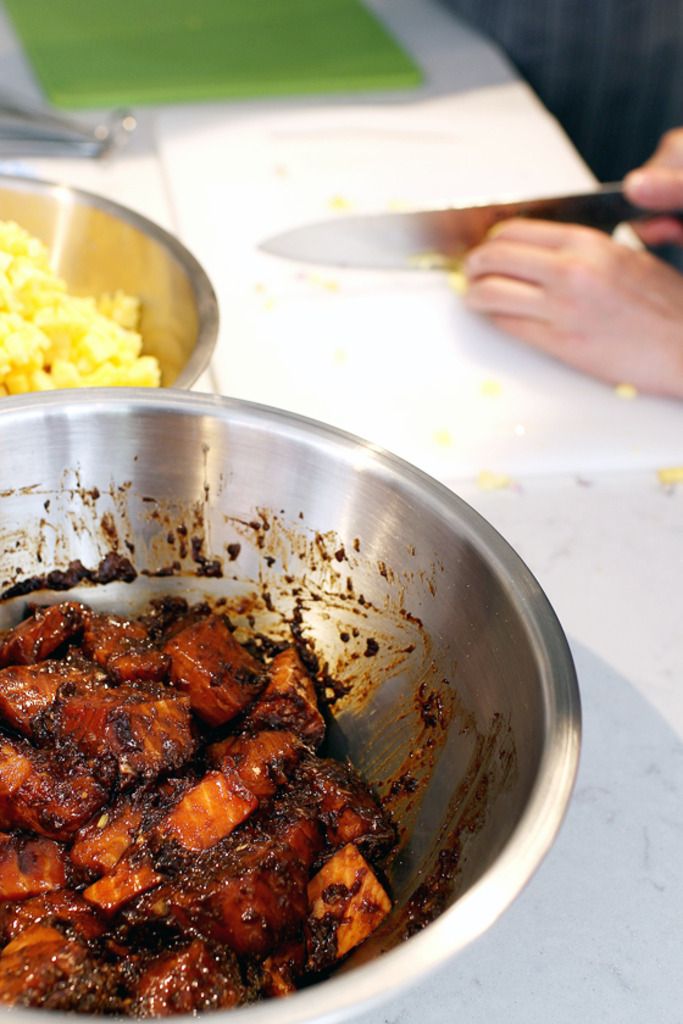 We made a paste out of sweet dark soy sauce (kecap manis), lemongrass, chilli, coriander powder, shallots, garlic, and oyster sauce, which was then used to marinate thick chunks of salmon.
After which, we used the stalk of the lemongrass as the "skewer". What an ingenious way to infuse the fish with lemongrass aroma!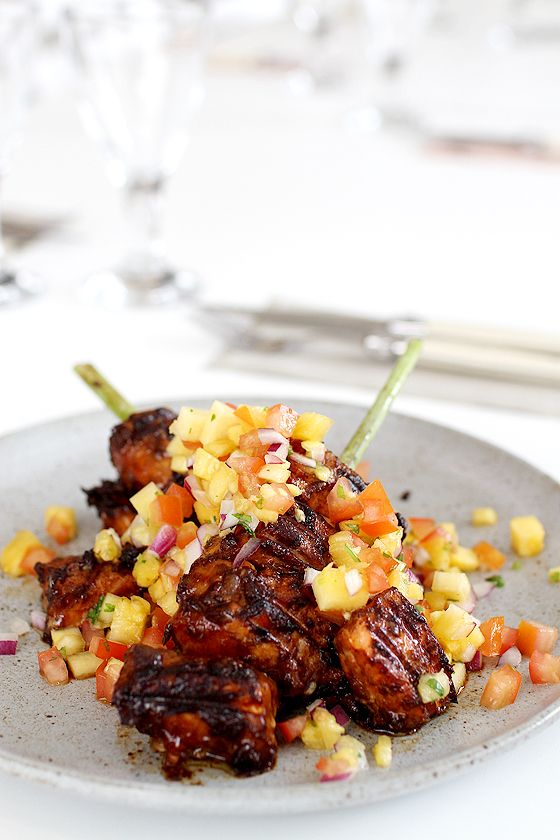 Finally, it's time to show off your plating skills.
The salmon satay is paired with a sweet and tangy pineapple salsa that we made earlier on, consisting of diced pineapple, red onion, tomato, fresh chopped coriander, and a drizzle of olive oil.
On another note, the bright cooking studio with plenty of natural light is perfect for food photography!
There are merchandise for sale too, if you're interested in the equipment used in class. Also, do check out Dean's range of cookbooks! I rely heavily on his book "PIE" when it comes to baking those comforting treats.
For more information about the cooking school, visit: http://www.bakingandcookingschool.com/
For the list of classes and dates, click here: http://www.bakingandcookingschool.com/index.php/classes
Brettschneider's Baking & Cooking School
1 Greendale Avenue
Singapore 289495
Tel: +65 6463 5508
Email: enquiry@bakingandcookingschool.com