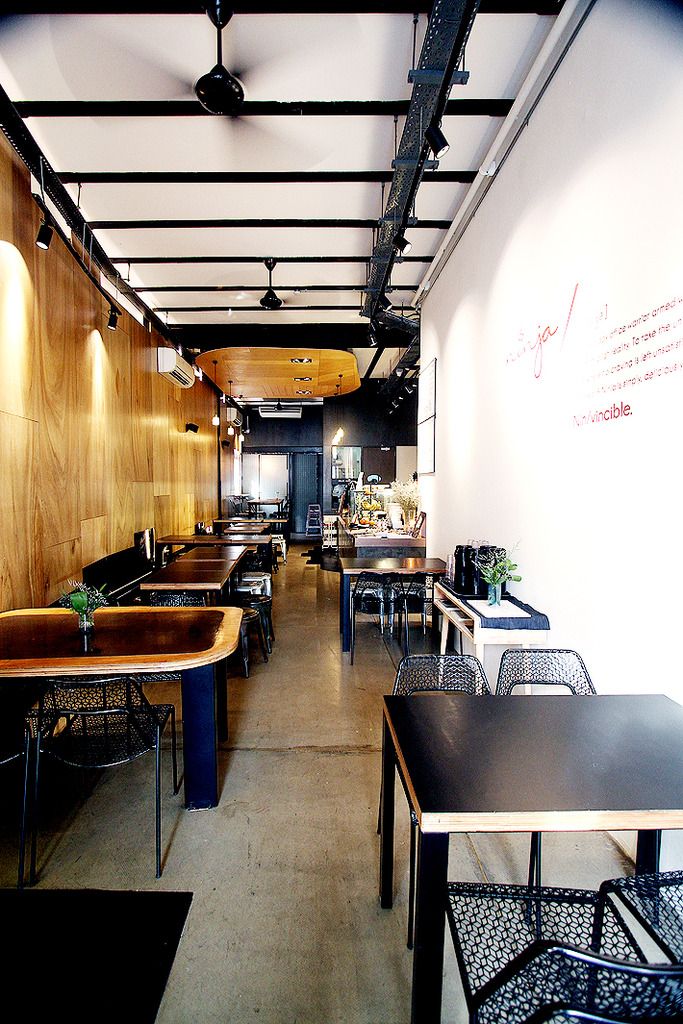 "Healthy food can never taste good."
"You can hardly find a decent meal under $15 at Duxton Hill."
As Ninja Bowl makes its entrance to the upmarket Duxton precinct, the above statements are proven redundant. Meals are affordably priced from $14 to $19, with no additional GST or service charge. Most importantly, they're delicious.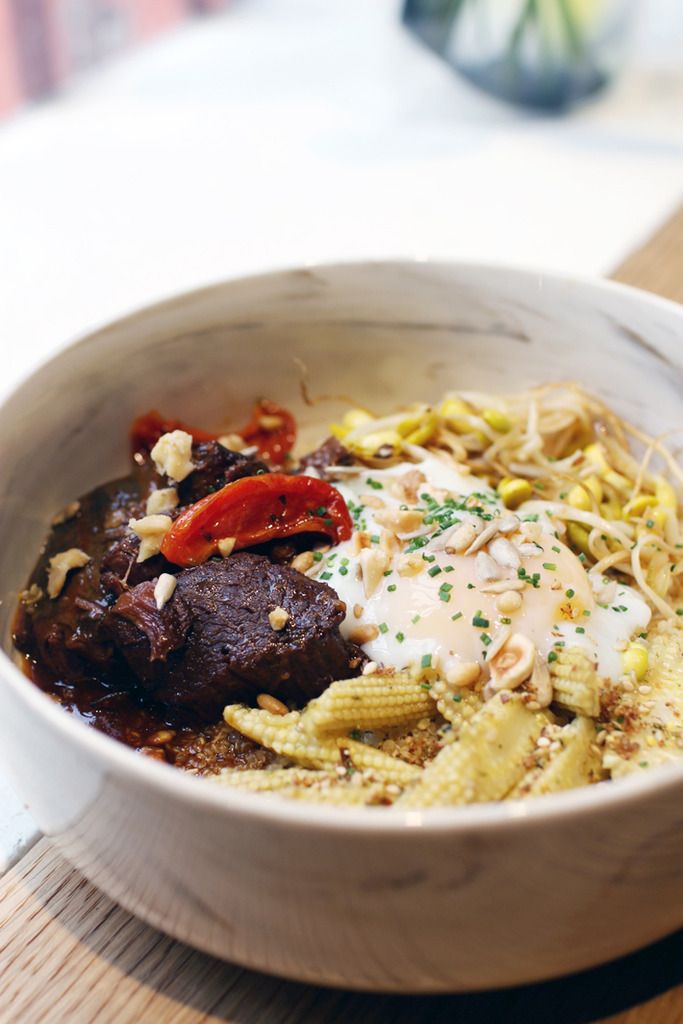 At a glance, one would perceive the menu to be heavily inspired by Japanese cuisine. Well, it is. "Ninja Bowls" are wholesome meals encompassing a balanced ratio of protein and vegetable components, served in a sizeable bowl. Customers have the option of quinoa, "Ninja Rice" (a mixture of flavoured Japanese pearl rice and brown rice), orzo, or garden greens as their base.

Noka ($14)
The "Noka", composed of 24-hour braised beef cheek, baby corn, Korean beansprouts, mixed nuts, onsen egg, semi-dried tomatoes, is one of my top picks. The beef cheek that is braised for 24 hours promises fork-tenderness.
Great flavour combination and textural contrasts. The other "Ninja Bowls" seem to possess this characteristic too.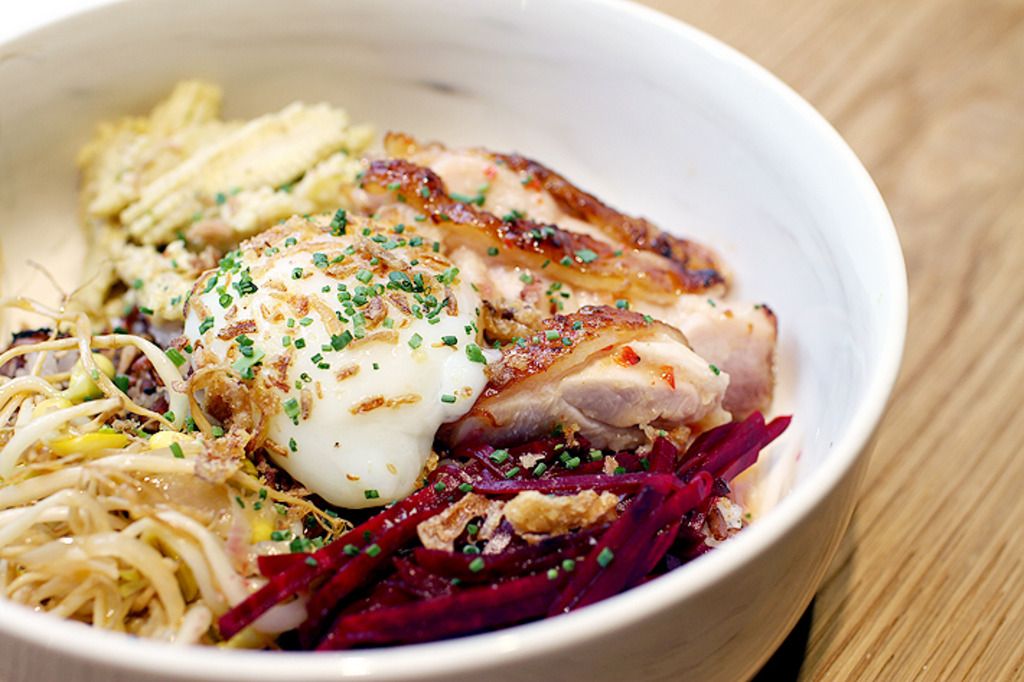 Kabuki ($14)
The "Kabuki" is an inviting poultry option, of seared honey-marinated chicken leg paired with pickled beetroot, wobbly onsen egg, crunchy baby corn and Korean beansprouts, scattered with chopped chives and fried shallots for additional aroma.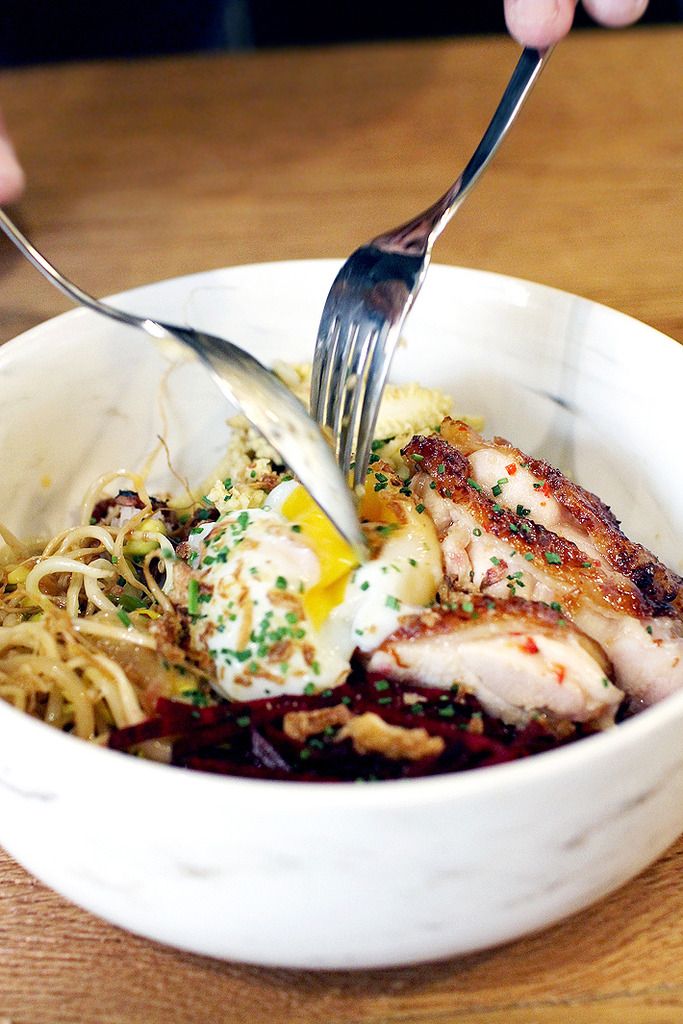 The best way to eat a "Ninja Bowl" is to puncture the egg and allow the yolk to serve as a flavour-binding mechanism as you mix all the ingredients together, and you do so to get a variety in a single mouthful.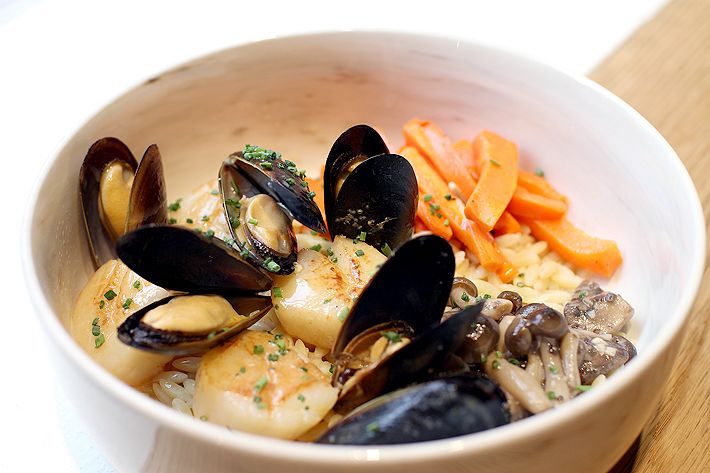 Kaisen ($16)
The "Kaisen" is designed to please seafood lovers, with perfectly seared Hokkaido scallops and juicy mussels, enriched with lemon butter sauce, and accompanied by mushroom varieties and carrot. This dish goes really well with the plump orzo (pasta grains) that provides a nice bite.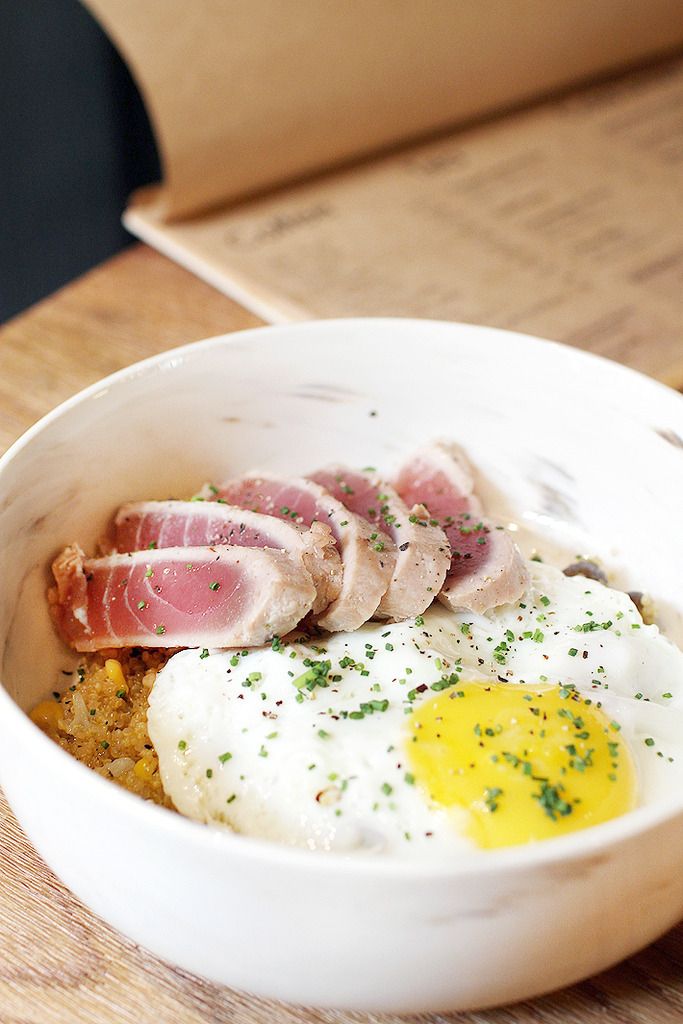 Tokyo Superfood ($19)
If there were one dish on the menu I would eat on an almost daily basis, it would be the Tokyo Superfood. The garlic-fried quinoa tossed with corn kernels exhibits incredible flavours, forming the perfect base for the mild-tasting tuna tataki.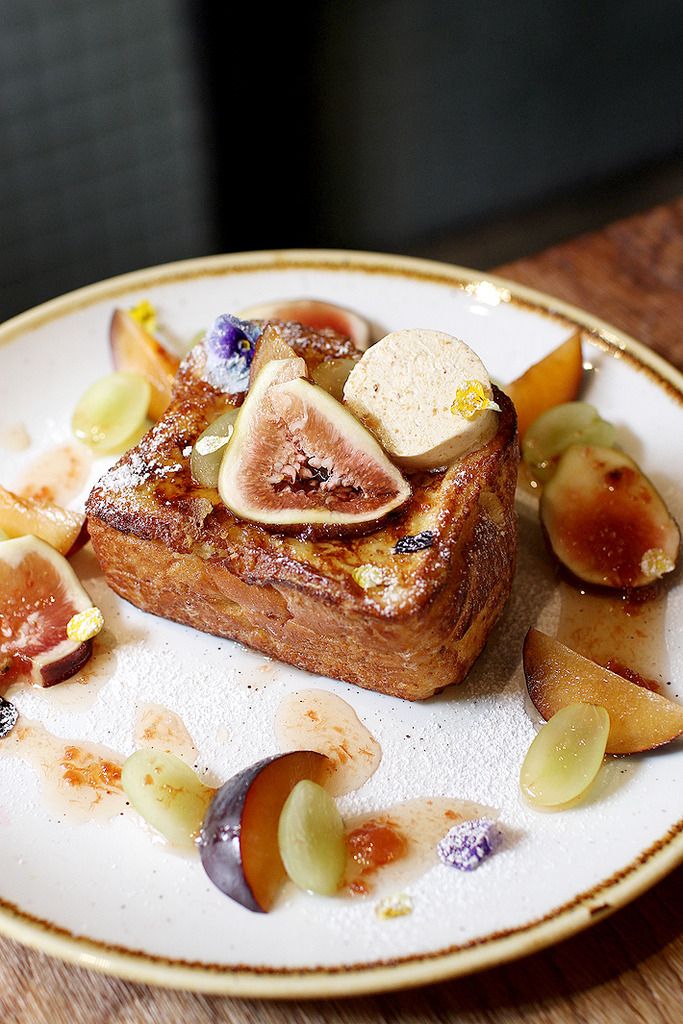 Fancy French ($16)
While the Ninja Bowls are palate-and-tummy-gratifying, the highlight for me was the gorgeously presented "Fancy French". The symphony of colours and textures on the plate contribute to the wow factor.
Unlike the typical French toast, beneath the golden brown surface, fig jam is slathered between thick brioches to add a sweet dimension. To serve, the French toast is topped with a glob of homemade hazelnut butter, drizzled with honey infused with pickled Japanese plums (umeboshi), and artfully decorated with segments of grape, plum, and fig.
On a side note, they should consider selling that hazelnut butter in jars, just so we consumers could smear everything we possibly could with that delicious goodness.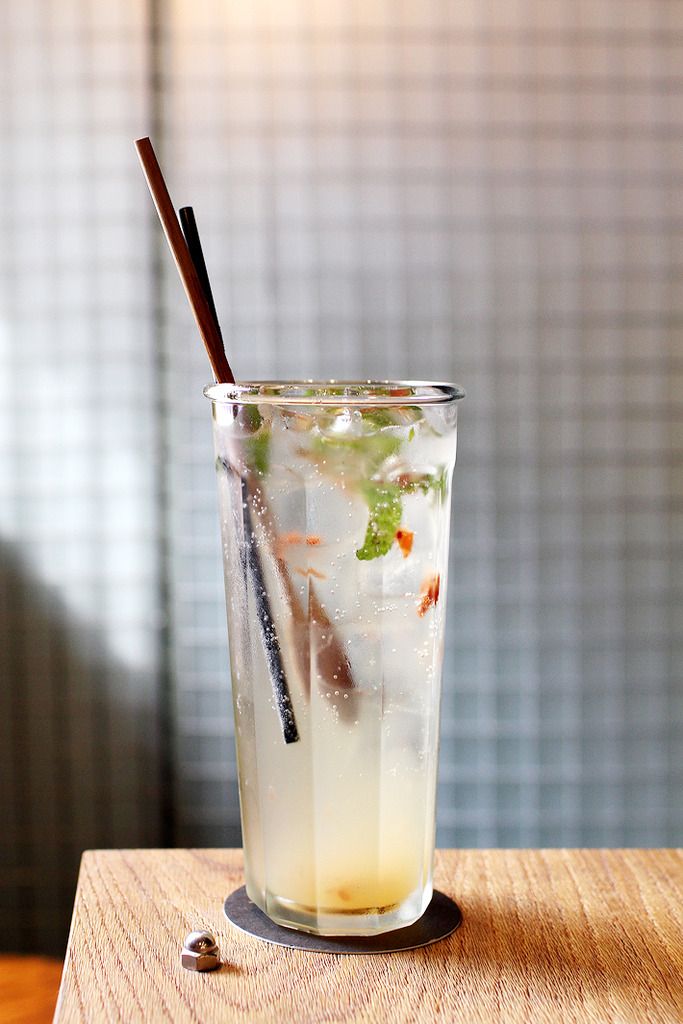 Ume Ginger Lemonade ($8)
To quench your thirst, try their concoction of umeboshi, sparkling lemonade and ginger – the Ume Ginger Lemonade.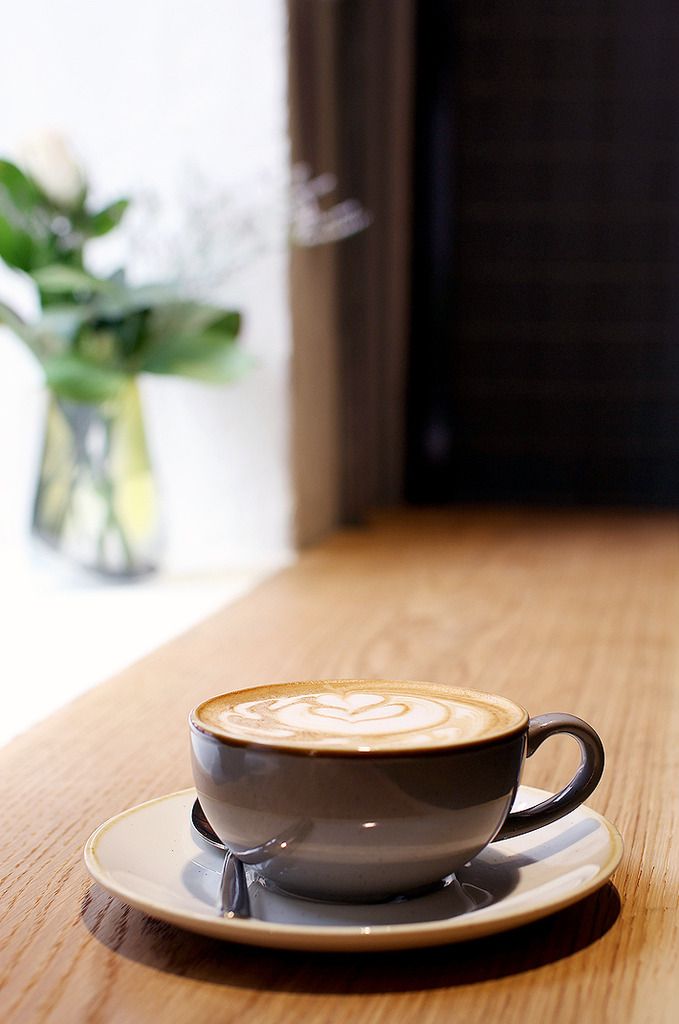 Those who need their caffeine fix will be equally pleased.
Ninja Bowl
15 Duxton Road
Singapore 089481
Tel: (65) 6222 8055
Website: http://www.NinjaBowl.com.sg
Opening hours:
Mon-Fri: 9.30am to 7.30pm
Sat-Sun: 9am to 6pm