PappaRich @ Metro Centre, Auckland
Born and raised in Singapore (neighbour of Malaysia), and currently residing in New Zealand, hawker food is something I crave for and miss the most. Malaysian cuisine is the closest we can get to Singapore food, since they share many similarities (such as Hainanese Chicken Rice, Roti Canai, Char Koay Teow, Nasi Biryani, etc.). For me, PappaRich hits the right spot on many levels when it comes to relieving homesickness and satisfying cravings. Before PappaRich came along, finding good authentic Malaysian food in Auckland city is a challenge (let's just not even talk about finding authentic Singapore food anywhere outside of Singapore, because chances are near zero). Now, Malaysian cuisine is easily accessible, right smack in the city centre. Established in 2005 in Malaysia's capital, Kuala Lumpur, PappaRich now has numerous outlets across South East Asia, Middle East, USA, Australia, with its latest venture in New Zealand. Expect a long queue at New Zealand's first and only PappaRich! Malaysian cuisine lovers are certainly anticipating the opening of more outlets across New Zealand.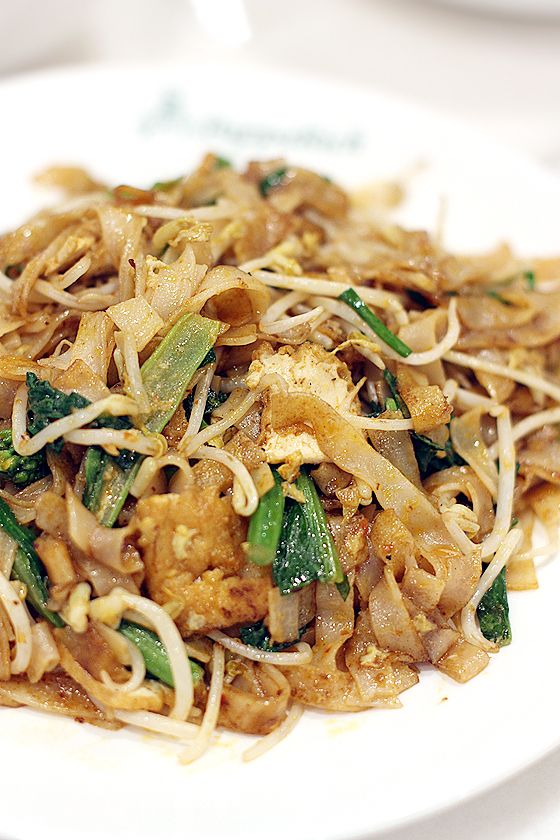 Pappa Char Koay Teow ($15.50)
For those who have yet to experience Malaysian cuisine, the dishes reflect the country's cultural diversity; think: Malay, Chinese, and Indian cuisines. PappaRich serves up a variety of popular Malaysian dishes such as Roti Canai (Indian), Nasi Lemak (Malay), and Laksa (Chinese), matched with traditional flavours you find in Malaysia. In case you're wondering where the name PappaRich came from, Rich is the name of the brand's founding father.
What to order: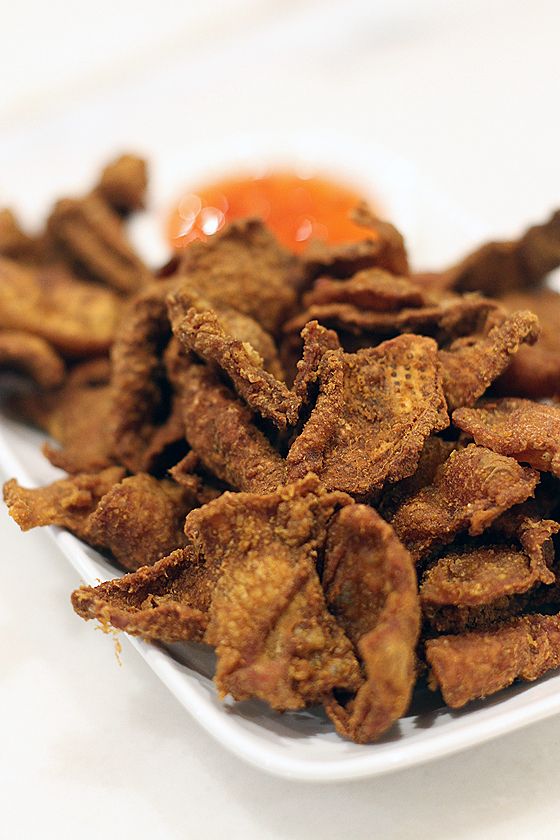 PappaRich Crispy Fried Chicken Skin ($8.90) – Snack on these addictively crunchy morsels while waiting for mains to arrive.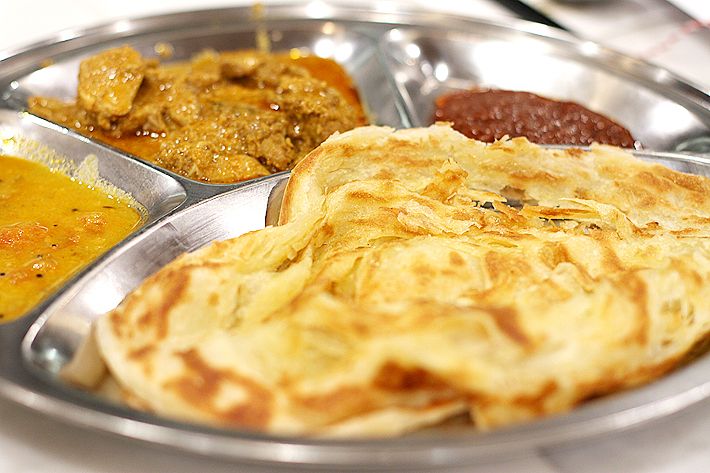 Roti Canai with Curry Chicken ($14.50) – Ubiquitous on the streets of Malaysia, roti canai is a must-order. It is a crisp and light flatbread with a slightly flaky surface. The open kitchen concept allows diners to watch how it's being made (and tossed). Here, it is paired with various side dishes such as beef rendang (tender beef pieces stewed and coated in a rich and aromatic sauce), and tandoori (Indian, char-grilled) chicken, but the one with curry chicken is a personal favourite.
Roti Canai with Dhal, Curry Gravy & Sambal – The roti canai encasing beaten egg and sliced onion gives a whole new level of roti canai enjoyment.
Pappa Special Nasi Lemak with Curry Chicken and Sambal Prawns ($17.90) – With much influence from Malay cuisine, Pappa's special nasi lemak is essentially aromatic coconut rice accompanied by succulent chicken in rich curry and piquant sambal prawns. Can't go wrong! For another rice option, try the Indian Biryani Rice with Beef Rendang and Sambal Prawn ($17.90).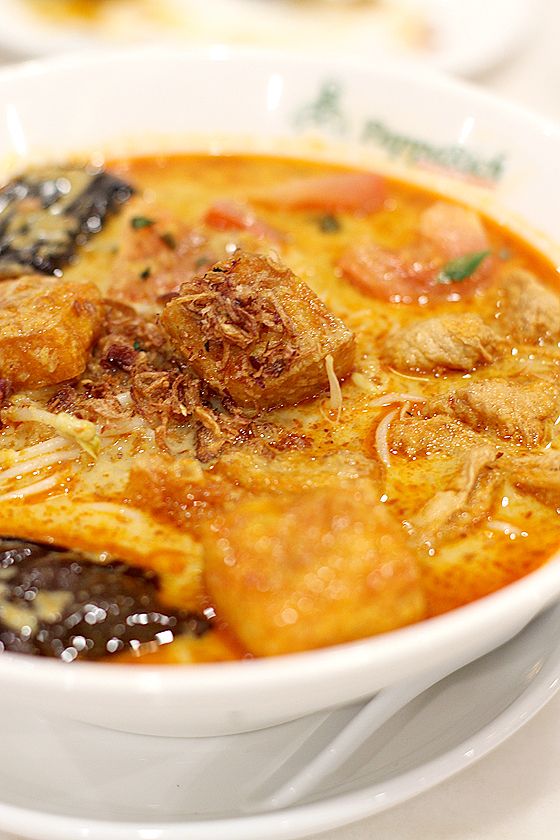 Curry Laksa ($15.50 to $16.90) – Curry laksa comes in three variants: with chicken, vegetables, or seafood, doused in a rich coconut-based curry. Try the Assam Laksa for a tangy and lighter version.
Pappa Chicken Rice with Steamed Chicken ($15.90) – Chicken rice is one of the dishes I miss most from Singapore. PappaRich manages to capture the essence of a good chicken rice, bringing forth fragrant rice infused with chicken stock, pandan leaf and the subtle aroma of garlic. The steamed chicken is served moist and tender, with a tasty concoction of light sauce, sesame oil, etc., and not forgetting the garlicky chicken rice chilli and dark sauce for additional flavour.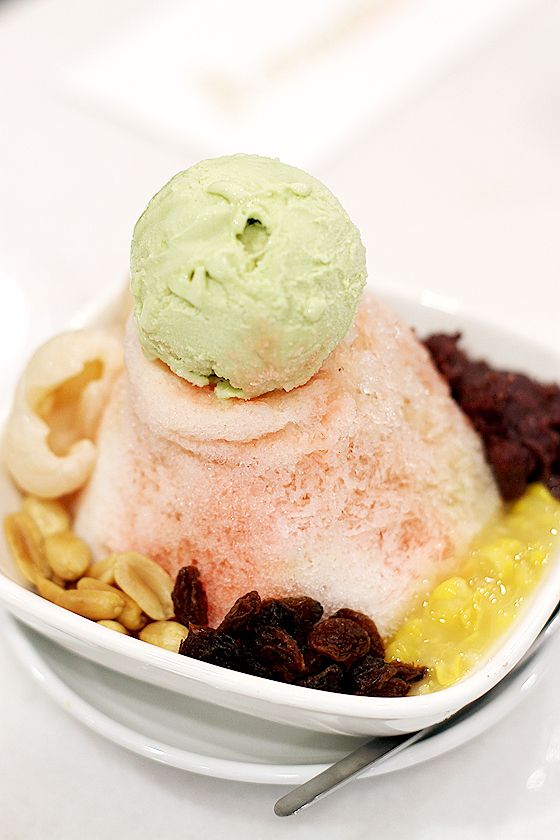 Pappa's ABC Special with Premium Ice Cream ($11.90) – For dessert, try the crushed ice dessert (ABC) that comes with a range of toppings such as sweet corn, peanuts and lychee –a dessert typically consumed to beat the sweltering heat in Malaysia.
To speed up service and minimise miscommunications, PappaRich is utilising a fuss-free ordering system, where diners simply write their selection on an ordering chit, press a little button to get the staff's attention, and the order is quickly processed.
PappaRich
291-297 Queen Street, Metro Centre, Auckland
Tel: +64 09 300 3181
Website: http://www.papparich.co.nz/
Facebook: facebook.com/papparichnz
Instagram: @papparichnz