No reservations can be made on weekends. Thankfully, my parents and I arrived 45 minutes prior to the agreed meeting time, thus we took a queue number on behalf of my aunt and walked around the neighborhood. At 6.30pm, my aunts arrived and our orders were taken outside the restaurant before we were ushered to our table- Their policy being "No Order, No Table." Their service can be quite intimidating. The waitresses are not the most courteous bunch.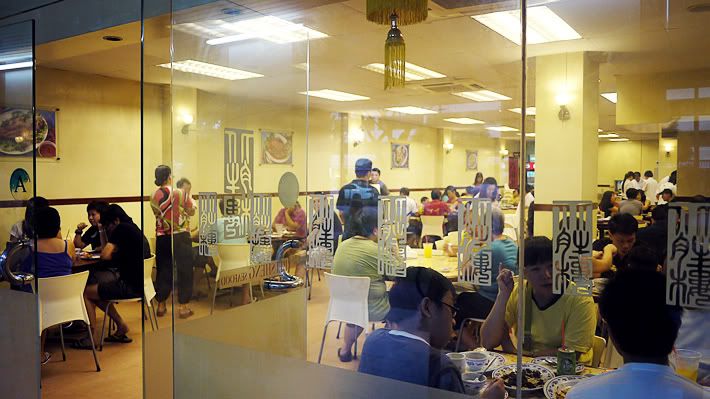 There is indoor and outdoor seating, we chose the former with air conditioning.
Once seated, food started coming out almost immediately, plate after plate, I felt like we were rushed into eating. One of my aunt hasn't even arrived! Our initial plan was to secure a table in the restaurant and wait for my aunt but guess we had to start eating lest the food turns cold. Luckily she arrived shortly after.
There were 10 of us, thus we ordered the Large portion for each dish.

Deep fried Cuttlefish – tasty & nicely crisp! not the most tender cuttlefish I've had but this is acceptable.

Pineapple rice – a little dry for my liking but its a personal preference. I like my rice done unconventionally :) texture aside, the floss topping tasted decent. I'd prefer more ingredients though. (not sure about the authenticity of thai pineapple rice)

Fried Tang Hoon – Again, a little dry for my liking but it's a personal preference. Taste-wise, yummy.

Deep Fried Fish – We ordered 2 servings, definitely one of the highlights of the evening. Everyone seemed to love it! Perfectly fried with a crispy coating without drying out the flesh of the fish.

I have no idea what veggie this is, but I didn't care for the greens! Moving on……!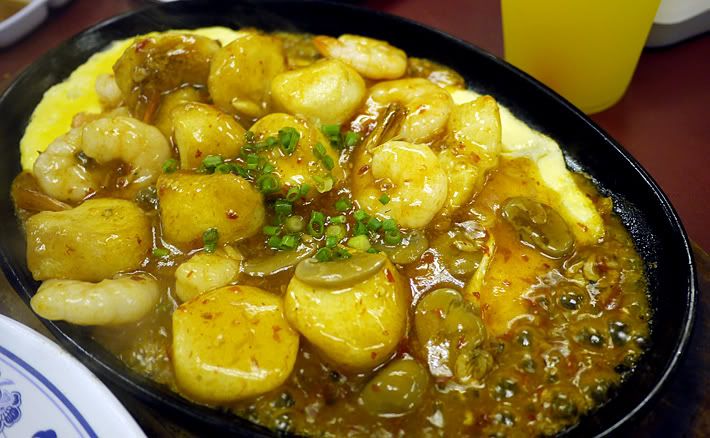 Hot Plate Tofu – With a slight hint of spice! One of my favorite dishes! Not because its anything spectacular but because I love this dish in general. I can get it at any Chinese zi char stall though. I don't see the relation with thai food! maybe the spice… idk! I'm not complaining because its yummy. We ordered a second serving because it just wasn't enough! :)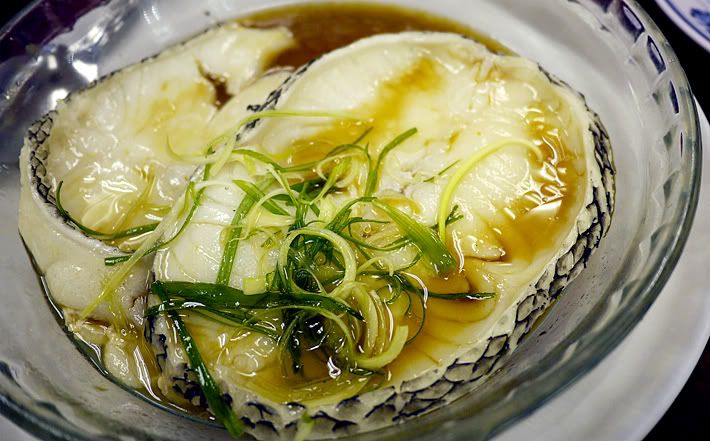 Steamed Cod Fish with Soya Sauce – We ordered 2 servings as well because I took a lot of it :P Again, I don't see the relation to Thai food but the cod is soooo perfectly tender! No frills, simple cooking. I loved it not because they did an extraordinary rendition, but because I love cod fish in general. But at least they didn't screw it up! :)
We ordered a large portion of Tom Yum Soup as well, plentiful ingredients inside- sliced fish, squids, prawns. It's not too spicy, just enough to tinkle the taste buds! It's tasty but I'm not sure if i can call it exceptionally good.
We ordered a fish maw thick soup as well but mysteriously I didn't get it on my camera. Probably too busy indulging! I loved it though! Soups are my weakness, and this is one pretty good soup!
After dinner, needless to say we were prompted to make our departure due to the crowd waiting outside the restaurant.
To sum it up, I wasn't super impressed but I wouldn't mind going back. Simple fare, tasty and affordable is how I'll describe this restaurant.